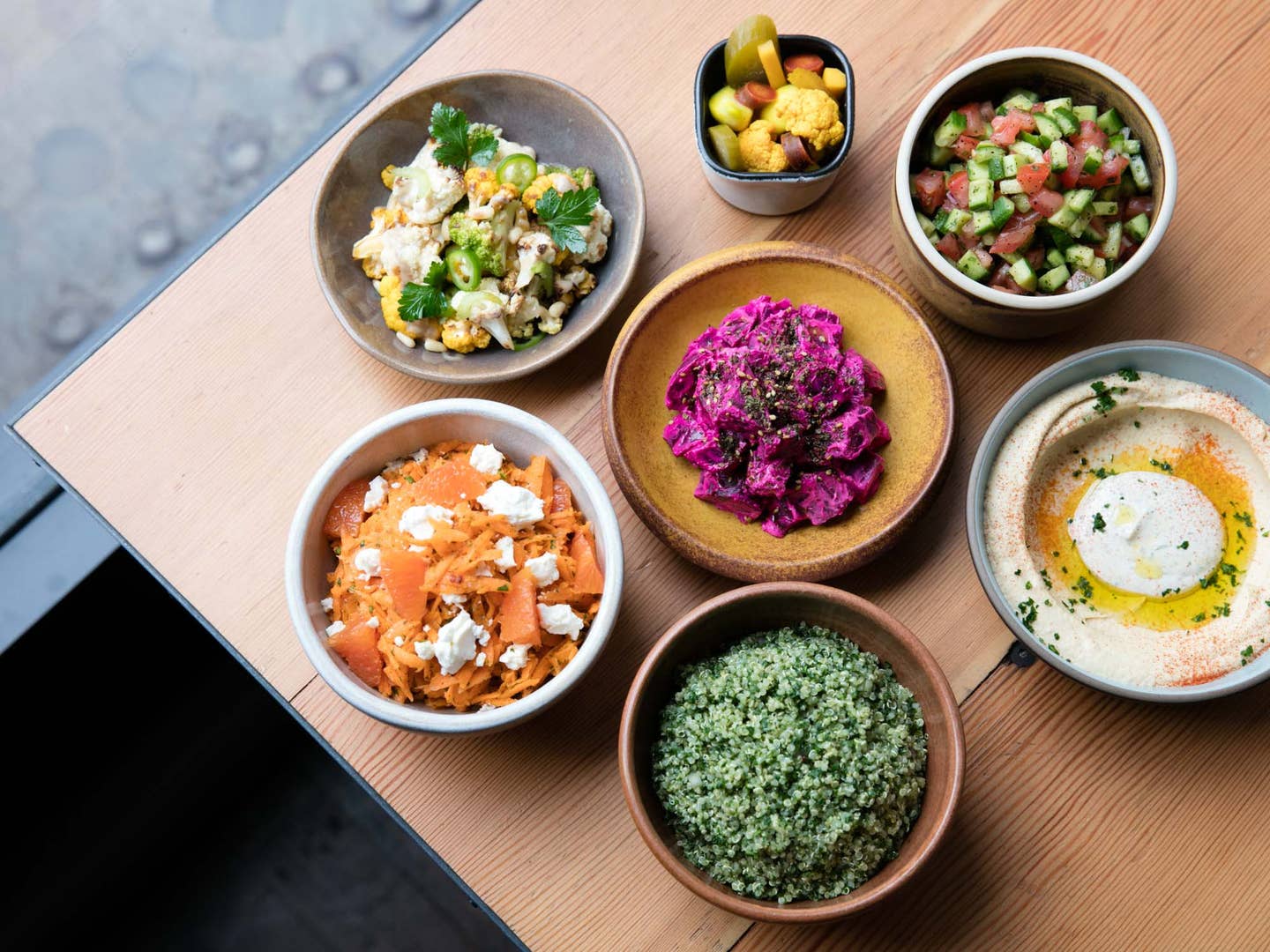 Travel
Top-Notch Middle Eastern Food Finally Hits the Bay Area
In the land of excellent produce and globally minded eaters, really good Middle Eastern has been strangely absent—until now
When Jamil Ajrab wanted a taste of his home in Ramallah, he depended on his brother Tamer ("Tim") to provide it.
"My family is far away, and I miss my mother's food," he says. "My brother had learned in my mother's kitchen—from her and from my grandmother." At barbecues the two brothers hosted, guests were regularly blown away by Tim's hummus, kofta, and moussaka, so much so that they insisted he needed to open a restaurant.
Jamil, a tech engineer, agreed, and last October he and Tim opened Sumac together in Belmont, about 30 minutes south of San Francisco.
The gamble: Where nearly every other Middle Eastern restaurant in the Bay Area used frozen tubes of gyro meat, the brothers insisted on quality meat and produce cooked to order. And it worked. Tim's gyros, citrus-laden baba ganoush, and shatter-crisp falafel boasting bright green, herb-rich interiors earned the restaurant a loyal band of customers almost immediately.
Sumac's success reveals something about the Bay Area's Middle Eastern food scene. Sure, hummus is as ubiquitous guacamole here. There's no lack of fresh ingredients and adventurous eaters, not to mention a substantial population of immigrants. But overall, Middle Eastern food in the Bay Area just isn't that good. Where's our Taim, our Zahav? Why is our culinary scope of the region so limited, and relegated to greasy, dense, deep-fried pucks masquerading as falafel?
That's starting to change, and it's a movement that goes beyond the Ajrabs. A steadily growing group of chefs and businessmen—natives of Israel, Jordan, and Palestine—are beginning to redefine Middle Eastern cuisine in the Bay Area, bringing a long-overdue focus on quality to the foods they grew up eating.
Guy Eshel immigrated from Israel to Boston at a very young age, but remained a diehard falafel lover through his childhood.
"There was this one place in Brookline that I'd go with my parents pretty regularly, and their falafel was super legit. Even then, I think I saw how popular it could be when it was done right."
He's quick to acknowledge that in and around San Francisco, spots that get it right are few and far between.
This lack of accessibility, and quality, is part of what inspired Eshel to open Sababa, his own fast-casual take on Israeli street food, due for San Francisco's Financial District this month. The format, and the food, is something of a departure for him—he'd worked in fine dining at San Francisco restaurants One Market and AQ. But a series of very popular "Mediterranean Monday" staff meals at AQ and desire to cook the food that he loves, and grew up with, made for an obvious restaurant idea.
"Ever since I got into cooking, I realized that Israeli cuisine wasn't that well represented, especially in the Bay Area," he explains. He believes serious attention to detail will set Sababa apart from other downtown lunchtime options. All of their pita is freshly made in house using a gas-fired, stone hearth oven. And the falafel is a work of tireless dedication.
"I did so much experimenting with the falafel to get the flavor and texture we wanted!" he says, laughing. "Changing the herbs, the spices, the method. I found that using a meat grinder on the vegetables gets the consistency just right."
It's not all about the falafel, too. Take a bite of his nutty, tahini-heavy hummus, and spice-laden shawarma topped with amba, a sauce made from pickled mango, curry powder, and turmeric, and you see Eshel's commitment to getting everything right—as good or even better than pita stands in Israel.
"At the end of the day, I'm a chef. I'm going to keep tasting and changing everything. I always want to make it better."
Mica Talmor hadn't planned on opening a restaurant, let alone an Israeli one, when she and her husband Robert Gott heard of an available restaurant space on Piedmont Avenue in Oakland. The two had a successful catering company, Savoy Events, and had just finished a very successful run providing recipes and ingredients for meal delivery service Munchery.
"I'm Israeli, and when Munchery hired us, they asked us to do Middle Eastern food," Talmor explains. "And, it did super well."
When the Munchery contract ended, the two were eager for a new project. They were also reluctant to lay of the employees they'd brought on to help with the Munchery load. Soon, Ba-Bite was born in a former pizzeria, with a menu showcasing a large number of mezze, salads, and hummus.
"Before Munchery, this kind of food had never been part of what we'd done—we'd largely worked in Asian restaurants," Talmor says. "But, I'm Israeli. I was born and raised there. This food is an enormous part of who I am."
Similar to Eshel's Sababa, Ba-Bite puts ingredients front-and-center, double-soaking their chickpeas (this makes them more tender, easier to digest, and, per Talmor, more nutritious) showcasing as much fresh produce as possible. Talmor also believes that her specific Israeli perspective is essential.
"The dishes and ingredients at Ba-Bite are pulled from a variety of cultures and put together in a way that only an Israeli would do! Only an Israeli would put wild mushrooms on hummus. Or serve tagine and mejadra side by side."
The food, which is as bright and flavorful as Ba-Bite's interior, has won the restaurant a dedicated stable of customers since they opened last May.
"A lot of our customers are here at least four days a week," Gott says. "Some of them, seven! A lot of them are from the neighborhood, but we have regulars who will travel here weekly."
It's not difficult to see why, thanks to their unbelievably creamy hummus, topped with everything from the aforementioned wild mushrooms to falafel and lamb; the technicolor, meal-sized salads, tossed with sheep's milk feta and fresh pomegranate vinaigrette; and Talmor's near-legendary shakshuka, four iterations of which are now available at their new weekend brunch.
"It's because they feel good!" Talmor interjects. "You eat this food, and you feel good. You want to come back."
Azhar Hashem has positively banned hummus from the menu at Tawla, which is opening in San Francisco's Mission neighborhood at the end of May. "I have very strict rules about what's allowed on this menu! No hummus, tabbouleh, or kebabs. I don't want people to have those as a crutch, to be able to order what they think they know about the food of this region."
Hashem, a native Jordanian, conceived of Tawla as a place to showcase "the other 80% of this cuisine." Specifically, the kinds of dishes you'd find in homes and not at street stands.
"Think about it. Whenever you tell a friend, 'Hey, let's go out Middle Eastern food,' they'll say 'Yeah, I love hummus, I love falafel and shawarma.' And they'll assume it's a hole in the wall."
In addition to wanting to break away from street food stereotypes, Hashem is determined to shape this food in the context of the "Eastern Mediterranean," comprised of Greece, Turkey, Iran, and the Levant (Syria, Lebanon, Israel, Palestine, and Jordan).
"It's very important that our menu expands across these borders—in part, because they're superficial. The cuisine is 80 to 90% shared. The regional differences between, say, baklava in Greece and baklava in Syria are what make it interesting. It becomes the focus of conversation!"
Hashem started her career in tech, becoming increasingly "obsessed," in her words, with the food she had grown up with, and the role it played in bringing people together. A dedicated home cook, she teamed up with chef Joseph Magidow, formerly of Delfina, to help realize her vision in menu form. He's taken to the challenge with relish, speaking with farmers about growing ingredients for his dishes, and tracking down exactly the right wild herbs to create his own za'atar blend. There are plans for an extensive bread menu, baked in house, large shared dishes, and hummus-free mezze, which instead focus on dishes like labneh and muhammara instead.
What's more, Magidow is interested in taking Hashem's traditions, and making them something new.
"This is, first and foremost, a restaurant in the Mission, in San Francisco," he explains. "My challenge is to take what I've learned, talking to Azhar, cooking with her and her mom, and turn it into an experience that translates to San Francisco diners."
Whether falafel-centric or -averse, bound to tradition or committed to breaking it, all four of these restaurants have a focus on quality and flavor that sets them apart from the greasy falafel shops you find elsewhere. It doesn't take more than one bite of Eshel's amba, Talmor's shishlik, or Ajrab's kalai to immediately recognize the difference.
It may be an overdue renaissance, but Sumac and Ba-Bite's success, and the heightened anticipation around Sababa and Tawla, is evidence that it's a welcome one. And, per Hashem's philosophy, there's plenty of room for growth.
"I think this kind of food is due for its second wave," she says. "I think diners here are ready for it."