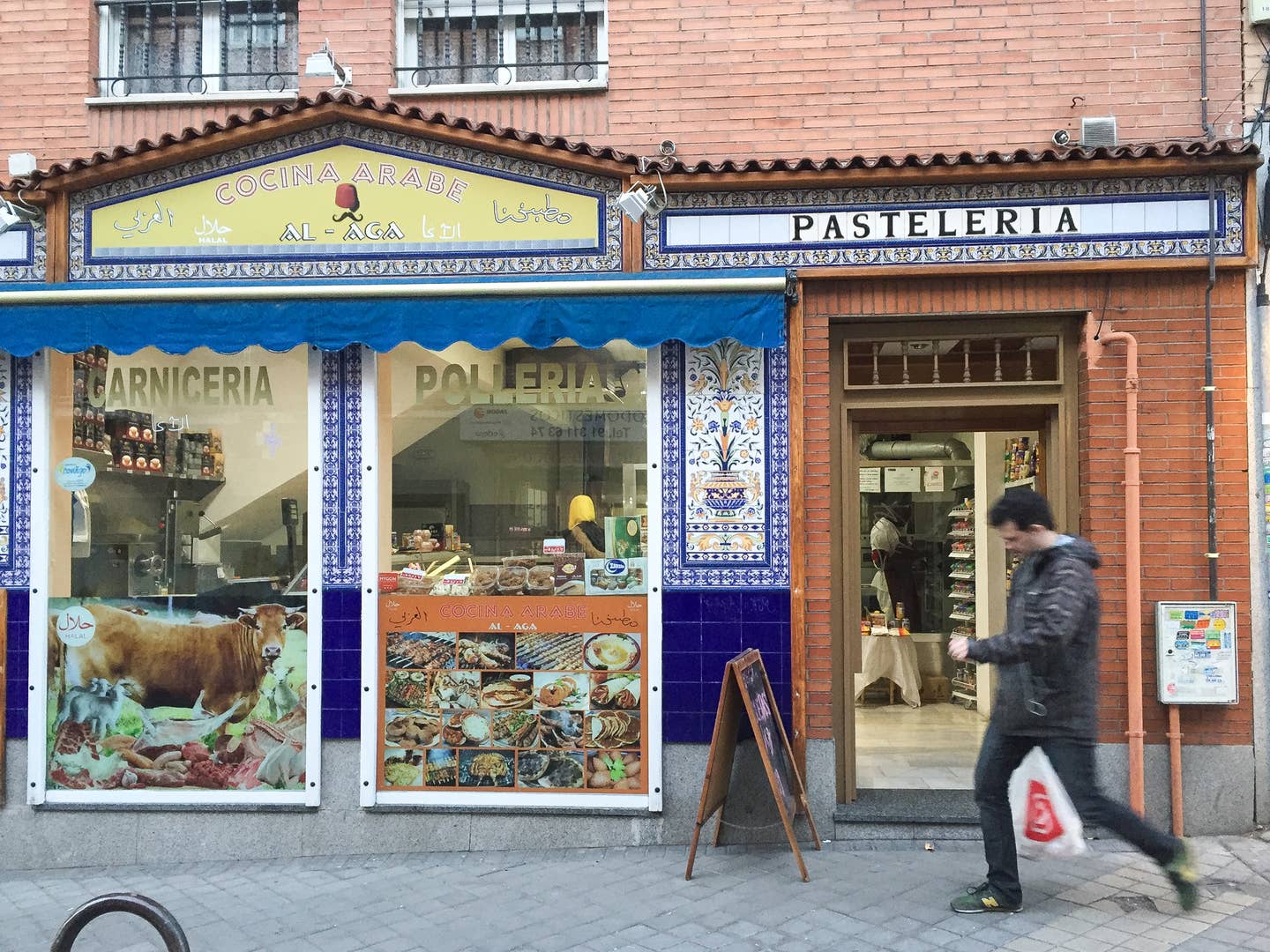 Travel
Lunch With the Syrian Refugee Grilling Madrid's Greatest Kebabs
Blink and you'll miss Al-Aga, a pocket restaurant in Tetuán that's serving soulful Middle Eastern cooking fueled by a hunger for home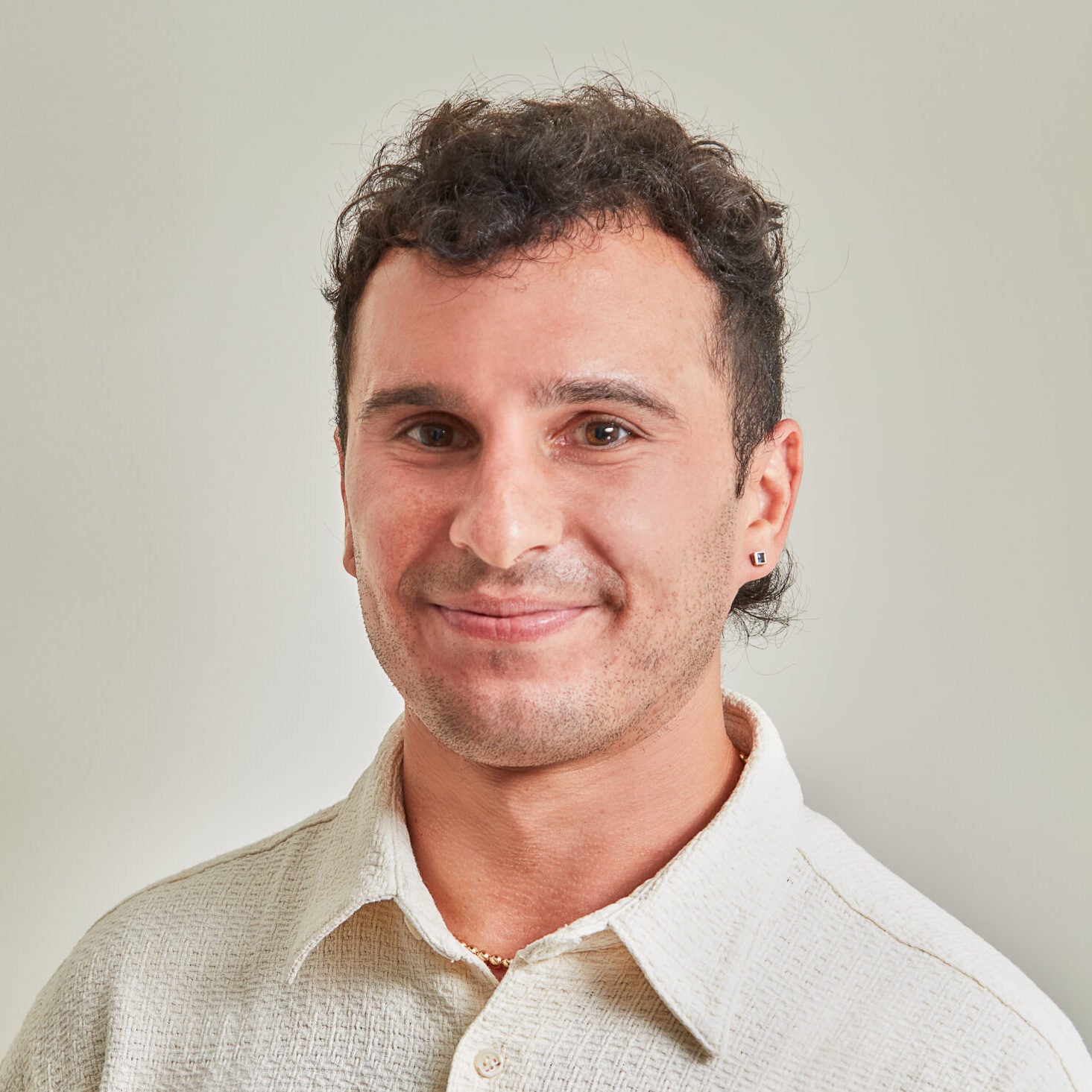 ---
It's barely dinnertime in Tetuán, a sleepy barrio in northern Madrid, but the line for Al-Aga's famous kebabs is spilling out onto the sidewalk. Inside this unassuming pocket restaurant, Labib works his mishwah, an Arab-style charcoal grill, coaxing a line of meat on skewers to exquisite tenderness over open flame before stuffing them into pita. "Just like in Syria," the 54 year-old owner beams and tells me through an interpreter, as he shuffles out from the kitchen with plateful after plateful of parsley-flecked, pomegranate-scented kebabs.
A bite of any dish from Al-Aga's menu would suggest that cooking is Labib's lifelong calling— not a backup plan cobbled together out of necessity. Labib (he declined to provide his last name) and his family are refugees, and as with many Syrians fleeing the civil war, his last half-decade has been a riches-to-rags battle against poverty, homelessness, and governmental red tape. When his family finally arrived in Spain—following months of upheaval that took them from Homs to Damascus, Beirut, and Frankfurt—they had to make hard adjustments. "For our first year [in Madrid], our family of six shared a single bedroom," he said, shaking his head.
He'd spent his life's savings on keeping his family out of harm's way, and when those ran out, they ran on fumes. How could a middle-aged businessman with broken Spanish ever find a job in Madrid? One day it dawned on him: Drawing from his childhood memories, personal recipes, and the culinary knowhow of his wife, he could carve out a niche for himself by opening a Middle Eastern restaurant that did things right. With newfound determination to succeed, he opened Al-Aga a few months later.
Unlike cooks at most of Madrid's kebab houses, Labib doesn't cut corners. He pickles his own vegetables and makes his sauces from scratch. Throwing a few kibbeh mishwiyyeh onto the grill, he notes with pride that his recipe for these flame-licked bulgur patties taste just like his grandmother's. "It took a lot of trial and error," he says, to get the proportions of garlicky lamb, pine nuts, and Aleppo pepper just right for the filling. Most kibbeh we see are fried, with a coat of bulgur wrapped around ground meat. But one bite of Labib's spicy, smoky version had me converted to the barbecued strain common to Homs in western Syria.
On another afternoon, I found Labib elbow-deep in the dough used to make sfiha. These inhalable little flatbreads, spread with ground beef and mint and finished with a dribble of pomegranate syrup, are best eaten folded up and dunked in garlic-labneh sauce. They're like the soft-taco cousin of Turkish lahmacun, and at a Euro apiece, optimal use for pocket change.
Madrileños don't come to Al-Aga for the ambiance, which might best be described as an eat-in grocery, but for the food, which is remarkably involved even before you consider the low prices. But in a city where fast-food kebab chains dominate Middle Eastern dining and the bar is set so low, why would Labib go to the trouble of, say, making roasted pepper paste from scratch?
The answer seems to lie in his exile. "A lot of Muslim refugees are happy here in Spain," he says. "It's modern, it's Western. But I don't care about those things. I miss my country." With Homs now a bombed-out skeleton of its former self, he may never return to the once-vibrant city where he was born, raised a family, and owned a business. What he does have is his heritage, which he honors with every kebab he sets over the flame.
The Spanish government may have granted asylum to Labib and his family, but his struggle is far from over. He hasn't taken a day off in over a year. There are loans and taxes to pay, and it remains to be seen whether Al-Aga will ever be profitable.
Yet one thing is certain: Labib has a devoted following of regular customers rallying around him. One of them is Jalal Maher, a 33-year-old Syrian refugee and recent Madrid transplant who comes in often for the grilled kibbeh. "It's just the smell of this place," he sighs. "It reminds me of my country, of the streets, of my grandmother's cooking. I feel good when I eat these dishes— like for a moment, I'm home."
Update: Unfortunately, Al Aga closed in 2021.