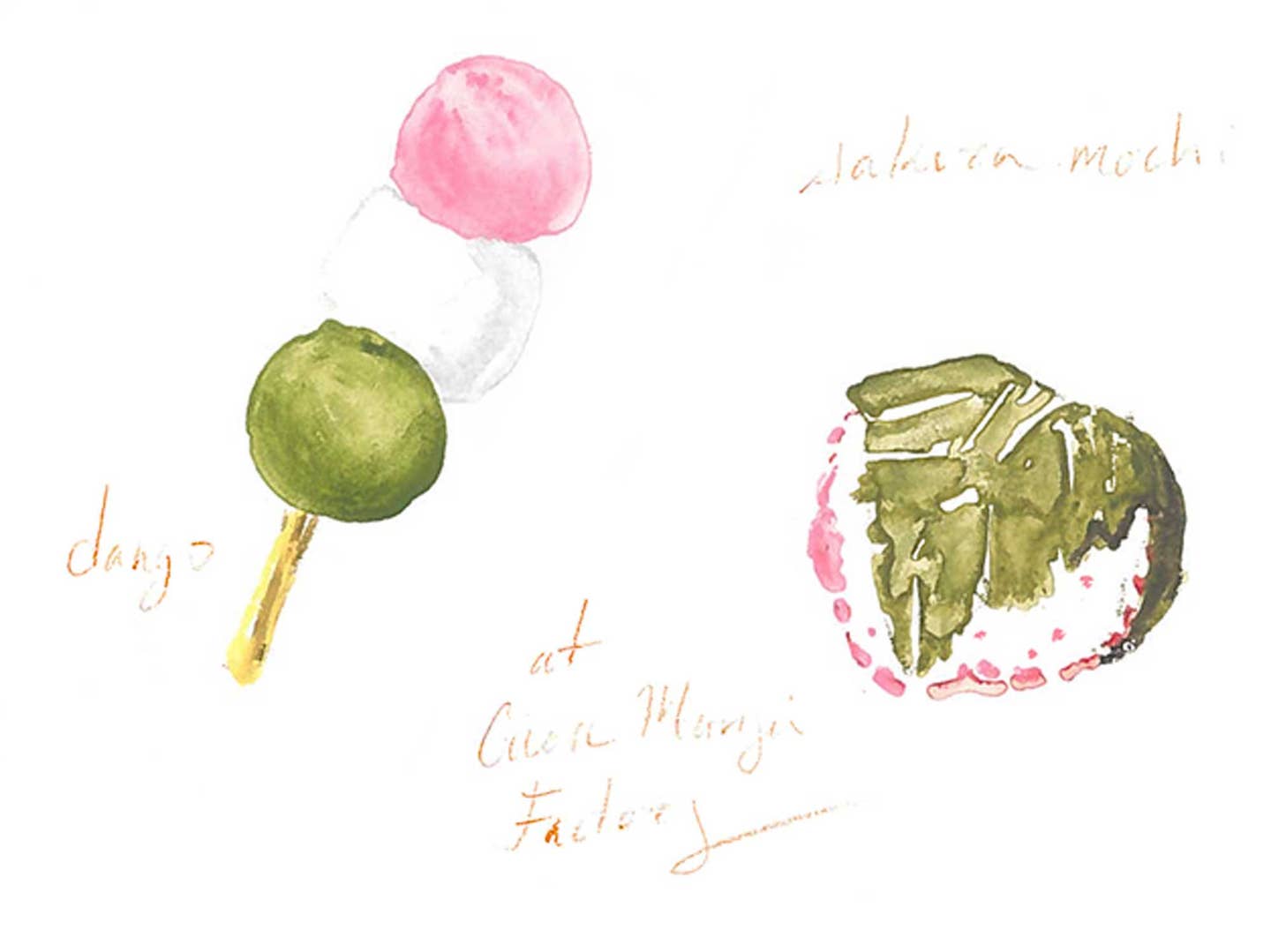 Travel
A Field Guide to the Bouncy, Chewy Delights of Kyoto, Japan's Best Mochi and Wagashi
All about these seasonal sweets, and where to find our favorites
Even before Kyoto's famous cherry trees bloom into fluffy pink clouds, seasonal sweets appear with the first signs of spring. Pale pink sakura-mochi and wobbly warabi-mochi arrive in early March and disappear with the last falling cherry petals. These spring specialties are but a few of the countless varieties of wagashi (the wa means old-school Japanese; gashi means sweets) you can find throughout Japan, with particularly elegant versions in Kyoto. Equipped with a mamachari (slang for the kind of shopping bike old ladies ride) and a map pinned with a dozen recommendations from locals, I set out to taste them all.
There's a Japanese stereotype that American sweets are super sugary and brightly colored. This isn't wrong, particularly when compared to the subtlety of Kyoto's wagashi. Their flavors are gentle and earthy, and their colors parallel the landscape: understated but lush hues of green, pink, and brown.
Instead of the flour, eggs and butter that go into Western pastry, the primary ingredients of wagashi are beans, sticky rice, agar agar (seaweed gelatin), and various starchy roots—with raw sugar, matcha, and sweet toasted soybean flour called kinako as flavorings. (Vegans, rejoice: traditional varieties contain no animal products!) As strange as beans in dessert may seem to the uninitiated, the notion of savory beans (think chili con carne) is utterly shocking to many Japanese. In the most refined wagashi, legumes take on the texture of marzipan.
Like doughnuts with coffee, wagashi is better with matcha. Tea ceremony as it exists today originated in Kyoto (where it was codified and recorded in the sixteenth century), and wagashi are integral to its ritual. Kyoto people proudly uphold traditions that are marginalized elsewhere in Japan by what's new and trendy. And while cha-do—the way of tea—takes a lifetime to master, you can get your matcha and wagashi fix without the formality at shops scattered around the city, where an afternoon stop is a refreshing respite from sightseeing (or criss-crossing the town by bicycle, collecting sweets).
A comprehensive guide to wagashi would require a full book, but these notes from my short and sweet Kyoto wagashi expedition highlight some of the tastes of spring, and a few year-round favorites to whet your appetite.
You've seen the emoji—the cute multicolored spheres on a stick—but what is dango? These soft mochi balls (achingly nostalgic for anyone who grew up in Japan) are pleasantly springy and distinctly but not overpoweringly sweet. Though ostensibly flavored differently, the pink, white, and green bocchan dango all taste about the same. I sampled them at Gion Manju Factory, an efficient kitchen with a service window, nearly out of sight on residential side street in touristy Gion.
I was lucky to stop by during the brief season for sakura(cherry blossom)-mochi. This one had a faint perfume somewhere between earthy and floral, like walking through a garden after the rain. A pickled cherry leaf (for fragrance, not to be eaten) wraps around barely pink sticky rice with smooth anko filling, and a salt-pickled cherry blossom on top. When the cherry trees come into full bloom in April, these sweets will disappear.
Gion Manju Factory
103 Ooidecho, Sanjo Shirakawabashi-dori Nishi-iru, Higashiyama-ku, Kyoto, Kyoto Prefecture, Japan
Just as the snow melts and fiddlehead ferns pop up in the forest, sweets made from bracken root appear at wagashi shops: jiggly squares of warabi-mochi. Their texture is softer than Jello but firmer than custard, with a neutral flavor that yields to a generous dusting of nutty kinako and an optional drizzle of raw black sugar syrup.
Mitarashi dango is another nostalgic treat for Japanese kids (and kids at heart). This plain white mochi grilled over charcoal and painted with sweet soy sauce syrup inhabits a marvelous borderland between sweet and snack.
Everything at Umezono is top-notch. They have four shops in Kyoto; I visited their charming café and gallery location, which has a (tastefully) youthful aesthetic in spite of the shop's long history. The first of their shops opened in 1927, and the newest just one year ago.
Umezono
234-4 Daikoku-cho Kawaracho Sanjokudaru, Nakagyo-ku, Kyoto 604-8031, Kyoto Prefecture
When the emperor moved to Tokyo in 1869, Toraya (already in business for a few hundred years) followed, and now they have shops abroad in the US and France. Still, Some of my favorite flavors of yokan—firm blocks of jelly made from adzuki beans and agar agar—are only available in Kyoto. (In Tokyo, look for sweet potato version called imo-yokan).
I picked up white miso and black soybean yokan, and a pricey seasonal pattern bar that, to quote the packaging, "When served, each slice shows fully-bloomed cherry blossoms in the light of warm spring sunshine."
Staff here speak English and tax-free shopping is available. The downtown location includes a café.
Toraya
Karasuma Ichijo-dori Kado, Kamigyo-ku, Kyoto, Kyoto Prefecture
Far north of the typical tourist area, on a nondescript side street, UCHU sells colorful rakugan that look like they belong at the MoMa store—and remind me of the pattern blocks I played with for hours on end as a child. (Turns out I could have visited more convenient locations next to the Imperial Palace or Kyoto Tower).
These firm chalky candies (something like a Necco wafer) don't reveal their charms until you enjoy them beside tea, where sweet and dry becomes a pleasing contrast to the hot drink's astringency.
The best rakugan are made with whole-cane confectioners' sugar, bound together with a little starch. Uchu makes a playful contemporary take on this molded confection, which is usually formed in seasonal shapes of flowers, leaves and other symbols.
Uchu
786 Fujinokicho, Inokuma dori Kamidachi Urisagaru, Kamigyo-ku, Kyoto 602-8423, Kyoto Prefecture
At the outdoor counter, a line that doubles back on itself contains nary a Western tourist. There are other sweets, but everyone is here for the mame mochi: smooth chewy mochi flecked with sweet adzuki beans wrapped around soft anko (adzuki bean paste). The whole thing is salty-sweet and fresh as can be. It's best eaten within a day before the mochi hardens, though stale mame mochi revived in the toaster is also delicious.
Futaba
236 Seiryucho, Kamigyo-ku, Kyoto 602-0822, Kyoto Prefecture
At first glance I mistook Kamega Yoshinaga for a jewelry store, with its high-end atmosphere and formal glass cases. The ubatama too are deceptive: they look like bon-bons but have nothing to do with chocolate. A clear shell of agar agar jelly contains anko that's a vehicle for wildly flavorful raw sugar; it's smooth, elegant, and awesomely delicious.
Kyoto's famous textile design house (think Japanese Marimeko) Sou•Sou recently published a book about their collaboration with Kameya Yoshinaga: monthly wagashi and textile pairings. While Sou•Sou's café is temporarily closed, you can pick up hi-gashi (dry wagashi such as rakugan and hard sugar candies) packaged in their bright patterns at Kameya Yoshinaga.
Next time, I hope to try one of Kameya Yoshinoga's classes for making nama-gashi (fresh sweets), the soft marzipan-like bean and yam paste formed into flowers, fruits, and other decorative shapes.
Kameya Yoshinaga
17-19 Kashiwayacho Shijodori Aburanokoji Nishiiri, Shimogyo-ku, Kyoto 600-8498, Kyoto Prefecture