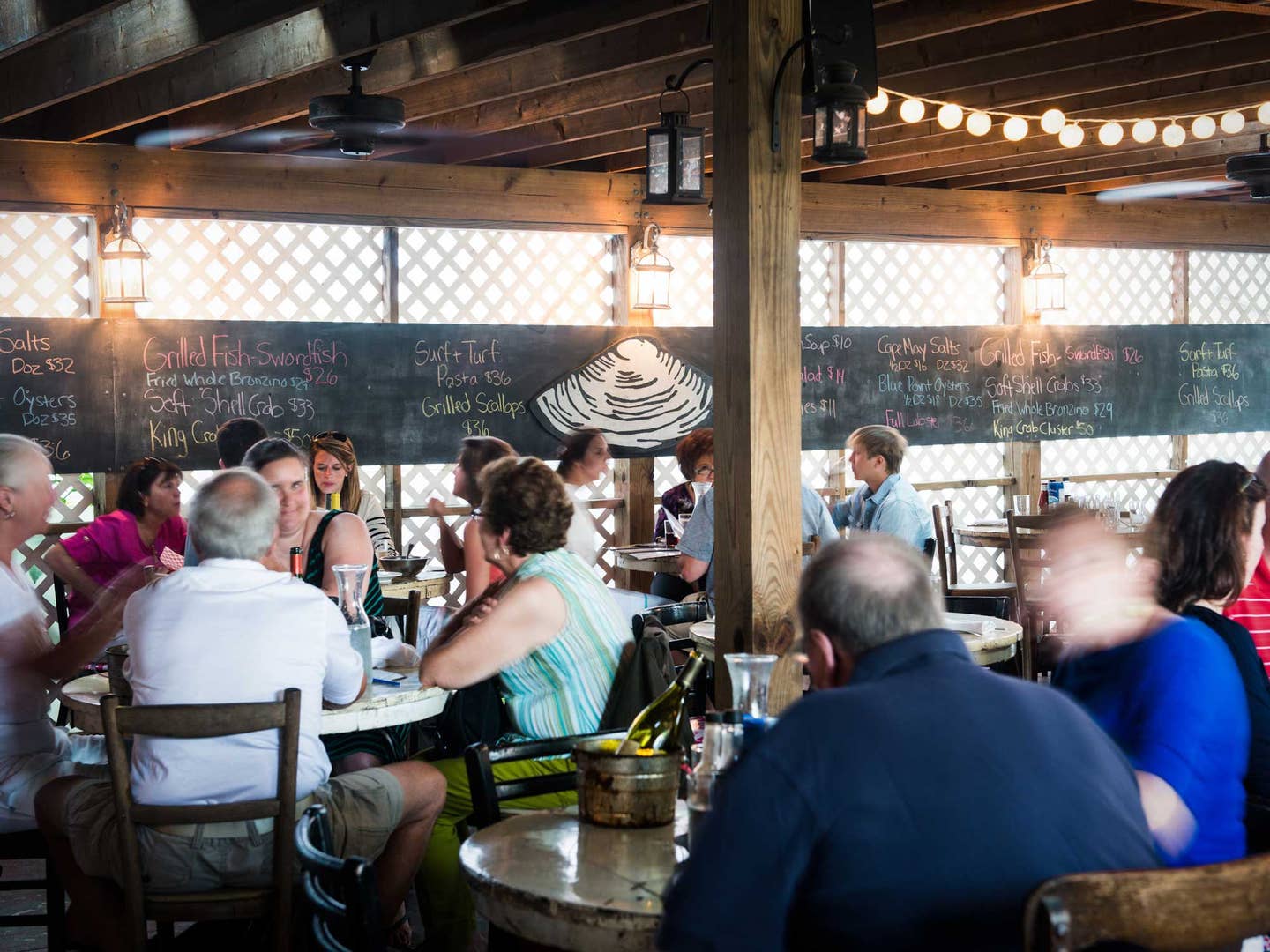 Travel
The Jersey Shore Seafood Scene is Changing—For the Better
A new crop of fish-loving chefs is slowly but happily transforming the shore's seafood shacks
You're sitting on a faded deck at sunset. You still have some leftover beach sand in your hair and a cool sunburn even though you applied lotion twice. For a second you think back to the long day on the Jersey water—to the grooves of the wiffleball as you shuffled your grip to throw a curve, to wind riffling the dune grass, to that first cold saltwater dive.
Ah—a waiter is bringing food to your table. Broiled snapper? Steamed lobster? Grilled swordfish? Nope. Saffron pappardelle with dandelion greens and Jersey fluke. And then you think: Man, seafood down the shore is changing.
New Jersey has 125 miles of coastline overlooking countless miles of ocean. The shore starts at Sandy Hook and ends where the Delaware Bay meets the Atlantic, way down south where a county lists oysters as a top export and there's a town called Bivalve.
Crab shacks and white-tablecloth sit-downs still pepper the shore's pebble-lawn roadside. But as the local food scene has changed and grown, a new crop of seafood spots has sprung up down the shore. Now you can find chefs powdering basil oil with tapioca maltodextrin evaporating ocean water to make sea salt.
These spots are where Jersey seafood hits new heights every summer, where each year the food sails further beyond the beachside classics and edges closer and closer to world-class coastal eating.
Where 'Seasonal' Really Means Something
Down on the shore's south end you'll find a seasonal restaurant called The Diving Horse in Avalon, one of a few South Jersey restaurants leading the charge into a new era of Jersey seafood.
Late spring: shore season arrives, and the Diving Horse's staff migrates from Philly to Avalon, moves into a shared house for the season, and gets to work on the latest version of the evolving sea-to-plate menu. Chef Paul Carrier designs dishes based on what vegetables are locally available. For example, his fluke: Jersey-caught, a Diving Horse staple. In May the seared fish comes in a shallow broth with ramps and preserved lemon. As spring ends, snap peas and baby fairytale eggplant hit the plate. Later in the season, heirloom tomatoes and local onions fill in, clean and sweet. High summer ebbs, and in slips zucchini. And finally, acorn squash may adorn the fluke when summer fades into fall.
"That's my style," says Carrier. "I like using a couple components and pretty much having vegetables taste like vegetables, fish taste like fish." Carrier cooks a small, thoughtful lineup of food sourced from nearby. What's nearby? The bay (one block) and the ocean (three).
You can taste the salt wind on the tree-enclosed patio, where beach bums dressed for the night relax at wooden tables under string lights with BYO Pinot and Prosecco and IPA. You can taste that same stirring brine in the scallops (light and sweet with corn succotash and oregano pesto last Labor Day), in the airy fried calamari with cool green salsa, in the mussel and clam stew with blended red pepper broth, and in the lettuce wedge translated to the shore via crabmeat and Old Bay. Dishes evolve not only over the season, but from year to year. Last September, coriander-spiked yogurt and candied orange spiced up Yellowfin tartare. This May, Carrier plans to give the citrusy tartar a yuzu-charged remix.
Carrier also turns basil oil into powder with tapioca maltodextrin. The powder brings an herbal electricity to an artful plate of heirloom tomatoes, house-made ricotta, and Jersey strawberries. And he isn't the only sheriff in town with a cool trick or two.
Which isn't to say the 20th century classics don't have their place. They certainly have more real estate. The best nail both catching and cooking seafood. At Mud City Crab House in Manahawkin, traps float through the tides behind the restaurant, and the blue claws they catch are steamed and tossed in garlic, butter, and breadcrumbs. Down south, generations have raked the Great Bay for clams, and at Allen's Clam Bar in New Gretna they come raw, fried, baked, deviled, and chowdered.
"We kill it, we grill it" is the slogan of Hooked Up Seafood in Wildwood, where a retired commercial fisherman reels in tuna and swordfish, docks behind his family eatery, and fires up the grill. Viking Fresh off the Hook in Barnegat Light nabs line-caught albacore for tuna salad from a few doors down, from the fishery Viking Village, where boats can hit the spotless pier with 25 tons of fish.
Classic or cutting-edge, all Jersey seafood starts with people who harvest food from water. The state's commercial fishermen catch more than 100 varieties of fish. In 2013, they caught 120 million pounds of seafood worth $133 million, scallops accounting for $65 million. Fishermen keep busy on the main dock strip. They fix engines, pilot forklifts, make ice, wait for tidal conditions to be right, greet returning fishermen, and unload tons of fish from boats caked with rust. Some know how to carve a 100-pound tuna into all the right pieces; some know how shuck scallops like lightning.
The fishermen at Viking Village catch some of the best fish around. Some 40 boats float in the Barnegat Bay behind Viking Village, one of six major commercial fisheries in the Garden State; it sells five million pounds of fish a year. Viking Village does 500 tons of scallops a year. They end up all over the country, but also all around the state, including at the Diving Horse.
A bike ride away from the Diving Horse, in Stone Harbor, Lucas Manteca is doing insane things at Quahog's, his "seafood shack." Actually, he's doing these insane things in Cape May County, because they start way outside town.
Lately, Manteca has become a commercial hot sauce maker, a bakery owner, and a partner in two local farms that supply produce to his restaurants: Quahog's, and The Red Store (in Cape May Point, on the southernmost tip of New Jersey, and where you'll get that saffron pasta with fluke and dandelion greens). He also makes his own salt from ocean water in the 27 pools on his farms.
"Now we're brining everything," he says. "Now we're fermenting everything. Now we're roasting our own salt. It's fantastic."
On a summer afternoon, you could sit at Quahog's forever; it's the kind of place where time slows, where you lose count of how many drinks you've had. The menu is a hybrid: part New England shack (chowder, clam bakes, lobster rolls), part South American (Manteca and his co-chef Carlos Barroz, who also cooks at La Pulperia in New York, are from Argentina), and wholly impossible to taste in one trip.
Manteca cooks moqueca, a Brazilian seafood stew rich with achiote oil and coconut milk. Soft shell crabs get tempura-fried, plated with zucchini slaw, and a gazpacho of strawberries and hot and sweet peppers. Jersey bluefish gets turned into sweet disks shaped like crab cakes, calamari gets crusted with cornmeal, and oysters plug mojito shooters. From Brazil the kitchen gets pacu, a round Amazonian fish related to piranha, and grills its fragrant, meaty ribs before slicking them with orange barbecue sauce.
Manteca packs hamachi with flakes of his own salt. He cuts the fish into six steak-like slices and arranges them on a plate. Then he brings in the cavalry—a sauce of truffle oil, egg yolk, and yuzu vinaigrette—and, the kicker, dusts the sashimi with (his own) smoked salt.
This is seafood down the shore in 2016. The best of the new guard can outclass the old, unless you crave nostalgia trips every night. And even if you do, there's no better place to grab summer by the bathing suit drawstrings than the porch of a place like Quahog's, under fishing poles in the rafters and the giant night, sipping cool Albariño from a vineyard 15 minutes down the road and slurping Cape May Salts with a group of friends fresh off the sand.
Chris Malloy is a writer, photographer, and law student from the Philadelphia area. He has a Master's in Food Studies and has lived in Italy for two summers, one working on farms and vineyards. Chris blogs with his wife at Made in Rome.