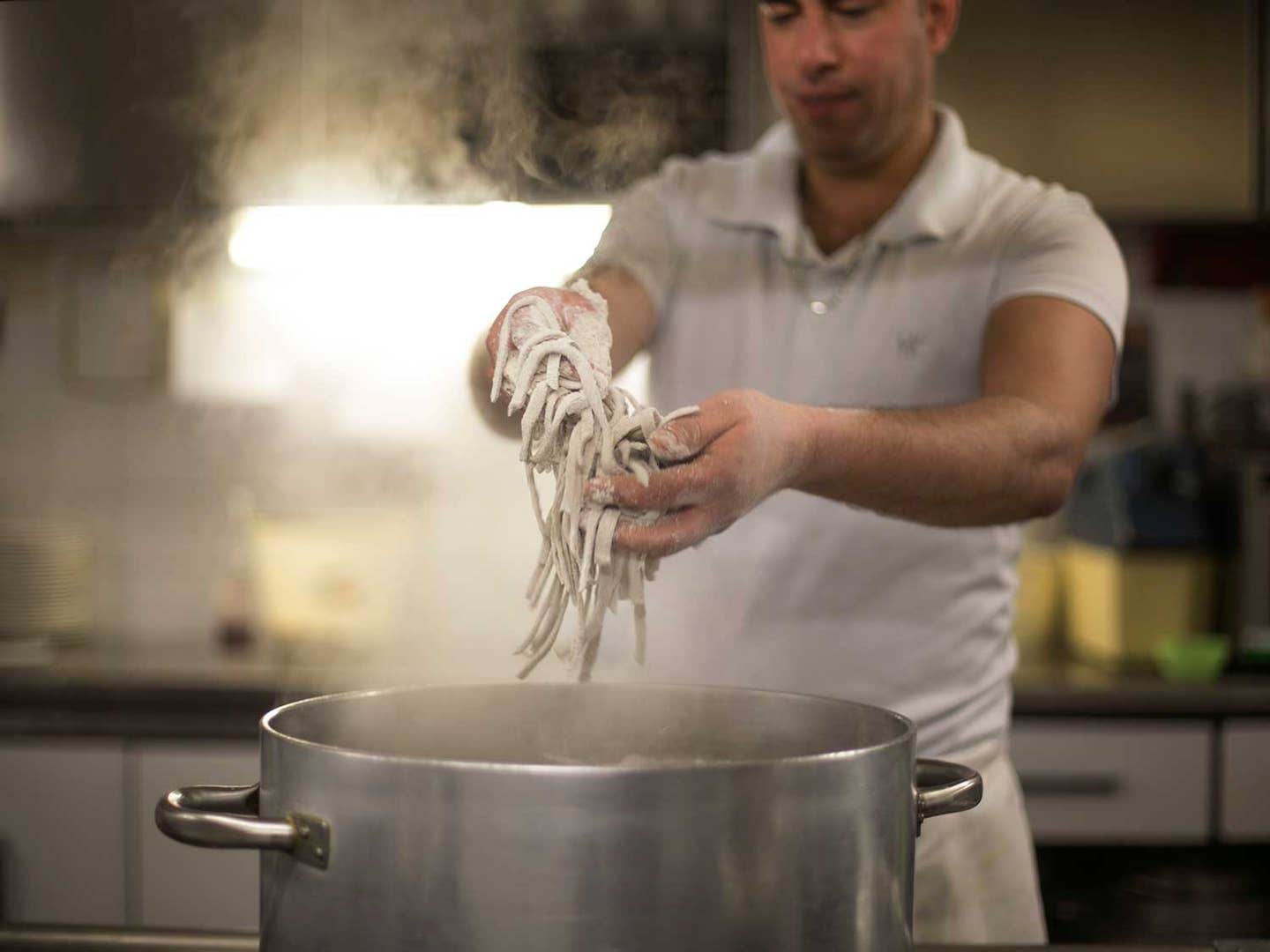 Culture
Pizzoccheri is the Pasta You Can Only Get in the Mountains of Italy
This hearty pasta doesn't appear in all Italian restaurants – you have to go to the Alps to find it
The roads through Valtellina switchback just as aggressively as others elsewhere in Italy, though the jagged Alps on all sides let you know that you're not winding through another Tuscan hill town. Bormio, at the head of the valley, is the site of a World Cup ski race and a luxury destination near Lake Como, but the Alpine region has historically stayed isolated from its southern neighbors and their flavors. While other Italian dishes spread far and wide along rich trade routes, you have to swerve past tractors to find a local Valtellinian specialty that has remained hidden in the mountains: pizzoccheri.
Pizzoccheri is rustic, simple fare unlike other Italian pasta dishes. It consists of thick buckwheat noodles, lumps of potato, and strings of cabbage, and is topped with cheese, brown butter garlic sauce, and black pepper. At first, this sounds entirely incongruous with the familiar Italian kitchen, but it's an expression of Valtellina's unique regional flavors.
Antica Osteria Belvedere, a cozy, chalet-style restaurant, sits in a commanding position on a mountain above Bromio, just on the Italian side of the border south of St. Moritz, Switzerland. It serves a number of classic Alpine dishes featuring local products, like venison with forest mushrooms, plates of delicately cured bresaola, and a glass of Braulio, the local digestivo, to finish off the meal. But then there was pizzoccheri, standing out from the rest with ingredients that sound more like fondue or pierogi than ragu a la bolognese or tortellini.
Pizzoccheri does not fit in with the familiar idea of northern Italian food, but it does match the unique terroir of the Rhetian Alps, and nowhere is this more clear than at the Pedranzini family table. For generations, the Pedranzinis have been making cheese and cured meat in the steep peaks and pastures around their home in the Bormio valley. At a lunch, in their home next to their dairy barn, four generations snacked on a spread of the family's own salami and bressaola, Bitto and latteria cheeses, and fresh bread. Pizzoccheri was the star of the meal, incorporating the Pedranzini's cheese with green cabbage and potatoes, and it ultimately fueled them through the afternoon as they herded cows, processed milk and meat, and worked in the family-owned grocery store down the road.
The best pizzoccheri in Italy is, of course, made in a family setting like this by the mother or grandmother of whoever you're talking about food with. But Combolo, a family-run restaurant on the side of the Valtellina valley next to the Pizzoccheri Institute in Teglio, is often considered the second best—a reputation they've earned by sticking as closely as possible to the home-style dish that locals know and love.
Combolo is staffed by Fabio, the maitre d', his mother, Severina, and son, Bustha. Bustha kneaded dark flour quickly into an elastic dough, then cut it into stout noodles, about as wide as linguine. Severina tended the stove, adding fresh pasta, sliced potatoes, and chopped cabbage to a pot of boiling water. Then the grandmother and grandson worked together to layer hot pasta with melty latteria cheese and sharp parmesan crumbles, finally topping it off with sizzling brown butter garlic sauce. Fabio took the fresh platter of pasta out to the dining room and poured it into a thick ceramic bowl.
The pizzoccheri was as simple there as it had been at the Pedranzini's table. The key, explained Severina, is not at all complicated: Use fresh ingredients and make everything by hand. Really, that is a universal truth of cooking, but it is fitting for a dish that, even at a restaurant with a reputation, feels so close to its farm roots.
While other parts of Italy present a cornucopia of fruits and vegetables, the steep slopes and high pastures that stretch above the valley have forced centuries of farmers to terrace their best land and scratch what they could from the rest. Though ski tourism has radically changed the local economy, earlier years of hardship created pizzoccheri, a dish that is equally welcome on both family dinner tables and formal menus.