Shopping & Reviews
The Best Reusable Straws to Help You Go Plastic-Free
We tested plastic alternatives in every shape, size, and material—here are our top five picks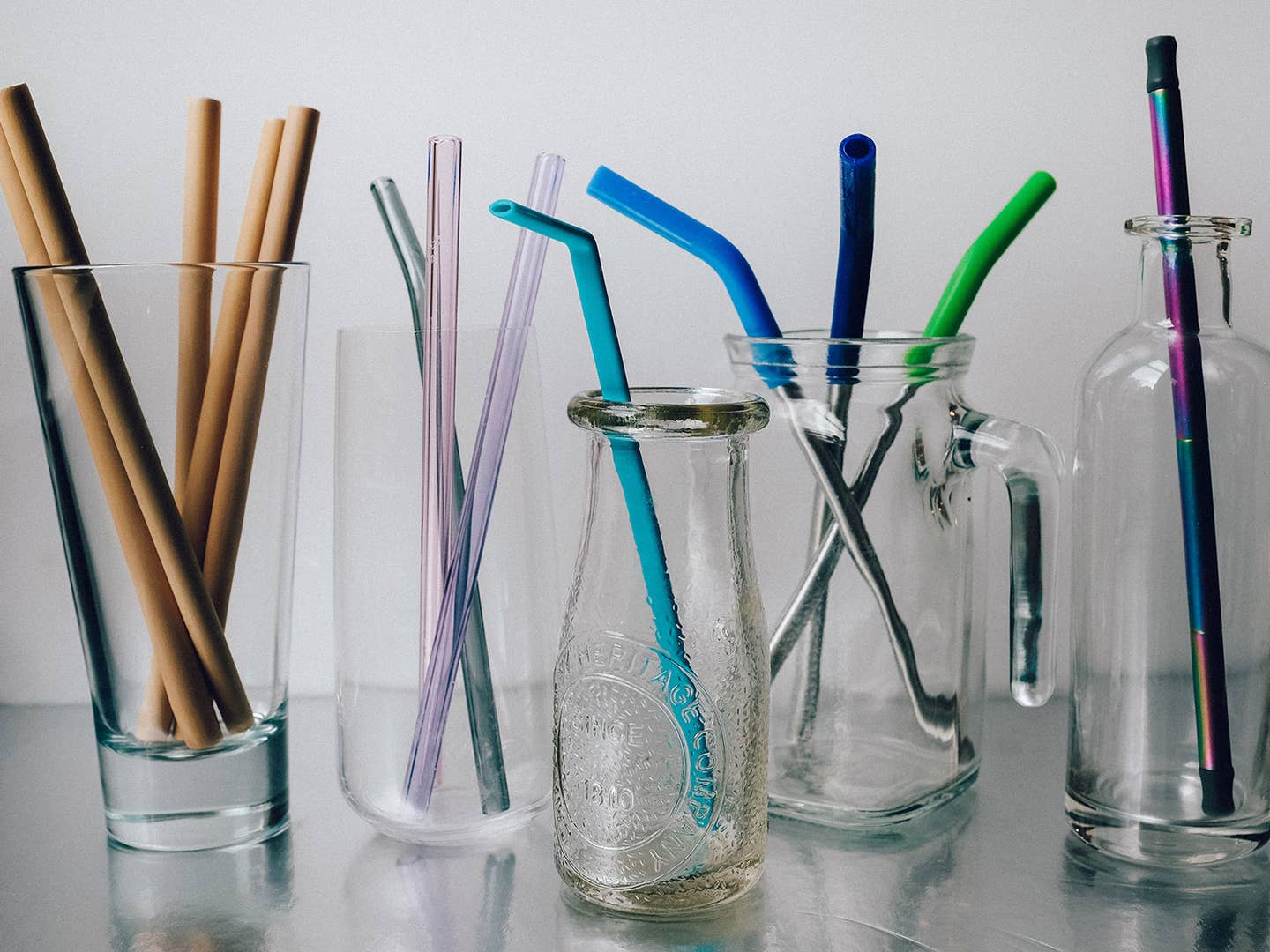 But what can you do on an individual level? It's time to either quit straws altogether (#StopSucking), or jump on the reusable straw bandwagon—the non-plastic variety is just as satisfying for slurping and a great first step towards breaking your plastic habit. Whether you're embarking on a 30-day zero-waste challenge or simply want to make a small change that's better for the environment, try one of our favorite reusable straws crafted from stainless steel, glass, silicone, or bamboo.
Each of these minimally processed straws is made from a single stem of bamboo. Since every stalk of bamboo is unique, Buluh straws vary slightly in diameter. Sold in packs of eight, they arrive packaged in a natural cotton bag and come with their own skinny wire brush for easy cleaning. Be sure to clean and dry well between uses, as the absorbent bamboo material can soften, warp, and crack if left soaking in liquid.
We were skeptical about glass as straw-making material at first, as it's clearly more delicate than something like silicone or stainless steel. However, as soon as we opened the package from Simply Straws, we were struck by how durable these lightweight sippers felt.
Simply Straws are available in an assortment of different lengths, widths, shapes (straight or angled), and colors—milk glass collectors will be particularly fond of the frosted green and white versions.
Glass does not absorb flavor or odor, so if handled carefully, these straws can last a lifetime. Glass also does not conduct heat as quickly as steel or copper, so they're is an excellent option for folks who prefer to use a straw for hot beverages.
Glass straws may not be your best bet if you're looking for something that travels well or is suitable for small children. But for an elegant desk lunch or a snazzy cocktail at home, they're a pleasure to use.
One of the main issues with stainless steel straws is that the metal conducts heat or cold very quickly. This can make both iced and hot drinks tough to enjoy, especially if you have sensitive teeth or lips.
Klean Kanteen solves the temperature problem with the addition of silicone toppers. The cushiony layer also adds a bit of dental protection for anyone tempted to chew on the stainless steel straws.
Our top pick for straw-chewers and children (two categories with a lot of overlap), the Koffie straw is made of 100% food-safe silicone, making it is soft and extremely pliable. Its most distinguishing trait is its unusual, oval-shaped opening, which is designed to fit easily into most reusable travel mug lids.
Koffie straws come in both 7- and 10-inch versions, but brand enthusiasts have been known to trim their straws to perfectly fit their favorite mugs.
Behold the straw that raised $1.8 million in a Kickstarter campaign: the James Bond of straws—shaken, not stirred.
Who doesn't want a straw that claims to be made of "orca tears and mermaid love"? In reality, it's comprised of a bendy, food-grade silicone tube encased in a segmented stainless-steel shell. When removed from its handy, recycled-plastic carrying case and unfolded, the steel pieces snap into place like a tent pole.
Final Straw gives its colors quirky monikers, such as shark-butt grey and sea tur-teal, so named for the sea turtle in a viral video that galvanized the #StopSucking movement.
While a bit bulkier and heavier than some of the other options on this list, Final Straw gets extra points for its fun, clever design and alluring rainbow-metallic finish.