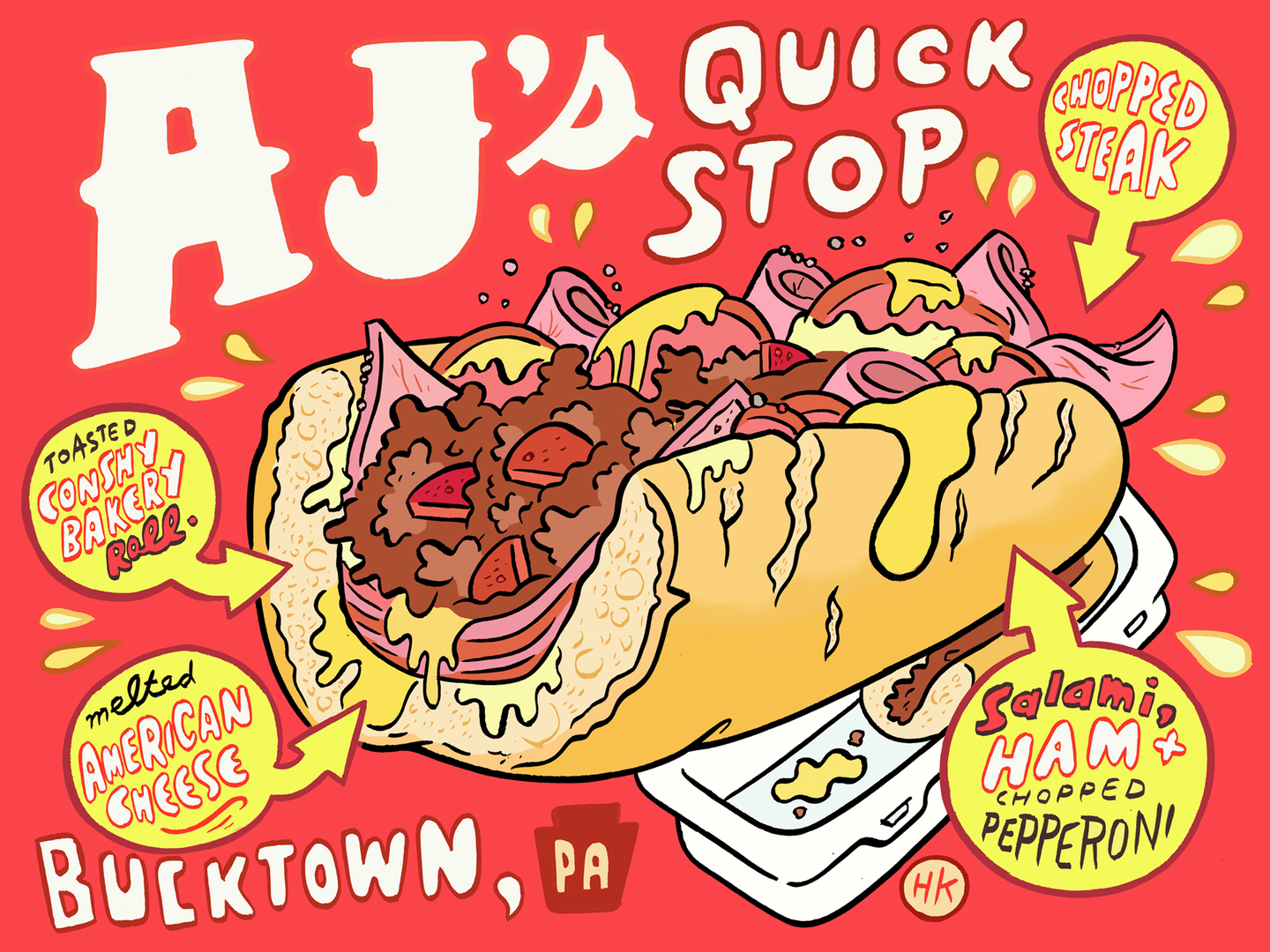 Travel
The Backroads Pennsylvania Sandwich Shop Making Amazing Philly-Inspired Cheesesteaks
Further evidence that Philadelphia and the surrounding area are the sandwich capital of America
Welcome to Hawk's Illustrated America, a monthly series following illustrator Hawk Krall's journeys through the back roads of the U.S. in search of our country's most obscure and delicious regional specialties.
The Pennsylvania countryside does strange things, especially if you're off the main highway. You'll drive for hours on winding roads, with nothing but fields, silos, and Amish buggies for miles, then bam, you round a bend and wind up in a strip mall. The sports flags switch from Steelers to Eagles, and suddenly you're back in civilization.
AJ's Quick Stop lies right on this invisible line that separates the Philadelphia area's greater food culture from the rest of the state's. And it does a hoagie-cheesesteak hybrid that reminds you of a fundamental truth: When it comes to sandwiches Philly does it better than anywhere else. Sorry New York, Chicago, Jersey, and Los Angeles. It's not just the sandwiches themselves, but the culture surrounding them, which is more entrenched and enriched in the Philly area than any place in the country.
It's a nondescript place, a barn-shaped building near the woods with a gravel parking lot. Little more than takeout counter with a single table next to a soda cooler, it looks like one of those little places on country roads that you always pass by but never visit. Inside, the shop looks like nothing more than a pizza joint. But sandwich obsessives whisper about AJ's as a place to find delicious oddball sandwiches well worth a detour.
"What are you looking for, a slice? A sandwich? Where you from?" one of the counter guys asked, instantly sniffing me out as a non-local. After settling on ordering a 'Sicilian Godfather' hoagie, they launched into an unprompted oral history of the business. Next thing I know, he peels a beer off of a six pack and hands it to me and the cook, and we're toasting 9% IPAs (from their personal stash) while my sandwich gets made.
As I'm waiting, a steady stream of locals roll through, all of whom the counter guys know by name, high-fiving and shaking hands. "You ever been here before? You're in for a real treat," they tell me, as the counter guys pass him a beer too. Where am I? Did I die in a car accident and wind up in backroad cheesesteak and free-beer heaven?
"We get our bread from Conshohocken Bakery," the counter guy goes on. It's the sort of detail most proprietors won't divulge until you've called and emailed them 17 times. The bakery's 30 miles from here—way outside the normal distribution and cultural influence radius—and legendary for its tomato pie and sandwich bread. "How the heck do you get it all the way out here," I ask. "We pay a guy to haul it in from Philly every day, delivers here and a couple other spots! Best bread in the world."
The Sicilian Godfather is a magically layered thing. Deli meats and cheese go on the hoagie roll, which is then warmed in the oven. The cook then cooks shaved steak, pepperoni, and more cheese on the grill, folding the cheese into the meat and chopping it on the grill with some real Philly technique, and slides that on top of the toasted base as it comes out of the oven. The multiple steps are a genius way to get around the dried-out edges of over-tossed grinders, and while the sandwich is reminiscent of the Philly-area Schmitter, it's unique enough to be its own thing. And it's glorious: abundantly cheesy and savory but with distinct elements that all add to a greater whole.
The counter guys hand me another beer.
AJ's also has full pizza menu, and oddball concoctions like bacon-wrapped hot dog rolls, but the sandwiches really are the star of the show. They're a testament to the versatility and liveliness of Philadelphia's sandwich culture—full of local tradition, cooked with practiced technique, and innovative enough to keep you excited.
And this is just on the back roads.
Hawk Krall is an artist, illustrator, and former line cook with a lifelong obsession for unique regional cuisine, whose work can be seen in magazines, newspapers, galleries, and restaurants all over the world. He focuses on editorial illustration, streetscapes, and pop-art style food paintings.