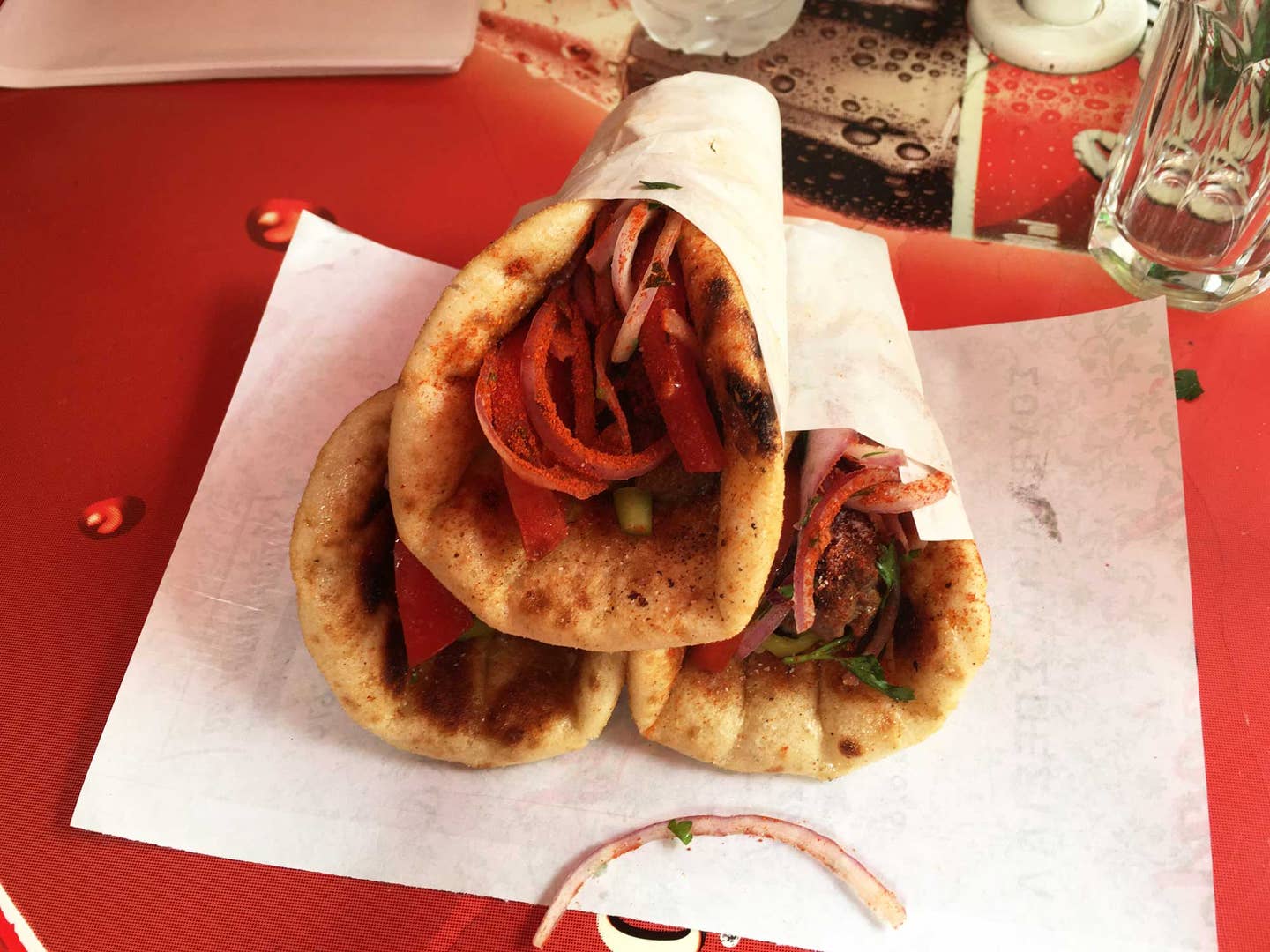 Travel
This is the Best Souvlaki in Athens
Where to get a unique—and absolutely delicious—Anatolian spin on a Greek fast food
Souvlaki is to Athens what pizza is to New York: it's everywhere, and it can be fantastic or plain mediocre. But in Athens, its ubiquity means you may never feel the need to go out of your way to get one.
Here's an exception: a souvlaki worth a trip to Greece all its own.
As part of a week spent eating my way through Greece, some Athens locals were giving me a tour of their favorite restaurants. We made our way to a small stand behind Omonia Square that sells souvlaki that isn't just souvlaki. The stand is called Lefteris o Politis, which means Lefteris from Istanbul, and when we got there, it was packed. One of my guides, Tasos Brekoulakis, went to the order as the rest of us stood at the table, and it immediately became clear to me that this was one of those no-nonsense ordering situations where a wrong move could get you ejected from the line. So I let Brekoulakis take the lead.
When he came back to the table, he set down a tray piled with three souvlaki that looked nothing like what I had known in the past. They were spare, with minimal toppings, and dusted with a fiery red spice that, on first bite, was so spicy it brought tears to my eyes. There's a lot of regional variation in Greek souvlaki—on skewer or off, made with chicken or pork or even cheese—but none made with minced kebab meat like at Lefteris, nor with that spice dusting. It was the most distinct and delicious I've tasted from Athens to Thessaloniki to Rhodes and Crete.
Brekoulakis told me that the family running the stand came from Istanbul. The father, Stavros, used to sell souvlaki as sort of a food cart—using a mobile grill to cook it as he walked through Athens. He moved to the shop in 1951, naming it after his son, Lefteris, and Lefteris' son Tasos now runs it.
This Istanbul influence is clear in the souvlaki, from the use of kebab meat to the paprika on top. Another guide, Marina, pointed out to me that when you get it spicy, you order the "manly" version. I felt kind of manly eating it, I guess—it probably put a little hair on my chest.
Lefteris keeps it simple. There are some tomatoes and onions, but no fries and no sauces. Which is just how they want it.
"There is a controversy in Greece among souvlaki makers concerning the french fries," Brekoulakis explained. "The traditional souvlaki doesn't contain any sauce, the tzatziki is a recent addition, and the fries were added in the '80s. The old 'souvlatzides' [people who made souvlaki] think that the fries make souvlaki too dry and they serve them separately."
So if you place an order at the stand, don't even think of asking for fries. Brekoulakis cautioned me in no uncertain terms that if you do, you'll get kicked out of line.
I love this. I love the history of the place and how present that history is even today. I love that the spicy version is called "manly" and that it brings tears to my eyes. There are lots of other souvlaki places I love (hello, Delicatessen in Thessaloniki), but this is the one I'll dream of for my next meal.
Lefteris o Politis 20 Satovriandou, Athens 104 32
+30 21 0522 5676