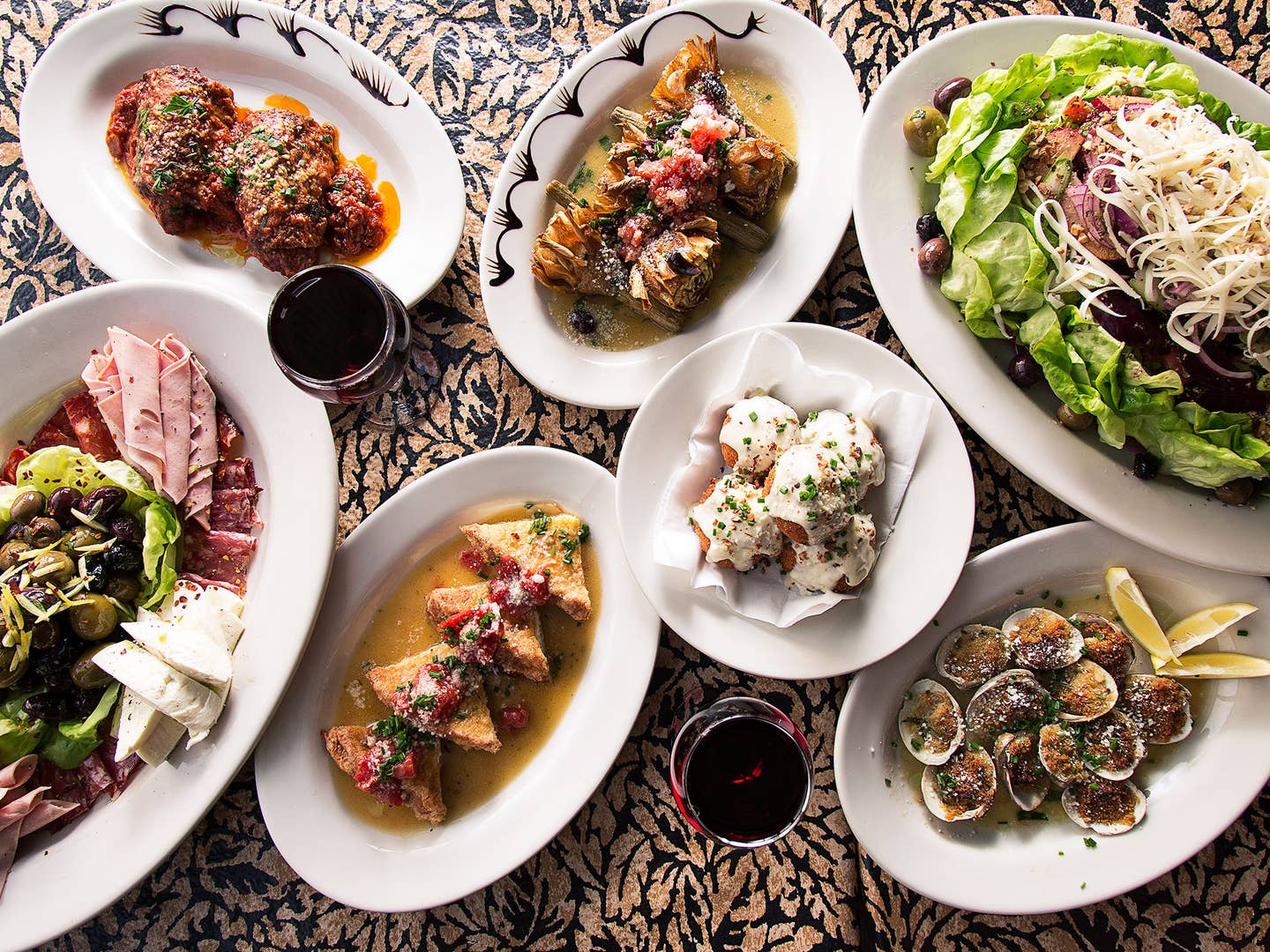 Travel
Is Brooklyn's Best Tasting Menu at a 70-Year-Old Pizzeria?
Everyone knows about L&B Spumoni Gardens for their pizza, but wait until you try the semi-secret chef's table
"Meatballs, olive oil, basil," read one of the crumpled sheets of paper. "Spaghetti, tomatoes, garlic," instructed another. These weren't erstwhile grocery lists, but rather, actual recipes assiduously procured from the 70-year-old Southern Brooklyn staple, L&B Spumoni Gardens, after an extravagant vetting process (involving multiple getting-to-know-you "sit-downs" in the form of banquet-style dinners), and a six-hour long photo session where they sent out 12-some odd dishes; not because they were intended to be shot, but just, you know, because.
Of course, there was no translating "spaghetti" into step-by-step, easy-to-follow recipes for at-home cooks…especially with accompanying photographs of shrimp, veal and fish. This was going to require another sit-down.
No matter; I was making slow and steady progress in my courtship of L&B, while working on my Brooklyn Chef's Table cookbook two years ago. I wanted to write a book that explored of the evolution of the borough's dining scene—as told through the stories of and recipes from its most influential restaurants—beyond the trend-chasing modern restaurants that grapple everyone's attention. (As a dyed-in-the-wool native, I'd be damned if I was going to write yet another insular treatise on the farm-to-reclaimed table spots of Williamsburg).
Which brought me to L&B. Originally a horse-drawn wagon back in 1938, peddling pizza and spumoni throughout Gravesend and Bensonhurst, L&B has remained justly famous for those signature items all these years later; especially the Sicilian-style square, considered by many to be New York's best. As such, obtaining a recipe was proving damningly elusive—not that you could blame the family for being suspicious about someone trying to copy their recipes.
So my attention eventually turned to the adjunct restaurant instead, added to the current, three-building compound sometime in the 1970s. If I couldn't have the square, I would happily settle for spaghetti, and my opportunity arose when mutual friends arranged a dinner; i.e.; a chance to substantiate my character and be vetted over lasagna and eggplant parm.
That night I learned one of Brooklyn's best-kept secrets: L&B's restaurant is far from some red sauce-stained way station for when it's too cold to eat pizza on the picnic tables outside. Its "chef's table" dinner—and off-menu experience reserved solely for those in the know— was unilaterally thrilling, one of the city's most distinctive, astoundingly affordable chef's table experiences—audaciously hidden in plain sight. To this Brooklyn-boosting writer (who adamantly believed she knew everything there was to know about exceptional eats in the borough) that initial, four hour-long feast was humbling; to say nothing of parmagiana-free.
The key is not to look at the menu, which continues the ruse with standards like fried calamari and ziti with vodka sauce. L&B has actually inserted a more overt mention of the chef's table recently, but even that undersells the spread to a comical extent, referencing a four-course family style 'tasting' sized for two to 200 people, priced at $50 to 70 per head.
What they fail to mention is the ever-changing roster of four to 14 dishes, delivered on massive, groaning platters: from an 'opening act' of arugula pesto-slicked oysters, long-stemmed Roman artichokes, bountiful bibb lettuce salads, and a face-off of poached and crispy shrimp; to a progression of pastas, occasionally accompanied by fat, cracked lobsters, their cavities brimming with scallops, white fish, and orzo; followed by an imposing parade of proteins such as blackberry-sauced salmon and finely marbled steaks, teamed with olive oil-anointed mashed potatoes and garlic-bombed broccoli rabe. And then there are the myriad, charming flourishes (such as a palate cleanser of lemon sorbet, proffered in a goblet), as well as the veritable Carnevale float masquerading as dessert; which I hesitate to lessen the impact of through description, but a dainty scoop of spumoni it definitely ain't.
Sure, most of the surrounding tables remain anchored by pedestals of pizza, but as chef and owner Lenny Kern later informed me, "I call the take-out window our slot machine. Because whatever money I make from that, I put right back into the restaurant. You see that pie over there? It just bought me the next size up of shrimp."
Not only did his conviction strengthen my resolve to earn a recipe, it irrevocably altered the narrative that had already formed in my head. I originally imagined that L&B has stayed afloat on a cushy cloud of nostalgia, a 70-year-old pizza joint gone stagnant. But that couldn't be further from the truth. In its own way, L&B has been steadily, almost imperceptivity evolving, and inspiring even its most set-in-their-ways guests to change along with it.
As I sped through editing a series of already expertly-formatted recipes, obtained from Brooklyn's young gun-run, media-savvy restaurants, I continued laying the groundwork for a meaningful relationship with Kern; I engaged in industry gossip while he regaled me with salty stories over the phone, courtesy of Frank Sinatra's trusted toupee-maker and colorful L&B regular.
And so it was a month or so later that I found myself back at the restaurant, hoping to finally expound on a napkin scrawled with the word meatballs (to this day, I've never seen a meatball at L&B). For the next two hours, as I sipped espresso and repeatedly turned down offers of "a little snack," Kern meticulously broke down his off-menu dishes, aided by gentle nudging to assign quantifiable amounts to "some fig molasses." Nearing on 10 p.m., with four full-fledged recipes in the bag (no matter that I'd originally asked for two), he gathered his team and treated us all to dinner at one of the most fashionable new Italian restaurants in Williamsburg. And as I stiffly sat there in the too-chic dining room, sipping on too-expensive wine and picking at palm-sized portions of preciously plated pasta, all I wished was that I was all the way back in Gravesend, wrist-deep in artichokes at L&B.