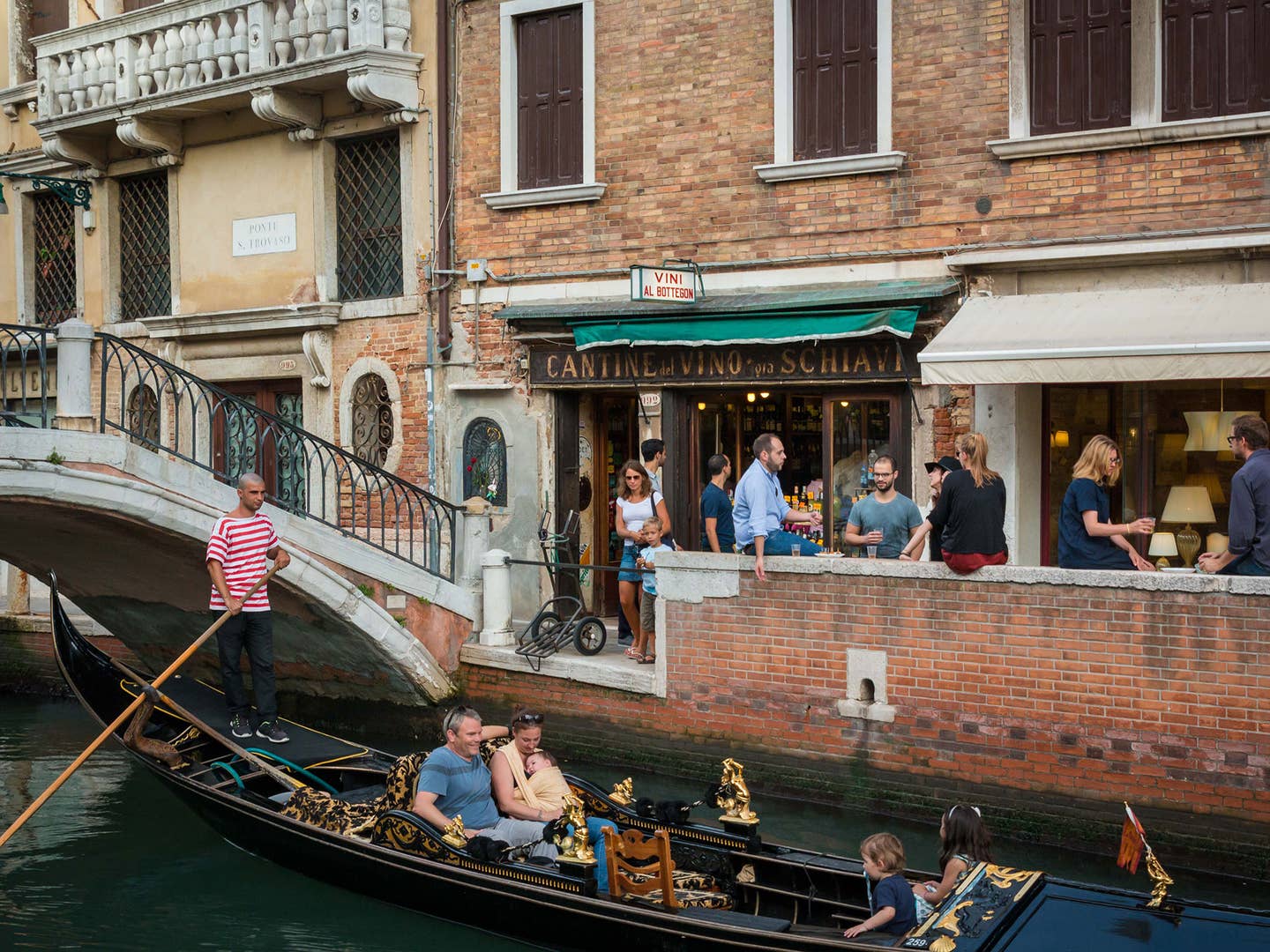 Travel
How to Drink Wine in Venice Like a Local
Prosecco Heir Matteo Bisol gives a tour of the city's unique—and fast evolving—drinking culture
Venetian wine bar culture is centuries-old, its existence predicated in part on three famous, neighboring regions—Soave, Prosecco, and Valpolicella—channeling their goods through the floating city.
To deliver that wine to thirsty residents, the city enjoys a robust web of diminutive bars called bacari (bacaro is the singular), spread across Venice's labyrinth of alleyways. Often standing-room-only, they serve a daily selection of small bites called cicchetti, akin to the tapas of Madrid or the pintxos of Basque country, along with glasses of regional wine referred to as ombre. Traditionally, bacari catered to a working-class audience looking to graze affordably while hopping from bar to bar. The wines were simple and rustic, the ambience (and hospitality), varying shades of charming.
But recently, more and more bars are going deluxe, bolstering local wines with more obscure regions and upping the selection of on-trend "natural" and "organic" bottles. These bars usually mean higher quality wine, but navigating them takes more local knowledge than good luck. Which is why we turn to Matteo Bisol.
To say the Bisol family has winemaking pedigree is an understatement. They've farmed land in Prosecco's Valdobbiadene since the 16th century, and produced wine since the mid-1800s. Grapes has been bred into the clan's DNA.
Matteo Bisol, son of Bisol patriarch Gianluca, first came to Venice as a student. During his five years enrolled in a local university, Matteo learned the best spots for boozy bonhomie. "The good restaurants were too expensive for students, so it was better to frequent the wine bars: you walk, you see the city, you eat, and you make friends," he explained.
Upon graduation, Matteo stayed on in Venice to rejoin the family business as general manager of the Venissa Wine Resort, a newly minted project bent on restoring a near-extinct piece of Venetian viticultural heritage. The resort now produces around 4,000 bottles of Dorona di Venezia white wine, which has sold out to enthusiasts as much for the golden-hued liquid inside as for the collectible, hand-blown Murano glass bottle it fills.
Here are Bisol's top six places for indulging in the Venetian art of bacari drinking and dining, from historic Venetian classics to the new breed of modern natural wine bars.
Vino Vero
Vino Vero ("real wine") is nestled along a quiet canal in the neighborhood of Canareggio. The sleek, standing-room-only (unless you're lucky enough to snag one of few stools in the window) storefront skews towards eclectic natural styles, and Bisol describes it as "one of the two best bars" for adventurous eaters and drinkers. Proprietors regularly rotate by-the-glass selections which they sell to a young, fashionable set who spill outside to socialize while snacking on fresher cicchetti than the competition.
Fondamenta Misericordia, 2497
Estero
Bisol's second recommendation for adventurous drinkers, Estero focuses largely on natural wines. The owners have amassed 700 different labels, all of which are fair game to open for the sale of just two glasses. It's the perfect place for taking a deep dive into the wine list because you can drink at an actual table, while seated in an actual seat. Try a still or sparkling orange wine (they have several), and nibble on roast pork or chicken liver tramezzini.
Dorsoduro, 3778
Al Merca
As the daily tsunami of tourists washes across the Rialto Bridge, this tiny, unassuming storefront in a nearby campo draws an authentic-feeling mix of Italians (those who pay rent and those on vacation). At mid-day, and again when it reopens in the evening, customers crowd the entrance for an affordable Aperol spritz or ombre, how Venetians refer to local wine. Try a two-Euro glass of citrusy-Soave, a white wine made from the Garganega grape, with salty Italian olives. No bathroom, though, and no seats.
Campo Bella Vienna, 213
Al Bottegon
"Red or white," asks the gruff proprietor of this dusty 1960s wine shop-cum-bacaro. Unfortunately, there's no list, so you have to ask for recommendations based on what bottles are open. Try to ignore the humorless service, however, and focus on sipping your wine while noshing on their routinely "award-winning" bites like pumpkin and ricotta; gorgonzola and walnut; and robiola with fish eggs, each served atop a slice of crusty bread.
Fondamenta Nani, 992
Cantina do Mori
You come for the atmospheric, rather than gastronomic, experience. This Venetian institution has been in business continually since 1462, and looks like it with its dark walls and begrimed ceiling adorned in copper pots. Postage-stamp-sized bites called francobolli sell out by afternoon, but inexpensive, young wine flows from demijohns until early evening.
Sestiere San Polo, 429
Alla Vedova
"No wine bar tour," explains Bisol, "is complete without a stop at a classic Venetian bacari like Alla Vedova." Tourists and residents patiently pile into the front bar of this old-fashioned osteria, to sample the city's most renowned polpette—a crispy, fried pork meatball – and wash it down with multiple glasses of prosecco. Eat, drink, and repeat.
Cannaregio 3912