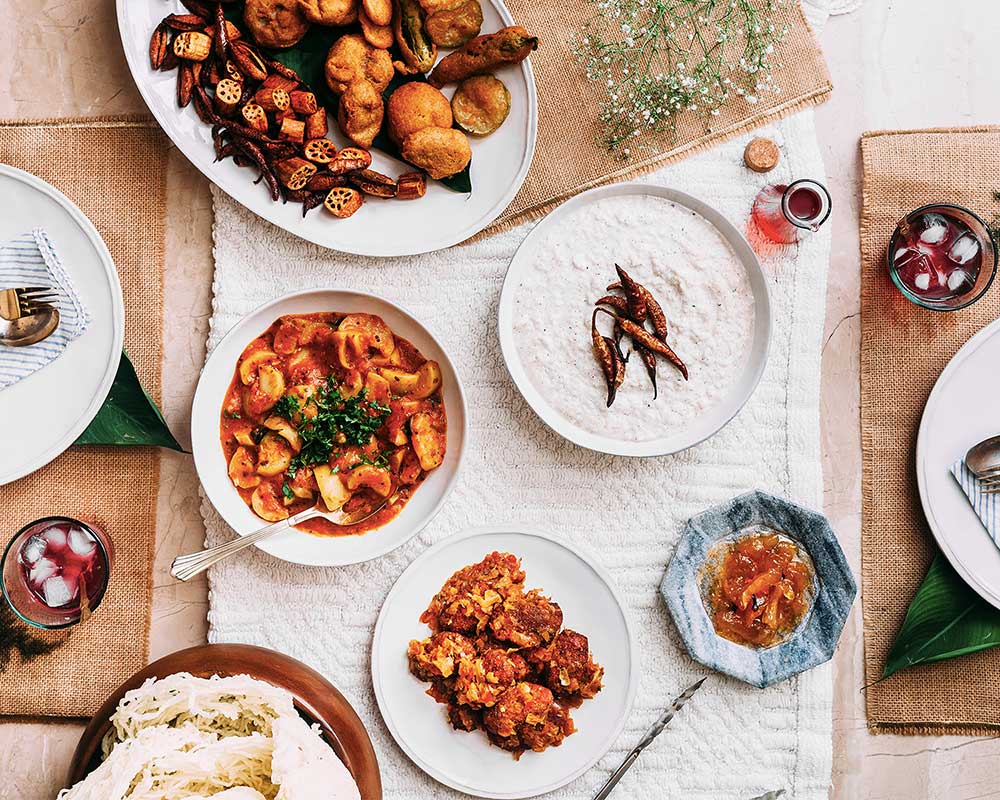 Culture
Meet the SAVEUR Blog Awards Finalists: 6 Food Instagrams to Drool Over
We never scroll past these 6 Instagrammers
The SAVEUR Blog Awards are here, and from a pool of tens of thousands of reader nominations we've selected 66 finalists in 11 categories. Now it's your turn to vote for a winner. Cast your ballot here early and often; you can vote as many times as you like by September 12th. Today: meet the finalists for our Best Food Instagram category, in their own words.
Food-based Instagram accounts are a dime a dozen these days, but our finalists stand apart with honed aesthetics and distinct points of view.
The Instagram: Belly Over Mind is an Indian blog with a global edge. It was started as a way to reimagine home cooking with novel, creative ideas that are also seasonal. The recipes themselves are an exploration of traditional flavors as well as interesting takes on international cuisines. The goal of the blog is to reacquaint readers with what's available to them locally, and how best to use it by way of easy-to-follow recipes. The objective of the blog has always been to feature wholesome meals, as opposed to "trendy" food that will never make its way into our recipe banks.
The Instagrammer: Ankiet Gulabani is a 27-year old food writer based out of Mumbai, India who, upon completing his education, traded his copies of Chaucer and Spenser for Julia Child and Marcella Hazan. With no formal training in cooking, he started his journey working with BBC Good Food India and writing for many other publications and tabloids before going on to start Belly Over Mind. He hopes to one day have his own recipe column and author multiple cookbooks.
The Instagram: Frosting and Fettuccine is a baking blog that was started in May 2017 by a professional baker who loves to eat pasta. Its primary recipes are focused on beautiful, easy-to-make baked goods, with a sprinkling of savory recipes mixed in. The goal of this blog is to bring readers impressive yet achievable recipes, and techniques, that only make it look like they spent the whole day in the kitchen.
The Instagrammer: Sam Adler is a professional baker, food photographer, and food blogger over on FrostingandFettuccine.com. She graduated from Le Cordon Bleu in 2013 and ran a small custom cake business for 5+ years. She started her blog as a place to share recipes, which quickly evolved into a love of food photography and a new career. Her work has been featured on TheFeedFeed.com, Kosher.com, and in Whisk by Ami magazine, among other places. When she's not dancing in her kitchen, you can find her at her favorite yoga spot. Sam lives in South Florida with her husband, two kids, and French bulldog.
The Instagram: Posiehh draws images from 600 Acres, a collection of stories and recipes from Posie's life—many from her childhood spent on a farm in Maryland where her mother made all the best things, from scratch, like vanilla ice cream churned by hand, pasta dough tinged bright yellow with fresh egg yolks, homemade graham crackers, and more—and others from her adventures in NYC and beyond. Each post is lushly written about things she loves, from day to day stories to poetry to easy-to-follow, inspiring recipes for the food she loves to eat: everything from celebration cakes to yeasted breads to simple weeknight dinners.
The Instagrammer: Posie Brien is at heart a baker, but professionally she's a food editor (the managing editor of SIFT magazine) and writer who also works doing recipe development and photography. She lives full-time in Manhattan and spends time in Vermont for work and on the North Fork of Long Island where she and her husband have a little whitewashed house on the water. She grew up on a sprawling 600-acre farm in Maryland with three sisters—milking a cow, eating raspberries from the garden, roaming cornfields, and eating homemade bread warm from the oven.
The Instagram: Cubes N Juliennes is an Indian food blog with a clear evidence of Farrukh's passion for cooking and food photography. Beyond recipes and cooking, she strongly believes in the food axiom "you eat with your eyes first". So, apart from ensuring that the recipes are the best ones, she also pays equal attention to shoot the food in the most natural and exotic way. She ensures that her fans and followers enjoy relishing with their eyes first and succeed when they make it for their own. Cubes N Juliennes is sorted in different categories to make it reader friendly including an amazing utilitarian section "How To". Since the time Cubes N Juliennes took birth, the praise and love it has received from its lovely followers has been endless. The popularity and accolades it has netted are plenty in a very short span of time. Cubes N Juliennes has earned are abundant with the top most being awarded the Best Recipe Blog at Food Blogger Association of India, Best Food Photography Blog at IndiBlogger awards & Best Instagram Food Styling at FBAI.
The Instagrammer: Farrukh Aziz Ansari is an award winning Indian food blogger, food stylist, and photographer. She is a microbiologist by qualification and a naturopath by profession, but after getting married, Farrukh chose to be a home maker. Now, she is a mom of two beautiful kids. In the eventful and lively daily routine of her house hold work, the most vital part of Farrukh's routine is to cook food for her little angels and adorable husband. Her passion for food is not something new; it has existed for many years and has lately pushed her to try her hand on food styling and photography. Farrukh's fondness of experimenting and developing new recipes has fostered a classical collection of simplified, tried, and tested innovative recipes from around the world.
The Instagram: Exchanging food brings the world together. It is what we all have in common, no matter which country or culture we come from. Cooking and photography are Terri's languages without words. The simple beauty of nature's ingredients are her inspirations. Terri's Instagram account (and her blog) tells the story of daily life from the kitchen table. She weaves a pattern of past and present memories with her narrative, traveling across country boundaries to create a tapestry of the senses. She hopes to awaken the profound emotion of food in her readers.
The Instagrammer: Although American-born, Terri Salminen grew up in the romantic northern Italian countryside. Today, she is a chef by passion and profession living in the Netherlands. She believes that cooking is a practical form of art. Her vision of food is decidedly Italian in attitude. Terri prefers brightly colored, naturally grown, seasonal ingredients. She loves the rustic and the simple, and absolutely adores vegetables.
The Instagram: The View from Great Island is all about bringing something fresh to the table every day, with bright flavors and minimal prep. (Instagrammer Sue Moran claims she is a lazy cook who loves to eat, what can she say?) Her kitchen is a judgement-free zone where vibrant seasonal ingredients can turn into anything from a poke bowl to a bundt cake, and she loves nothing better than introducing her readers to a cool new spice or heirloom veggie from the farmers' market. Sue's photos are an essential part of the story—she wants to put you right inside the wonderful moment when all that matters is that first delicious bite.
The Instagrammer: Sue Moran is the blogger, photographer, and voracious appetite behind The View from Great Island. She lives in Los Angeles with her cartoon writer husband, surrounded by year 'round farmers markets that provide inspiration for her colorful recipes. Sue's completely self taught, and known for her bold, evocative photos. Her favorite thing about blogging is the interaction with readers—"They give me some of my best ideas!" While the gorgeous produce in LA is a food blogger's dream, she's a small town girl at heart, and longs to eventually get back to a little island off the coast of New Hampshire called…you guessed it—Great Island!