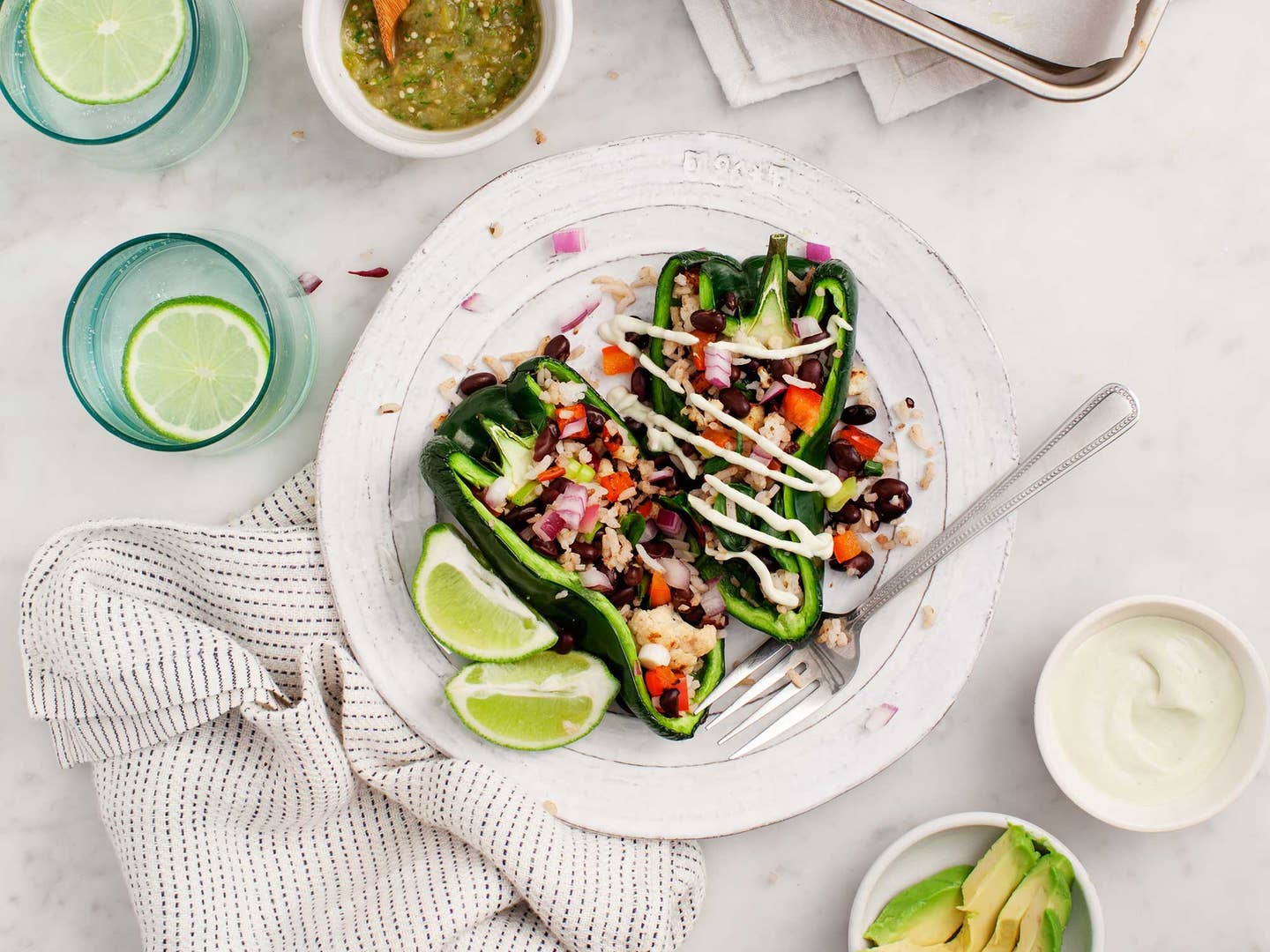 Culture
Meet the SAVEUR Blog Awards Finalists: 6 Food Blogs for Daily Dinner Inspiration
The blogs we turn to for meals on the weekday grind
The SAVEUR Blog Awards are here, and from a pool of tens of thousands of reader nominations we've selected 78 finalists in 13 categories. Now it's your turn to vote for a winner. Cast your ballot here early and often; you can vote as many times as you like by August 31st. Today: meet the finalists for our home cooking category, Most Inspired Weeknight Dinners.
There are entire blogs dedicated to days-long projects and complicated recipes: DIY wedding cake, sous-vide turducken, recreating 17th-century feasts. Those all have their place, but what we usually want in a food blog is advice on what to cook right now: recipes that are appetizing, inspiring, nourishing, and approachable, written by a humane voice with a smart eye for great photos. Take it from us—it's not easy work, let alone easy to do consistently. These blogs nail it.
The Blog: i am a food blog celebrates the awesomeness of food. Whether it's through a complex restaurant level dish or a cobbled together hack, its mission is to get people excited to be in the kitchen through great design, fun stories, and yummy yet easy recipes.
The Blogger: i am a food blog is written and shot by Steph and Mike Le. Inspired by random things in the fridge and all things cute, Steph is the cook and voice of the blog. The first meal she ever made for Mike was an inedible pot of burned congee left on the stove while she went out. Fueled mostly by scotch and beer, Mike is the eater and source of terrible food ideas. His first meal for Steph was pink-in-the-middle roast chicken. Together they live in a house filled to the brim with blog props and cameras.
The Blog: Half Baked Harvest is where blogger Tieghan Gerard writes about the food she makes and the chaos that comes with it. Cooking is the way her creative side comes out. You will find a mix of healthy recipes, cozy comfort food and sometimes over-the-top foods and indulgent desserts. She grew up with a chocolate freak for a mom, so chocolate is obviously a must.
The Blogger: Tieghan began reading food blogs at 13, then cooking at 15. Her little sister has become her official tester and partner in crime. Some of the accidents that happen in the kitchen are a crime, but since Asher is only seven, accidents go with the territory. Tieghan started throwing around the idea of starting a food blog five years ago, but classes and cooking for her large family got in her way. Then she started to get more serious. Since she was already cooking, why not take pictures and share her experiences and recipes?
The Blog: The Modern Proper's mission is to reinvent proper and the lost art of hospitality for the modern homemaker. While the rules of etiquette formed centuries ago had their place and value, their goal is not merely to reimpose those arduous practices but rather re-introduce you to the heart and original intent behind them—bringing people together. They believe that sharing food and your home leads to sharing life. Inviting others around your table is a beautiful way to strengthen friendships and build community. It's time to change the way people think about hospitality, one delicious meal at a time.
The Blogger: The Modern Proper team consists of two friends, Holly Erickson and Natalie Mortimer, five children, and one great Pacific Northwest. In 2013, after trading stories of their past solo-blogging failures, they decided it was time to start working together. With their shared love for food, creating, and hosting, they set out to make The Modern Proper. As often as possible, their cooking features seasonal foods with the freshest ingredients. Most of the recipes you'll find from them are made from scratch, written and developed by them, or adapted from recipes that have inspired them in the past.
The Blog: Love & Lemons is a blog about healthy, seasonal, vegetarian cooking. It began way back in 2011 before avocado toast was a thing and the internet was just falling in love with cauliflower. Blogger Jeanine Donofrio's mission is simple: to inspire people to eat (and love eating) seasonal produce in the most delicious ways possible. She loves it when parents write her to say that they've gotten their two-year old to like broccoli, and when girls tell her their boyfriends now love kale.
The Blogger: Jeanine Donofrio loves to make bright beautiful food that is often finished with a squeeze of lemon. She works on the blog with her husband, Jack, and together they also recently wrote and photographed their first cookbook, The Love & Lemons Cookbook. Her favorite foods are peaches and avocado, and her husband is a fun guy whose favorite food is mushrooms. Together, they live in Austin, TX with two spirited Shiba Inus who are crazy for cheese and chopped kale stems.
The Blog: Noghlemey is a term used since ancient times in Iran to refer to small dishes and sweets, savories and fruits, that accompanied wine drinking. It's about rediscovering authentic Persian food, well-balanced and rich in plant-based ingredients, and recipes that are pleasant to both Iranian and non-Iranian readers. Noghlemey tells the stories of cardamom and roses, pistachio and saffron rice, yogurt and turmeric; not only Persian Kababs but also Pasta alla Norma and Chicken tikka masala! It's a balance between Mahroo's deep Persian culture and her new European roots.
The Blogger: Mahroo Amiri is a cook, food photographer, and stylist. Born and raised in Iran, she discovered her passion for cooking and photography at a very young age thanks to her mom's foodie family and her architect father. The past 13 years in India and Italy broadened her cooking vocabulary, and ALMA in Parma, apart from the culinary experience, taught her that there is no limit to passion, and that you should always do what you love. With Noghlemey she shares her experiences and progress; she hopes to write her own cookbook and open a modern Iranian restaurant in the near future!
The Blog: Mostly simple, sometimes fussy, always seasonal—Alexandra's Kitchen hopes to inspire people to cook. Through recipes, stories, tips, and tricks, Alexandra's Kitchen encourages Readers to support their local food systems and maximize their CSAs, to have the confidence to get dinner on the table any night of the week, and to overcome their fear of baking, especially bread.
The Blogger: Alexandra Stafford lives in upstate New York with her husband and four young children and currently is writing a cookbook, Bread. Toast. Crumbs. (Clarkson Potter, spring 2017). Her food journey began in 2003 when she graduated from Yale and moved to Philadelphia, where she attended cooking school and worked in catering and restaurant kitchens. After spending two years at Fork, first as a prep cook, ultimately as sous chef, she left the restaurant world, started her blog, Alexandra's Kitchen, and began writing about food for newspapers and magazines. Today, she contributes weekly to Food52, writing often about simple weeknight cooking.