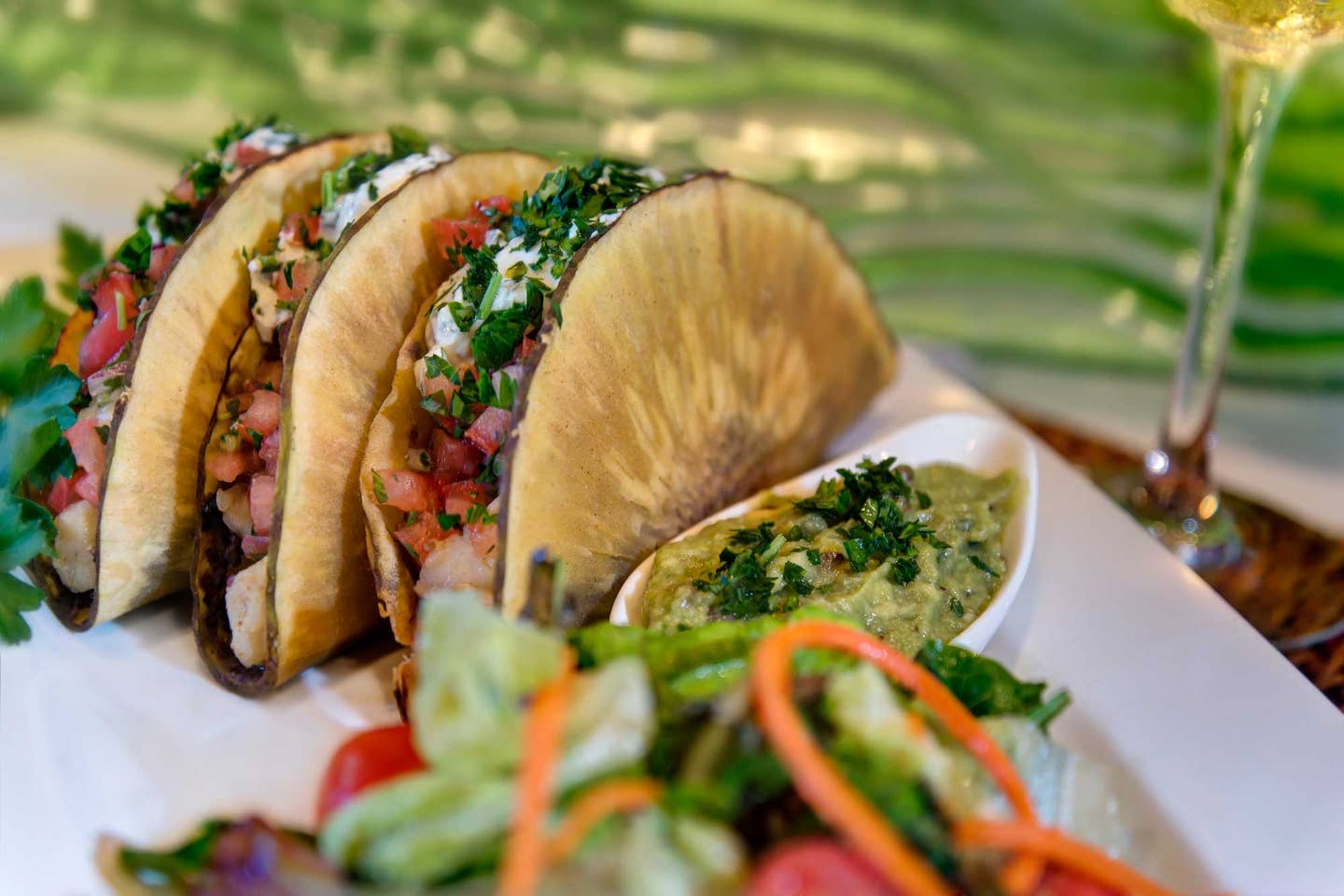 Culture
The International Breadfruit Index: What Cooks Around the World Are Making With a Historic Supercrop
The breadfruit revolution includes tacos and beer
It's been popular for centuries in the Caribbean and Hawaiian islands for its incredible health benefits (it's high in fiber, antioxidants, potassium, and calcium, just to name a few), but now is spreading even farther across the world. And beyond the typical breadfruit mashes and fries, we're seeing all sorts of new uses for the starchy fruit, everything from tacos to ceviche service vessels to...beer. Yes, drinkable breadfruit.
Breadfruit came from New Guinea and was brought to Western populations by British explorers. Captain James Cook is credited with discovering it in Tahiti in 1769, and although his attempt to transfer his harvest was initially fraught with problems (including a mutiny where all his breadfruit trees were thrown overboard), he eventually managed to get breadfruit plants to the Caribbean. The trees also made their way to Africa, and they're now prevalent throughout the continent.
Now, as Diane Ragone, the director of the Breadfruit Institute, puts it, "There's a renaissance happening. People are doing things with breadfruit that I've never seen. I'm blown away." Here are a few ways the world's cooking its breadfruit today.
Chef Cindy Hutson of Ortanique restaurant has been deep frying cup-shaped shells made of breadfruit to hold ceviche and taco salad for years. Hutson says the key is to use firm, green, cantaloupe-sized breadfruit.
The Maui Breadfruit Company in Hawaii has been equally inventive in incorporating breadfruit into its products. In an effort to find a way to create a healthy dessert, founder John Cadman began making pono pies—he mixed macadamia nuts with haiku honey and almond milk in a homemade pie crust and discovered it made a pretty popular dessert. Cadman makes ulu (Hawaiian for "breadfruit") hummus in addition to the pies.
Over at Ulu Ocean Grill in Hualalai, you can find breadfruit as a crunchy bar snack, or as a puree served with a pan-fried mahi mahi.
Indian cooks do plenty with breadfruit: marinate it with spices, deep fry it, stir fry it, and simmer it into curry. At Pulimunchi in Bangalore, there's a jeegujje ghee roast—cooked with plenty of butter—and a jeegujje fry. Jeegujje means breadfruit in parts of India, and a 'fry' usually refers to a kind of stir fry.
The Caribbean is also well-known for cookig with breadfruit, and in Jamaica, it's typically eaten as a side. At Sweetwood Jerk Joint, breadfruit is roasted as a side dish that pairs well with stews, jerk meats, and curries.
Nigeria's Coors Restaurant and Lounge uses ukwa (or breadfruit) to make a traditional African breadfruit porridge made from the seeds. This porridge is popular in Africa, and is just as good plain as it is with added ingredients (this restaurant adds dried fish stock).
There was even a way to drink breadfruit. In 2012, Dogfish Head partnered with Maui Brewing Company to create the limited edition Liquid Breadfruit, an Imperial Golden Ale brewed with breadfruit and toasted papaya seeds. With all of these ways to consume breadfruit, this super-nutritious fruit may soon become a more prevalent menu staple.