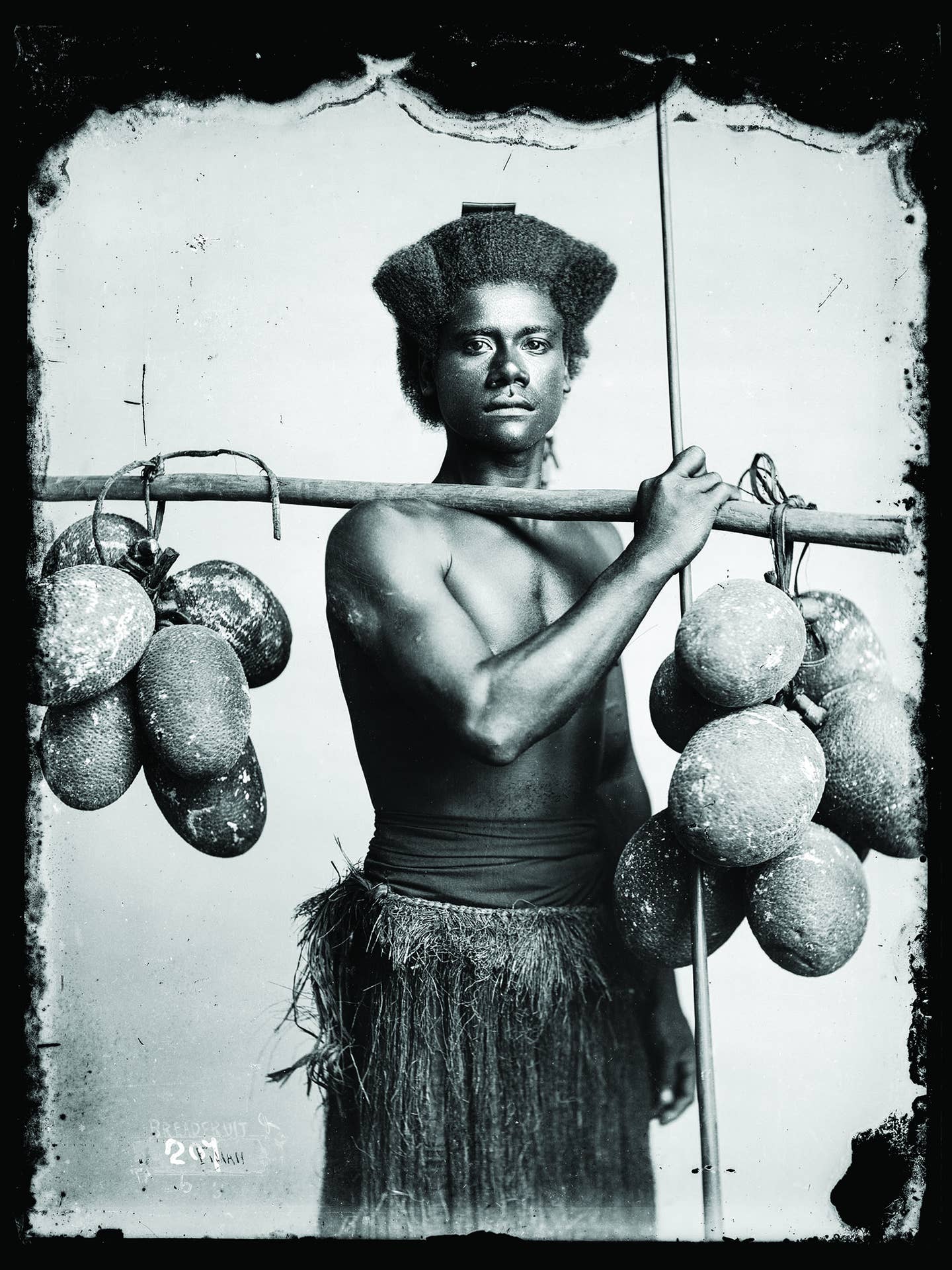 Culture
Can Breadfruit Save the World?
In Hawaii, a band of scientists and chefs are fighting food insecurity by cultivating a highly nutritious native superfruit. Step one: Make it taste good
On a warm, sunny morning in Kauai, chef Adam Watten and I were perusing the assorted Seussian orbs at the local farmers' market—if you haven't been to a Hawaiian one, picture any farmers' market after a button or two of peyote: garish dragon fruit, thorny soursop, hairy rambutan. At last, he found what he'd come for: three green, softball-size dinosaur eggs. Breadfruit.
It wasn't a lost hiker or marooned surfer that needed saving but a fruit, exotic yet lowly. I'd flown to Hawaii to watch the breadfruit be plucked not from the path of bulldozers or blight, but from its own past. Depending on whom you ask, the Artocarpus altilis has been either unjustly overlooked or mercifully avoided by the food world. To many who grew up here, it is the joyless and insipid taste of childhood—the Brussels sprouts of the 1950s. But to a growing cadre of enthusiastic chefs, this reputedly plain fruit is something else entirely: subtle, excitingly versatile, and ripe for reinvention—the Brussels sprouts of today. I'd flown 2,500 miles to see, firsthand, a redemption.
In the run-up to my trip I button-holed anyone with Hawaiian roots I could find. "I'm going to eat breadfruit for five straight days," I'd tell them excitedly. This tended to be met with muted enthusiasm. "Jesus," they said. And: "Too late to change your ticket?" Among those with history degrees, the word summoned even darker connotations, a link to a decidedly unpalatable past.
Not so for Watten and his business partner Collin Darrell. I joined them in happily lugging our stash from the market to a shuttered old grocery nearby. Watten had built a makeshift cinder-block oven out back, and I watched as he arranged some lychee logs inside. He lit them and tossed in the dinosaur eggs—'ulu, as the fruit is also called here. After watching for a minute, we walked away and executed the ultimate Hawaiian dinner prep move: We climbed into his junky truck and went to the beach.
Watten, a trained chef and native Virginian, is a mellow young haole (or white person) with a shaved head and frying-pan tattoo on his arm. As we rumbled to the coast, he told me about that shuttered grocery. In a matter of weeks, the front door lock would be coming off and Hawaii would have its first ever 100 percent locally sourced food palace. (Food palace is my term—I'm not sure what else to call it: The massive space, called Hanai, will feature a grocery as well as cooking workshops and prepared foods.) The idea is surprisingly radical. Up to 90 percent of the food eaten in Hawaii is imported. That's an insane statistic for a fertile realm like this. As Watten explained, the crops that naturally grow here are often vastly better than what's shipped in.
The breadfruit was charred on the outside and just right within—tender, almost creamy—when we got back from our afternoon at Kealia Beach, a half-mile crescent of white sand on the eastern edge of the island. Watten put on some music, cut the fruit into wedges, and proceeded to make two variations—a local feta sprinkled atop one, a vinegar-and-honey barbecue mop sloshed over the other. We ate it standing up, barely speaking, the light low. It was earthy and alien in its smoothness—not fibrous like a squash, which it called to mind, or dry like a potato. Maybe I was dazed from the surf, but months later it remains one of the most memorable and wonderful meals I've had in years. Did it taste like bread? A little, I guess. But also like a root vegetable, and also like some sort of dough, and also sort of nutty, and also somehow like Kauai itself, the damp and the breeze and the salt.
In these complex times, I take solace in the existence of the Breadfruit Institute, which is nothing more complicated than an institute devoted to breadfruit. On a humid morning I aimed my rental car at the island's dense innards, where Java plums and stark African tulips crowd the narrow roads, and sweeping green valleys open up abruptly. In a small, 1970s-ish office, in the stunning Lawa'i Valley, I encountered the closest thing the world has to a breadfruit celebrity.
Diane Ragone is a bright-eyed woman with wavy blond hair and a lingering Southern accent from her childhood in Virginia. Spunky and charismatic, she's a funny counterpoint to the supposedly flavorless fruit to which she's dedicated her life. We chatted among the breadfruit books and breadfruit posters and breadfruit charts, and then headed out to see some actual breadfruit.
The institute occupies a sliver of the nearly 2,000-acre National Tropical Botanical Garden, and on the edges of a sunny, rolling meadow grows a collection of breadfruit trees—each with a stately and commanding presence, and similar in size and look to fig, with dark, broad leaves. Ragone has served as director since the institute's founding in 2003, when the Botanical Garden agreed that the planet's enormous but shrinking variety of breadfruit needed saving.
Along with sugarcane, taro, coconut, sweet potato, and nearly two dozen other crops, breadfruit was one of the so-called canoe plants Polynesian voyagers packed into 100-foot-long double-hull canoes and ferried to Hawaii over a millennium ago. The trees became central to life here, second to taro as a source of nutrition. The trunks were used for surfboards, the bark and buds for medicine, the sap for glue and caulk and chewing gum. And then the pineapple and sugarcane plantations swept in, and the breadfruit trees, along with so much of the state's great agricultural diversity, largely went away.
Ragone has devoted her career to gathering the world's largest collection of breadfruit, with more than 120 varieties—some with seeds, some a little sweet, some more lavender than green—from 34 islands in the Pacific and beyond. More fanciful flowers grow nearby, ornate and fussy, but the breadfruit trees have a stately and commanding presence. Lately Ragone has hatched a plan even more ambitious than preserving and curating them.
I first had to understand how weirdly, almost cartoonishly healthy breadfruit is. It's high in fiber, antioxidants, calcium, copper, iron, magnesium, potassium, and other nutrients. A single fruit can satisfy the daily carb needs of a family of five. An average-size tree will conservatively yield 100 fruits per year; larger ones can produce up to 600. That's better math than you get with a traditional root and tuber crop, and the labor is far less backbreaking. What's more, breadfruit trees grow easily in the tropical and subtropical climates where the vast majority of the world's hungry live. At a moment when the planet's woes often compound one another, Ragone sees the chance for some happy synergy.
Over the last few years, in conjunction with a private horticultural company, she's sent 60,000 breadfruit trees to more than 30 countries in Africa, Asia, the Caribbean, and elsewhere, in an effort to alleviate hunger around the world. At the same time she's distributed thousands of starts all around Hawaii, a horticultural version of Huey Long's chicken in every pot, she says.
The potential for these efforts is immense. One in four people in sub-Saharan Africa is undernourished. Fertilizer, increasingly unaffordable in poor regions, is scarcely needed for breadfruit. On the level of women's health alone there's much to get excited about: Iron deficiency is common among women in developing nations, and the breadfruit would represent a low-cost, high-yield, permaculture-friendly means of addressing that.
Ragone has a scientist's aversion to hyperbole. "It's not the solution to world hunger," she told me. "But it's pretty promising."
Strolling around the institute's collection, I thought about a career devoted to a single fruit. I thought about all the flora that was wiped out here after Hawaii was overtaken by plantation agriculture. And I thought about Marlon Brando and Clark Gable.
Both actors starred in separate versions of Mutiny on the Bounty, Hollywood's take on the most famous nautical insurrection in history. Captain William Bligh was tossed off H.M.S. Bounty one April day in 1789, six months into an expedition in the South Pacific. Fletcher Christian led the mutineers, a sympathetic band that eventually attempted to found a utopian society on Pitcairn Island; it devolved largely into murder. These are the facts people tend to remember in the maritime history corner of their minds. Poor Bounty, poor Bligh. We forget the reason they set out in the first place. They were collecting breadfruit.
Here we get into the fruit's troubling backstory. For the very reasons breadfruit has become a beacon of hope in the world, it once facilitated evil. Hark back to the 18th century, when the British Empire was casting about for new ways to feed its slaves. In 1769 Captain James Cook had discovered a stable, nutrient-rich, easily grown fruit on Tahiti and brought it back to the king, raving of its potential to sustain slaves working on sugar plantations in the West Indies. Twenty years later, Christian's mutiny undid a five-month breadfruit-gathering project—but Bligh, set adrift during the Bounty's voyage, miraculously navigated over 3,500 miles to safety with just a quadrant and a pocket watch. They sent the guy out for more damn breadfruit, and this time it worked. He returned to Tahiti, loaded up his new ship—a "floating forest," his third lieutenant called it—and eventually the trees would spread throughout the Caribbean. Ironically, breadfruit is a wildly popular ingredient there today, and requires no culinary rehabilitation in the slightest.
On September 11, 1992, Kauai was slammed by the strongest storm in the region's recorded history. In addition to destroying over a thousand homes and causing $1.8 billion in damage, Hurricane Iniki left the island without electricity, and by extension fresh food. In a state that imports so much of what it eats, the importance of food security became indisputable. Another big storm, an earthquake in California, a strike at the ports: It's not hard to picture a scenario that would abruptly put Hawaii in dire straits.
"We ate MREs for months. That was enough for a lifetime," Tom Pickett recalled. It was a brisk morning on the sun-dappled patio of his popular Kilauea Bakery, which he opened 25 years ago, and a group of us were cheerfully batting around apocalyptic scenarios. Ragone was there, along with a Breadfruit Institute colleague. Gradually our conversation shifted from food independence to a series of experiments Pickett undertook with 'ulu over the past year.
The results were spread before us: a cracker, a cookie, a muffin, a bread, a bagel, a pie shell, and a flatbread. We tasted our way through them all and were stunned. The stuff was light and airy, yet full of flavor—not blandly starchy like the fruit is reputed to be. Some of the problem, someone at the table ventured, is that unappetizing name. I mentioned the Chinese gooseberry, a similarly charm-challenged berry native to China. A little rebranding and it was born again as the kiwi we know and love, or at least tolerate in hotel buffets.
"Breadfruit has a bit of an image problem," Pickett said. "It's undeserved. Turns out it's an amazing food."
That night chef Rodman Machado of the Aqua Kauai Beach Resort cooked a full 'ulu menu for me. He's a tall and capable-seeming guy with an air of mischief. Over the course of an hour on a terrace overlooking the pool, I ate a cloudlike 'ulu gnocchi, a soft 'ulu hash, and a light, savory 'ulu cake topped with burrata. For Machado, who's been developing an array of such recipes in recent years, 'ulu takes him back to the beaches of Oahu, and the Samoan lunches he'd watch unfurl as a child.
"One guy would be fishing, someone else would make a fire," he told me. "They'd throw the whole 'ulu, some coconut shells, and green banana into the coals, serve it with whatever fish they caught, and that was lunch. It was incredible."
That night I walked on the beach, the surf a vague hiss to my left, thinking of a moment I'd shared with Ragone back at the institute.
"There's a renaissance happening," she'd said as we stood among the great trees. "People are doing things with breadfruit that I've never seen. I'm blown away."
"It's the next kale!" a colleague had added. Ragone made a face that I took initially for skepticism.
"Kale's so over," she said.