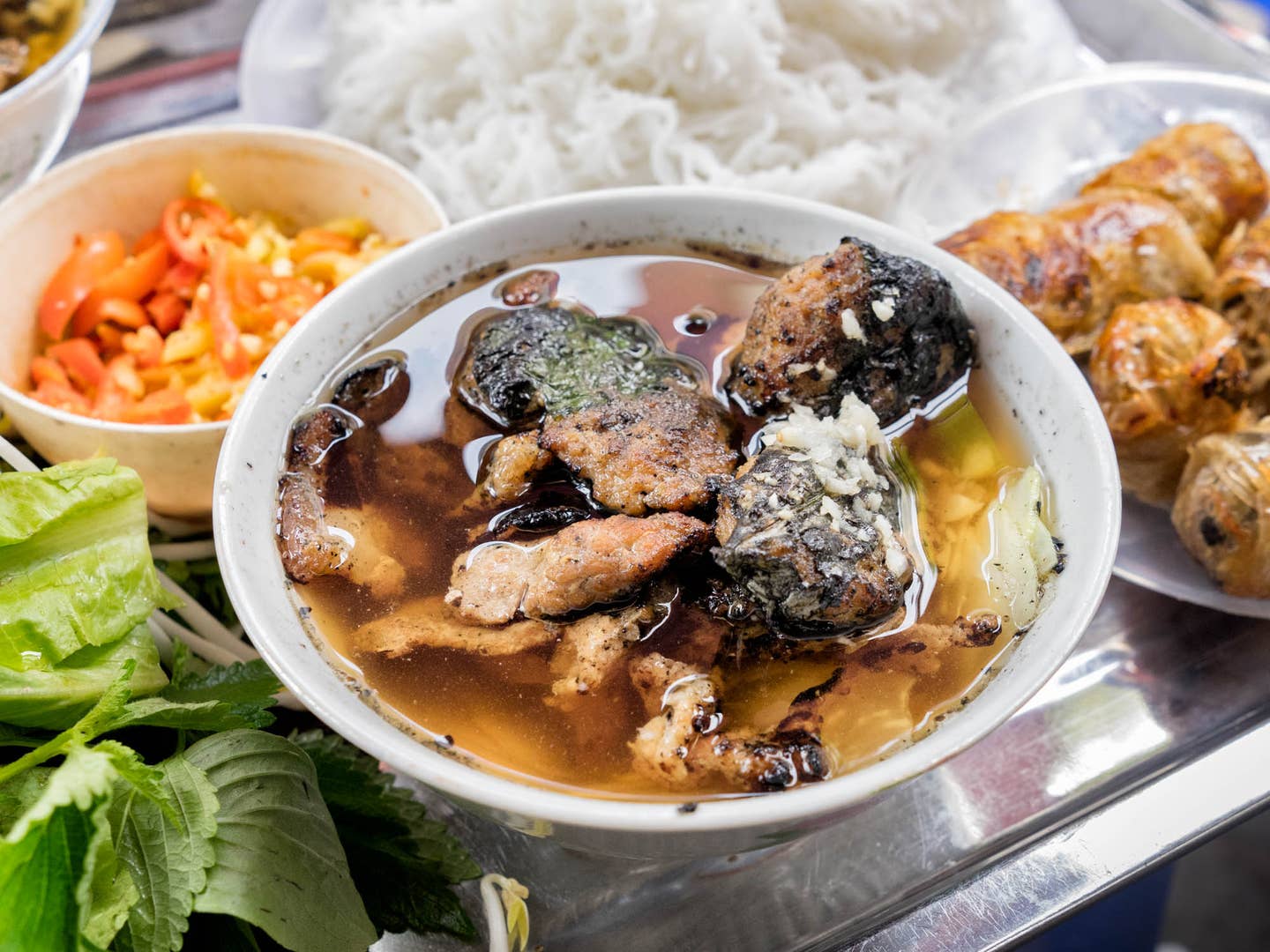 Travel
Why Does Vietnam Have a Mid-Day Siesta? I Blame the Bun Cha
The Hanoi specialty of fatty pork with noodles and a funky-sweet broth is best paired with an afternoon nap
2 p.m. is a slow hour in Vietnam: Street traffic comes to a lull, sidewalks are noticeably less crowded, and even the shops close temporarily. It's the afternoon siesta, a post-lunch naptime that's not only socially accepted, but encouraged in Vietnamese culture.
I'm not really sure where the tradition comes from. Some say it's because Vietnam rises so early, while others suggest it's a cultural response to the midday heat, but I have a theory that we break in the afternoon because our typical lunch foods are just too hearty to eat without taking a nap afterwards.
Nowhere is this better illustrated than Hanoi's iconic bún chả, a midday feast of round rice noodles (bún) served with grilled pork patties (chả), pork belly, fresh herbs, and a sour-sweet fish-sauce-fortified broth. A long-time staple in the capital, it earned some international spotlight last year when none other than President Obama and Anthony Bourdain were seen enjoying a bowl on an episode of Parts Unknown.
No one seems to know the origin of bun cha, but there's no shortage of spots in Hanoi's Old Quarter dedicated to the street-food noodles—Obama and Bourdain visited the family-owned Bun Cha Huong Lien, which has, in Vietnamese fashion, been unceremoniously renamed Bun Cha Obama. It's important to note that it's lunch-only fare, typically offered between 11am and 2pm, since Hanoians tend to be persnickety about when and where to enjoy certain things.
In Hanoi, I'm personally partial to Bun Cha 34 on Hang Than, where locals and tourists sit elbow-to-elbow, drawn in by the instantly recognizable and far-reaching smell of the charcoal grill on the sidewalk. Here, the patties are wrapped in xương sông, an herb similar to betel leaves, giving them some nice aromatics to cut the sweet broth, which becomes silky and thick when mixed with the sizzling, melting pork fat. The patties join the grilled pork belly directly in the sauce bowl, along with raw garlic, chiles, and thinly-sliced carrot and green papaya, for crunch. The rice noodles arrive on a separate plate, ready to be dipped one bite at a time.
The dish is also served, as most Vietnamese dishes are, with a plate of fragrant assorted herbs like perilla, mint, coriander, and Thai basil. You can choose to add them directly into the broth or incorporate them into the building of your bowl. It's also typical to order an accompanying side of crab or pork spring rolls (nem cua bể or chả giò), which you can slice into your noodles, wrap in larger leaves of herbs, or just eat on the side.
Such is the nature of most Vietnamese dishes: There's usually some assembly required, and all are inherently customizable. Take any bun (rice noodle), com (rice), or mi (egg noodle) dish, for example: each is named based on the protein, which range from lemongrass chicken to sweet grilled pork. The herbs mostly stay the same, and you continue pairing, wrapping, and mixing items from the various plates throughout the entire meal. Bun cha, along with its broth-free southern cousin bún thịt nướng, is no exception.
After my most recent lunch at Bun Cha 34, I stand up slowly, submitting to the combination of brutal, windless heat and the inevitable food coma already coming on. Across the street, a motorcyclist is curling up horizontally on his bike for a nap. I think to myself that he's got the right idea.
Bún Chả 34 Hàng Than
34 Hàng Than
Ba Đình
Hà Nội