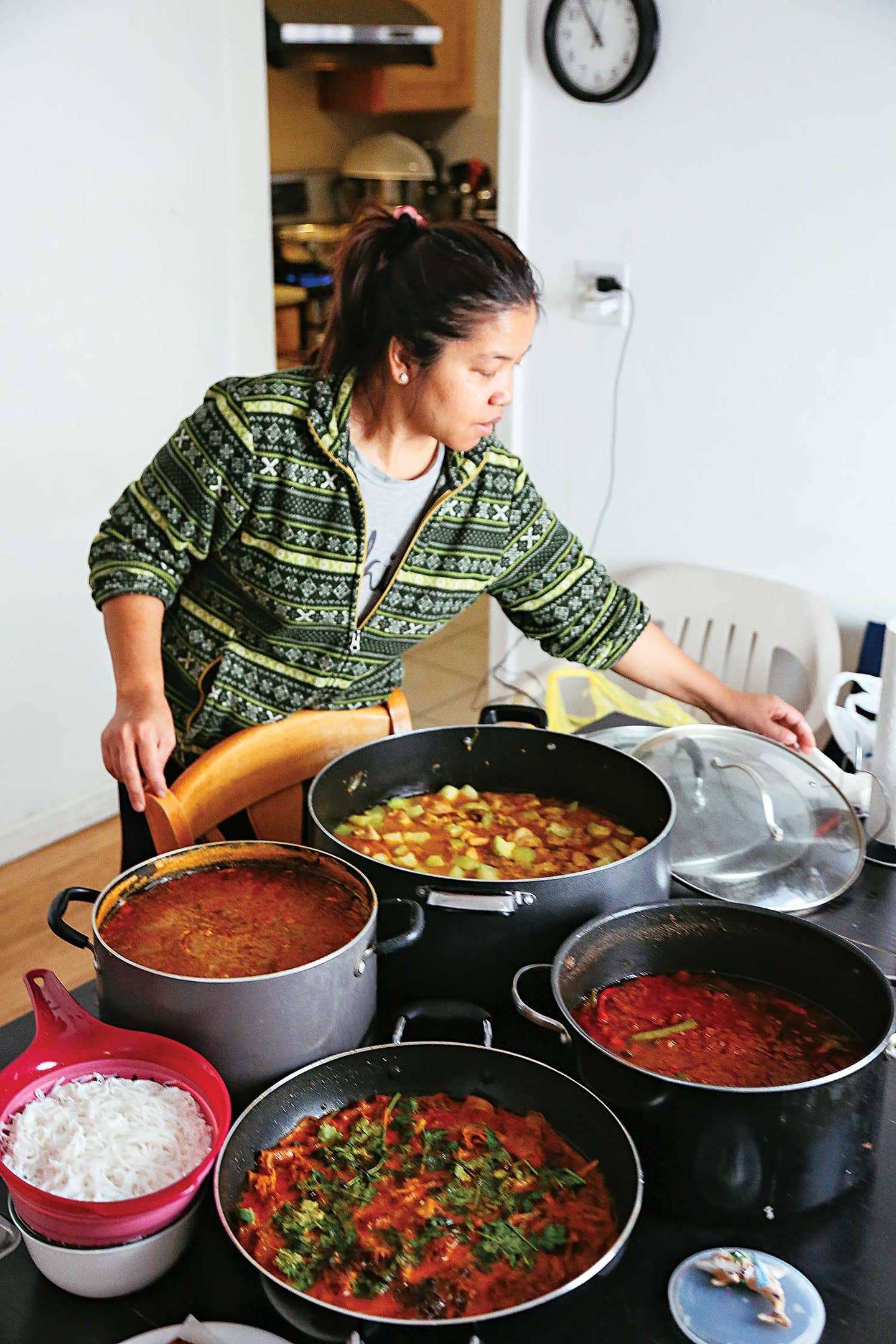 Travel
Meet the Queen of New York's Underground Burmese Food Club
Ma Chaw Su Kyaw feeds hungry and homesick expats with incredible to-go meals prepped in her own kitchen
One Saturday in Elmhurst, Queens, Ma Chaw Su Kyaw was busy sautéing chile catfish in her home kitchen. Not yet noon, she had already been cooking for five hours, neatly packing clear plastic containers for the 30 or so people who would arrive to pick up soft tofu salad, cold chicken garlic noodles, and sweet coconut tapioca cake. Kyaw runs one of New York's underground Burmese food clubs, a handful of home cooking operations that were born of demand for the elusive cuisine—so elusive the clubs' audiences are almost entirely Burmese. Unlike Thai, Laotian, and Malay cuisine, Burmese has yet to enter the city's restaurant scene successfully, so home cooks have stepped in to fill the stomachs of nostalgic expats.
Kyaw's front garden brimmed with roselle, an herb prized in Burmese cooking for the sour kick it gives to soups. Her kitchen was pungent, perfumed with fish sauce, garlic, ginger, and shallots. Before relocating from Yangon in 2002, Kyaw had never been much of a cook. "All I could do was fry an egg," she said, balancing on a tiny footstool and leaning over a massive pot brimming with diced catfish she bought in Jackson Heights' Little India. "Now my dream is to open a restaurant." Like many Burmese in New York, Kyaw arrived here following a family member with a visa—in this case, her mother. Using recipes she found online, Kyaw taught herself to make countryside-style Burmese dishes like beef tripe curry and lemongrass noodle soup.
On the threshold of legal, these clubs require a bit of research to uncover. I found them via Ye Lin, who organizes an annual Burmese food festival benefiting Burmese orphans. A Metropolitan Transportation Authority supervisor, Lin came to the United States in 1992 in search of opportunity. "It's the most authentic Burma food you can find," said Lin of the clubs, "not just in New York but in the U.S."
There's a woman in Rego Park who specializes in large orders; a family in Elmhurst that cooks Karen dishes, food from ethnic groups residing mostly in southern Myanmar; and a woman in Woodside known for dry dishes, like spicy fried anchovies. A woman called Aunty cooks famously spicy food for a membership of 140-plus. At one of her pickups, I sampled frog curry, spicy shrimp salad, preserved catfish in tomatoes, sour dandelion soup, and pae kyaw (chickpea fritters big as a dinner plate that double as curry scoops), each packaged up in takeaway containers, labeled in neat Burmese script—all for $38.
Where Aunty's membership is communicated by word of mouth and the texting app Viber, Kyaw manages hers through a closed Facebook page called "New York City Burmese Community." There, she publishes a weekly handwritten menu from which patrons can order. If she introduces a new dish, she'll test it with her family and post photos for feedback. Occasionally, she takes requests.
While Kyaw packaged dozens of portions and nestled them into bags, she checked her work against orders written in a spiral notebook. "It's a very small, close-knit community," Lin, who had come along, said. Kyaw's kids wandered in and out of the living room, and customers greeted her in Burmese. Kyaw had also prepared big portions of northern pork curry, chicken liver and gizzard curry, sour leaves and bamboo shoot soup, and sautéed eggplant. I ordered them all, despite Lin's warning that I'd be eating Burmese for a month.
The food lasted 48 hours, and I'd be back next weekend.