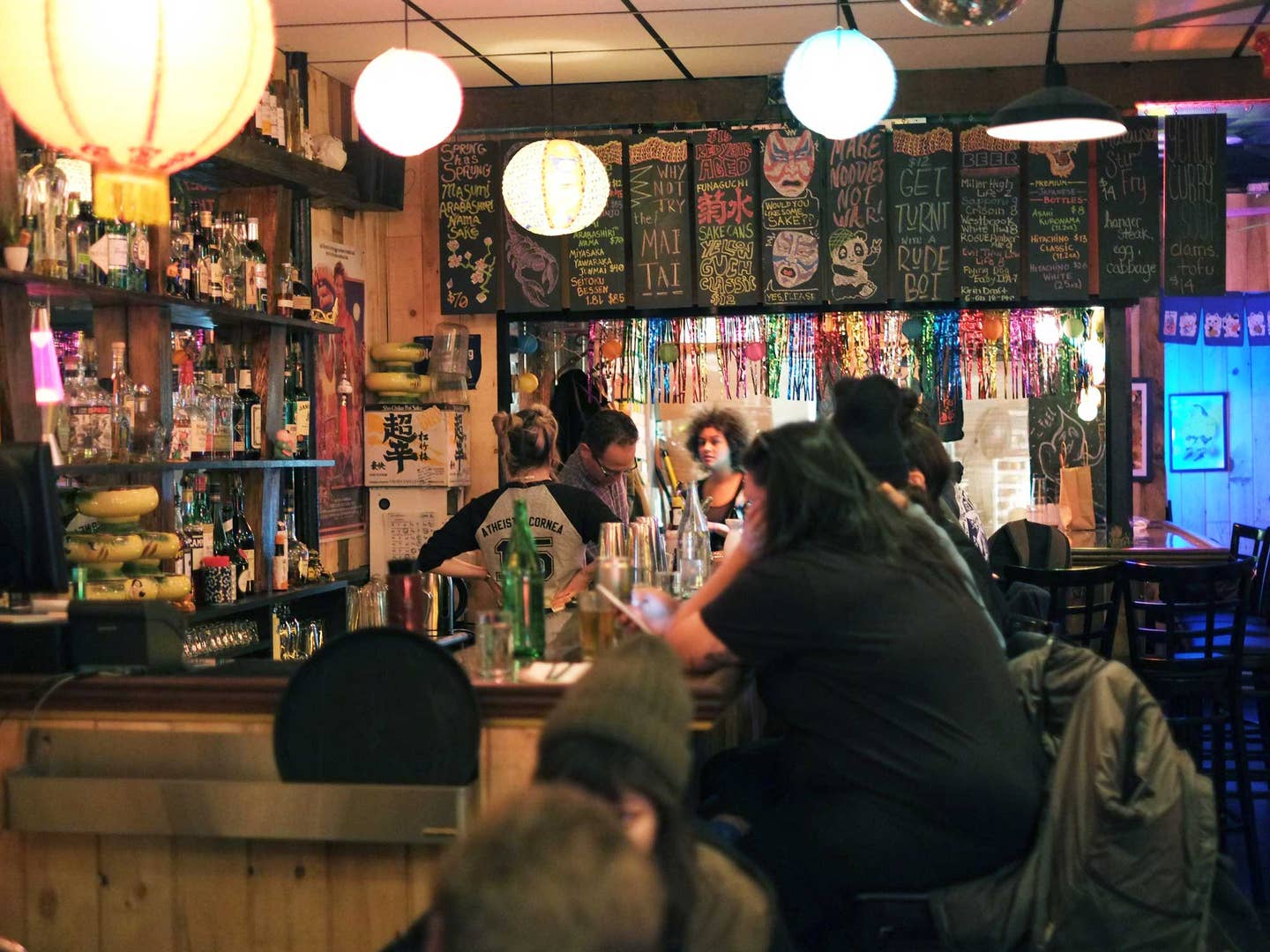 Travel
Hitting the Fish Sauce in Brooklyn's Newest Asian Food Destination
In just a few years, Bushwick has become an Asian restaurant hub with everything from Japanese pancakes to some crazy-delicious Thai-basil-blitzed bar snacks
Despite the sometimes forced hipster vibe, with German tourists consulting their pocket fremdenführer for the closest Girls shooting location, Bushwick, Brooklyn now boasts enough solid Eastern options that it's worth the $2.50 Metrocard swipe to do some noodle hopping. There's a troika of hip Vietnamese canteens (Bunker, Mama Pho, Lucy's) an Asian sandwich shop (Little Mo), legit sushi (Momo Sushi Shack) and ramen (Shinobi) all within a short walk. And there is an okonomiyaki restaurant, Okiway—a single-dish specialist that opened last summer across from King Noodle that taps into the neighborhood's eating zeitgeist.
Dan knows his way around okonomiyaki, a savory Japanese pancake not unlike the Korean pajeon. There's a wallop of flavors and concepts going on: meat, seafood, pancake batter, veggies, mayonnaise and the requisite sweet and tangy, umami-rich okonomiyaki sauce. (If you can't find it bottled then you can always make it by mixing three tablespoons of ketchup with a tablespoon each of Worcestershire and soy sauce). The classic dish is made by grilling all of the additions on a teppan griddle, then pouring a batter of wheat flour, dashi and eggs over the top, then streaking it with mayo, the sauce and bonito flakes.
Okonomiyaki is potentially challenging when sober (the gross/but you totally know what we mean term "gut bomb" comes to mind), yet the concept is easily digested after a few too many beers. The version in Bushwick is a solid rendition, worthy of a sake-fueled expedition, but it didn't quell our hunger. So we stepped across the street to King Noodle for a second late-night feast.
When Nick Subic opened his stonerific noodle shop on a sketchy stretch of Bushwick, Brooklyn in the summer of 2013—there was a bowl of Korean-style carbonara powdered with Doritos dust—he did so to serve the restaurant industry workers the neighborhood's cheap rents and late-night theatrics attracted. Like the neighboring restaurant Roberta's, where Subic worked as a line cook before breaking out as his own with Justin Warner at Do or Dine, King Noodle was loud, nearly always short-staffed, and quick to serve you that extra cold beverage you might not need. The Asian-fusion comfort grub, in the beginning at least, was almost secondary.
But over time, as Subic found his voice and steered the menu towards Southeast Asia—most recently Singapore and Malaysia with the help of his sous chef Shannon Ryan—it was spicy bowls of laksa that everybody was buzzed on. In retrospect, King Noodle was a bit of pioneer in Bushwick, considering today it's a hub for restaurants serving the style of food Dan and Matt love to eat and write about—hearty, soulful and best paired with an ice cold beer.
Subic is not just chef and owner at the restaurant, but oftentimes the bartender and front-of-house guy. "My whole inspiration for this is the Japanese izakaya," he says, comparing King to a sports bar. "But the sports, in this case, is the food."
We sit down and basically order the menu. Wok-fired morning glory leaves, green curry noodles and the nasi lemak, a Malay coconut rice dish with curried lamb and pickles. But it's bowl of nuts that we keep going back to. "The idea was to come up with a crunchy, nutty thing, that would go along with anything, including all the drinks," says the chef.
Mission accomplished. The nuts, peanuts and cashews in this case but interchangeable, are a savory, fishy and bright reminder of a day Matt spent at a beachside restaurant on the island of Phu Quoc in Vietnam. Subic's recipe, which we've adapted here, is kind of the ultimate Southeast Asian bar snack, and a fixture on most King Noodle tables. And they're a cinch to make at home.
Five years ago, this part of the neighborhood was more factories and street walkers than good eating. Now, with the flavors of Asia pulsing through it, it's easy to remember why we live in the greatest city in the world. Especially for adventures in Asian food.