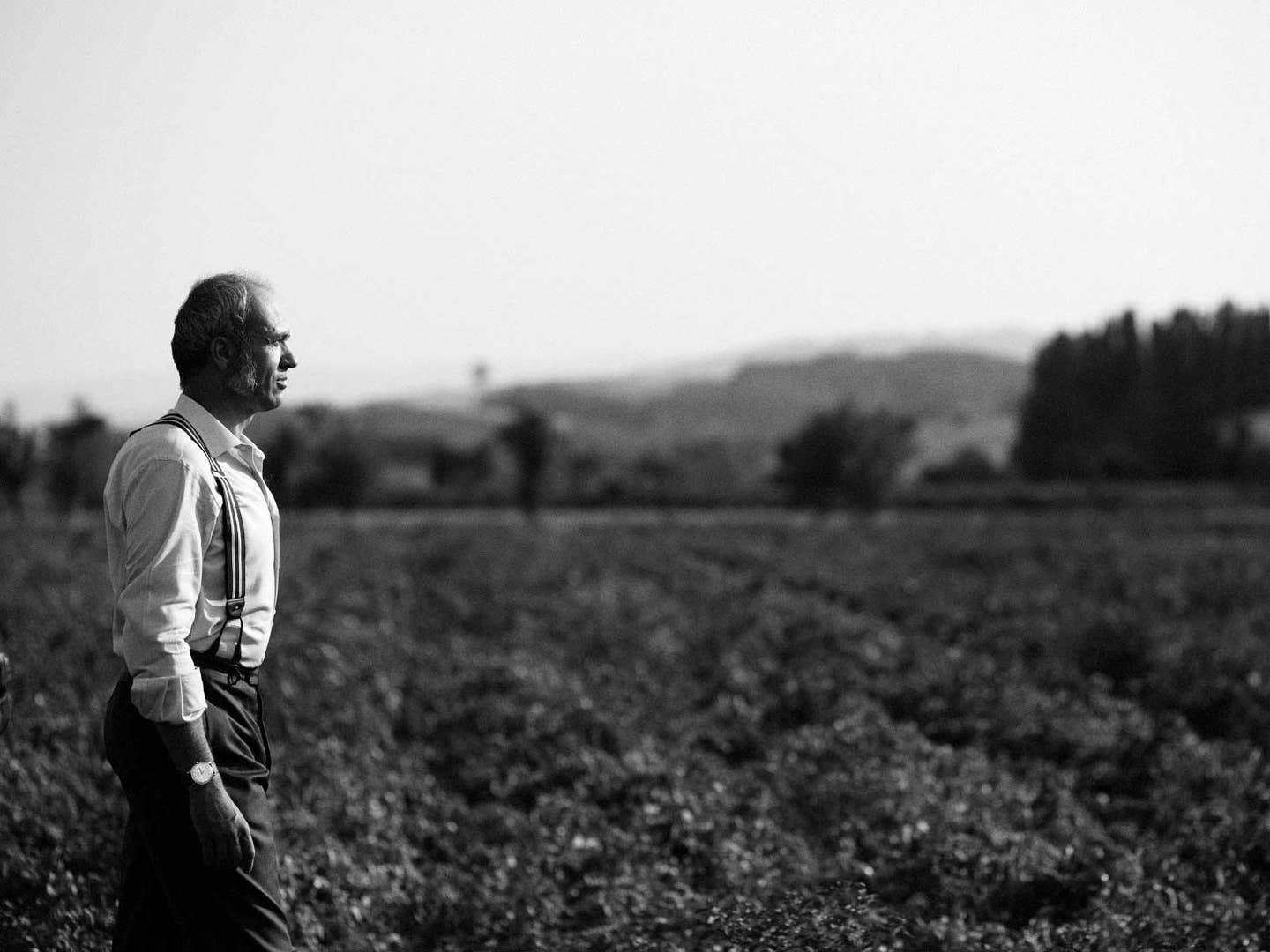 Travel
Celebrating the Canned Tomato Revolution
Launched by a visionary CEO, the Pomodorino D'Oro awards celebrate the best of the best Italian tomato farmers.
The musical nature of the Italian language has a way of making even the most basic grocery list sound enchanting. In a country enamored with good food created from the best simple ingredients, the tomato, or pomodoro, is among the most fundamental elements of Italian cuisine. It is so interwoven into the local identity that, according to lore, a pizzaiolo presented Queen Margherita in 1889 with a pizza made with ingredients representing the colors of the Italian flag—red tomatoes, white mozzarella, and green basil. It is only fitting that the country's best tomato farmers are recognized for their commitment to this esteemed element of Italian cuisine.
Canned tomatoes (polpa), tomato puree (passata), and tomato paste (concentrato) are culinary staples you'll find in nearly every Italian household, as important to home cooks as olive oil and salt. For a range of products so revered, Mutti, the best-selling canned tomato brand in Italy, has taken a revolutionary approach to sourcing the best tomatoes from local farmers.
Back in the mid-1990s, the Italian tomato industry was at a low point. Most companies had shifted toward commoditization, looking for the cheapest ways to source tomatoes rather than seeking out the best ones. Many bought tomatoes with little concern for their quality or flavor. In 1994, amid this race to the bottom, 25-year-old Francesco Mutti took over his family's business.
Surrounded by an industry that seemed more interested in reducing costs than producing a delicious tasting can of tomatoes, Mutti took a decidedly different approach. Driven by his passion for tomatoes, he made the quality of raw ingredients and the flavor and aroma of the finished products his company's top priorities. Investing in sourcing the best tomatoes available, then processing them in a way that preserved their fresh taste and vibrant color, was a move that could have put him out of business. Fortunately, it didn't.
"You can buy tomatoes for unbelievably low prices," says Mutti. "But I have never been concerned with reducing costs over quality. I have invested a lot in our farmers because a product that might cost 30 or 40 cents more can elevate what you're cooking, whether it's a ragù or Eggplant Parmigiana. That's what matters."
In many ways, Mutti took cues from Italy's longstanding food artisans. He encouraged local farmers to look at growing tomatoes the same way cheesemakers approach the time-honored process of creating Parmigiano Reggiano. Craftsmanship is not about efficiency; it is about passion for the work and its end result.
Instead of paying less for tomatoes, Mutti chose to pay more for premium tomatoes, and he continues to do so today. To get the absolute best tomatoes, Mutti pays, on average, 10 percent over market value—and in some years, as high as 16 percent. Nowadays, one might use words like, "disruptive," "sustainable," and "socially conscious" to describe those early decisions, which at the start took a few years to gain traction. For him, it was simply about not caving to low standards, but staying true to the values of his family business. "Our tomatoes are a pipeline to a collaboration between the farmers and the factory," he says. "I really want to push our farmers to always do better."
In a rolling landscape where the vines grow low to the ground, Mutti has perpetually aimed to reach higher standards. Among the patchwork of farms that surround his fabbrica, many of which are only about 3 to 5 hectares, local farmers display the Mutti banner as a point of pride.
In order to supply Mutti with tomatoes, farmers must adhere to strict, sustainable, production guidelines which include crop rotation and water usage. Mutti worked with the World Wildlife Fund (WWF) to develop tools and processes to help farm partners reduce their water use. Recently the company embarked on its next phase of sustainability efforts to promote biodiversity. Beyond these green initiatives, Mutti farms must also use 100% mechanical harvesting in order to ensure fair working conditions.
A popular misconception about Italian tomatoes is that they are all grown in southern Italy. However, the largest growing region is actually the area between Parma and the Adriatic Sea. Parma, the northern city known for its Parmigiano Reggiano and Prosciutto di Parma, is at the heart of what has been dubbed Italy's "Food Valley." In this area, some 4,000 farms grow tomatoes; of those, less than 400 of them meet Mutti's rigorous standards.
In 2000, Mutti started the Pomodorino D'Oro "Golden Tomato" Awards as a way to inspire agricultural excellence and move the industry forward. The Pomodorino D'Oro recognizes the top 40 tomato farmers who supply Mutti with tomatoes, and over the past two decades, the awards have continued to grow and inspire the local farming community.
Going into its 20th year, the Pomodorino D'Oro provides national recognition throughout Italy – it's become something like the Academy Awards of tomato farming. Along with receiving a golden tomato-shaped trophy and significant monetary awards, the top three winners are featured in high-profile newspaper advertisements and on Mutti packaging, going on to become household names. "It's not just about the money for our winners," says Mutti, "it's a huge source of pride to walk into their village café or store with their picture in the Corriere Della Sera newspaper. They really get the public recognition they deserve."
The competition begins and ends with the annual harvest. Each time a truck delivers tomatoes to Mutti, its contents are carefully assessed on 15 criteria, including ripeness, sweetness, acidity, skin quality, color, and nutritional composition. Each delivery is measured, tracked, and scored in the same way, and the data is aggregated throughout the harvest. "To be considered for the prize, there is no upper limit, but there is a lower one," explains Mutti. "You must deliver a minimum of 500 pounds of tomatoes because the real challenge is maintaining that quality over the entire season, not just one perfect delivery." Farmers take so much pride in maintaining high marks that they might avoid delivering tomatoes that could hurt their score, and their opportunity to be one of the top 40 recognized farmers.
Judging the perfect tomato is both simple and complex, but growing the perfect tomato is infinitely more so. On the most basic level, it is a synthesis of earth, water, sun, and time. However, that mindset is sort of like defining a symphony by its notes. Those who grow them best follow the wisdom of generations, while also harnessing modern technology to improve on tradition.
"When you taste a tomato, you're looking for a balance between the acidity of the juice and the sweetness of the pulp," says Mutti. From there, each variety has its own nuances and flavor profile, which are further influenced by terroir and to preserve the optimal flavor of each freshly picked, sun-ripened tomato.
After the busy summer harvest—a high-pressure time when field temperatures can reach upwards of 100°F and farmers have only hours to move the tomatoes from field to factory—Mutti's growers finally have an opportunity to rest.
It's during this lull at the beginning of November that Mutti invites its network of farmers to gather and reflect on the past season and define their goals for the next one. Starting in the afternoon and going into the evening with a celebratory dinner, this annual event honors the farming community, acknowledges their hard work, and, in true Italian style, raises a glass of vino to the cherished tomato. "Right now," says Mutti, "my goal is to keep going and keep making an even better product."