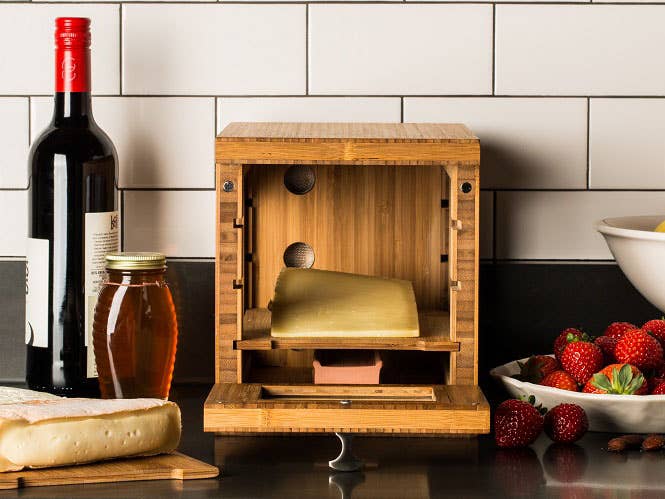 Culture
This Wooden Cabinet is Designed to Replicate a Cheese Cave in Your Fridge
The Cheese Grotto is here to help your pricey curds feel right at home
It's a tricky task—keeping fancy cheeses fresh at home. As with wine, cheese has a specific preferred temperature, humidity, and exposure to air—preferences that home fridges don't accommodate. While plastic containers and wax paper have traditionally been used as passable makeshifts, longtime cheesemonger Jessica Sennett, who has spent time behind the counters of Cowgirl Creamery and Bedford Cheese Shop, wanted a more permanent solution.
Enter her Cheese Grotto, a first-of-its-kind, wooden-cabinet–like unit that sits inside your fridge and recreates the curd-friendly properties of a natural cheese cave. Although it's based on age-old technology, Sennett says the Grotto stands out because each of its components was engineered with cheese in mind, from the vaulted ceiling to the breathable bamboo frame, and fully adjustable controls for humidity and airflow.
"Cheese safes from France have been around for hundreds of years," Sennett tells SAVEUR. "They are boxes with ventilated screen sides, but they really aren't ideal for long term cheese storage, as cheese become over oxidized."
For those who frequently store expensive cheeses at home, the $350 Grotto may be a money-saver, extending the lifespan of cheese at home so you're not throwing out moldy odds and ends. Sennett herself was moved to develop the product after realizing a need to preserve her own diverse collection of cheeses (her favorite is the Colombier, a Loire goat cheese). The unit can be used on any style of aged cheese, but not fresh varieties like feta and mozzarella.
"It works very well on whole, small-format wheels of cheese, like bloomy rind goat cheeses, or washed rinds," explains Sennett. "You can ripen young cheese wheels in the Grotto easily. But it also works fantastically for cut wedges of cheese of all types."
At 12 inches deep, eight-and-a-half inches tall, and seven inches wide, the unit sits comfortably in a standard refrigerator, but can also be housed on a countertop. We'll probably be placing ours next to our fancy, computer-controlled wine appliance.