Culture
What Came First, the Chicken or the Dumpling?
Unraveling the storied past of this classic comfort food—and perfecting the recipe
Serves

serves 8

Cook

3 hours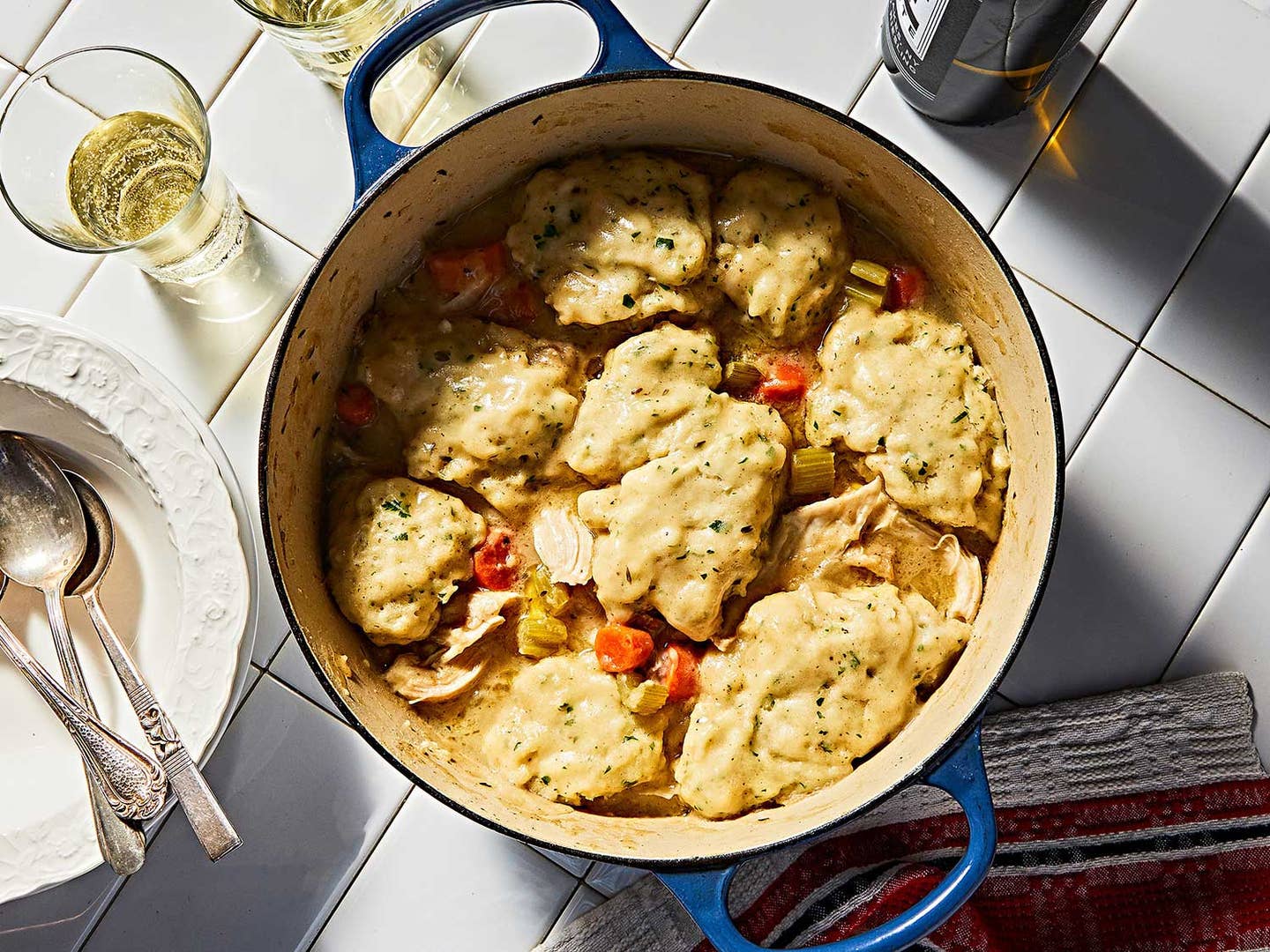 Ask the average enthusiast where chicken and dumplings come from, and they will likely spout a story about the Great Depression. Most claim the American South, or some might claim French Canadian roots. Some say what we know as American chicken and dumplings started as a cornmeal-based dough, boiled on top of turnip greens. But dumplings (in some form) braised in broth and served with stewed meat have been a staple of European cuisine since the 1600s, and probably long before.
Look beyond our borders, and you'll find meat-and-dumpling-esque comfort stalwarts the world over. Take gondi, sometimes called gundi: ground lamb, veal or chicken meatballs, served in chicken soup for Shabbat in the Iranian-Jewish tradition. Or how about matzo ball soup—widely served across Central Europe (and of course, in New York). Originally called knoedel by Germans and Austrians, according to cookbook author Joan Nathan, and later knoedela by Jews in Poland, the dumplings made their way to America via immigration. (Manischewitz, the largest maker of kosher foods in the U.S., started packaging and selling a convenience-style dumpling, later dubbed matzo balls, in the 1930s).
The first recorded mention of stewed meat with dumplings in an American cookbook was in Mary Randolph's The Virginia Housewife, in 1836, though it's safe to assume it wasn't the housewives of that South that perfected these recipes at all, but rather the enslaved Africans in their kitchens. Randolph's version was made simply from suet (beef fat), flour, and salt—a far cry from the pillowy buttermilk dumplings we love today.
Lettice Bryan's 1838 tome The Kentucky Housewife also speaks of suet dumplings, which were to be rolled and cut into cubes and boiled with mutton or other red meat. It wasn't until the 1879 cookbook Housekeeping in Old Virginia, published by Marion Cabell Tyree, with contributions from 250 "notable" Virginia housewives, do we see stewed chicken and dumplings ("like biscuits, but rolled thin") in print. This was a sparse and straightforward dish, and the kind you're more likely to find in the South (if you've eaten chicken and dumplings at one of the 645 Cracker Barrel restaurants across America, you've had this kind).
Perhaps the nuances of each iteration are less important; where most amateur food historians are grossly amiss are in reports that chicken and dumplings were born of harsh economic times, like the Great Depression. For most of the 19th and 20th centuries, chickens were mostly raised for eggs. Old hens, thinned by free-ranging, were slaughtered and long-stewed to tenderize their sinew and produce a flavorful broth—a still relatively rare treat among even more posh households. (In 1928, a whole chicken was 10 cents a pound more expensive than a T-bone steak.)
Today's chicken and dumplings are rich in variation. Bott boi, a Pennsylvania Dutch soup made of square-cut dough boiled in chicken broth, may include potatoes or carrots, and can be made with chicken, ham, or beef. Dumplings can be made with flour (of many kinds, or even cornmeal); shortening, lard, butter, or other fats; and for the liquid usually milk, buttermilk or even stock, and still be considered classic chicken and dumplings. Upgrades may include ricotta or herbs in the dumplings, or vegetables in the stew, but in most cases, the broth and meat are stewed first, then thickened into a creamy gravy before the dumplings are dropped and steam-cooked right in the pot. Beyond that, the chicken and dumpling world is, as they say, your oyster.
While shortcuts exist (simmer a shredded rotisserie chicken in prepared broth, thicken with flour, and spoon dumplings over the top), it's worth going for the head-to-toe treatment for exceptional flavor and a real stick-to-your-ribs cold-weather dish. Some might call our leavening-raised dumplings the Northern style (the flat-rolled-and-cut dumplings being Southern in style); we just call it delicious. Here's how to make it.
Pull aside the thighs and drumsticks, and season well. The earlier you do this, the more flavor your finished dish will have—the chicken can sit at room temperature, with salt and pepper, for up to an hour while you prepare the rest of your dish.
Use the remainder of the chicken to make a flavorful broth. Put it in a pot with just enough water to cover, giving you two rewards: a good start toward your gravy, and perfectly cooked, juicy chicken. This should take about 12 to 15 minutes. Cut the breast and wing meat off, chop, and reserve for the finished dish. The carcass can go back in the pot to develop a deeper broth, for about an hour.
Cooking bacon in a large, wide pot layers in fat and flavor. Pull the bacon out of the pot and use the fat to brown the chicken drumsticks and thighs.
Next, add the herbs, garlic, mirepoix (carrots, celery, onions), and bay leaf. Cook lightly, about 20 minutes. This more decadent, vegetable-rich version of the standard staple (simply: chicken and dumplings in broth) will be worth the extra work.
After your vegetables cook, add in the flour, followed by the wine and extra broth, then cook to thicken. Return the drumsticks, thighs, and bacon to the pot and simmer, covered, to cook through, about 15 minutes. While the chicken cooks, the broth will thicken and develop even deeper flavor, the crux of this satisfying meal.
For the fluffiest dumplings, whisk together the remaining flour, leavening (baking powder and baking soda, for ultimate aeration), salt, and pepper. Whisk the butter, buttermilk, and parsley—a real flavor booster—in a separate bowl before gently stirring together into a shaggy batter. It should drop easily from a spoon but not be tight or gummy (look for a muffin-batter consistency).
In the final steps, return your smaller pieces of breast and wing meat to the pot, and drop your dumplings by spoonfuls—about 8 in total—over the top. Cover the pot and simmer until the dumplings are pillowy and tender but completely cooked through, 20 to 25 minutes, making sure not to let the stew boil, which can toughen the meat.
Ingredients
1 whole chicken (4 lb.), preferably heritage, legs removed
Kosher salt and freshly ground black pepper
1⁄4 lb. slab bacon, cut into slivers
2 Tbsp. canola oil
2 tsp. dried thyme
4 cloves garlic, chopped
4 medium carrots, thickly sliced
4 stalks celery, thickly sliced
2 large yellow onions, cut into 1-inch chunks
1 fresh bay leaf
2 2⁄3 cups all-purpose flour
1 cup white wine
1 Tbsp. baking powder
1⁄2 tsp. baking soda
5 1⁄2 Tbsp. unsalted butter, melted cooled slightly
3⁄4 cup buttermilk
2 Tbsp. finely chopped flat-leaf parsley
Instructions
Step 1
Halve the chicken legs, separating the thigh from the drumstick. Season with salt and pepper; set aside. Place remaining chicken in a pot, cover with salted water, and bring to a boil. Reduce the heat to a simmer and cook until the breast is just cooked, 12–15 minutes. Remove the chicken. Cut the breast and wings from the carcass. Discard any skin and bones from the breast and wing meat, cut into 1-inch chunks, and refrigerate. Return the carcass to the pot and simmer for 1 hour. Strain; reserve 4 cups broth (save the remainder for another use).
Step 2
Meanwhile, in a large wide pot over medium heat, add the bacon and cook until crisp, 8–10 minutes. Transfer to a plate, leaving the fat in the pot. Add the oil; when the oil is hot, brown the chicken drumsticks and thighs, 8–10 minutes. Transfer to a plate. Add the thyme, garlic, carrots, celery, onions, and bay leaf; cook until light brown, 18–20 minutes. Add 2⁄3 cup flour; cook for 1 minute. Add the wine; cook for 1 minute. Whisk in the reserved broth and salt and pepper to taste. Nestle in the drumsticks, thighs, and bacon. Reduce the heat to medium-low and simmer, covered, for 15 minutes.
Step 3
In a bowl, whisk together the remaining 2 cups flour, baking powder, baking soda, 1 1⁄2 tsp. salt, and 1⁄4 tsp. pepper. In a separate bowl, combine the butter, buttermilk, and parsley. Pour into the flour mixture and stir to make a thick batter. Uncover the pot; add the breast and wing meat. Drop the batter in 8 large spoonfuls over the top. Cover and simmer until the dumplings are cooked, 20-25 minutes.