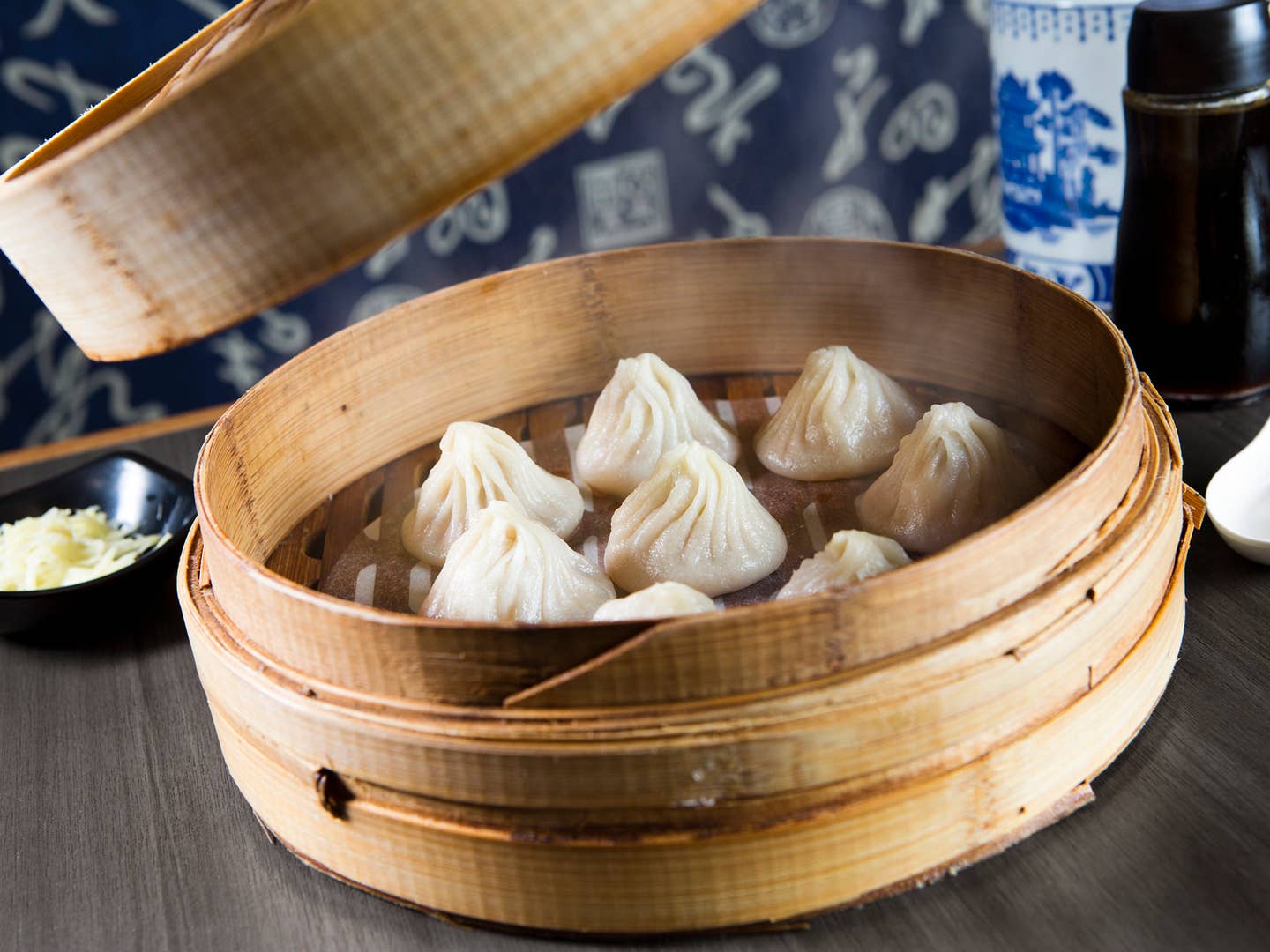 Travel
The Essential Tools to Eat Like a Local in China When You Don't Speak a Word of Chinese
Reads, apps, and strategies to help you get a better bowl of noodles
Eating in China when you don't speak a Chinese language is not hard: Hotels provide astonishing multi-cultural buffets every morning for breakfast, and tourist-packed restaurants in city centers offer menus with pictures and fractured English. But if you want to find the last bamboo-pounded noodles in Hong Kong, slurp long-simmered soup made by a grandmother in her kitchen down a Beijing hutong, or eat at the hole-in-the-wall dumpling shop Anthony Bourdain visited, breaking through the language barrier to find the location, order the right dish, and then pay for your food—that's more difficult.
As a food and travel writer, my life revolves around traveling and finding food, more often than not in places where I don't speak the language. More than any other country I've traveled, China challenges my communication skills. The language has no cognates to English and the character system rules out learning the alphabet to sound words out or quickly find them in a phrasebook. And, even if you could get that far, many Chinese foods bear whimsical, idiomatic names, such as "phoenix claws" (chicken feet) or "lion heads" (meatballs).
There are few resources for non-Chinese speakers navigating China, and even fewer for those with an eye towards top-quality food beyond the hotel buffet. Until my Mandarin skills improve, I've devised a system of cobbled-together strategies, smartphone apps, and a bit of knowledge to find off-the-beaten path noodle shops without signage, ask for the specialty I want, and figure out how much I owe.
Want to travel China seeking out the spiciest soups, best knife-cut noodles, and crispest duck—before you've mastered more than ni hao? Here's how this food writer finds her favorites.
Tom Petty was wrong: the waiting isn't the hardest part—it's the best part. A recent psychological study in the Netherlands suggests that much of the enjoyment of a trip comes in the anticipation. To heighten that, it suggests reading novels or watching movies set where you're going. Traveling to China, you also need some background information: ordering Chinese food in China is more of a conversation than it is in the U.S. Understanding how both Chinese people eat meals and the language views food will help you locate and order the best food once you're on the ground there.
Swallowing Clouds and The Eater's Guide to Chinese Characters both give culinary context about the Chinese language and teach a few basic food-related Chinese characters—while getting your mouth watering for what you'll eat when you're there. Or, at the least, what I'll eat: noodles, lamb, and alcohol all are early on in the lessons.
Look for books about food set there as well: Fuchsia Dunlop's Shark's Fin and Sichuan Pepper for Sichuan, The Last Chinese Chef by Nicole Mones for Beijing, parts of On the Noodle Road by Jen Lin-Liu for western China, or The Emperor Far Away by David Eimer for some border regions. All name specific dishes, present background information on iconic ingredients, and demonstrate what typical restaurant or street stall interactions will be like. In other words, these books offer a model of what eating in China might be like—while piquing your anticipation. Dunlop's early-on noodle-shop confusion as a lonely white person in Sichuan is relatable, but also a teachable moment for the astute reader, as well as a mouth-watering description.
Google Maps (and the company's customizable "My Maps," which I often use to plan eating adventures around the world) doesn't work in China—you can't even download maps for offline use. Maps.Me is the next best thing: it works totally offline, you can bookmark favorite spots, and it even has major landmarks pre-programmed in. The only thing it doesn't include is a pin for that little cubbyhole that sends pork-scented steam down the block from its incredible wonton soup.
The hardest part, I discovered, of finding these tiny, highly recommended places, is that outside major city centers, a restaurant name or address is likely printed on the building only in Chinese. That's where TripAdvisor's app comes in. I don't condone using the reviews, which tend to range from vaguely ignorant to completely racist. But the app has a wonderfully useful feature for use in China (and anywhere else with an writing system unfamiliar to you): It shows the name and address of a restaurant in Chinese in large print; convenient both for showing a local to ask for directions and for matching to a sign. In big cities, it's available for download offline, but for smaller cities like Hangzhou, just take a screenshot before leaving the comfort of your hotel wi-fi.
How to Order What You Really Want
The easiest way to get food on your table in China is to point at what the table next to you has: chances are your neighbors are eating what's good there (China's nice like that). But what if you don't like what they're eating? Or if you are allergic to it? Then you've got two options: Barge into the kitchen and point at what you want, or figure out a way to know what's on the menu. If the former scares you, know that it's generally accepted at casual places (though not high-end ones) and you might not even be the only one in there.
For the later, you'll want Waygo, a live-translation app for Chinese, Japanese, and Korean characters to English. When you are up against a wall of characters, this app will save you--and it even works offline. I've pointed my phone at dozens of rows of characters as it translated everything from sesame noodles to deep-fried duck bones.
Because the app is designed specifically for food, it doesn't leave you with confusing things like "Meat patty explode the stomach" (an actual sign in Beijing), nor idiomatic names like the classic Sichuan dish, "ants climbing a tree" (Waygo offers "sautéed vermicelli with spicy minced pork"). The app translates 10 items each day for free, or more for a minuscule fee. It translates quickly enough that you can easily order before the people behind you in line get annoyed (plus everyone is fascinated watching you do it). An added bonus feature is that you can "favorite" a dish and show it to a server if you've found something you like and think another place might have it. Whether you want to know what you're eating because you're curious about what you love (river eels!) or because you aren't big on trying new foods (river eels?), Waygo makes it easy to order with confidence—no kitchen barging required.
Note: If it's an allergy rather than a preference, have a Chinese-speaking friend (or, at worst, Google Translate) text you a message about what you are allergic to, and underscore that you cannot eat anything with that ingredient, then screenshot it to show to servers at restaurants.
Why is the stinky-tofu vendor at the night market making her fingers into the shape of a gun? In places frequented by Westerners, most shop owners have a calculator they'll show you the price on, and higher-end restaurants will write you a receipt. But that street stall owner in Hangzhou wasn't pointing an imaginary pistol: she was telling me a price to pay.
Chinese sign language is the same as American for numbers one through five, but diverts above that. Look up a chart before you go—it's only five more symbols to keep in mind. Some are easier to remember—six is basically a Hawaiian shaka (pinky and thumb extended, all other fingers folded down), eight is that finger gun, and ten—well, there are multiple versions, but the one I saw most makes an x with both forefingers, which, incidentally is a lot what the both the Chinese character and Roman numeral for ten look just like.
If You Want Help, Look for Young People and iPhones
Once, while recovering from pneumonia over hot pot in Beijing, I tried everything I could to order water in the restaurant. Eventually, an old man a few tables over helped out--he had lived in Vancouver for a few years and spoke some English. But he was the exception: if you've given up on other means of communication and you really want to ask something in English, the populations most likely to speak it are well-to-do and under 25. Students are often excited to practice their English, and people are extremely helpful: One woman on a Beijing street corner was so kind as to actually use her iPhone to call the restaurant we were looking for and ask where, exactly, it was. Even young kids learn English in the cities; at that same hot pot restaurant, we'd ordered using the food section of owner's child's English homework. Which brings me to my final point.
Bonus Step Six: When All Else Fails, Laugh About It
On my first trip to China, I got into a fight with a street vendor selling the ubiquitous shiny candied hawthorns on a stick. After he indicated the price, I misunderstood and gave him about a quarter of what I owed. There was much confusion, he threw my money back and stomped off. I left sad and without my crunchy sweet treat.
I've since learned how far a smile goes in these situations. It says, "I misunderstand," rather than, "I'm driving a hard bargain." It indicates that you're excited about what you're about to eat, that you appreciate what they do. It means when you don't understand her Chinese sign numbers and hold out a fistful coins, the jian bing vendor will just giggle and pick out the right amount. And you'll walk off with a hot-sauce-slathered doughnut wrapped in a perfect egg pancake, which is, of course, why you're in China in the first place.
Naomi Tomky is a Seattle-based food and travel writer. Learn more about her at The GastroGnome.
Watch: How to Make Perfect Scallion Pancakes