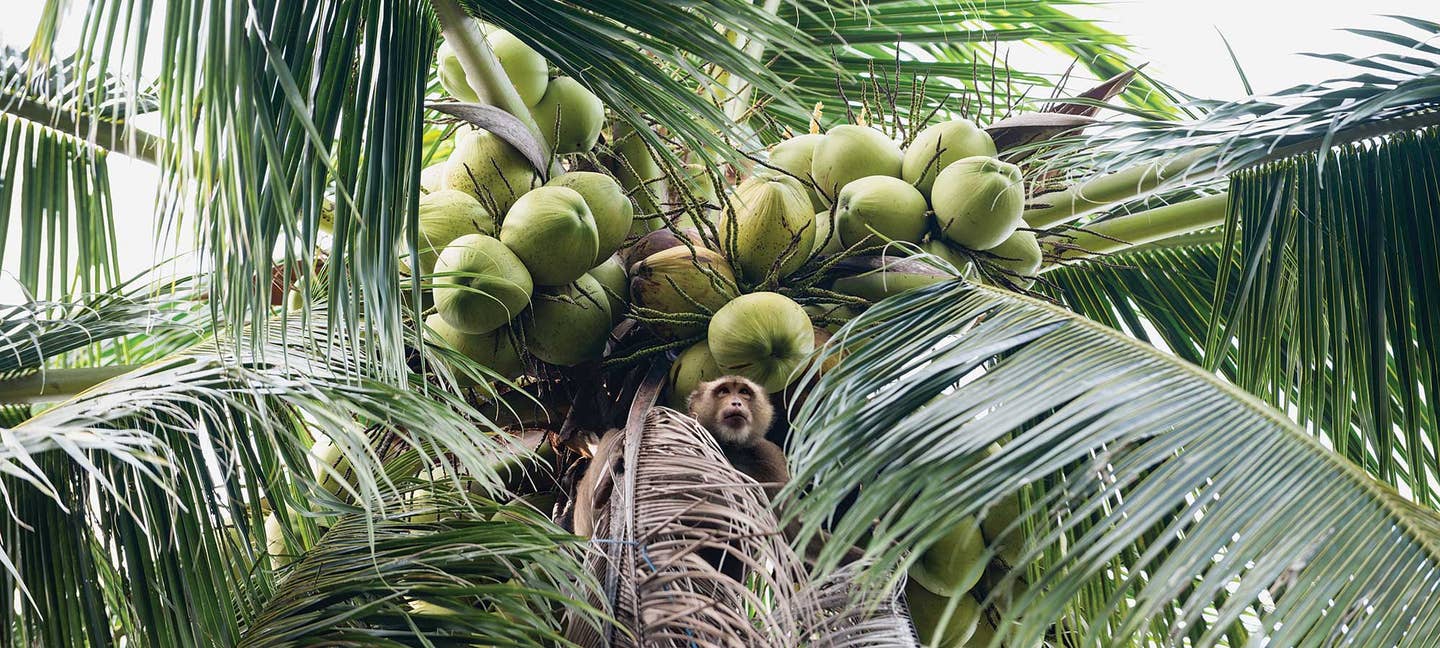 Travel
On This Thai Island, Coconut Goes Into Everything
And these islanders use nearly every part
On a rare cool tropical morning, I found myself in the middle of a coconut grove, dwarfed by towering, top-heavy trees. I was waiting for Phiphat Kepsap, a coconut gatherer, half expecting him to arrive in typical farmer's gear—overalls, perhaps a floppy hat. Instead, he made his entrance on a motorcycle with a sidecar occupied by two monkeys. With an urgency that betrayed the absurdity of the situation, Phiphat hopped off his bike, led one of the monkeys to the base of a tree, and grunted a command. The monkey shimmied up to the top: Work had begun. Within seconds, it was raining coconuts, the bowling-­ball-size orbs striking the ground with terrifying yet satisfying thuds.
For Phiphat and his monkeys, this was just another day of work on Ko Yao Noi. Located just a half-hour by speedboat from Phuket off the coast of Southern Thailand, the island couldn't be more different from its flashy neighbor. It's quiet and mostly agricultural, with a dense, hilly inland of rubber plantations, rice fields, and villages ringed by an occasional narrow, rocky beach. The vast majority of its inhabitants—mostly farmers, fishermen, and rubber tappers—are, like Phiphat, Muslims.
As on Phuket, coconut trees form a constant backdrop on Ko Yao Noi. But here, they're more than just an exotic element of the scenery. The nuts—their fragrant, watery juice, their creamy milk, their thick white meat—are an essential part of the local cuisine, with one or more of these finding their way into nearly every meal on the island. It was this ingredient and all the meals made with it that led me to this unconventional harvest.
"He picks only mature coconuts," Phiphat told me of the ­monkey. Indeed, the animal had been beelining for the brown-colored nuts, spinning them furiously with his hands and feet to dislodge them. "I've had that one only a year or so," he went on. "I bought it from somebody else who trained him. He cost me 50,000 baht"—about $1,600. With the occasional tug on the monkey's leash, Phiphat directed him toward specific nuts or to an adjacent tree. When all the mature coconuts had been plucked, Phiphat shouted, "Come down!" and the monkey slid down the trunk of the tree ­immediately and effortlessly.
The morning's haul of coconuts left the scene with Dusit Roengsamot, who had hired the services of Phiphat and his monkeys. The nuts were to be used in the family business, where he and his wife, Somsri, produce local-style sweets. "We make up to 10 different types of sweets a day," Somsri told me the next day, pouring a molten, grass-colored confection into a tray to cool and firm up. Coconut features in nearly all of them, I would come to learn, whether in the form of freshly made coconut cream or milk, or the grated flesh of the nuts.
As the largest maker of sweets on the island, Somsri relies on a small team of women—relatives and ­neighbors—to help her. Working in her open-air kitchen, they're assigned various tasks: making coconut cream and milk, cooking sticky rice, folding banana-leaf pouches for steaming. Outside, standing in the sun over the heat of an open flame, Dusit smoked hand-rolled cigarettes as he took on the job of caramelizing the coconut. He combined shredded meat, juice from immature coconuts, and generous scoops of sugar in a wok the size of a satellite dish. After 45 minutes of Dusit's constant stirring, the ingredients had melded into a rich, fragrant candy that's a crucial component in several of the couple's sweets. These efforts culminated in local favorites such as khanom hawng—a triangular banana leaf package encasing steamed coconut cream and rice flour dough with a ball of caramelized coconut meat at its center—and khao niaw haw kluay, for which a sweet coconut and sticky-rice mixture and a slice of banana are steamed until tacky, concentrated, and rich.
Some of Somsri and Dusit's treats are sold from their home, but most are purchased by local tea shops, where they're a breakfast staple. Early the next morning, I stopped into one such shop about a mile to the south of their home. Like others on the island, the tea shop is known simply by the name of its proprietor, Supranee Pradit, who locals call Ma Ya. It is essentially an extension of her front porch, with picnic tables topped with brightly patterned tablecloths and a tidy station where tea, coffee, and a few light, savory dishes are served. The early-morning clientele is almost exclusively men: fishermen and rubber tappers who pair their sweets with cigarettes and rose-water-scented tea. "We come here every morning," a customer told me. "If there's nothing fun to talk about, we talk about women!"
By the time the men had departed for their boats and plantations, women and schoolchildren had trickled in, ordering dishes such as khao yam, rice tossed with toasted coconut, shrimp paste, and galangal, or khanom jeen naam yaa plaa, a rich, slightly spicy curry of fish and coconut milk ladled over thin rice noodles. The latter is served with a buffet of toppings on the side, including the astringent leaves of the cashew tree, pickled cucumber, local vegetables blanched in coconut cream, preserved white radish, tiny dried fish, hard-boiled eggs, and a heap of leafy herbs that range from pungent to sweet.
I approached Ma Ya to ask her about khanom jeen naam yaa plaa, one of the most emblematic southern Thai dishes, and she ushered me into her kitchen before I could even finish my request. The currylike dressing, which takes on a sunny yellow tinge from fresh turmeric, "should be a bit spicy," she told me, but explained that this heat is balanced by the sweetness of coconut milk and the salinity of soy sauce.
We spoke in Ma Ya's open-air kitchen, a messy jumble of cooking equipment, ingredients, chickens, and cats shaded by a couple of coconut palms. She kicked off the preparation by making coconut cream from scratch, grabbing handfuls of freshly grated coconut, briefly soaking them in water, then squeezing the stuff through a sieve to extract its rich fatty liquid. Another pressing with the same coconut and she had a pot of coconut milk. "There are a lot of things we don't have to buy," she said. Then she scattered the limp, expired shreds of meat on the ground, because on Ko Yao Noi, even the chickens eat coconut.