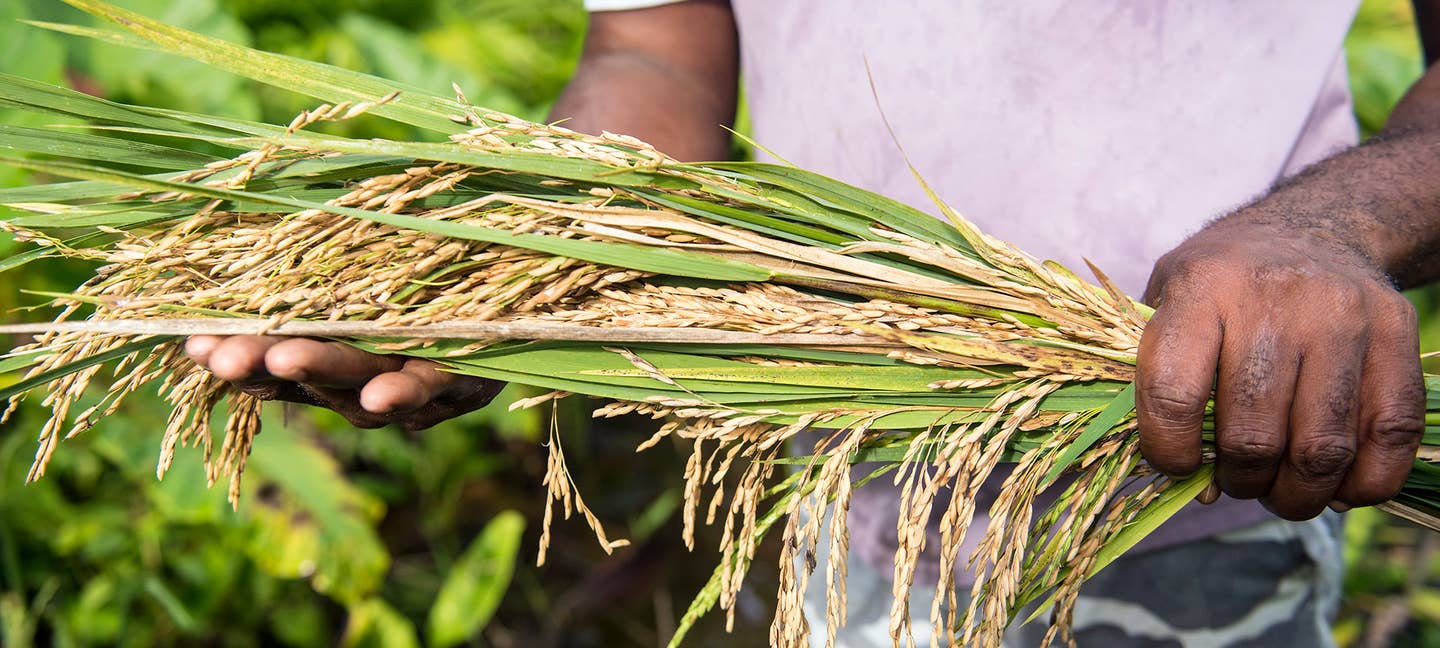 Travel
This Colombian Village Is Redefining Its Future with Rice and Coconuts
In northwestern Colombia, a small community plagued by drug cartels and deforestation is using local produce to change its fate
Early one morning at the tail end of winter, Smith Valencia, a local rice farmer and greenhouse manager who lives in the Colombian village of Coquí, arrives at the door of my cabin. He's come to fetch me for a visit to the mangrove rice paddies that surround the river delta here in the northwestern coastal province of Chocó. He swings a machete loosely in his right hand while swollen clouds obscure the sun, and a dull rainbow arches over the now-placid gray waves of the Pacific. This peculiar subtropical ecosystem of ocean, jungle, and mangrove trees has come to define the region's palate. This is coconut and rice territory: the land of fresh fish, pianguas (nutrient-rich mangrove mollusks), shrimp, and taro. The dishes are bright with fresh coconut milk, seasonal herbs and fruits like the perfumed guava, guanábana (soursop), with its custardy interior, and the tamarind-brown borojó.
While it sounds like a paradise, the demands of contemporary society have taken their toll: The ancestral communal farming and artisanal fishery that once sustained the village have waned in popularity. The village is reachable only by small motorized boats, and fuel costs are prohibitive. This has been a place of few opportunities for young people. And there is a push for modernization that the villagers resist. "I'm praying that there's never a road built here," says community cook Cruz Mélida Martínez of the government's proposed road and port project. "It will kill the jungle and bring a lot of things we don't want. We live here because even with the problems, we can leave our doors open." Affectionately known as Mama Cruz, she—along with Maria Martínez and a small team of women—heads up the kitchen at Zotea, a new restaurant and community center built with the goals of empowering Coquí to make sustainable profits and thus reversing the village's fate.
Day and night, men in combat fatigues brandishing AK-47s stand silent along the stretch of black sand beach. They are members of the army, invited to monitor my stay, despite a historic truce made between the government and the Revolutionary Armed Forces of Colombia (FARC) in late November 2016, meant to end nearly 50 years of terrifying armed conflict. Coquí, and the neighboring principal town of Nuquí, where some supermarkets and a crumbling state hospital can be found, are precisely in the middle of narcotics territory. The coastal region is a strategic route used to push coca grown in the neighboring provinces of Nariño and Cauca into Panama and onwards to the U.S., which remains one of the world's largest consumers of cocaine. Coquí's dense mangroves and forests make it easy for smugglers to lie low, and the proximity to Panama makes it an ideal conduit for them to peddle their wares.
When I talk to the villagers, aided by community teacher Alejandra Liévano and anthropologist Alejandra Salamanca Osorio, I learn that the physical isolation of this sliver of land, wedged between the ocean and the mangroves; the climatic conditions; and the lack of infrastructure and schools have frequently led to food insecurity, in spite of a rich history of fishing and small-scale farming on fincas, or ranches. Young people leave Coquí to start high school or to find work—and never return. More often than not, they get sucked into the drug rings. "It's very common that they don't think of themselves as drug dealers, because of the part-time nature of the work," Osorio tells me. Pesca blanca or "white fishing" is the most common drug-related activity here: Boys and men dive to retrieve the GPS-tracked cocaine packages dropped into the ocean by the drug rings when chased by the authorities.
Pedro Aparìcìo, the head architect who worked on building Zotea, which also included months of negotiation between community members, is visiting at the same time as I am. His team used sustainable materials to create a sturdy, seamless design that would blend in with the jungle but hold space as a distinctive edifice. He tells me that the boys who fall in with the cartels are groomed from a young age, often by being granted soda, candy, and cigarettes on credit. Then the drug hounds call in favors. Osorio elaborates: "They—and it's almost exclusively men and boys—continue to recognize themselves only as fishermen or farmers. The sense of sporadic risk-taking means they feel that they are not going to get caught. And the money is always used for family necessities. And then, they get caught." It's the wives and mothers, like Mama Cruz, who are left behind. "That sense of a broken family produces anxiety and solitude felt by many generations in one home," Osorio explains.
That morning, we're accompanied to the paddy fields by Laura Hernández, a spritely Bogotá-based sommelier and director of FunLeo, the nonprofit organization founded by her mother, lauded chef Leonor Espinosa. FunLeo works to empower and rehabilitate the food knowledge and foodways of black and indigenous communities across Colombia, and helped to get the Zotea project off the ground. Coquí itself is home to around 117 people, mostly Afro-Colombians whose descendants most likely first arrived here in 1830 from other parts of Colombia. Most likely runaway slaves known as Maroons, they hid amongst the dense mangroves and traded with neighboring Panamanians.
Another goal of the Zotea project is to uphold the traditional chagra system—farming in accordance with the natural ecosystem—by producing and selling organic rice and coconuts, two products that have been grown here since the very first settlement, but are also in high demand across the country. Since it opened to the public in August 2018, Zotea has become a hub for community affairs. It's something Aparìcìo says he didn't initially anticipate, an added-value outcome. The name refers to a local type of canoe, and every family garden has one, perched on stilts (this keeps pesky crabs at bay) to grow medicinal herbs and plants. Espinosa and FunLeo were awarded €100,000 by the Basque Culinary World Prize in 2017, and they're using those funds, along with significant contributions from the Chocó Emprendé Foundation, a social investment organization that strives to empower Chocó's communities and build on the work of previous nonprofit organizations by helping turn Coquí's rice and coconut trade into a sustainable, profitable business model.
Coconut shells are used to build retaining walls, and the husks and fibers are made into rope, or woven into hammocks or hats. A new dehydrator and press yield a high grade of extra-virgin coconut oil, which the community bottles and packages for sale. Osorio explains that the Zotea project specifically targets three avenues: rice and coconut production for the community to use, products for the restaurant to use or sell to visitors, and distribution to Colombian delis. Mama Cruz, who has been at the helm of Zotea's kitchen since its inception, and has served traditional food from her own home restaurant for many years, says: "Rice can be missed at the table, but not at lunch." Osorio adds that rice is vital to the villagers: "It's high in calories and able to sustain you during hard labor. The indigenous people may rely on corn and seeds, but post-colonization, rice has become the starch of choice."
We don't see a soul on the gentle 30-minute ride in a chingo, another local type of canoe, hand-carved from wood. Valencia points out birds, crocodiles, and the endemic mangrove species in the swampy saline waters before we jump off and push through a fringe of virgin jungle. He leads us to the paddy fields, our Wellington-clad feet sloshing in the mud as he slices through a tangle of tropical brush with the machete. Suddenly, Valencia stops for a beat and turns around slowly to face us, a thick red and beige snake hanging off his machete—dead. We've fortunately been spared as its second breakfast. Composing ourselves, we press on. "The tradition of growing rice has always been part of our culture," Valencia says. "But we stopped because of the cheaper commercial rice—and this work is hard. But when we produce it this way, it's natural and organic. Why spend your money on rice that is unhealthy?" Knee-deep in mud that sinks unpredictably, Valencia points out the prized baldoceño rice, one of several varieties that thrives here in the humidity. "An education is very important," he says," But all [four] of my sons know how to grow rice too. If I die, they will be able to make a living, like my father and I have."
Later that morning, Valencia's father, Ulpiano, passes us on a dugout piled with coconuts; he was once one of the region's main rice growers. "This village was bigger," he tells me. "More people. The water came in, and the people moved away. And our founders died." Coconuts, like rice, have always been a vital part of the diet here, but now there is an incentive to sell some of the shorn coconuts that fill his home to Zotea, to be processed into extra-virgin oil (It can take eight coconuts to produce a single liter of oil). Zotea aims to produce and bottle 160 liters each month. The remaining coconuts are transported by boat, for sale to nearby towns. When I visit Ulpiano later that afternoon, he takes me on a tour of the land where the coconuts grow, mentioning the challenges faced with deforestation by foreign-owned companies, which is permitted by law with little incentive to protect the environment. "We often discuss deforestation with the community," Osorio says. "Once, they wrote letters to the local government to complain. And soon after? Some of them received threats from those companies. That's corruption."
The community is also now able to produce 40 small bags of rice each day, "all beautifully packaged, no chemicals at all," says Hernández. Rice cleaning begins on the canoe, and the grains are pounded by hand with a large wooden pestle once they reach land, then rinsed and left to dry for two to four days on a cloth on the roofs of their homes. The manual labor, from harvest to packaging, requires a particular dedication that Valencia and his family have committed to over many generations. At a museum in the center of town, I'm shown a giant traditional mortar and pestle, and listen to the songs that are sung to ease the workload, many of them stemming from hymns of Coquí's slave ancestors. "Growing organic rice and coconuts won't automatically ensure food security," Osorio stresses. "But we hope that the commercialization will promote economic development in the long run."
"Another aim of this project is to avoid the kind of tourism that will not benefit the community," Espinosa tells me, a week later in Bogotá. "Before other entrepreneurs from the outside start their projects, exploiting the region, we're empowering this community to develop its own." Tourism has lately been on the rise in Chocó, built around the remote setting, surfing, and whale-watching. "I've worked in many communities over the years," Espinosa says, "and few display the unity and desire to change their futures like the people of Coquí."
When Espinosa and her team arrived, the women didn't need to be taught recipes or basic cookery skills, just plating and general management, she tells me. "There's a dish the ladies make that I adore—pounded aged corn, stirred for a long, long time with coconut milk, like a velvety polenta," she says. At first, many didn't know that Espinosa was an internationally recognized chef either, making a close relationship much easier to foster. Locals tell me they would see her napping in an outdoor hammock, in a house similar to her neighbors'.
Two crops that existed in the background are now what the villagers of Coquí are pinning their hopes on for a sustainable future. Seated on Zotea's back steps, overlooking the greenhouse, the cooks chatter as they clean a large catch of shiny pink shrimp and dark pianguas, fresh off a canoe. These will be cooked in a giant pot of seafood atollado, a risotto-style rice dish that will feed everyone tonight. The cooks also grate and strain the flesh of several coconuts to make milk, and cook the remaining coconut meat with panela (palm sugar) until a thick, sticky candy forms, which they wrap in banana leaves. Mama Cruz tells me: "I hope we can entice the young ones who left to return. They will see there are opportunities to earn a living here now."