Culture
Everything You Need to Know About Basil Pesto
The 1990s were the heyday of the fragrant Italian green sauce in the U.S., but the dish is far more ancient.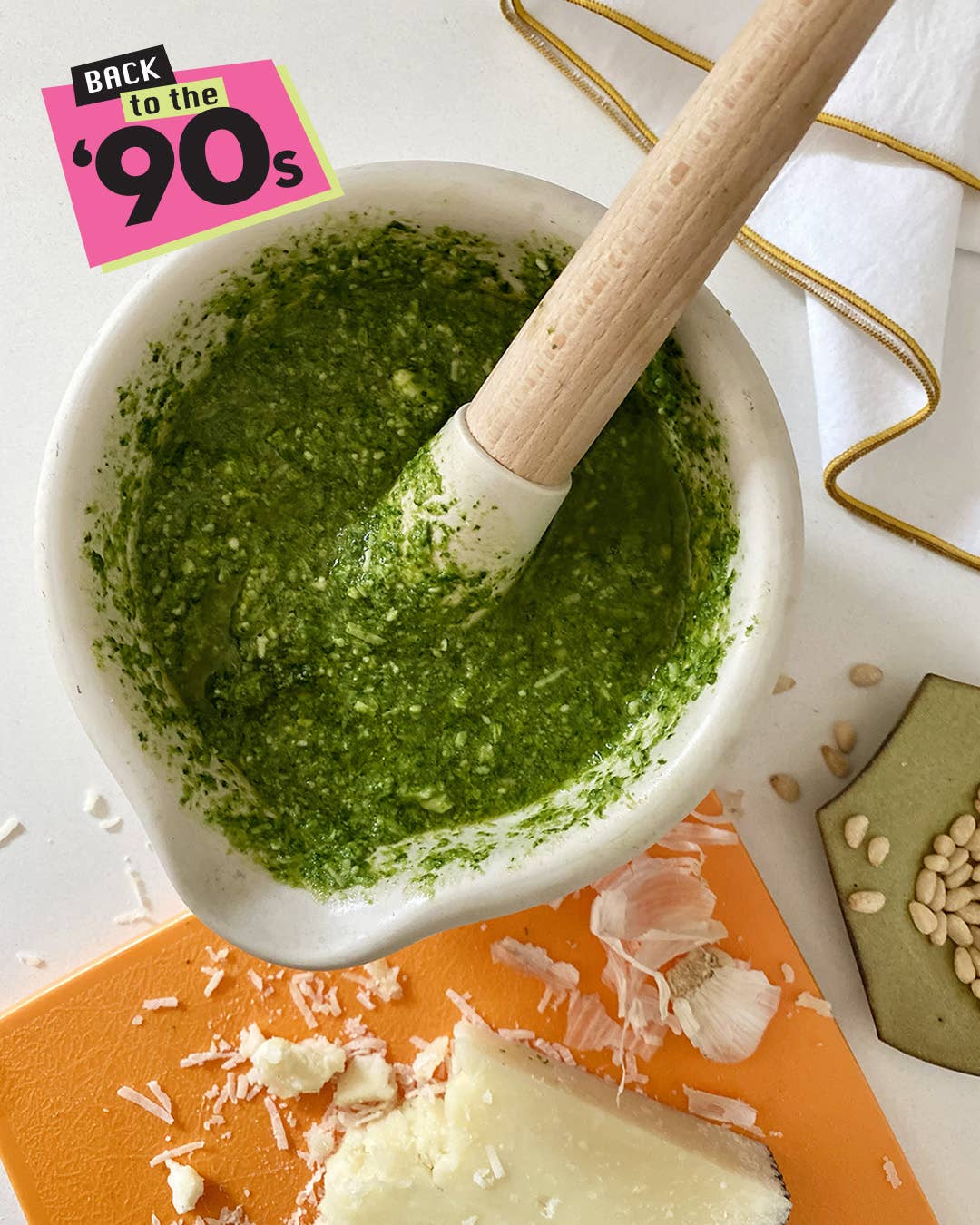 Pesto on pasta! On pizza! On grilled chicken sandwiches! The 1990s were pestomania. That divine green blend of basil, Parmigiano, olive oil, pine nuts, and garlic was everywhere, as trendy as sun-dried tomatoes, Bagel Bites, or crop tops.
But pesto predates the grunge era by a few millennia. Flash back to antiquity, and the Romans were pounding garlic, oil, herbs, and cheese in a mortar to make pesto's precursor, moretum. In fact, the name "pesto" comes from the verb pestare, which means to pound something repeatedly using a pestle to create a mash or pulp. Virgil allegedly penned a tribute to the sauce, but pesto didn't definitively make the books until 1863, when chef Giovanni Battista included a recipe for "chopped garlic with basil" in La Cucina Genovese. In the ensuing years, Italians experimented with all sorts of combinations of herbs, cheeses, and nuts to make pestos that varied according to region and available ingredients. That meant Bronte pistachios in Sicily and almonds and cherry tomatoes in Trapani.
In the mid-20th century, Liguria's Consorzio del Pesto Genovese codified pesto, specifying its ingredients and preparation. This left no doubt as to what defined pesto alla genovese: young basil from Pra', real-deal Parmigiano Reggiano, extra-virgin olive oil (preferably from Ligurian Taggiasca olives), and Italian pine nuts and garlic.
Good pesto starts with good ingredients. Choose small, tender basil leaves, which are the most fragrant, and good-quality pine nuts. The most flavorful pesto is made by hand using a mortar and pestle, which releases basil's essential oils in a way food processors can't. But if time isn't on your side, process away, ensuring that the base doesn't heat the sauce as any warmth will dull the flavor. You may even wish to chill the olive oil prior to mixing.