Culture
A Spanish Abuela's Secret to Rabbit Stew—And to Life Itself
Behind the heartwarming Grandmas Project episode featuring Tina Terés, there's a life story waiting to be told.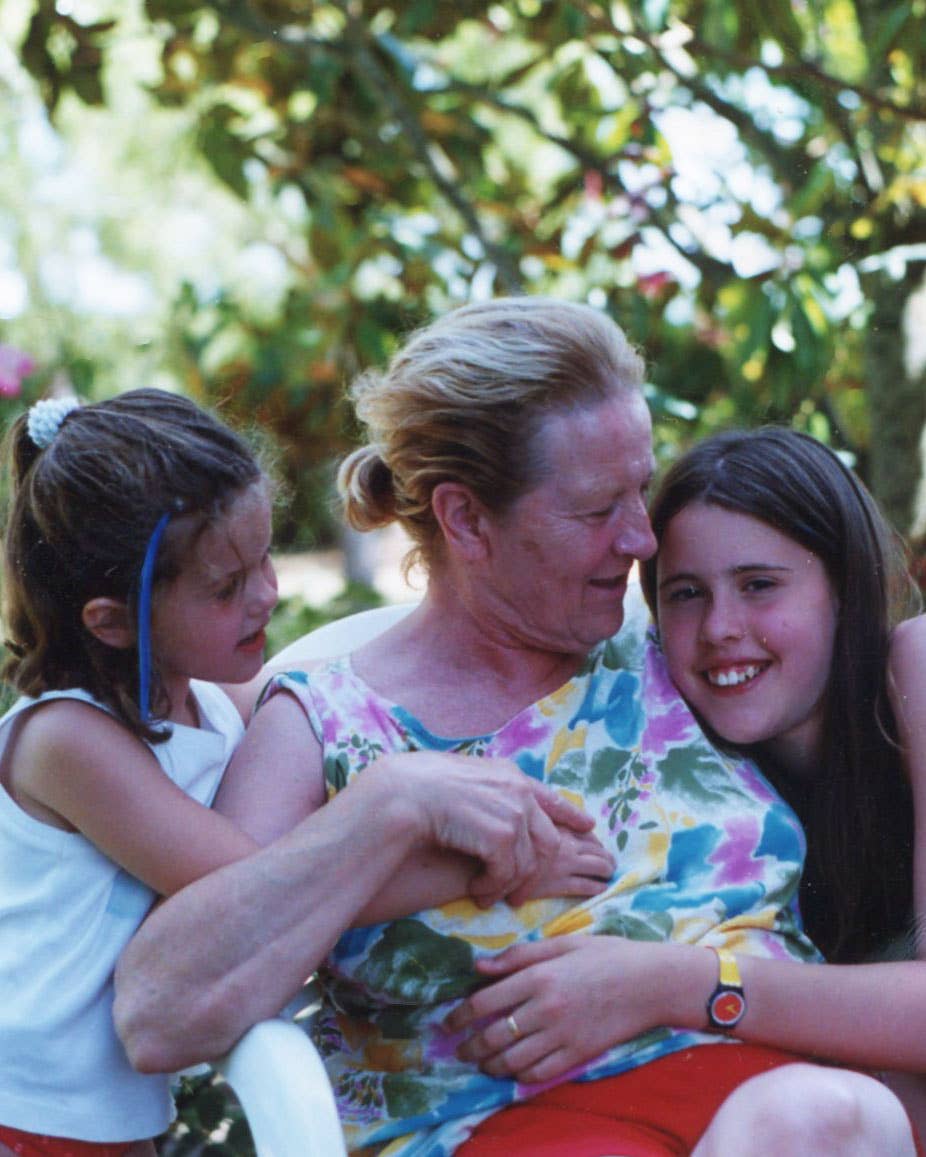 There's a preconception about grandmothers that they're mostly meek and mild, conformist and conventional. Justina Terés Sondevila, the 88-year-old Grandmas Project star, turns that notion on its head.
Her granddaughter, film director Carmen Aubédes (26), realized at an early age that Justina ("Tina") was "special." Here was a spirited woman who enjoyed the good things in life and was, in certain important ways, a person ahead of her time.
"Modern? Yes, I suppose I was. Girls in those days weren't as independent as they are now. But I did pretty much what I wanted at home. That was the kind of liberal education my parents gave me," reflects Tina.
Tina was born in the town of Monzón, a 90-minute drive from the Aragonese capital Zaragoza. In 1960, she married a Catalan gentleman with whom she had four children before being widowed 30 years ago. (To her delight, her children have given her eight grandchildren and two great-grandchildren.) Tina ascribes her "rather strong" personality in part to her Aragonese ancestry, her compatriots having a reputation for pride and obduracy, but also for generosity and good humor.
Characteristic of a Spanishwoman of her vintage, she is a proficient cook with a range of homestyle specialties. "I enjoyed cooking for the family. I still have piles and piles of recipes tucked away. But cooking for myself rather bores me now. I used to do a yogurt bizcocho (sponge cake) that came out very nicely. My macarrones were a favorite with the grandchildren: The sauce had a good sofrito of onion and tomato, plenty of cheese at the end, and sometimes a dash of cream. I did a good plate of lentils, too. And we had barbecues in the garden."
She also had a signature dish: conejo borracho ("drunken rabbit"). In Spanish cuisine, "borracho" indicates that the dish contains some kind of alcohol, often sherry or sweet wine. In this case, the rabbit pieces are cooked with a sofrito of onion, green pepper, mushrooms, and garlic, then bathed in a good glug of sherry before gently simmering until the meat is tender. Finally the sauce is thickened with a Catalan-style picada of pounded almonds.
"When I was little, she used to tell me the rabbit was chicken," remembers her granddaughter Carmen. "The idea of eating such a cute animal was upsetting to me."
Since Tina's husband died, she has lived alone in a modern "chalet" with a large yard outside the Catalan city of Lleida. In the Grandmas Project video, she is seen striding around her garden while extolling a genre of classic movies in which an indomitable woman lives on her own in some remote location, perhaps in the Wild West or on the steppes of Central Asia. "I love those old films. The woman is usually on her own in the house, sometimes with a child… and always armed with a rifle. I used to imagine it might be me."
Carmen's film reveals Tina as a woman of character with an unsuspected string to her bow: She has a fine singing voice. Before her marriage, she belonged to a choir in Zaragoza and traveled on various international tours, her specialty being the Aragonese folk dance called the jota. One of her star turns at family gatherings was the jota "Las Cerezas," with its piquant lyrics comparing kisses to cherries ("When you take one, and then another, you'll soon have the whole basket!"). In the film, she belts the "cherry song" while sitting at the kitchen table.
Throughout her long life, Tina has been a dedicated follower of fashion. "I've always liked dressing up and looking nice. It was very much the thing in Zaragoza when I was young—we'd all wear the latest fashions, and plenty of makeup. In my youth, I was very fond of designer clothes, the world of fashion, and beautiful things in general. I'd like to have been a decorator, or perhaps a beautician. Even now, I try to make myself look nice, even if I'm only going out to the shops. I suppose I still have a slightly youthful look about me—but that's just in my nature," she says coquettishly.
After cooking and eating her drunken rabbit, she relaxes with a tall glass of cava in her hand. "My friend Marisa, when she drinks cava, she feels sleepy. I'm the opposite. It gets me going! My husband used to cook from time to time, and some nights, he'd say, "I'm going to make torrijas [French toast]." And we'd get out the cava. And of course then he'd want some sort of compensation. It sounds harsh to say this, but we didn't have a great deal in common," she confides. "Except the sex, which was one thing that did work very well."
Her granddaughter recalls the filming process as easy and fun. As a child, Carmen loved to shoot little videos of family life with a compact camera, so for her grandmother, the experience was hardly a novelty. Tina "knew not to look at the camera—all I had to do was follow her around the house," says the director. "I think she enjoyed being the object of attention. In fact, the more we filmed, the more she seemed to grow into the role."
When Tina talks about Carmen—second child of her first-born son—a tenderness comes into her voice. "She's a very good girl, sweet natured and very intelligent. She used to come by here a lot, and still she's one of the grandchildren I see the most of." Of Tina's four children, only one lives anywhere near (in a small town in the Pyrenees). The other three are based in London, Barcelona, and "all over the world." However, three decades of solo living, together with her naturally feisty and independent character, have inured her to loneliness.
"Occasionally I find myself missing the family; then I have to remind myself that they're all happy, which of course is the main thing," she says. "I'm quite content here on my own. This is the way I want to live. Because I'm worth it, as they say at L'Oréal."
So saying, she flicks back a lock of fine gray hair and lets out a peal of laughter.