Culture
In Philly, Potatoes Taste Like Cinnamon and Coconut
How the city's deep-rooted knack for candy created this iconic St. Patrick's Day tradition.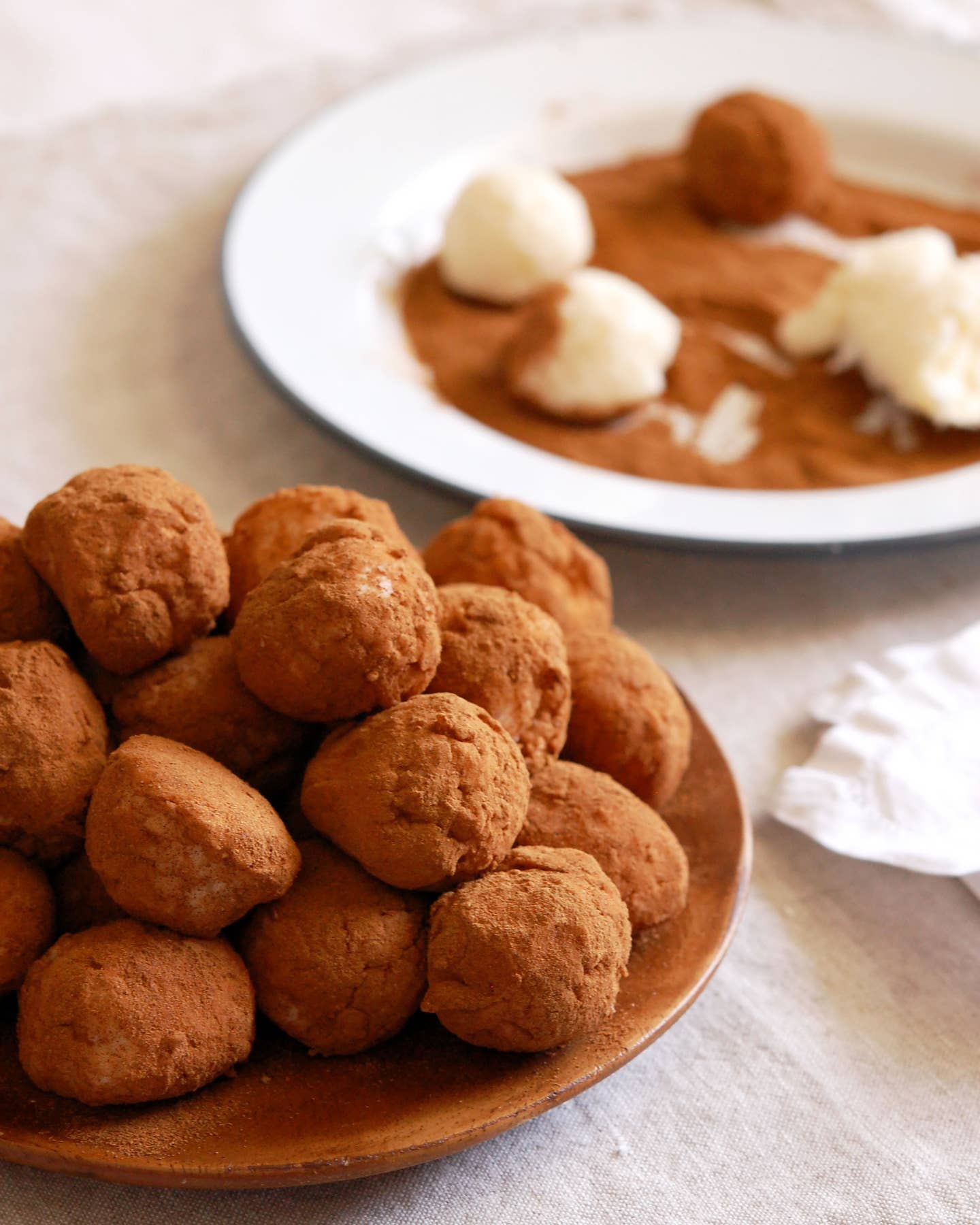 I was almost 19 years old before I learned that coconut buttercream candies rolled in cinnamon are not, in fact, a St. Patrick's Day tradition that is observed everywhere.
It was mid-March, and as I idled over homework in my freshman dorm in North Carolina, I wondered aloud whether the cafeteria might make Irish potatoes for St. Patrick's Day. My roommate cocked her head, then asked in her thick Carolina twang, "What, like mashed potatoes dyed green?"
I was speechless with disbelief. Had she never tasted the sweet, decadent confections rolled in cinnamon to look like plucked-from-the-dirt spuds?
Irish potatoes are neither Irish nor potatoes, but rather soft coconut candies. In the lead-up to St. Patrick's Day, these little coconut confections pop up everywhere in the Philadelphia region, as commonplace as soda bread and beer, appearing in convenience stores, supermarkets, candy shops, and bakeries. When I was growing up, every year as the holiday approached, I would shell out allowance money for Irish potatoes at the Wawa convenience store. At school, classmates and I crossed our fingers that someone would show up with a homemade batch to share. Most years, I could talk my mom into making them with me.
Irish potatoes are a variation of traditional coconut buttercreams. Commercially-sold Irish potatoes such as Oh Ryan's Irish Potatoes use shelf-stable buttercream mixtures that get rolled in cinnamon (confection company Stutz Candy Company opts for a less traditional cinnamon-and-cocoa blend). Recipes made at home or by select artisan candy makers generally include coconut, powdered sugar, butter, vanilla, and cream cheese, which adds a little tang to cut the sweetness (one guess which is the preferred brand).
Based in Delaware County, the family-run Oh Ryan's will make 96,000 pounds of Irish potatoes this year, which translates to over 3 million buttercream balls. "Pretty much all sales are local," says third-generation candymaker Ryan Lamparelli, the company's production manager.
Small candy shops also see brisk Irish potato sales in March. Ryan Berley, co-owner of the historic boutique candy store Shane Confectionery in the Old City neighborhood continues the shop's decades-old tradition of selling Irish potatoes each year starting around Valentine's Day. "It's a very traditional candy that people have generally been buying for decades, or maybe their whole lives. The holiday wouldn't be right if they didn't have a box of Irish potatoes," says Berley.
Though Irish potatoes have helped define St. Patrick's Day in Philadelphia for over a century, no one is certain of the confection's precise origin, but it appears to have originated from a confluence of industry, immigration, and sales opportunity. Beginning in the colonial era and extending well into the 19th-century Industrial Revolution, Philadelphia served as a key port for the manufacturing and distribution of sugar. By the late 1800s, the region was home to the nation's highest percentage of candy makers, including Whitman's and Asher's, with Hershey's in nearby Lancaster. Around this time, waves of Irish immigrants fleeing the Great Potato Famine settled in the region; by 1860, Irish residents made up the city's largest immigrant population.
Perhaps as a way to bridge the candy lull between Valentine's Day and Easter and appeal to the growing Irish demographic, area candymakers began selling coconut buttercream candies. The city's place as an established Caribbean trade route helped ensure the availability of coconut. Instead of the traditional chocolate coating, however, these confectioners rolled the treats in cinnamon to resemble a small dirt-covered potato. A decadent St. Patrick's Day custom was born.
If you find yourself in the Philadelphia area in March, you can easily purchase Irish potatoes, but many shops, including Stutz's, Oh Ryan's, Shane's, Mueller Chocolate Co., and the Pennsylvania General Store, also deliver nationwide. My nostalgic heart, though, still beats for the homemade kind.
As a kid, I stood beside my mom at the kitchen counter, both of us in aprons while she mixed and scooped the sweet coconut dough into little rounds. Then, she'd pass them to me; my job was to roll them in a shallow bowl of cinnamon and try not to eat them all in the process. Today, I live in Washington, D.C., no longer in the city that raised me, but each year, I still bring its sweetest St. Patrick's Day tradition to wherever I call home.