Recipes
Irish "Potatoes"
Rich, coconutty candies that look just like plucked-from-the-earth spuds are arguably Philadelphia's favorite St. Patrick's Day tradition.
Serves

Makes about 81 Irish potatoes

Cook

1 hour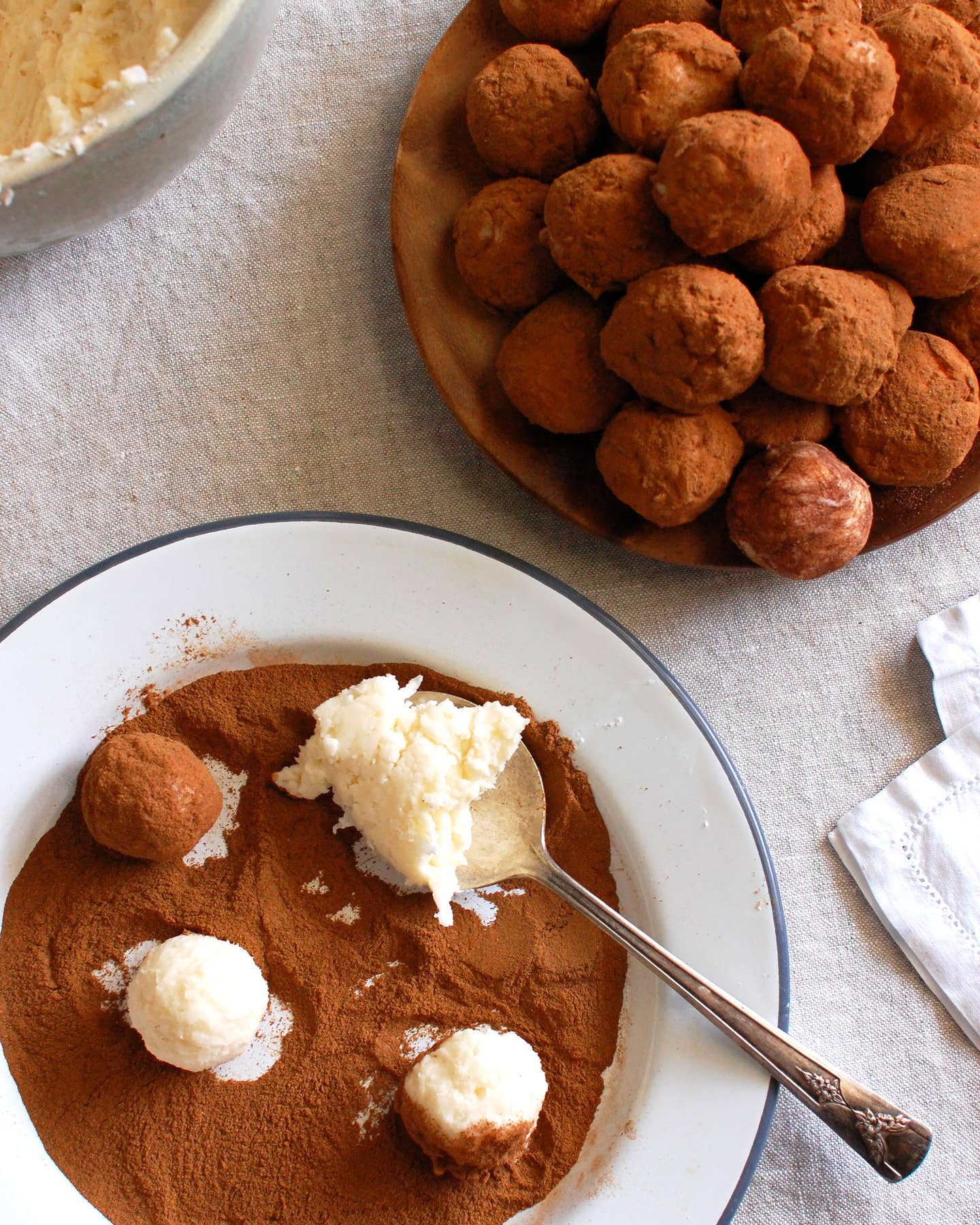 Irish potatoes—the coconut buttercream candies—are an iconic part of St. Patrick's Day celebrations in Philadelphia. Rolled in cinnamon to resemble little potatoes, they have been a seasonal tradition in the city for over a century, thanks to Philly's candy-making roots. This version, adapted from a generations-old family recipe, uses a vanilla coconut buttercream dough made with cream cheese, which cuts the sweetness with a little tang. After chilling and scooping the dough into small rounds, the buttercream balls are rolled in cinnamon to give the candies their signature look of a plucked-from-the-earth spud.
Ingredients
One 8-oz. package cream cheese, preferably Philadelphia brand, softened
8 Tbsp. unsalted butter, softened
7⅓ cups (2 lbs.) powdered sugar
2⅓ cups (7 oz.) sweetened flake coconut
1½ tsp. vanilla extract
Pinch kosher salt
¼ cup ground cinnamon, for rolling
Instructions
Step 1
To the bowl of a stand mixer fitted with a paddle attachment, add the cream cheese and butter followed by the powdered sugar, coconut, vanilla, and salt. Mix on low speed until fully incorporated. Cover and chill the dough until slightly firm, at least 30 minutes and up to an hour.
Step 2
To a wide-bottomed bowl or plate, add the cinnamon; line a large, rimmed baking sheet with parchment paper. Using a small cookie scoop, scoop tablespoon-sized rounds of the sugar-coconut mixture and drop into the bowl. Roll the Irish potatoes in the cinnamon, tapping off any excess, then transfer to the lined baking sheet. Cover and refrigerate until firm. Serve chilled or at cool room temperature. Irish potatoes will keep well for up to 2 weeks in the fridge, or
for 2 days at room temperature.