Culture
These Mexican-Made Canned Drinks Are Giving Local Flavors Their Due
Limonada, guayaba, and tamarindo are diversifying the drinks aisle.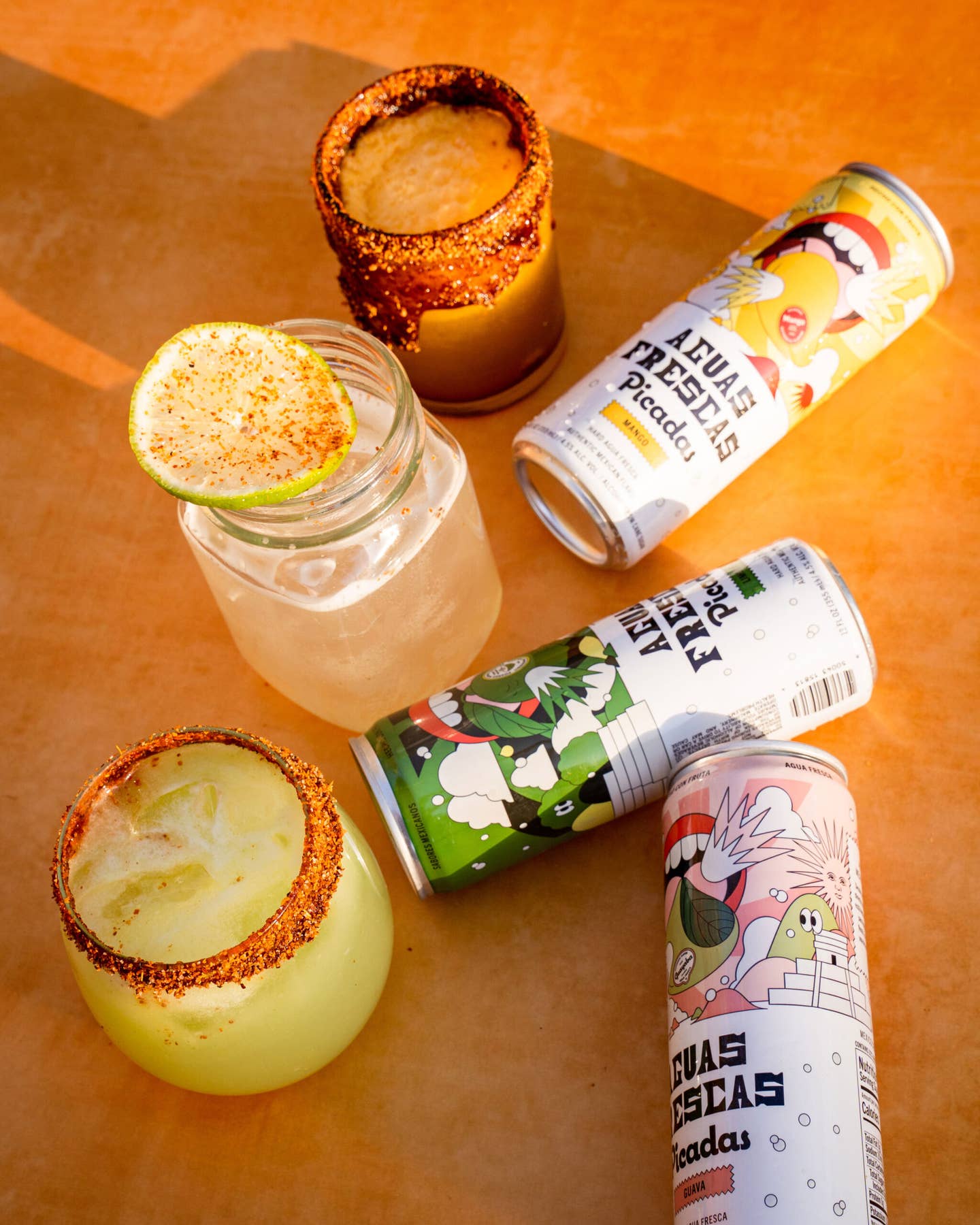 When Hugo Martinez first moved from Mexico to the U.S. in 2018 to attend Stanford Business School, every party he attended with his American classmates was stocked with beer, wine, and sometimes spirits. By the time he graduated in 2020, there had been a shift—the beverage selection at student shindigs were now dominated by Ready-to-Drink (RTD) sips. Yet, none of the flavors in the cooler, from the White Claws to the Truly hard seltzers, appealed to his palate. In a sea of strawberry, cherry, and kiwi options—none of which really tasted prominently like the advertised fruits—Martinez missed the vibrant, refreshing, boldly fruit-forward drink flavors he grew up with in Mexico City, like tart limonada, tangy tamarindo, and sweet, floral mango.
Though many of his American peers seemed to enjoy the RTD beverages, "I didn't see the Latinos, and Hispanics, and me and my Mexican friends get into them as much," he recalls. Martinez suspected this was because they were accustomed to totally different flavors, many of which are arguably bolder and more distinct than what they were encountering in the ice box.
In his native Mexico, there's a broad category of delicious drink flavors that go well beyond the handful of bog-standard fruit flavorings that make up the RTD aisle in U.S. grocers. A lightbulb went off in Martinez's entrepreneurial brain—perhaps there was an opportunity to introduce American imbibers to beloved Mexican ingredients through RTD beverages. So, he developed one, a spiked agua fresca called Picadas. Fermented in small batches, the canned drinks are reminiscent of the non-alcoholic varieties one might find on a traditional Mexican taqueria counter. The flavors represent nostalgic ingredients from Martinez's youth—the distinctly tropical-tasting guayaba (guava); a sweet and sour limonada helada (made with Key limes rather than lemons); and mango, featuring a much sweeter variety of the fruit than the mangoes typically available in the U.S.
Picadas is just one of a spate of all-natural Mexican beverages now sweeping the drinks industry in the U.S.—with an emphasis on traditional Latin American flavors. Rafael Martin Del Campo, co-founder of the Los Angeles-based tepache brand De La Calle, was born and raised in Mexico City. He's the third generation in his family to brew tepache, a naturally fermented probiotic drink made from pineapples that's popular among homebrewers throughout his native country. De La Calle is already available in grocery stores nationwide, and Martin Del Campo says there's been interest from both customers and stores in exporting the product to not only Mexico, but South American and European countries, too.
In Picadas' case, Martinez and his team distributed their product solely in Mexico for an entire year before launching in Texas, the brand's first U.S. market. But these beverages have broad appeal and Del Campo says both Hispanic and non-Hispanic populations have embraced his company's products. As Martinez puts it, Picadas is "made by Mexicans for Mexicans for the world to enjoy. Not just the Mexican consumers."
Mexican Americans make up 20% of the current U.S. population. That demographic is only growing—and businesses are increasingly trying to cater to the community, says Martinez. He points to the success of brands like Topo Chico, Jarritos, Corona, Modelo, and Takis, all of which have introduced Mexican products to the U.S. market, and explains that, "brands are starting to realize that there's a huge market that they're not paying attention to, that needs a different solution or a different product than what's available."
Brands like De La Calle may also be riding the zero-proof wave, but these culturally relevant libations aren't just capitalizing on a trend—Mexican households have been making and drinking flavorful non-alcoholic concoctions for generations. Now, the U.S. market is catching up.
Even established food brands are moving into sips, in an effort to share the familiar flavors of their heritage to a new audience in drink form. Longtime Bronx-based tortilla purveyor Buena Vista recently launched Soda Mexicana, a less-sweet alternative to Jarritos, in pineapple, mandarin, apple, tamarind, and hibiscus flavors, all made with natural cane sugar. With just 15 employees, the small brand hopes to build a local following that prefers a lower-sugar alternative to the treacly big dog that's carried in virtually every supermarket and bodega in Mexico and the U.S. alike.
Del Campo attributes much of Americans' affinity for Mexican products to the two countries' proximity. "We're neighbors to Mexico," he says. But the entrepreneur also believes there's interest in more globally inspired drinks across the country in general, and that interest is only growing. "People are looking into more ancestral, and authentic, foods and beverages."