Travel Guide: Great Restaurants in Mexico City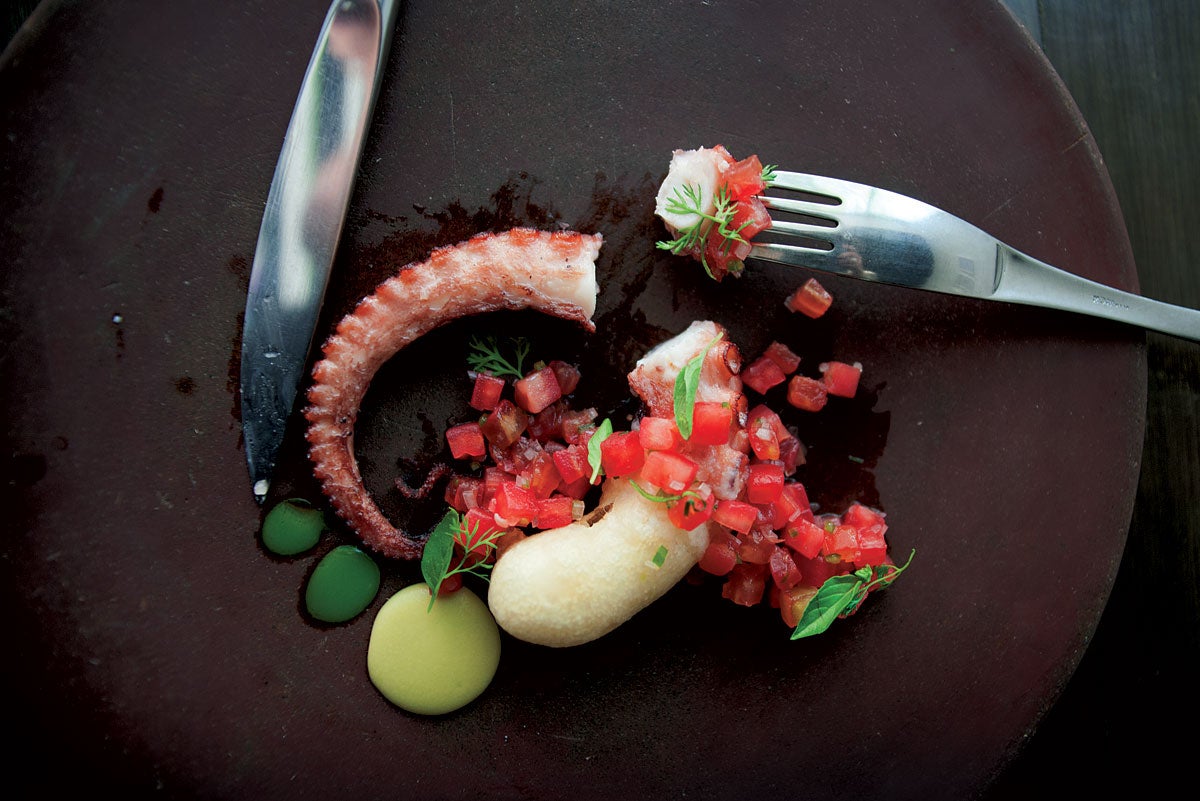 Azul Condesa (Nuevo Leon 68, Condesa; 52/55/5286-6380; azulcondesa.com)
The chef and author of the Diccionario Enciclopedico de Gastronomia Mexicana (Clio, 2000) Ricardo Muñoz Zurita serves flavorful, faithful renditions of Mexico's regional specialties—Oaxacan black mole, Yucatecan pit-roasted pork, little Tabascan tamales made with the leafy green chaya—at this upscale-casual restaurant in the tony Condesa neighborhood.
Azul Historico (Isabel La Catolica 30, Centro Historico; 52/55/5510-1316; azulhistorico.com)
Ricardo Muñoz Zurita's third location (the original, Azul y Oro, is on the campus of the Universidad Nacional Autonoma de Mexico) is tucked into the airy courtyard of the Palacio de los Condes de Miravalle, a 17th-century edifice turned boutique hotel and chic mall, with artisan shops selling charcuterie, tableware, mezcal, books, and more. The menu is similar to the one at Azul Condesa, except here breakfast is served. A plate of with steak served beneath the century-old laurel trees is a great way to start off the day.
Dulce Patria (Anatole France 100, Col. Polanco, 52/55/3300-3999; lasalcobas.com)
At her restaurant inside the boutique hotel Las Alcobas, chef Martha Ortiz cooks updated Mexican cuisine in fanciful, architectural platings. A salad of baby arugula and cactus flower buds is draped in a purple-tinged violet brittle; a roast chile, sliced from the stem, is splayed like an octopus over sea bass.
El Bajio (Cuitlahuac 2709, Col. Azcapotzalco; 52/55/5341-9889; carnitaselbajio.com.mx)
The rootsy restaurant that the esteemed Carmen "Titita" Ramirez Degollado founded 40 years ago in the working-class barrio of Azcapotzalco is still going strong. Don't miss the soulful mole de olla, juicy pork, zucchini, and corn on the cob doused in a sweet-hot guajillo chile broth.
Izote (Presidente Masaryk 513, Col. Polanco; 52/55/5280-1671; izote.com.mx)
Renowned chef Patricia Quintana serves gorgeous renditions of traditional Mexican classics, including walnut-sauced, pomegranate seed-strewn chiles en nogadas; tender lamb steamed in banana leaves; and squash blossom soup.
Maximo Bistrot Local (Tonala 133, Col. Roma; 52/55/5264-4291; maximobistrot.com.mx)
Chef Euardo Garcia cooked at Pujol, as well as Manhattan's Le Bernardin, before opening his cozy Roma cafe, where locavore sourcing meets Spanish, French, and New American influences. The seasonal menu changes daily, with dishes like organic pork rib eye with porcini puree for autumn and grilled snook with artichokes and arugula for spring.
Nicos (Cuitlahuac 3102, Col. Claveria; 52/55/5396-7090; laboratoriocreativo.com.mx/port_web/n/home.html)
Chef Gerardo Vazquez Lugo oversees the kitchen at his family's gracious 55-year-old institution serving excellent, traditional Mexican dishes, many from historical recipes, such as a rich noodle casserole, sopa seca de natas, from Guadalupe's Capuchin nuns.
Paxia (Av. de la Paz 47, Col. San Angel; 52/55/5616-6964 and Juan Salvador Agraz 44; Col. Santa Fe, Cuajimalpa; 52/55/2591-0429; danielovadia.com.mx)
Daniel Ovadia likes big, bold flavors and presentations; at his two restaurants downtown and out in the high-rise suburb of Santa Fe, he offers fare such as maguey worms (the nutty-tasting grubs found in the agave plant) with a chile salsa, nopales, and smoked agave hearts or the relatively tame huitlacoche, sea urchin, shrimp, and fried garlic in chestnut cream.
Quintonil (Newton 55, Col. Polanco; 52/55/5280-2680; quintonil.com)
Using carefully sourced local ingredients, Pujol alumnus Jorge Vallejo cooks beautiful, modern Mexican dishes such as the bitter broccolini-like herb huauzontle with Chiapas cheese and a tomato and habanero salsa or Baja clams with a squid ink sauce and borage flowers.
Sud 777 (Boulevard de la Luz 777, Col. Jardines del Pedregal; sud777.com.mx)
At this trendy steakhouse and lounge, chef Edgar Nuñez Magaña serves squash blossom ravioli with a huitlacoche and truffle sauce, Wagyu from Mexico's Rancho Las Luisas, and other contemporary, globally inspired dishes.