Culture
Toasting Women Founders at the Inaugural SAVEUR Salon
Mezcalitas laced with hot honey, caviar-topped flaky flatbread, and plenty of bubbles fueled the conversation at editor Ellen Fort's Charleston round table.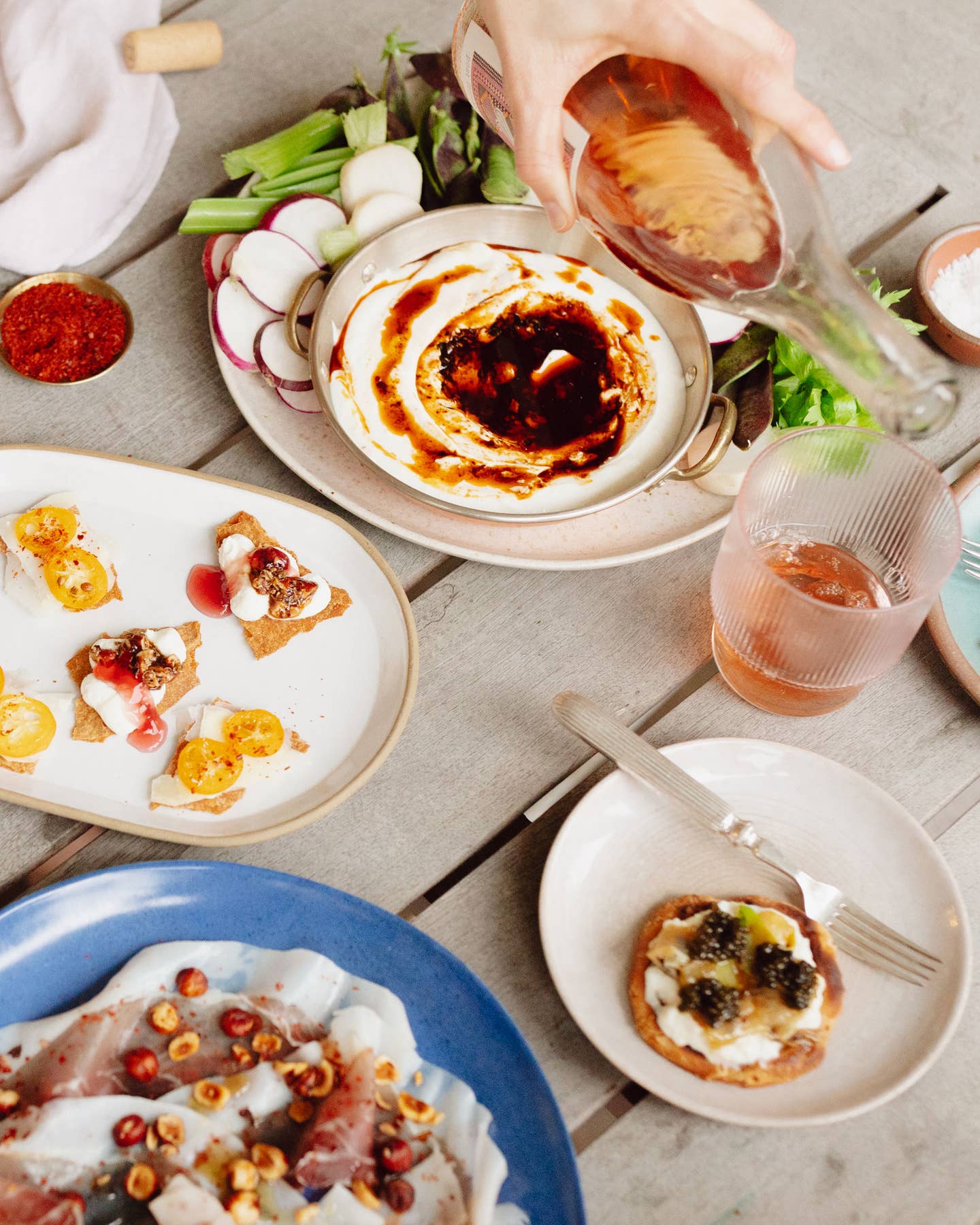 On an early evening in Charleston, South Carolina, a group of dynamic women gathered at the home of Molly Fienning, CEO of Red Clay Hot Sauce, for a celebration of women in food and beverage. The idea was to create a comfortable space where we could share learnings from successful entrepreneurs who share the same challenges, and lend some inspiration to those starting out on their own. And, of course, a space where we could share some very special drinks, bites, and fun.
And, it was definitely casual and comfortable as we all grabbed a chair, a spot on the couch, or on even plopped onto the floor for the main event: a panel discussion between Molly Fienning, CEO of Fly by Jing, Jing Gao, and Petra Higby, CEO of The Caviar Company, focused on the idea of entrepreneurship and how to navigate it as women. From raising capital to staying true to your own mission, we chatted about it all. Read on for all the details of the night, from what we ate and drank to the biggest takeaways of our discussion.
Molly tapped up-and-coming Charleston chef Vilda Gonzalez, to create a menu highlighting the products of our panelists. 
Pecan dukkah honey, paneer rose jelly, goat cheese, stone-milled sourdough crackers, Diaspora Co. chilis
La Salumina Prosciutello, toasted hazelnuts, Red Clay Hot Honey
Spiced candy roaster squash dip, Fly by Jing Chili Crisp, vegetable crudite
Flakey sourdough flatbread with stracciatella, charred spring onions and Caviar Company Caviar
Charleston bartender Fabiana Pinillos came up with two different cocktails highlighting female-led spirit companies. First, a Passion Fruit Mezcalita got some heat from Red Clay's Spicy Peach Hot Honey and highlighted the smoky notes of Doce Mezcal, founded by NYC-based Gabriela Lawrence and Amelia Tonelli.

Guests also sipped Post Flirtation Rosé, a juicy natural wine from Northern California's Martha Stoumen. Bubbles from B. Stuyvesant Champagne were flowing, thanks to Marvina Robinson, founder of the first Brooklyn-based, Black-owned Champagne company—that's a lot of firsts.
 I had the honor of moderating a panel consisting of our CEOs and founders. We got down to brass tacks on the nitty-gritty of building a business from the ground up, and what it takes to be an entrepreneur these days. The panelists gave great insights from a variety of perspectives and answered questions from attendees whose backgrounds range from wine sales to chefs to current small business owners. Here are a few standout learnings from the evening. 
"The path to entrepreneurship is not for the faint of heart and it comes with severe lows and severe highs, sometimes in the same day. Most people are not going to believe in you until you have proven success on your own," says Gao."It's really like are you the only one that can do what you want to do. You have to answer the question 'Does this need to exist?' and 'Are you the one that needs to do it and why.' To know that why is what will keep you going." 
Molly Fienning, Red Clay Hot Sauce
"Start small, start direct, and build an engaged customer base through your direct consumer channel. The second you take capital you start the engine of pressure. I think I would have taken a little more time to build the brand directly on my website before taking on investors. I would have scaled my direct-to-consumer more before I went to grocery and gotten that business really humming."
Petra Higby, The Caviar Company
"My sister and I really started our business with the idea of, we want to have mutually beneficial and long-lasting relationships; that's kind of why we are in hospitality, because of the people. And obviously, the product is a lot of fun. It's a really marketable product, we get to do some really fun things. But it really is the people that brought us into this world. And so we want to honor the people, respect the people and work with the people. And with that kind of mantra, we've really gotten to make some amazing friends. And we've gotten to do some really fun partnerships, even with things that are like with jewelers, or with you know, alcohol brands, or wines and things like that. And what we found is that whenever we really care about that it's a two-way street to where it's not just like okay, so what do we get out of this? We are really taking into consideration the question of 'what does our partner get out of this,' where everyone can benefit, and then we have fun too. And then it leads to other relationships and the other fun collaborations."