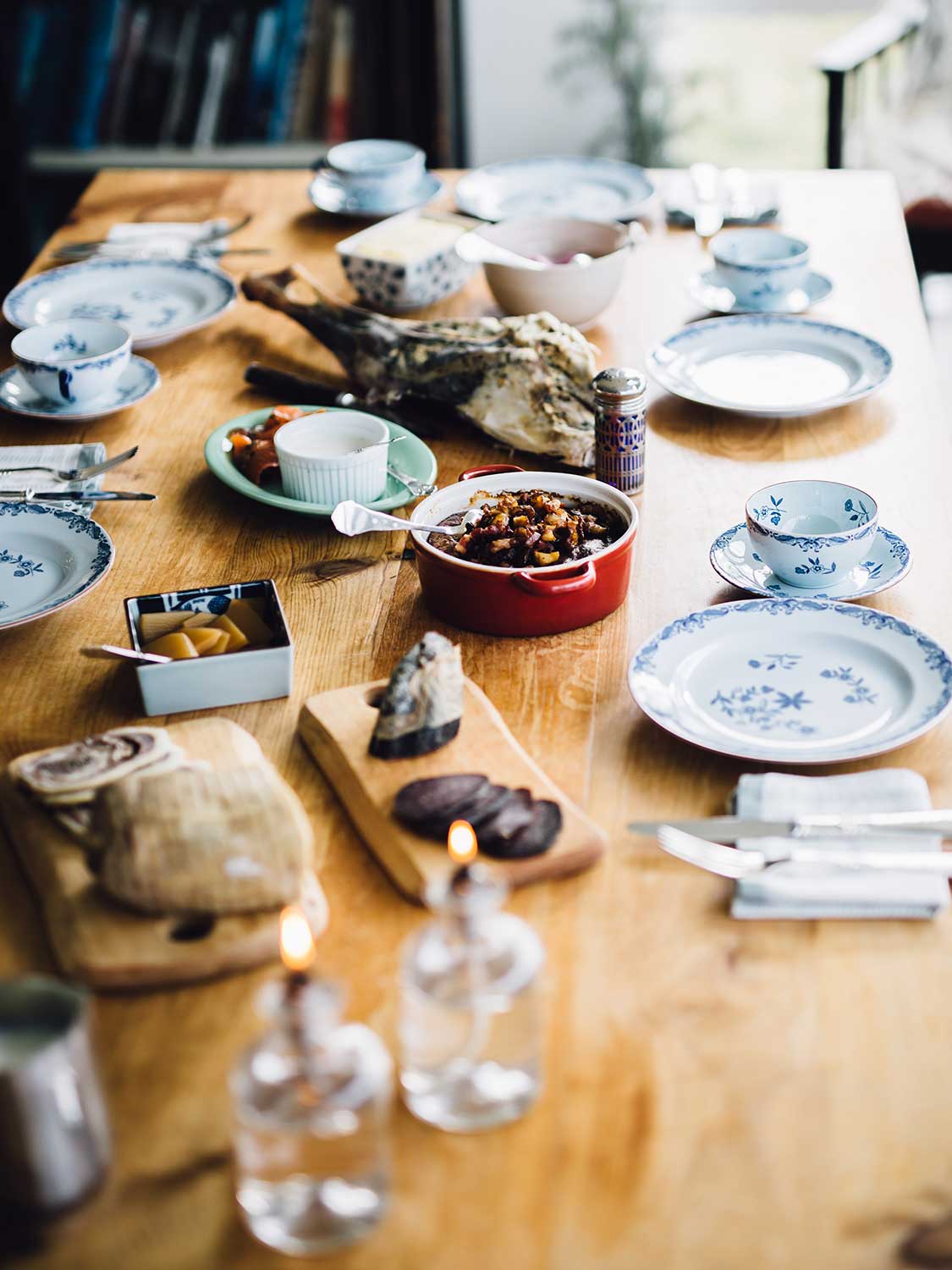 Travel
A Taste of Hospitality in The Wind-Swept Faroe Islands
Centuries-old Faroese dinner parties called heimablídni are a communal dining experience worth traveling for
Halfway between Norway and Iceland, jutting up through the icy waters of the North Atlantic Ocean, are 18 majestic, grass-covered basalt rocks worthy of a David Attenborough voice-over. These are the Faroe Islands, which have evolved from a forgotten hiker's paradise into an unlikely culinary destination.
It isn't the kind of flashy, fast-paced dining scene you'll find in Copenhagen or Reykjavik. Here, food is patiently hand-weaned, raised, harvested, and fermented. Slow food isn't a trend—it's survival. And the best way to experience it is to roll up your sleeves and eat with the Faroese farmers.
Generally speaking, they're a ruddy bunch of resourceful salmon fisherman and modern-day sheep farmers outnumbered by their own flocks. Their ancient language, brought to these islands by viking settlers around the year 800, seems to match their way of life, marked by hard physical labor and communal customs. When they say "a farmer needs hands," they're quite serious, and their social interdependence is striking. If someone on these islands dies or gets married, it's common for at least 300 people to show up to the gathering. Life, like the weather, is harsh, and thus precious—which is why they throw a damn good dinner party.
They call it heimablídni (pronounced "high-mah-blewd-knee"), which translates to "home hospitality" and refers to at-home dinner parties hosted by sheep farmers. The tradition has been carried on for centuries; before roads and tunnels were bored through these islands in the 1960s, the only way to visit your neighbor was to sail or row through treacherously strong currents—a good incentive to stay awhile. Over the past five years, these supper clubs have been promoted to tourists as call-and-book attractions (a trend which reflects the islands' steady growth in tourism.)
Today, hosting a supper like this is a way for farmers to generate side income, and share the fruits of their labor with travelers. Averaging $150 USD per person among 8 distinct farms, these evenings typically include a five-course meal, a welcome dram, wine, and Faroese beer. Supper clubs certainly aren't a new concept—but you won't find heimablídni anywhere else on earth.
Welcome to Dinner (Døgurði)
It's a dark, cold November night in Velbastaður, a tiny seaside village on the island of Streymoy. I step out of a taxi, in front of a carved wooden sign affixed to a stone pillar. It reassuringly reads: Heimablídni: Anna & Óli Rubeksen. I'm in the right place. Theirs is a modest, rectangular wooden home with a grass roof, and was built into the cliff side with spectacular views across the strait Hestsfjørður to face the islands of Hestur and Koltur. A warm golden light shines through the kitchen window.
Before I knock, Óli swings the front door open, a tall grey-haired man accompanied by his petite, apron-clad wife, Anna. They greet me with big bear hugs and proudly introduce themselves in English, while I make embarrassing attempts at Faroese: "How are you?" (Hvussu gongur?) and "Thank you" (Takk fyri).
We are presented with a schnapps toast, a customary Faroese greeting; when you've just stepped off a rowboat from another island and entered into the house from the shivering cold, a warming schnapps is a proper welcome ashore.
The tiny, elegant glass is passed from person to person, each introducing themselves before sending it down the hatch. To my right is Benny and Gitte Husted, a jovial Danish couple who live in a town called Ry. There, Benny works as a crime prevention consultant, and Gitte is a schoolteacher. Like me, this is their first visit to the Faroe Islands and they seem eager to dig in. "It is very interesting that there is a story connected to all the different Faroese dishes. It challenges your eating habits, because it is unknown to you," says Benny, reaching for another slice of blood red whale jerky.
He's right. The jerky is from a pilot whale, captured by local fishermen, then hung to dry in the ocean air all autumn and winter, producing a rich, concentrated flavor. The meat tastes gamey, more like venison than fish, and is the product of a centuries-old ritual summer slaughter called grindadráp, during which migrating whales are beached and killed to feed the islands' 50,000 inhabitants—a tradition that is not without some modern controversy. Above the dining room, the wall is mounted with an antique whale spear, a family heirloom from Óli's grandfather.
Tonight's guests are a fun mix of locals and Danes. "It is part of Faroese culture to visit each other at home," explains Anna, before inviting us all to be seated at her long wooden table, flickering with candlelight, and charmed by the kind of farmhouse tablescape you might find in a children's fable.
A routine dance takes place in the kitchen behind us, as Anna's teenage children pour burnt-orange-hued beer from Okkara, the smaller one of the two Faroese breweries, into wine glasses. Over the course of dinner, we'll taste five different craft beers from the same local brewery.
Of the Rubeksens' five children, only three are present tonight. They help prepare the meal, set the table, plate dishes, and tidy up. But, more than that, they give us a clue of how much manual labor it takes to run this farm and household, which is snugly appointed with low-slung furniture and comforting textures, such as the white, grey, and brown sheep skins that came from the family's flock, now lining the backs of our chairs. Above us, stuffed oystercatcher birds dangle decoratively from the ceiling—a reminder that you are in one of the world's wild places, surrounded by seabirds with names like guillemot and storm petrel, each taking shelter in these dramatic cliffs.
"I like the honesty of this place. It's not perfect. It's rough. But it's simple in its roughness," says John Kølbaek, a bald, chatty Dane to my left. He relocated to the Faroe Islands a few years ago to work as the local police commissioner, and swears he'll never leave.
When the first course arrives, we raise our glasses, say a quick cheers (Skål!), and tuck in: a warm, hearty bowl of salted cod fish, white potatoes, and fresh herbs topped with burned butter.
Traditional Faroese suppers typically begin with land-based, simple affairs such as vegetable soup, or lamb (or whale) jerky. This is commonly followed by a small plate of fresh-caught fish, such as cod or halibut. For the main course, the Faroese head back to land, to showcase meat from the farmers' own herd.
What feels most foreign, though is the pace of the meal. Here, life is enviably sedate for a reason. The forces of nature and vagaries of the climate mean everything to these farmers. And they know better than to rush natural rhythms. Theirs is a beautiful acceptance of the state of things, an admission to the front row of life. Because they, too, are just visiting.
Anna and Óli, eating alongside us, are now ready to present their showpiece: a wintry plate of clove-spiced blood sausage and fermented sheep's head meat, with a side of rhubarb chutney. "This dish is always a success. We like to surprise the Faroese with the flavor. They're not used to the combination of fermented meat and black pudding," says Anna, a twinkle in her eyes while she waits for my praise. It really is delicious. It tastes like Christmas, and, come to think of it, the whole evening feels like a family holiday.
As if on cue, a festive dessert is placed before me on blue and white china: a rhubarb cobbler, made with ground hazelnut and vanilla, and heaped high with a cloud of whipped cream. Rhubarb is as traditional Faroese as it gets, but recipes vary from family to family.
It is the perfect end to a happy, languorous evening full of unlikely camaraderie. Something about it feels like coming home—and being wrapped in a sheep's wool blanket.