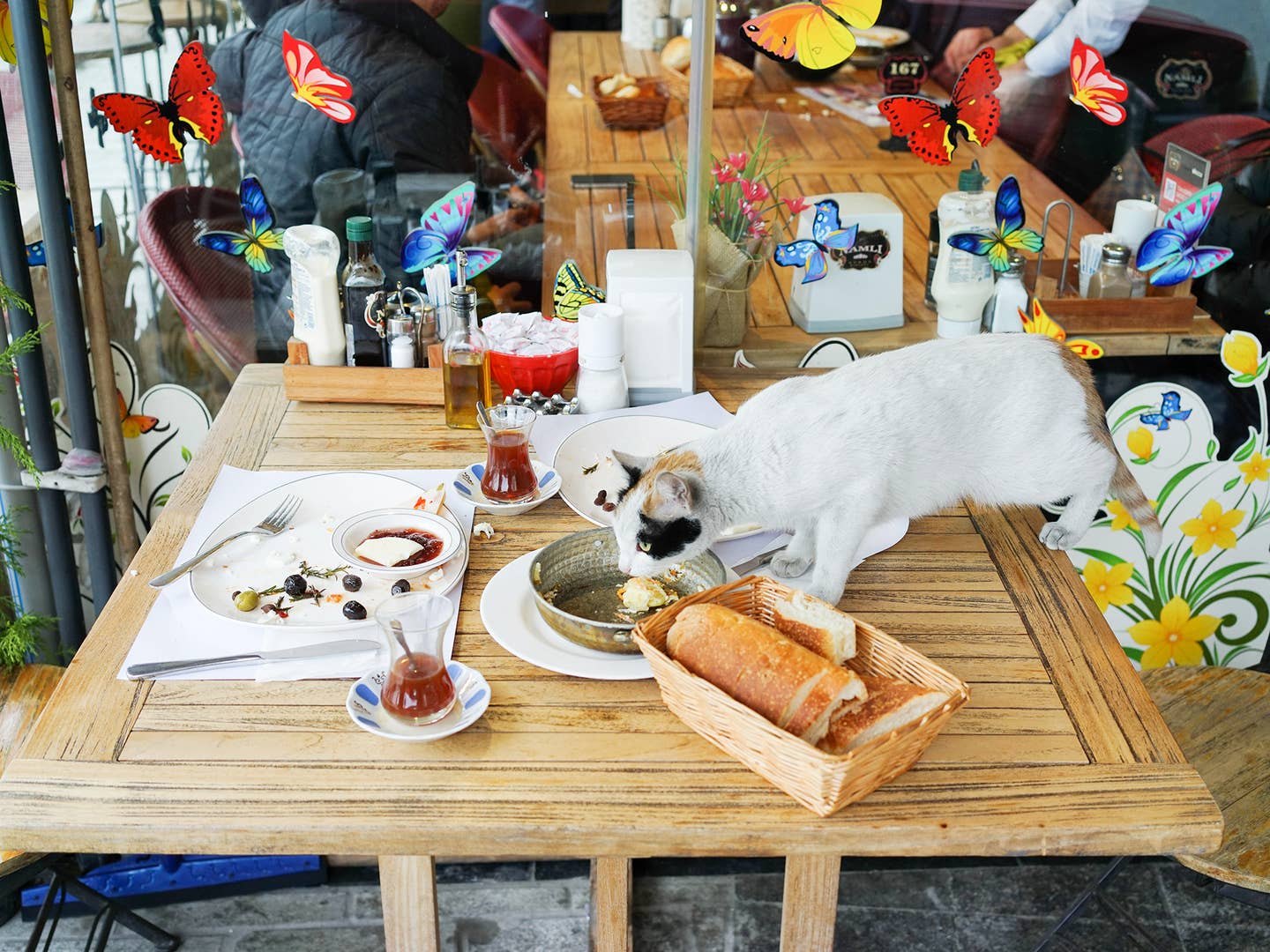 Travel
Dispatch: Breakfast in Istanbul
The cats are optional, but a happy bonus
Namli Gurme, a market and restaurant in the Karaköy neighborhood of Istanbul, is very popular among locals—people and stray cats alike. I recently enjoyed breakfast there on the first day of a weeklong trip to Turkey, and found it the perfect start to a day of exploring the city. The experience here is a bit overwhelming: you order at a counter filled with seemingly endless options behind a long glass case, but there are also several signs in Turkish indicating things that can be made to order. Luckily, the men behind the counter will offer guidance if you look completely lost, which I did.
The tables are generally so packed that finding a seat might require an eagle eye or a willingness to eat outside on a not-so-nice day, but once you're seated, it's easy to enjoy yourself. I ordered a traditional breakfast, plus eggs: The mild cheeses, cured meats, and olives were served with fluffy bread and an addictive sour cherry jam—not too sweet, with the occasional tart punch of a whole cherry. The eggs had bright orange yolks and were served in a small dish I wanted to take home with me. Turkish tea is what it is (bitter, weak), but it's served in cute glasses that somehow make it so much better. And if you are seated outside, the stray cats will spend the whole time flirting with you and eyeing what you might not finish. I had barely stood up all the way before this guy pounced on my leftovers.
Back inside, I wandered the store admiring the huge displays of olives, dried fruits and nuts, different kinds of honey, and a case full of baklava and various baklava-like treats, all of it nearly impossible to resist. I got myself one of every pistachio and honey pastry on offer, and a large bag of pistachios, which were by far the best I've ever had: slender with the most vibrant pink skins and the perfect amounts of crunch, sweetness, and salt. I followed up all of that excitement with a walk along the Bosphorus and through the streets of Karaköy, a lively neighborhood filled with restaurants, cafes, and the fanciest hammam: Kılıç Ali Paşa, a traditional Turkish bath dating back to the 16th century.
Istanbul is large, crowded, and loud: overstimulating in the best way. This breakfast was a great way to ease into it, to boost my enthusiasm and help me forget my jetlag. And the cats—both at Namli Gurme and throughout the neighborhood—were the perfect welcoming committee.
Namli Gurme Karakoy
Rıhtım Cad. Katotopark Altı 1/1, 34425 Karaköy
İstanbul, Turkey +90 212 293 6880