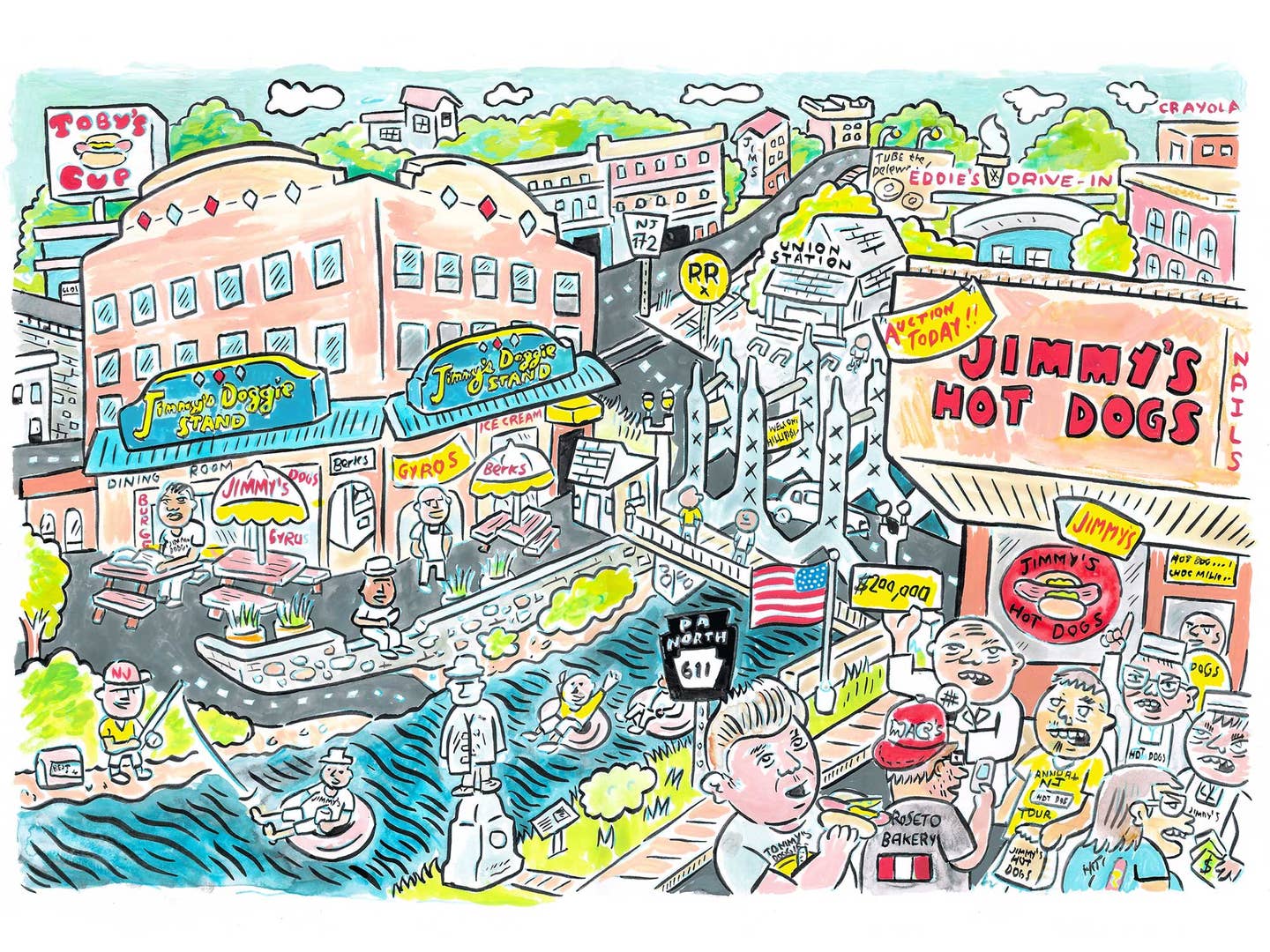 Travel
The Sordid Family Feud Behind the Great Easton Hot Dog War
Reports from the front lines of a decades-long New Jersey fight fueled by frankfurters, fame, and a squiggle of mustard
Welcome to Hawk's Illustrated America, a monthly series following illustrator Hawk Krall's journeys through the back roads of the U.S. in search of our country's most obscure and delicious regional specialties.
They call them steamed, but they're really fried," John Fox says of the Easton-style dog.
Fox, a North Jersey postal worker, is the undisputed hot dog savant of our time. For years he's appeared regularly in articles, in books, and on TV programs relating to the history and nuance of sausage grinds and tube-steak legends.
The Easton dog—dressed with yellow mustard, raw onions, and a pickle spear, then wrapped in wax paper so the components steam and commingle together, a kind of frankfurter en papillote—is found mostly among Delaware River border towns around Phillipsburg, New Jersey, and Easton, Pennsylvania.
New York City and Chicago may get all the attention, but Jersey is America's true hot dog heartland. There are no fewer than six distinct regional styles of dog in the Garden State, from the deep-fried "Italian" dogs stuffed into fluffy "pizza bread" at Jimmy Buff's to the Greek chili-topped "Texas" wieners of Paterson. Loyalties run deep here, and divisions strong—though differences in individual styles are not well known outside their home territory. Which is why I've asked Fox to shed some light on Easton's claim to hot dog fame—and on the decades-long family feud that's become an essential part of its history.
It begins with Jimmy Makris, who in 1910 opened a stand called Jimmy's Hot Dogs on the Phillipsburg lot where Jimmy's Doggie Stand now sits. Makris pioneered the shallow-fried, wax-paper-steamed Easton dog, and his 4x6-foot stand proved so successful that he hired some help to feed the crowds: first his nephew, John Apostolopoulos, then fellow Greek immigrant Frank Bounoutas. After Makris died in 1983, John and Frank opened a new location in a strip mall across the river in Easton, making a handshake deal to split the business 50-50. But as both men were approaching retirement age and had no agreement in writing, the question of succession got dicey.
For 11 years, Fox goes on, the Apostolopoulos and Bounoutas families fought a vicious public battle over the Jimmy's name—all while working together side by side. Customers saw "yelling, cursing, and derogatory comments." Local media reported on threats of violence that required the police to intervene. When a protracted lawsuit between the families couldn't be resolved, a judge put the business up at public auction. Loyal Jimmy's customers, fearing it might close forever, waited on hours-long lines for a final taste. In the end, out of spite as much as anything else, Frank Bounoutas bought the business for over four times its appraised value of $80,000, cutting the Apostolopoulos family out completely.
The lines today aren't quite as long at Jimmy's Doggie Stand, but on this sunny Tuesday, it's impressively packed. The Phillipsburg Jimmy's Hot Dogs stand shuttered in 1990; a few years ago, Sophia Malatos and her husband, Nick, brought it back to life. They have no relation to either the Apostolopoulos or the Bounoutas clans but know them both through the Greek Orthodox community.
"So now there's two Jimmy's," Fox says, waiting for a dog. Someone in line notices John's T-shirt (Tommy's Doggies, another Jersey favorite) and asks, "Have you been to the Easton Jimmy's? It's the real deal, the original."
Sophia Malatos joins us at a picnic table on the edge of the Delaware. "We put onion in our oil and cook in a cast-iron pot," she says. "That's a little thing we've always done here." The fry job on the hot dog is gentle, nicely crisp and salty with a juicy pickle and soft bun; three perfect bites.
Sophia and Nick never worked for the original Jimmy's, but they're well versed in its history, thanks in part to an amazing collection of memorabilia gifted to them from a local historian. That includes photos going back to the 1900s and a newspaper interview with Jimmy Makris, chronicling how his business survived an accidental stabbing, plus an improbable series of fires, floods, runaway trucks and trains. Sophia says she has no dog in the Apostolopoulos-Bounoutas fight. "We all work for each other's business, and then some go out on their own to build something to pass down to their families. We only want everyone to have success."
We cross the river and stop in for more research at the Jimmy's in Easton. No one from the Bounoutas family is at the stand when we arrive. Later, by phone, they turn down all my requests for comment. The furthest I get is a quip from Polly Bounoutas: "Me and my husband, Frank, have been here 25 years. We have only hot dogs, chips, and chocolate milk, that's it. What else do you want to know?"
Back home in Philadelphia, I finally manage to get James Apostolopoulos on the phone. James is John's son—Jimmy Makris' grand-nephew—a 25-year veteran of the original Jimmy's Hot Dogs and the only living blood heir to a family legacy that he's now been ousted from.
"The business was meant to be passed down to the next generation," Apostolopoulos says. "The Greeks have always been like that."
As for Jimmy's Doggie Stand, he's quick to stress that the Malatos family have "no connection to the original business," but he doesn't have hard feelings. "Everybody needs to make a living."
Which is why he's recently been scouting locations to open a hot dog stand of his own. Even if he can't use the Jimmy's name, he plans to serve the original family recipe because, he says, "Hot dogs are in my blood."
Hawk Krall is an artist, illustrator, and former line cook with a lifelong obsession for unique regional cuisine, whose work can be seen in magazines, newspapers, galleries, and restaurants all over the world. He focuses on editorial illustration, streetscapes, and pop-art style food paintings.