The Complete Guide to New Jersey's Crazy Hot Dogs, and Where to Find the Best
Forget New York and Chicago; Jersey is America's real hot dog heaven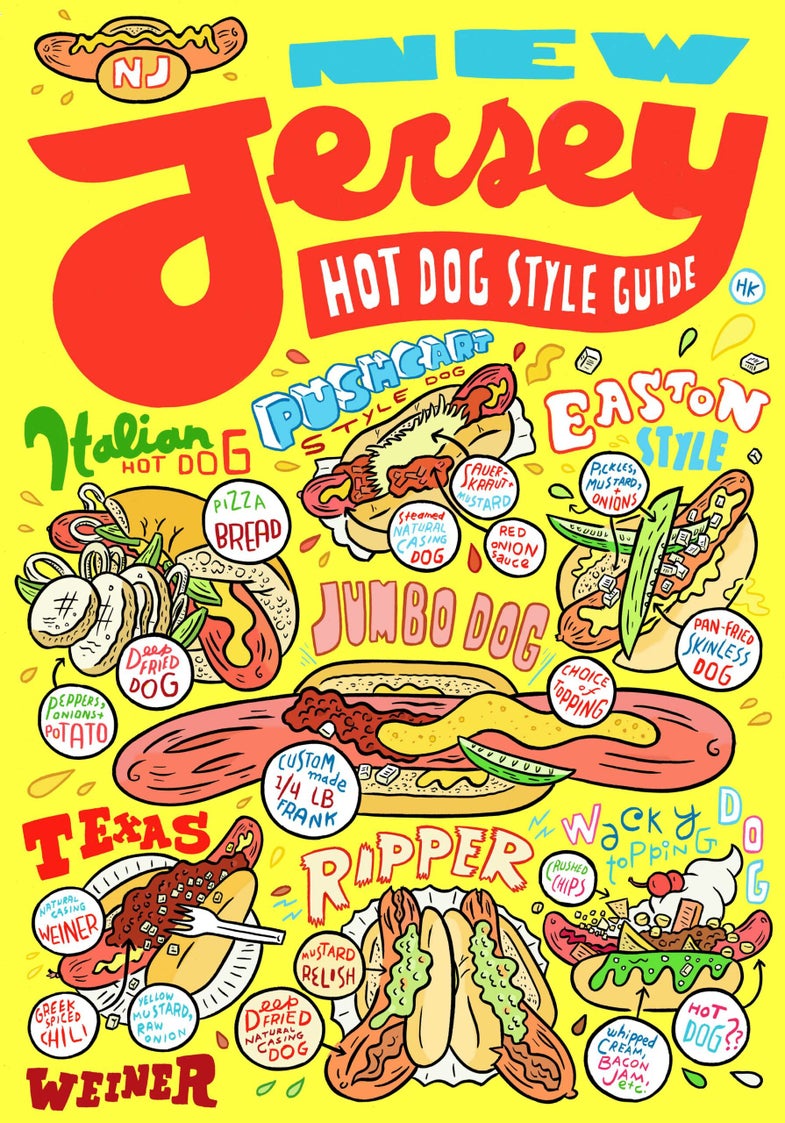 For the month of April, SAVEUR is all about New Jersey, the unsung hero state of American eating. Here's why. Read all our Jersey Month stories here.
When people think of hot dogs, they usually think of places like Chicago, New York, Detroit, and New England. But true hardcore hot dog aficionados know that New Jersey is the center of the hot dog universe. There you'll find a richer and more distinct hot dog culture than anywhere else, one informed by proximity to Coney Island (the birthplace of the American hot dog), itinerant pushcart workers who've retired from the streets of Manhattan, and a whole set of homegrown hot dog preparations unique to the state. Hot dogs are more than food in New Jersey; they're a whole cuisine.
That means New York-style pushcart dogs, steamed and topped with sauerkraut. Deep fried dogs cooked until the skins rip open. Dogs folded into pizza dough pockets and smothered with fried peppers and potatoes. The options for the hungry hot dog lover are endless: New York-style spicy all-beef blends stuffed in natural casings, for one, or milder beef-and-pork mixtures specifically designed to withstand a deep fryer. Some hot dog preservationists have even rescued obscure frankfurter recipes from closing meat plants for the holdout customers that still demand a specific style of long-lost dog.
These are longstanding traditions; some of Jersey's most celebrated hot dog styles are almost a century old. And in recent years, more and more food writers have taken notice of all the Garden State's hot dog culture has to offer. But New Jersey still doesn't get the recognition of, say, New York or Chicago, which is especially surprising considering how much these native traditions still thrive today.
Meet the Expert
I live close to Jersey and have been sampling the state's offerings for years, but for this project I also enlisted the help of veteran New Jersey hot dog authority John Fox to navigate the complicated world of secret hot dog recipes, micro-regional chili styles, dishonest proprietors, and hot dog etymology.
If you've ever read anything about New Jersey hot dogs, you've probably heard of Fox, and even if you haven't, most New Jersey hot dog knowledge leads back to him somehow. He's been a consultant for countless hot dog articles, books, and television programs for everyone from the Food Network to the New York Times going back several decades.
John is also the co-founder (with Erwin Benz) of the Annual New Jersey Hot Dog Tour, now in its 13th year, which is one of best ways to sample some of Jersey's finest dogs. It consists of two buses, over 100 eager hot doggers, and stops at seven different notable Jersey hot dog joints, with Fox in the front of the bus on a microphone detailing the history, technique, and culinary details of each stop. Every year he and Benz add new places to the tour, among with a few favorites, making sure to show off a nice mix of styles. It's the ultimate hot dog experience.
Jersey hot dog makers are endlessly creative with how they cook, top, and serve their dogs, but you can lump them into seven broad regional categories. Here's your guide to the full range of Jersey hot dog styles, with recommendations on where to get the best of the genre from Fox and me.
Italian Hot Dog
Originating at Jimmy Buff's in the 1930's—which is still around making some of the best—there's nothing like the New Jersey Italian hot dog anywhere else in the world. The traditional version, made with half- or quarter-loaves of "pizza bread" from local bakeries (big wheels of soft Italian bread, not unlike muffaletta loaves with holes in the middle) is only really found in Newark and the surrounding area. The best hot dog spots also use a local-to-Newark Best Provisions brand all-beef dog, skinless so it can survive a trip through the deep fryer before getting jammed into the bread like shawarma and topped with deep fried peppers, onions, and crispy medallions of potato.
It's also one of the few times in New Jersey where ketchup is an acceptable topping, although purists keep it off to the side solely for dipping the potatoes. If the sandwich sounds a little bit freakish, well, it is, but the myriad flavors and textures are deceptively balanced, and they just work for the best, most unique hot dog version of sausage & peppers you will ever eat.
Where to Get It
Tommy's Italian Sausage
900 2nd Avenue, Elizabeth NJ
(908) 351-9831
Jimmy Buff's
60 Washington Street, West Orange NJ
(973) 325-9897
Charlie's Italian Hot Dogs
18 South Michigan Street, Kenilworth NJ
(908) 241-2627
Pushcart-Style
This is the closest thing in New Jersey that you'll get to the classic New York City street dog. Found at carts, trucks, and walk-up storefronts, pushcart-style dogs, also affectionately known as dirty water dogs, are almost exclusively made with Sabrett natural casing all-beef dogs, spicier and more garlicky than most on this list, in part to keep flavorful as the dogs linger in their hot water bath. Standard issue toppings include sauerkraut and onion sauce, a classic New York topping sweetened with tomato. Some of the storefront shops will also serve these dogs either cooked entirely or finished on a flat grill, adding an extra crunch to the already snappy dog.
Where to Get It
Dee's Hut (Truck)
Near Lincoln Park; Faitoute Avenue, Roselle Park NJ
Randy the Hotdog Guy (Cart)
303 Long Avenue, Hillside NJ
Jerry's Famous Frankfurters
906 2nd Avenue, Elizabeth, NJ
Easton-Style Hot Dog
This is a funny, unique hot dog style that's sort of hybrid between Jersey's deep fried dogs and Pennsylvania brands, served in an almost quasi-Chicago fashion. Popular in Easton, PA and bleeding across the Delaware to Phillipsburg, New Jersey, Easton-style or Western New Jersey-style hot dogs start with Berks or Kunzler brand beef-and-pork skinless dogs, shallow fried in half an inch or so of oil, and topped "all the way" with yellow mustard, pickle spears, and diced fresh onion, often wrapped in wax paper to sort of steam the bun and meld the flavors together.
One of the more unique riffs on the Easton-style dog was formerly served at Charlie's Pool Room in Alpha, NJ; there they added their grandmother's secret Hungarian onion sauce and sliced bell peppers to the standard Easton hot dog base, along with an outsider-art-esque museum of semi-religious hot dog drawings and paraphernalia. (Unfortunately Charlie's went out of business.) According to Fox, the two Jimmy's on opposite sides of the river are decent; they're run by members of the same family and are apparently now hot dog rivals. With the legendary Charlie's Pool Room gone, I would probably recommend Toby's Cup as the place to get this style; Toby's is a wacky little neon blue hut on the side of the road that fits maybe four customers at time and cranks out some seriously delicious fried dogs.
Where to Get It
Toby's Cup
857 Memorial Parkway, Phillipsburg, NJ
(908) 859-1925
Jimmy's Hot Dogs
2555 Nazareth Road, Easton, PA
(610) 258-7545
Jimmy's Doggie Stand
7 Union Square, Phillipsburg, NJ
(908) 859-1000
Jumbo Dog
Some of the other styles here can be made with jumbo-sized hot dogs, but jumbo dogs are also a New Jersey style unto themselves, with certain hot dog joints, usually those near the beach, specializing in massive footlongs.
John Fox terms this Boardwalk-style, popularized by well-known Jersey Shore spots like Max's or The Windmill. Windmill and other spots use jumbo Sabrett's franks, but Max's is legendary for its use of the quarter-pound Shickhaus dog, an old recipe dating back to a defunct meat packing company, now revived and made specially by an outside company for the New Jersey market. You'll find these jumbo dogs char-grilled, griddled on a flattop, and deep fried, but they're always served in too-small buns with myriad toppings.
Another legendary jumbo Jersey dog was once found at Syd's in Union, NJ—an all-beef, char-grilled, 3.2-ounce frankfurter. It was a little smaller than the quarter-pounders at Max's or Windmill, but spicier and bolder in flavor, considered by some to be the finest hot dog New Jersey has ever seen. Syd's restaurant is long gone, but you can purchase the Syd's recipe dogs at Best Provisions in Newark, and they really are incredible. Hot dog shops around the state will offer them from time to time, although nobody seems to have matched the glory of the long lost Syd's.
Where to Get It
Max's Hot Dogs
25 Matilda Terrace, Long Branch, NJ
(732) 571-0248
Windmill Hot Dogs
Various locations in Monmouth County, NJ
Best Provisions (Syd's Dog)
144 Avon Avenue, Newark, NJ
(973) 242-5000
Texas Weiner
Texas Weiner (the preferred spelling in Jersey), Texas Hot, and Texas Hot Dog are all terms you may see associated with hot dogs in old-school joints across the country, a sort of regional misnomer branding scheme originating with Greek hot dog entrepreneurs in the early 1900's. By many accounts the "Texas" weiner started in North Jersey, specifically in Paterson in the '30s, at a stand in front of a hotel run by a man named John Paterliss.
Regardless of background, the signature of the Jersey-style Texas Weiner is a natural casing dog, griddled or deep fried until crisp, and topped with Greek-style "chili" that's more sweet than spicy thanks to ingredients like allspice, cinnamon, and nutmeg. Mustard and chopped onions are standard (but optional) garnishes.
In North Jersey you'll typically find Texas weiners deep fried, made with a Thumann's brand mild beef-and-pork dog, and topped with a thinner sauce at small stand-alone hot dog joints. These are what Fox calls the Paterson style.
Down in Central Jersey, the dogs are usually griddled rather than fried, made almost exclusively made with Grote & Weigel dogs manufactured in Connecticut (but manufactured specifically for the Jersey market), and topped with a much thicker chili sauce. The Central Jersey Texas weiner is often found in sit-down restaurants that are more like diners than stands, alongside a full menu of jersey cuisine.
I prefer the northern style, and Libby's—possibly the oldest still-standing Jersey Texas Wiener joint, where the dogs are served with gravy fries and frosted mugs of beer—as a personal favorite.
Where to Get It: Paterson-Style
Libby's Lunch
98 McBride Avenue, Paterson, NJ
(973) 278-8718
Goffle Grill
1140 Goffle Road, Hawthorne, NJ
(973) 423-0881
Pappy's Diner
317 Union Boulevard, Totowa, NJ
(973) 595-1701
Where to Get It: Central Jersey-Style
Texas Weiner I
100 Wachtung Avenue; Plainfield NJ
(908) 756-5480
Manny's Texas Weiner
2580 Springfield Avenue, Vauxhall, NJ
(908) 964-3585
Red Tower I
500 Park Avenue, Plainfield NJ
(908) 561-0353
Ripper Dog
One of the better-known styles of Jersey dogs, the Ripper is really just one of four levels of hot dog doneness (others include the Weller or Cremator) at the legendary Rutt's Hut, but it's become a catch-all term for deep fried hot dogs. Rutt's (and many other deep fried dog joints in Jersey and elsewhere) start out with a Thumann's brand beef-and-pork dog, specially made for deep frying with secret ingredients that both help the dog stand up to the deep fryer as well as "puff up" in a signature way. The frying is more than just a stunt; it really crisps up a casing like nothing else.
At Rutt's, the dogs are most commonly topped with a refreshing homemade yellow secret relish that's a great foil to the salty fried dogs, and it's even better with a cold beer. The relish is rumored to contain everything from cabbage to cucumbers to mustard or pickles. Others swear by nearby Hiram's as the real deal for fried hot dogs, although there the default topping is chili instead of relish. Then there's Callahan's, a local favorite third rival to Rutt's and Hiram's, closed for years but recently re-booted by family of the original owners. They have one of the best modern examples of hot dog branding and signage I've ever seen.
Where to Get It
Hiram's Roadstand
1345 Palisade Avenue, Fort Lee, NJ
(201) 592-9602
Rutt's Hut
417 River Road, Clifton, NJ
(973) 779-8615
Callahan's
10 Broad Street, Norwood, NJ
(844) 468-3641
Wacky Topping Dog
Aside from the long-standing New Jersey styles, there's always been a rotating collection of "wacky" hot dog joints that focus more on the toppings than the hot dogs themselves, ranging from more modern chef-driven foie gras "haute dogs" to "kitchen sink" dogs topped with everything from potato chips to pepperoni, mashed potatoes, and whipped cream.
I personally enjoy some of the more restrained cheffy dogs and the international variations, or just the fun of trying something ridiculous. But for purists like John Fox it's somewhat of an affront to serious hot doggery—although he does note that both Destination Dogs in New Brunswick and Maui Dogs in Wildwood start with quality hot dogs (Newark's Best Provisions at Destination, New York's Hoffman's at Maui).
These dogs might not change the way you think about hot dogs forever, like a Ripper or a real Italian Hot Dog might, but it can be a lot of fun to check out some of the more creative and modern hot dog variations—around once you're educated yourself with the classics.
Where to Get It
Hot Dog Tommy's
10 Jackson Street, Cape May, NJ
(609) 884-8388
Maui's Dog House
806 New Jersey Avenue, Wildwood, NJ
(609) 846-0444
Destination Dogs
101 Paterson Street, New Brunswick, NJ
(732) 993-1016
Hawk Krall is an artist, illustrator, and former line cook with a lifelong obsession for unique regional cuisine, whose work can be seen in magazines, newspapers, galleries, and restaurants all over the world. He focuses on editorial illustration, streetscapes, and pop-art style food paintings.