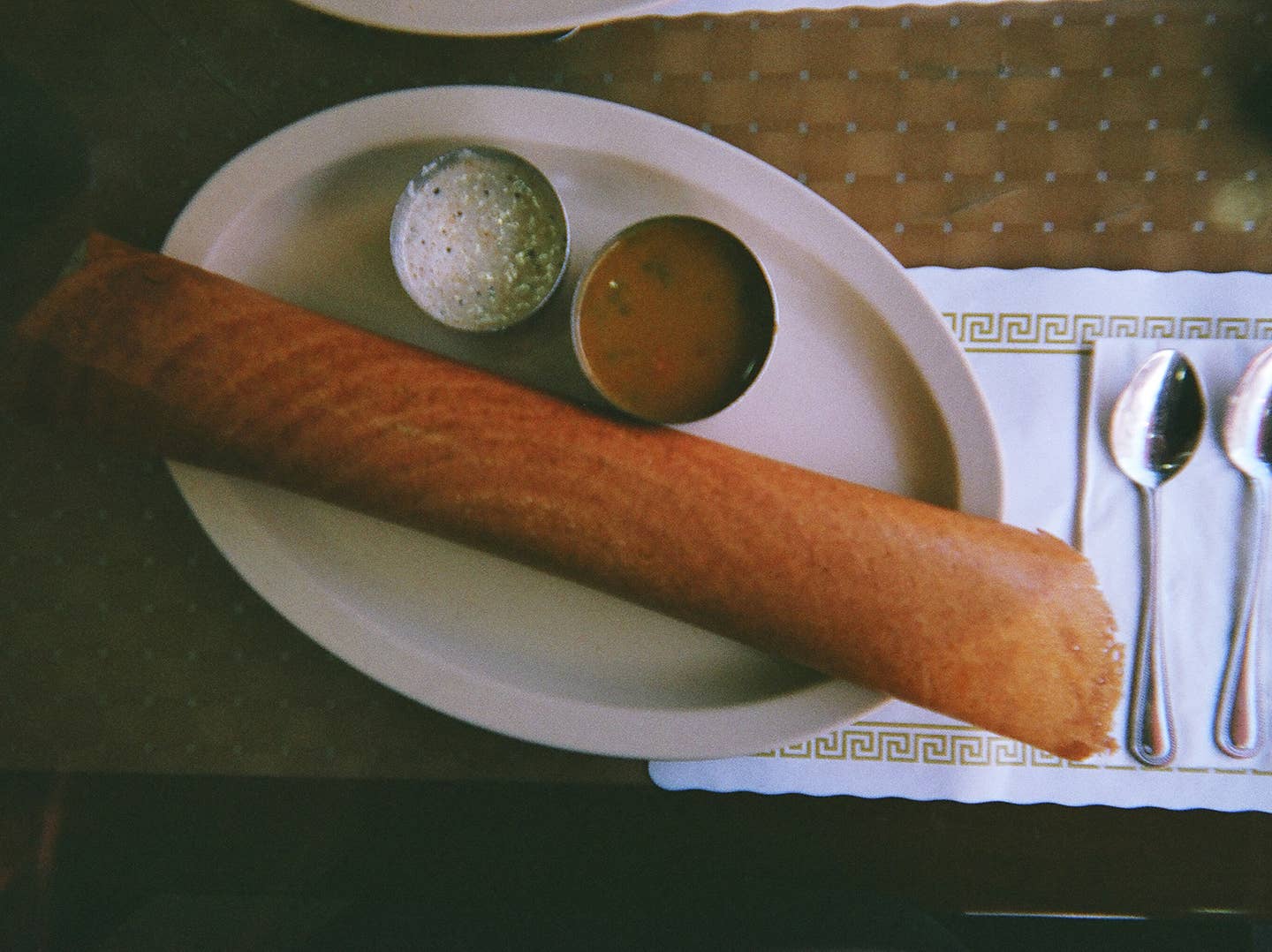 Travel
Eating Dosa in Jersey City
A search for South India's finest street food—in Jersey, of all places—led by New York's expert on outer-borough dining
I am at White Castle with Robert Sietsema. The prolific restaurant reviewer, hungry urban explorer, and author of a new book called New York in a Dozen Dishes (published this week by Houghton Mifflin), has agreed to take me on a tour of some of the city's best dosas. As it turns out, the city's best dosas happen to live across the river in Jersey City, which happens to have a centrally located White Castle, which happens to be a perfect meeting point for a rambling eating tour. We skip the sliders and head directly for dosa central: Newark Avenue.
There's been a large Indian population in Jersey City and its environs for decades, Sietsema explains to me as we walk. It's quiet here today, but on the weekends families roll in from the suburbs to shop at the Indian supermarkets, pack up their SUVs with provisions for the following week, and stop for a meal.
Sietsema moved to New York in the 1970s, which means he had over a decade of eating experience when he began writing about food in 1989, in his self-published zine Down the Hatch. In 1993, The Village Voice hired him as restaurant critic, a position he held for 20 years. He now reviews restaurants for Eater. Since the beginning—long before Instagram was a thing—he's been taking photos of everything he eats, and has over 60,000 archived photos of food. And seems not to have lost any zeal along the way. We sit down at Sapthagiri and he seems immediately delighted by everything around us, even though he's been here before, and his Village Voice review hangs prominently on the wall.
In the new book, Sietsema recounts the foods that define the city for him, from iconic pizza and bagels to lesser-known attractions like scrambled brains. One of them is dosa, that sourdough pancake born in South India, most commonly filled with a spiced potato mixture. He writes of first encountering it in the early '80s, of the rise of dosa around the city, of the endless variations popping up today. Reading this chapter had me determined to sample the city's finest, and Sietsema was generous enough to be my guide.
My mission is a personal one: I spent a month living in Mysore, India, in 2012, during which time I quickly learned the gospel of the dosa; they were cheap and they were everywhere, equally beloved by locals and expats. They were always good, crispy and golden and ready to be torn apart and swiped through chutney. There were two men who would construct a small kitchen off the back of their van every night, and we hailed "Van Dosa" as the best in town. Since returning to the States I had thought about them often but eaten them never. Like cooking for a new squeeze or rereading The Catcher in the Rye, revisiting a food that you fell in love with while traveling is a high-stakes endeavor often fraught with anxiety. We are greedy and want to relive the experience of eating Something Perfect, but our memories are embellished by stardust and time, and what if reality ruins all that? The fear of disappointment can be paralyzing.
Our menus appeared and we got right to it, both of us a little overexcited by the wealth of options. After a few minutes of serious deliberation we ordered one Mysore Masala Dosa—Mysore denotes spiciness, masala implies a spiced and mashed potato filling, even though the word just means "mix"—and a very nontraditional cheese dosa, which would be blasphemy if dosa were a stricter religion.
Our order came out so quickly it startled us. Most dosas are too big for their britches, their corners and ends reaching out past the limits of their plates. Their geometry is always lovely: one of ours was folded into a triangle, one rolled up like a tube rolled around its filling ("How wonderful that we get both shapes at the same meal!"). The way they spread the batter out on the tawa—a round griddle—creates a set of concentric circles, like the faded gradient of a tree trunk's cross section. Even if you've never seen one before, you are taken with a desire to crack through its surface, like a creme brûlée.
Dosa batter is made by soaking, fermenting, and blending rice and urad dal, a type of split lentil. A ladleful of batter is spread into a round on the tawa, so that one side becomes golden and crispy and the other stays soft and lightly puffy, speckled with air bubbles let off by the fermentation process. There are rumors that its origins are crepe-related.
We tear in and see our first cheese sighting; I giggle. "Oh, it's like Sargento!" exclaims Robert. This isn't the cheese dosa he's seen before, which usually employs shredded mozzarella, an approximation of a pizza that aims to placate children while their parents eat more traditional preparations. This cheese is orange.
"I swear, this is cheddar. I think this is the world's first cheddar dosa."
Robert takes out his camera, clearly thrilled. We have found something new. I realize that finding something new is more fun than analyzing it. I eat more cheese dosa. I love cheese dosa.
The menu at Sri Ganesh Dosa House, our second stop, offers even more variety: Pondicherry dosa (another city in southern India, another barometer of spice); Rava Butter Onion-Chilli-Corriender [sic] Masala Dosa; and saag paneer dosa, a north-south mashup. The variety at these places feels like being in a candy store, which can overwhelm, but bad decisions don't really exist here, so the pressure isn't too high. If all else fails, find a menu, close your eyes, and point.
At our last destination, the newly-opened Chennai Dosa Express, we order simple, unfilled dosas: one butter dosa, a plain little number brushed with butter and therefore glistening, and the most daringly named option we've found all day: gunpowder dosa.
"Gunpowder" is a mix of dry spices and the dosa is filled with it the way that a box of glitter is filled with glitter: the second you break into it, its contents go everywhere. Some of the spice clings to the dosa's interior walls and some hangs out in its cavity, ready to attack your shirt. It tastes like the coating of a nacho cheese Dorito. I mean that as a compliment.
I had hoped that this journey to Jersey would teach me everything about what makes dosa great, and where to find the best ones, and that Robert, my spirit guide, would impart many secrets about this very special food. And I did learn all that, but it turns out the secret is this: Most dosa, when made properly, is very good, by virtue of its DNA. It's tangy and compelling and crispy and calls for condiments and variety. "It's really the perfect vegetarian food," Robert said, tearing into dosa three or four. The biggest mistake you can make is using a boxed mix; "otherwise, it's quite consistent." The communities in these neighborhoods self-regulate: if a dosa isn't up to snuff, there will be a complaint. And as menus change—adding cheese, adding spice, riffing on tradition—quality is not sacrificed, because the dosa itself stays the same. "Innovation is occurring, but not in the basic format."
The most fascinated I saw Sietsema that afternoon was at Chennai Dosa Express, after spotting a Buddha in an ostensibly South Indian (read: Hindu) restaurant. Maybe the couple behind the counter was Sri Lankan, he suggested. The question alone thrilled him. Knowing the ins and outs of a certain food can surely do you good, but facts are no match for wide eyes.
Sapthagiri
804 Newark Ave, Jersey City, NJ 07306
(201) 533-8400
You can buy New York in a Dozen Dishes on Amazon, or at your local independent bookseller. We give it two eager thumbs up.