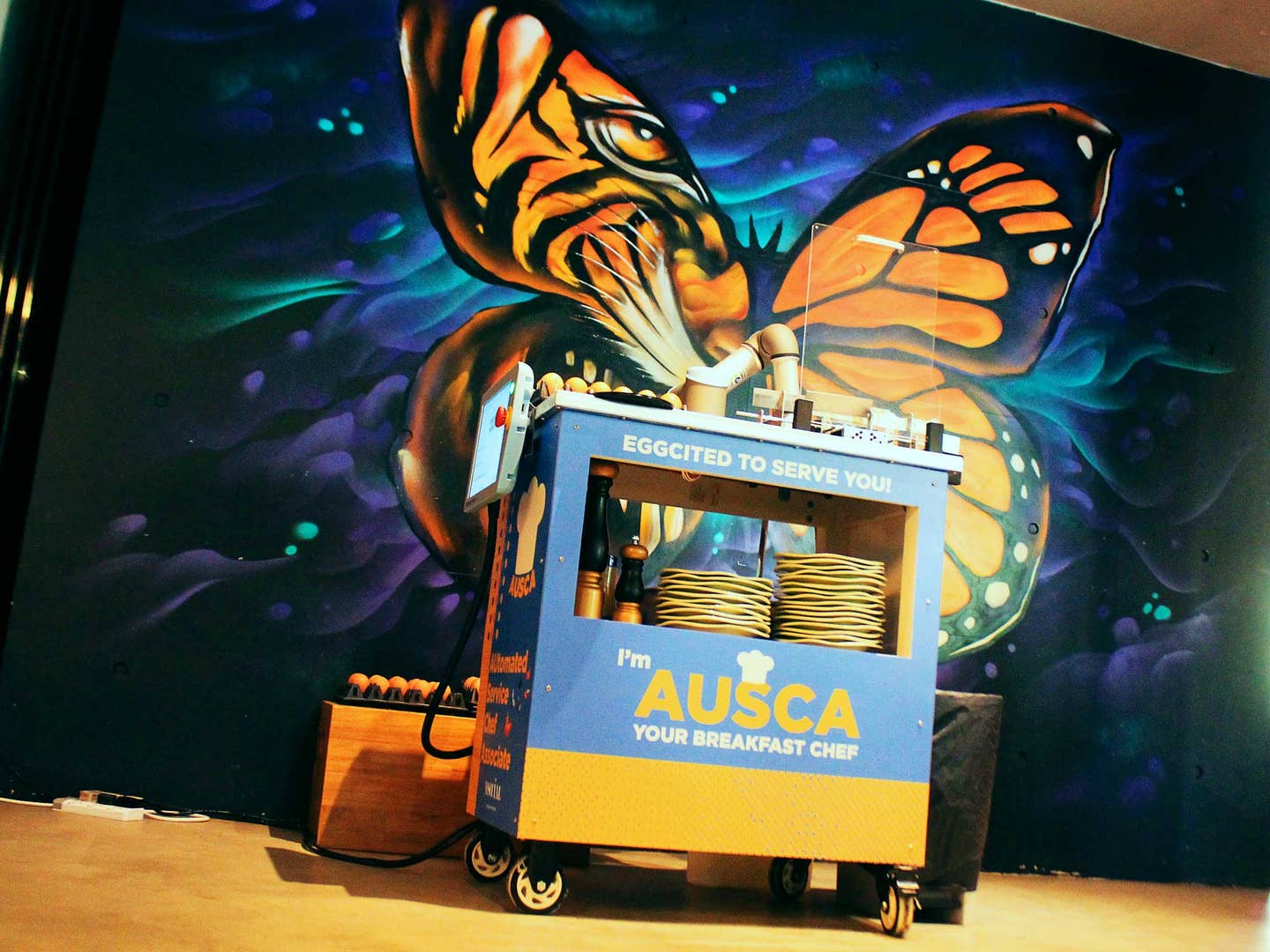 Travel
Will Your Eggs Taste Better if They're Made by a Robot?
It is "eggcited to serve you," after all
I don't trust robots and I didn't trust robots long before I read Asimov and Dick and Piercy. Watching the active mechanization of human tasks has always been eerie and apocalyptic. I dig imperfection. Plus, I'm in favor of the human soul—forget opposable thumbs, souls make us the superior species. So you can understand my disbelief when all this changed recently, in Singapore, when a robot cooked me breakfast.
The robot's name is AUSCA, an acronym for Automated Service Chef Associate. It's employed by the Millennium & Copthorne Hotels group, at the M Social, their Singapore River-adjacent property marketed toward millennials. AUSCA's facade reads "EGGCITED TO SERVE YOU!" But you wouldn't know it from the series of methodical motions set in play at the press of a button.
It takes three and a half minutes. After AUSCA drips a calculated amount of oil into a non-stick pan, he changes out his hand for an attachment that allows him to gently snag two eggs one at a time. He then cracks the contents free of their shells and replaces the hand for a white high-density polyethylene square that acts as his spatula. AUSCA uses this attachment to nudge the eggs back and forth, back and forth, until the whites set. Then he gently scoops up the eggs and lowers them onto the plate you place at his waist before hitting the "SUNNY SIDE" or "OMELETTE" button.
We humans anthropomorphize things we don't understand. Maybe that's why the robot has a name; say it fast and it sounds like Oscar. And maybe we engender robots for the same reason. AUSCA is male. His sibling AURA (Automated Room-Service Associate) is female. She works the front desk and delivers the likes of water and towels to hotel guests. AURA got the job first, about a year ago. AUSCA was hired just this summer, in July, and publically announced on November 17.
M Social is the first hotel in the world to launch AUSCA. According to Bryce Li, executive chef of Beast & Butterflies, M Social's in-house restaurant, "We embrace technology and innovation so as to stay competitive," he explains via email. Li also acknowledges that AUSCA isn't a pro just yet: "His sunny side ups are sometimes not perfect but the consistency in the cooked egg in terms of taste and temperature is 99.9%." With an otherwise thoughtful and exacting food program at Beasts & Butterflies, I asked Li if the broken yolks are a concern. "Even with human chef[s]," he writes, "egg yolks do get broken at times."
I set the eggs before me, at a table along a row of windows. They looked like eggs. I lowered my nose. They smelled like eggs. I dipped the pointed tip of a piece of toast into the bulbous yolks and they broke and oozed like yolks. My fork went through the glistening whites like my fork has gone through glistening whites thousands of times. The surprise came when I tasted the eggs. They tasted like eggs.