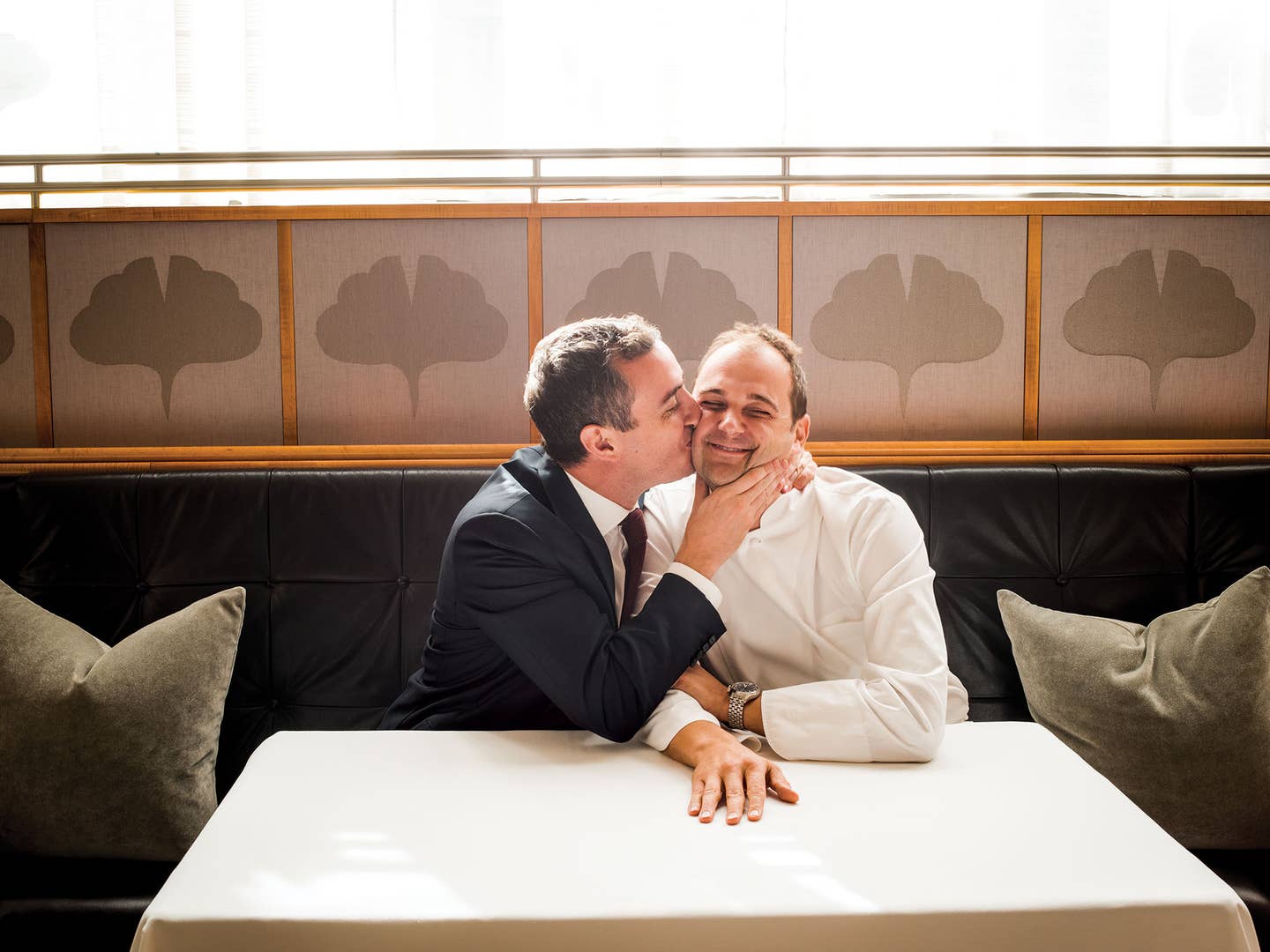 Travel
The Kings of Service
Will Guidara and Daniel Humm are on a quest to make New York City's Eleven Madison Park the greatest restaurant in the world.
Good Taste Award Winner 2015: Eleven Madison Park, The Hospitality Obsessives
So amiably and briskly was Will Guidara recounting his eventful career in the restaurant business that it took a moment to catch up with the discordance of something he had said a few sentences earlier: "Fine dining and hospitality don't necessarily go together."
Wait, how's that again? Isn't fine dining supposed to represent the apotheosis of hospitality? More claret, madame? May I debone the turbot for you, monsieur?
Guidara clarified: He was speaking of the many circumstances that can make a fancy-restaurant experience feel "cold"—stiffly formal service; an unnavigable wine list; a highfalutin cult-of-chef ethos to the point where the customers feel like they're doing the kitchen's bidding rather than the other way around.
And, indeed, there are many reasons, in theory, to be totally intimidated by the prospect of dining at Eleven Madison Park, the Manhattan restaurant that Guidara runs with co-owner and chef Daniel Humm. It is as highly decorated as a restaurant can be, with four stars from the New York Times, three from the Guide Michelin, and a Grand Award from Wine Spectator. It is expensive, offering no à la carte options, only a $225-per-person degustation menu. It occupies an imposing, high-ceilinged, park-facing space within the Metropolitan Life North Building, a muscular Art Deco tower whose entryways are framed by mighty limestone arches.
Yet Guidara and Humm have engineered Eleven Madison Park to be an unrelentingly warm place, examining and re-examining every facet of the visiting experience to see whether it can be made more hospitable. There is neither a reservations desk nor a coat-check area, only a brace of greeters who, through some rigorously inculcated organizational jujitsu, know both how to welcome you upon arrival and how to reunite you with your outerwear at night's end without the grim transactional aid of a numbered plastic ticket. There are captains and sommeliers trained to take your measure and gauge how gabby they should be with you, internally sensing whether you are projecting "Make yourselves invisible, people," or "Gimme some New York sass, hon." There are courses that cleverly and disarmingly acknowledge the New York City setting, such as a "Beef" presentation that is actually a few slices of house-made pastrami, optimally steamed and marbled and served with little rounds of rye bread (and proportionally a more sensible way to eat pastrami than the Dagwood servings you get at delis).
And there are Guidara and Humm themselves, one or both of whom stop by to chat with nearly every customer—a little bit of trattoria-style neighborliness amid the big-night-out trappings.
The two men make no bones about it: Their aim is for Eleven Madison Park to be the best restaurant in New York City—which, depending on your level of New York chauvinism, might also mean the best in the United States, or even the world. Over the last three years, Eleven Madison Park has been the only American restaurant to crack the top five of the "World's 50 Best Restaurants" list sponsored by S. Pellegrino (it is currently ranked number five), and Guidara and Humm have designs on the top spot. "You can be dismissive of stars and lists, but we decided to play the game," said Humm. "It's a form of motivation. We stay humble, but do we want to win? Definitely."
What sets the chef and his restaurateur apart from others pursuing this goal is that theirs is a double act. Guidara and Humm, Humm and Guidara—they're always spoken of this way, in tandem, equally weighted, which is something of an anomaly. The other U.S. restaurants in their class, while generally not slouches in the service department, are primarily chef-identified: Thomas Keller's French Laundry and Per Se, Daniel Boulud's Daniel, Joshua Skenes' Saison, Grant Achatz's Alinea and Next.
This marks a huge pendulum swing from the middle decades of the 20th century, when upper-echelon restaurants were identified by the impresarios out front, legends like Henri Soulé of Le Pavillon and Joe Baum of the Four Seasons. What Guidara and Humm have sought, since meeting each other nearly a decade ago as precocious up-and-comers in Danny Meyer's Union Square Hospitality Group organization, is a third way, in which the general manager is the hierarchical equivalent of the chef, and the kitchen and service staffs work more as a blended workforce than as separate entities.
"There's always been this tension in restaurants, that the chef puts all this work into a dish, and then a person who didn't necessarily put as much work in gets to be the one who presents the dish to the customer," said Guidara. "Daniel and I came into this wanting to resolve that tension through trust—where, whether you're in the kitchen or the dining room, you have the back of that person on the other side of the wall. For example, our lobster 'Newberg' is prepared in the kitchen, but the sauce is finished at the table by the server, which might make the final dish less perfect than if it were plated by a cook, but makes for a more fun customer experience." It would be easier, Guidara said, for one person to be unequivocally in charge of Eleven Madison Park, but, with the fifty-fifty split, "it comes down to us all agreeing upon what's the best thing for the restaurant as a whole. It transcends the older models."
Meyer, the duo's mentor, can testify to the uniqueness of his former charges' partnership. "It's rare to have that kind of ego drive coupled with the emotional intelligence to recognize that they need each other," he said. "I mean, even Simon and Garfunkel dropped that at a certain point."
It's especially rare, in this chef-exalting age, for someone of Humm's caliber to sublimate his ego to a greater good. Eleven Madison Park could easily be the Daniel Humm Show, full stop. He's worthy of the attention: one of the most gifted chefs alive today, and one of the few in his prime (he's 39) who came up the old way, Jacques Pépin—style, leaving school at age 14 to apprentice in kitchen after kitchen in his native Switzerland, developing his skills one lonely mirepoix at a time. (A tall, loping figure, Humm was also a pro-level cyclist in his teens, which, he grants, goes a long way toward explaining his enduring competitiveness.) With or without Guidara, Humm would be a big deal.
Still, Humm told me, his own favorite restaurant experiences have never been explicitly about the haute exquisiteness of a famous chef's food. At Michel Bras' eponymous restaurant in Laguiole, France, he was taken with how the succession of meticulously composed courses on the tasting menu was interrupted by a big, sloppy wooden pot of aligot, a gooey regional dish of mashed potatoes blended with melted local cheese—"very rustic, a total departure from everything else," he said.
Where the food is concerned at a starred fine-dining restaurant, Humm said, "It's almost a given that everything is going to be perfect and creative. But the lasting memories are those other ones—when you kind of break out of that."
By Humm's reckoning, he and Guidara had met a handful of times before they began working together, and always in a group setting. In 2006, Meyer recruited Humm from the Campton Place Restaurant in San Francisco, where he had attracted notice as a culinary wunderkind, to elevate the game of Eleven Madison Park—at that point, nine years into its existence, a pleasant but unassuming brasserie, its vibe incommensurate with the Fred Astaire—worthy room it occupied. Meyer's initial choice for the restaurant's general manager didn't work out, and as the chef and Meyer considered new options, they landed upon Guidara.
On a regular basis, Union Square Hospitality Group gathers the chefs and general managers from its various restaurants for meetings that include status reports and exchanges of ideas. It was during these meetings that Humm recognized a kindred spirit in the other super-young guy in the room, Guidara, who at that point, at age 25, was doing a bang-up job running the cafés at The Museum of Modern Art—not the Modern, the museum's chic, bustling ground-floor fine-dining spot, but its unheralded visitor-only concessions. Humm admired the energy and enterprise that Guidara brought to his unglamorous assignment. Meyer, too, saw great potential in him.
Guidara happens to be a second-generation restaurant man. His father, Frank, is the former CEO of Uno Chicago Grill, the pizzeria chain, and used to run Au Bon Pain. Back in the 1980s, Frank Guidara was in charge of the restaurant division of Restaurant Associates—the very job held by Joe Baum when that company owned the Four Seasons. Neither Guidara père nor fils ever worked with Baum, who died in 1998, but Will, a student of dining history, is well-versed in the lore of the flamboyant restaurateur, whose other New York brainchilds included the Roman-themed Forum of the Twelve Caesars, which used gladiator helmets as ice buckets and served roast chicken in a clay casing that was cracked open tableside. Guidara was an inspired choice to be the G.M. of Eleven Madison Park: warm yet wired, a Danny Meyer disciple with a little bit of Joe Baum hustle.
Guidara and Humm developed an easy rapport that each recognized was special, one critics picked up on, too. Frank Bruni of the Times awarded the restaurant three stars in 2007 and four stars two years later. In 2011, eager to scale still-dizzier heights, Humm and Guidara did the unprecedented and broke (amicably) from Meyer, rounding up some investors and buying Eleven Madison Park from him. (Three years later, Guidara changed his title from general manager to restaurateur.)
Freed from the mothership, Humm and Guidara changed the formula, reducing its offerings to a single tasting menu and deciding that it would serve regional cuisine, the region being New York State. This, Guidara stressed to me, is not a temporary theme; Eleven Madison Park, though it changes its menu quarterly, will not soon be cycling through Belle Époque and Nordic Now phases. "New York is what we are as a restaurant," he said. "New York is now old enough as a city and state to have enough history where there's actually things to grab onto."
Some of this regional emphasis is reasonably straightforward: serving a chilled local oyster elegantly enveloped in a mignonette-sauce gelée, or trolleying a Manhattan cocktail cart to the table and letting the customer select from an assortment of whiskeys, vermouths, and bitters. And some of it is more elaborately conceived and Baum-like: a course of smoked sturgeon (like the pastrami, an homage to Jewish food) unveiled from a glass dome filled with a cloud of applewood smoke, and that lobster "Newberg," whose cream sauce is assembled tableside by a server while she pleasantly recounts the history of the dish, concluding her tale with a splash of cognac that sends flames skyward, making the most of those high ceilings.
This showmanship isn't for everyone, and Eleven Madison Park's existence, while charmed, has not been without its wobbles. The current Times critic, Pete Wells, though taken with Humm's food, finds the servers' sociohistorical narration off-pitch. "By the end of the four hours," Wells wrote after a visit in the early days of the restaurant's regional reconception, "I felt as if I'd gone to a Seder hosted by Presbyterians."
Guidara and Humm admit to having been wounded by this crack, but they took it to heart. They dialed back the level of scripted talk and trained their waitstaff to be psychologically nimble, adapting to the moods and receptiveness of diners. And the two partners are not reluctant to beat up on themselves, quashing concepts that sounded better in bull sessions than they turned out on the serving floor.
The custom potato chips, for example. Because potato chips are thought to have been invented in the upstate New York town of Saratoga Springs, Humm and Guidara had thought it would be cool to do a "chip course" near the top of the menu. At considerable expense, they had foil bags manufactured and filled with their own celery root chips. For about a week, every Eleven Madison Park customer was presented with a packet of these special-reserve chips with a cup of soup, until the two men themselves dined in their own restaurant—a regular part of their evaluation process—"and we were like, 'This is stupid, this feels gimmicky,'" Humm said. "We went too far. So we pulled it."
The line between transcendence and folly is thin, especially in a restaurant that goes as far out on a limb as Eleven Madison Park. But let me leave you with a lovely, ungimmicky moment in which the restaurant revealed the magic it is capable of—in which the front and back of the house colluded, with improvisatory flair, to deliver a moment of grace. The last time I went to Eleven Madison Park, I brought a friend who, early in the course of our dinner conversation, mentioned that his family had once owned a brewery in the Bronx way back in the 19th century. The sommelier attending to us at that moment, Jon Ross, asked my friend what the brewery was called. My friend offered an answer, Ross nodded, and we gave the subject no further thought.
Until, that is, an hour or two later, when, as our table was being prepped for the cheese course, Ross returned with a pair of coasters bearing the logo of my friend's family's no-longer-extant brewery. "Wait, I've seen these, this is—," my friend said, not finishing the thought, astonished at the sight before him. And then we were presented with two beer glasses bearing another of the old brewery's logos—clearly a product of the same Google-imaging and laser-printing that had brought us the coasters.
It wasn't just the retro stunt and the malty Red Wheelbarrow Ale (from Maine, not New York) that heightened our spirits. It was the carryover effect of bonhomie that the surprise had upon us as we were served our Cato Corner farmstead cheese, which was melted, fondue-style, inside a roasted, hollowed-out carnival squash. As my friend and I dunked soft pretzels into the cheese and ultimately tore apart the squash vessel, drinking the beer and inhaling the entire presentation like ravenous pythons, even though we'd eaten plenty already, I realized we were experiencing one of those moments that Humm had spoken of—where a big-deal meal becomes more than the sum of its courses. It becomes a lasting memory, a story to be fondly told for years to come. Which is exactly how Humm and Guidara, through their assiduous game-planning and mood-reading and choreography, had planned it all along.