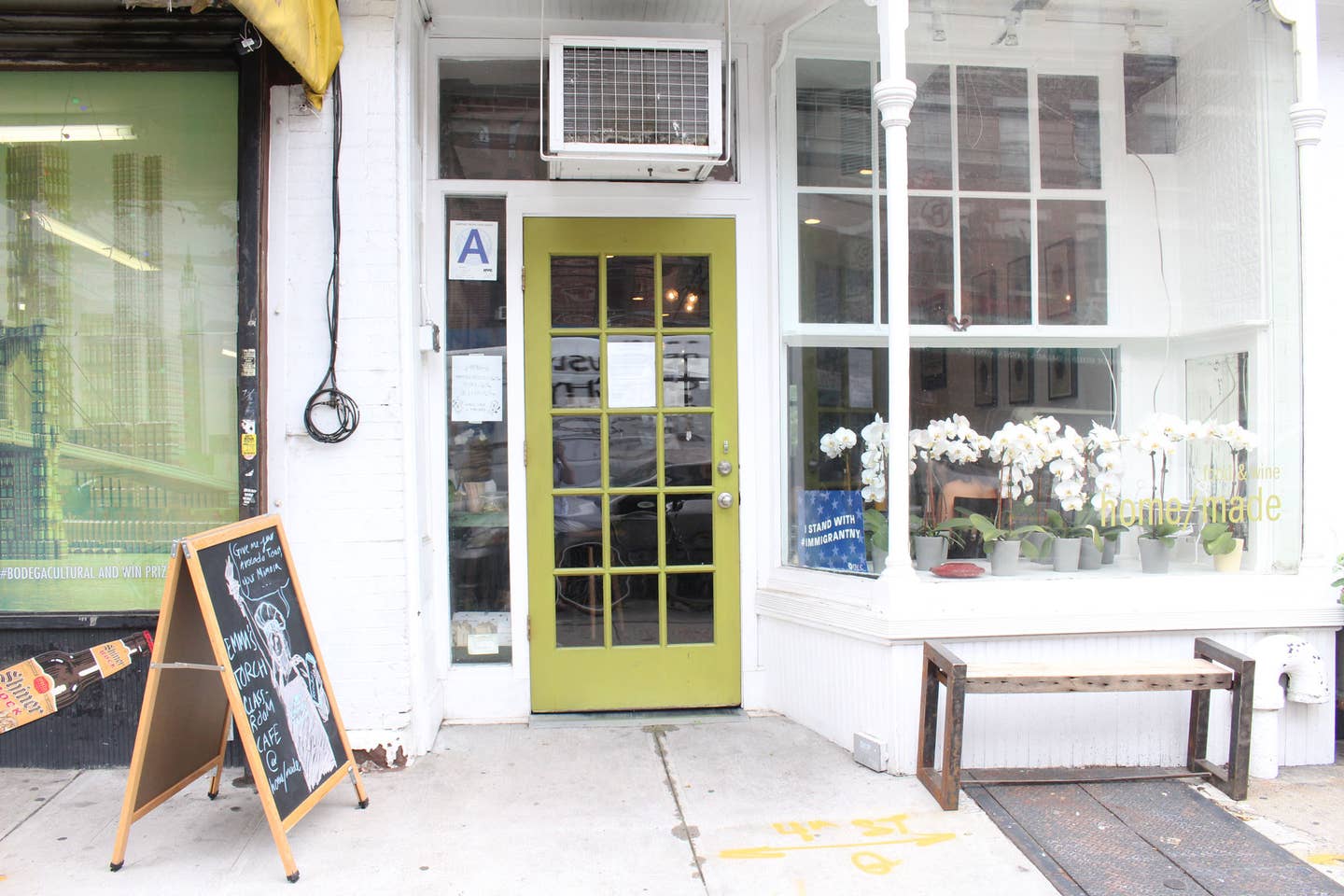 Travel
Doughnuts and Dreams: How Brooklyn's Refugee-Run Restaurant is Shaping New American Lives
Non-profit Emma's Torch is giving survivors of persecution and human trafficking a crucial start in the culinary industry
"I'm sorry, I'm so sorry!" Boubacar Diallo, 40, rushes into a small rustic cafe in Red Hook, Brooklyn, scared and yes, very sorry. Kerry Brodie, the founder of Emma's Torch Classroom Café, had been worried: Diallo hadn't show up in time to his dishwashing shift. It turned out he misunderstood the new weekday opening hours.
"It was a misunderstanding, it's okay, it's okay," Brodie says to calm him down. But Diallo doesn't want to be late. Today is important: it's the day this refugee from Guinea gets his first American paycheck.
Refugees and migrants often turn to the restaurant industry because it has a low barrier to entry: skills matter more than what language you speak and you don't need a degree. But for many, getting a foot in the door isn't that easy. "Even if you owned a restaurant in Senagal," Brodie explains, "it doesn't mean anything to people here. You have to start from scratch."
Emma's Torch aims to close that gap. The non-profit social enterprise trains and empowers refugees in the culinary arts, helping them turn a passion for food into real jobs. Applicants don't need any cooking skills to enter the program; just a passion for food. Once accepted, two students at a time train for six weeks, running the café with the main chef and receiving $15 an hour. That means they can get the money to open an American bank account—just one of the many small but vital steps refugees must take to fully participate in American life.
In the program, the students receive technical culinary training and licensing, attend English language classes tailored towards the culinary industry, and get work experience at the classroom café. Emma's Torch is supported by foundations and individual donors, and it collaborates with large domestic refugee organizations to find students.
The students hail from all over the world and have different reasons for coming to America. Some have fled wars and political instability; others have sought asylum for personal reasons, such as persecution for their sexuality; and others are survivors of human trafficking. "They have been brought here as slaves," Brodie says. In New York City, for instance, "there is a thriving sex slavery practice in Queens."
Back in the kitchen, Diallo swoops into action washing dishes. Next to him, a young man from Nepal is carefully chopping mushrooms for a frittata sandwich.
On one wall there's a sheet of paper with DOUGHNUTS written on the top in tall letters. The recipe below is written in clear, simple English so everyone can understand. Addwa Alsubaie, 19, is following the steps, measuring flour. Chef Mandy Maxwell shows her how to sweep extra flour off the top for an even measurement.
"What's the hardest part in learning how to cook," I ask the students. "The scaling!" they cry out, and start laughing. While many of Emma's Torch's students are used to home cooking, working at the café requires them to sizes batches up—in unfamiliar American units. Plating courses in order also means planning ahead, all in an unfamiliar language. It all makes for an immersive, hands-on English-language experience.
Though the students hail from Guatemala to Nepal to Russia, the menu at Emma's Torch is very American: avocado toast with poached eggs, waffles, spinach salad, blueberry corn muffins. Maxwell uses these basics to focus on techniques. "Potatoes are perfect to practice your knife skills. For example, the last two weeks we've had home fries on the menu. They are pretty boring, but perfect for practicing medium dice."
As her students' skills increase, the dishes get more nuanced. "This week we'll switch to crispy fingerling potatoes." She'll also add more flavors and dishes from the students' global backgrounds to the menu.
The doughnut dough is sticking to Alsubaie's fingers and she looks a little worried; it needs more flour. She starts to bring the flour bin to the floor to keep it close. "Oh no," Maxwell warns, "that's a health violation. We can't put anything on the floor." Together, they move the bin to another space and work on the dough.
"I like doughnuts, sure, I always eat them," Alsubaie says. "But I love Italian food!" Back home in Saudi Arabia, the popularity of Italian restaurants gave her an interest in the cuisine. "Actually, I want to be a chef, and I want to have my own restaurant, an Italian restaurant."
"Not a Saudi restaurant?"
"Well, that too. So maybe I'll open two restaurants!"
While Emma's Torch can't guarantee job placement after students complete the program, it does give connections. As Brodie puts it, those initial connections are the greatest hurdle to overcome in a city where 9 percent of jobs are in the restaurant industry. The certificate Emma's Torch provides doesn't have the weight of a culinary degree, but it's a strong vote of confidence. The organization is currently partnering with Eataly to develop the curriculum, and more collaborations are on the way.
"I feel happy when I make food," Alsubaie goes on. "I love the smells, the colors, even the sounds in the kitchen. I wish I could explain it better. And of course, I love to eat!" Chef Maxwell gently reminds her not to forget to knead the dough while talking. After all, customers are waiting.