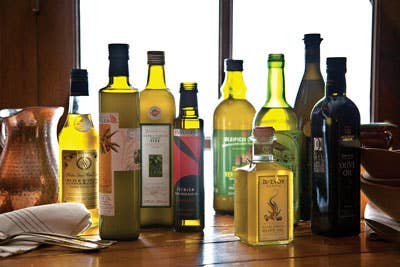 Culture
The FDA May Crack Down on Fraudulent Olive Oil
They could begin testing imported olive oils and reporting the results to Congress
Last week, Money published an article examining counterfeit olive oil, one of many specialty items that's fallen victim to the fraudulent food labeling. After Interpol seized "[m]ore than 10,000 tonnes and one million litres of hazardous fake food and drink," the FDA will consider testing imported olive oils for authenticity.
According to a report released by the House Agriculture Committee, "The Committee directs the FDA to take a sampling of imported olive oil to determine if it is adulterated or misbranded...and report to Congress within 270 days on its findings and what actions the FDA will take to ensure consumer safety and proper labeling of imported olive oil." So not only is a serious testing program under consideration, but brands that don't comply may receive federal penalties, too.
Money's analysis of the amount of counterfeit oil is shocking. "According to some reports, 80% of the olive oil in the U.S., almost all of it imported, is mislabeled," the article states, and then goes on to debunk popular conceptions about what "extra-virgin" and "bottled in Italy" mean. It even questions how much of the oil in the bottle is actually olive oil: "Sometimes real olive oil is blended with other types to make it go further and to increase the profits. Color doesn't give a clue…because some companies add chlorophyll to give a greenish tinge."
Counterfeit olive oil is far from new. In 2010, SAVEUR reported on the growing fraud trend, citing that production can't necessarily keep up with a growing global demand, so manufacturers rely on shortcuts. We suggest studying your labels and learning some olive oil lingo to give you an edge. We've also put together a list of olive oils from around the world to give you some go-to's in a bind—those are the real deal.