A Cook's Guide to Olive Oils
Fine extra-virgin olive oils exhibit a seemingly infinite range of aromas, flavors, textures, and hues.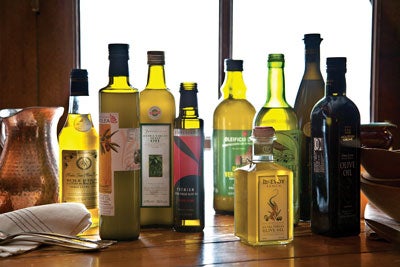 Fine extra-virgin olive oils exhibit a seemingly infinite range of aromas, flavors, textures, and hues. Here is a highly selective list of oils from around the world—drawn from a tasting of more than a hundred bottles—that we think represents this range beautifully.
1. The French region of Provence is known for its delicate olive oils, such as the sweet, golden oil from Moulin Jean Marie Cornille ($28).
2. Greek oils tend to lie at the more muscular end of the flavor spectrum. We love the deep green, unfiltered Astrikas Estate Biolea ($25), made from koroneiki olives on the Greek island of Crete, for its lingering finish of wild bitter greens and tomato vines.
3. Italian oils run the gamut from subtly fruity (like those from northern Italy) to ripe and assertive (like many from Sicily). Falling firmly in the latter category is Fontanasalsa ($31), a Sicilian oil made with cerasuolo olives; it smacks of artichokes and grass and is ideally suited to drizzling over roasted vegetables or meats.
4. Tuscan oils are known for their peppery astringency; one of our favorites is Oleificio Chianti Buonsapore ($28), which has a weighty, almost buttery texture and vegetal aroma; we weren't surprised to learn that it's the house cooking oil at Chez Panisse in Berkeley.
5. Tuscan olive varieties form the foundation of the oil from McEvoy Ranch ($22), a pioneer in California's olive oil industry; with hints of almonds and rosemary, this is the oil we favor for drizzling over tomato bruschetta. California producers are bottling single-varietal oils, too: we love the bright, aromatic arbequina oil from Olive Press ($26), which was the first olive mill in northern California.
6. Arbequina tastes more demure and perfumed in L'Estornell ($38), a pretty oil from Catalonia, Spain. We were familiar with the well-balanced, fruity oils from that country's Andalusia region, but we'd never tasted anything like Masia El Altet ($39) from the eastern region of Valencia, which offers hints of bananas and tropical fruit.
7. We were also intrigued by bottles from the Middle East, especially Israel, and North Africa; Les Terroirs de Marrakech ($26), a Moroccan oil made with the picholine variety, tastes like cured black olives and is terrific drizzled over cooked (or even raw) fish.
8. Australia and New Zealand are making interesting olive oils, too; Moutere Grove ($35), produced on New Zealand's South Island, is a hefty, deep green wonder.
9. And there's a growing number of outstanding oils from South America, like Chile's Giangrandi Intense Blend ($17); if there's ever been a perfect oil for finishing a juicy grilled steak, this is it.