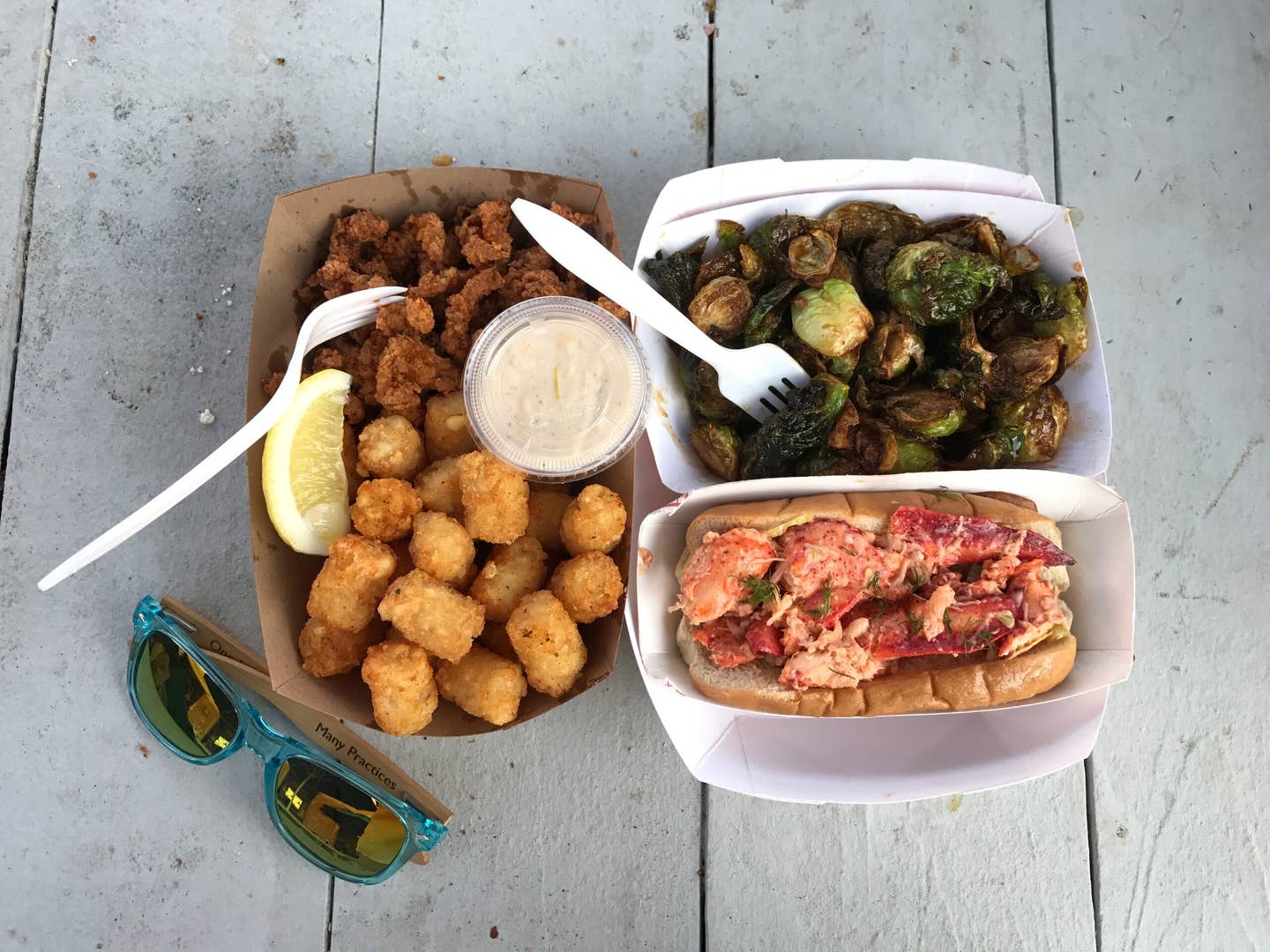 Travel
Where SAVEUR's Editors Traveled in July 2017
From noodles in Hanoi to a vegan reuben sandwich in Chicago, here's how we ate the world this summer
At SAVEUR, our obsessive quest to unearth the origins of food and discover hidden culinary traditions sends us from our test kitchen in New York City to all the corners of the globe. This month, we ate our way through the suburbs of Melbourne, down the alleys of Hanoi, and across the beaches of New York. See all our field notes below.
On a recent trip Down Under, I made the hour-long trek out of Melbourne to the suburb of Geelong, where IGNI, one of the most lauded new openings of the last year in Australia, sits in a nondescript suburban strip mall space that was a showroom for electronics in its former life.
Chef Aaron Turner and his team have a short conversation with each customer about their preferences before arranging a tailor-made menu of fermented, cured, fired, smoked, and nitrogen-assisted dishes. My 13-course lunch started off with a bang and these starters: salt and vinegar fried saltbush, grilled zucchini flowers, grissini wrapped in charcuterie, an oyster emulsion sandwiched by lettuce, and a chicken skin cup with roe. — Andrew Richdale, deputy editor
"Meat-free since 1983" is the slogan at The Chicago Diner. That was a radical move for a diner back in those days in a neighborhood of Chicago, a move that not many believed in. But they were proved wrong. The Chicago Diner charms with the classic interior, friendly staff and shamelessly rich, but fresh vegan and vegetarian dishes, which make you wish you could dine for two. Despite the accolades and Michelin Guide recommendations, the restaurant has succeeded in keeping things cosy. The standout sandwich, The Radical Reuben, was a juicy and hefty combination of sauerkraut, corned beef seitan, grilled onions, vegan thousand island and melty cheese—all on a marbled rye. — Pauliina Siniauer, editorial intern
A day in Hanoi requires at least one afternoon in the Old Quarter, a bustling tourist-friendly destination steeped in history. Hundreds of years of Vietnamese culture mingling with Chinese and French colonialism can still be seen in the architecture, where crumbling structures set the stage for street markets and boutique hotels. Yet, despite groups of backpackers and sightseers, the Old Quarter has preserved it's unique old world charm, with back alleys and hidden stairways offering rewards—say, maybe, the city's best pho?—for whoever may venture through them. — Dan Q. Dao, deputy digital editor
It was the third of July, a Monday with a holiday feel, and having returned to New York after two days in the Poconos, we decided to go to Far Rockaway, a mere two trains plus a bus ride away from the stiflingly hot Upper East Side. My husband had seen a listing for free music at Riis Park Beach Bazaar at 8 p.m. The band, Nikhil P. Yerawadekar & Low Mentality, sounded fresh on YouTube: bluesy, funky Afrobeat dance rock with international flavors.
The boardwalk bazaar's selection of food vendors ranges from all-American BBQ to Detroit-style coney dogs to Middle Eastern to Bolivian. The late-afternoon sun and sand put us in the mood for seafood, so we hit the Rockaway Clam Bar for a tender fried clam basket with Rock-a-Bay tater tots, a lobster roll, and crispy Brussels sprouts tossed with Old Bay–spiked caramel. Everything was delicious, but there was one problem: no musicians to be seen. The teen clearing picnic tables told us the music had started at noon; the website had the time wrong. Alas, we'd missed it. But at least we still had Low Mentality's clever YouTube videos, and those clams, to console us. — Donna L. Ng, copy chief
I have never thought of fruit picking as "fun." As someone who grew up with lots of fruit trees, I cringe when I hear my friends ask if I want to go pay money to drive to someone else's field and pull some kind of fruit off a tree. When I was a kid, apple picking or strawberry picking or pretty much anything picking was a punishment right up there with picking up rocks in the garden. But when I went to my parents' house over the 4th of July, I went straight for the blueberry bushes. I missed the taste of good blueberries, huge and sweet and a little warm from the summer sun, so I pulled them off by the fistful, filling buckets and bags and bowls with my favorite summer berry. I still don't love berry picking, but it may be the best thing I did that weekend. — Katie Whittaker, assistant digital editor
Staten Island gets a bad rap. It has been referred to as "the armpit of the universe" (a bit harsh, in my opinion), it's the only New York borough not accessible by subway (though there is a free ferry and an intra-island railway), and a first glance at the island in Google Maps reveals such geographic gems as "Fresh Kills Park" (formerly a giant landfill) and a neighborhood named "New Dorp."
So when my boyfriend informed me he'd booked a night in a tiny house on a beach in Staten Island, I had my share of concerns. But we took a cab from our apartment in Brooklyn across the Verrazano-Narrows bridge and had our driver drop us off in the Gateway National Recreation Area at the base of the bridge. We settled in at our little cabin before spending the afternoon hanging on the beach and exploring the defunct Fort Wadsworth before we returned to fix up dinner. On the portable two-burner stove we sauteéd some tinned clams in their juices with garlic and pancetta before tossing it with linguine and smothering it all with fresh parsley and Parmigiano. We walked our plates and some cups of wine the 20 steps to the beach and ate while the sun set over the ocean and the lights came up on the bridge. In the morning, we took a 20-minute cab back home to Brooklyn and our weird 24-hour adventure was over. Had any of it really happened or was it all just a dream? I might have to make a return trip just to be sure. — Alex Testere, associate editor
I spent a weekend in July in the Bay Area and like a good New Yorker I spent the entire trip obsessing over the question of whether I would ever live out there. The answer ended up being no, for all the usual reasons—dysfunctional public transit, 50-degree evenings in the middle of summer, billboards advertising stuff like "full-stack cloud optimization." But the closest I came to reserving a U-Haul was after a night at Ordinaire, a wine bar in Oakland. Its selection leans natural, with bottles ranging from Beaujolais OGs like Jean Foillard to up and comers like Brendan Tracey, a guy from Jersey who's now making wine in the Loire.
I'm a wine geek, as you may have surmised by now, but sky-high markups mean I usually dislike drinking wine out—something about seeing a wine listed for triple what I would pay in a store rubs me the wrong way. Ordinare does things much more civilly: they're also a retail operation, and for $10 corkage they'll open anything in the shop for on-premises consumption. I met up with a big group of friends and we worked our way through four bottles of funky, boozy goodness. It was pretty great. But still not enough to make me want to carry a fleece around all summer. — Chris Cohen, senior editor