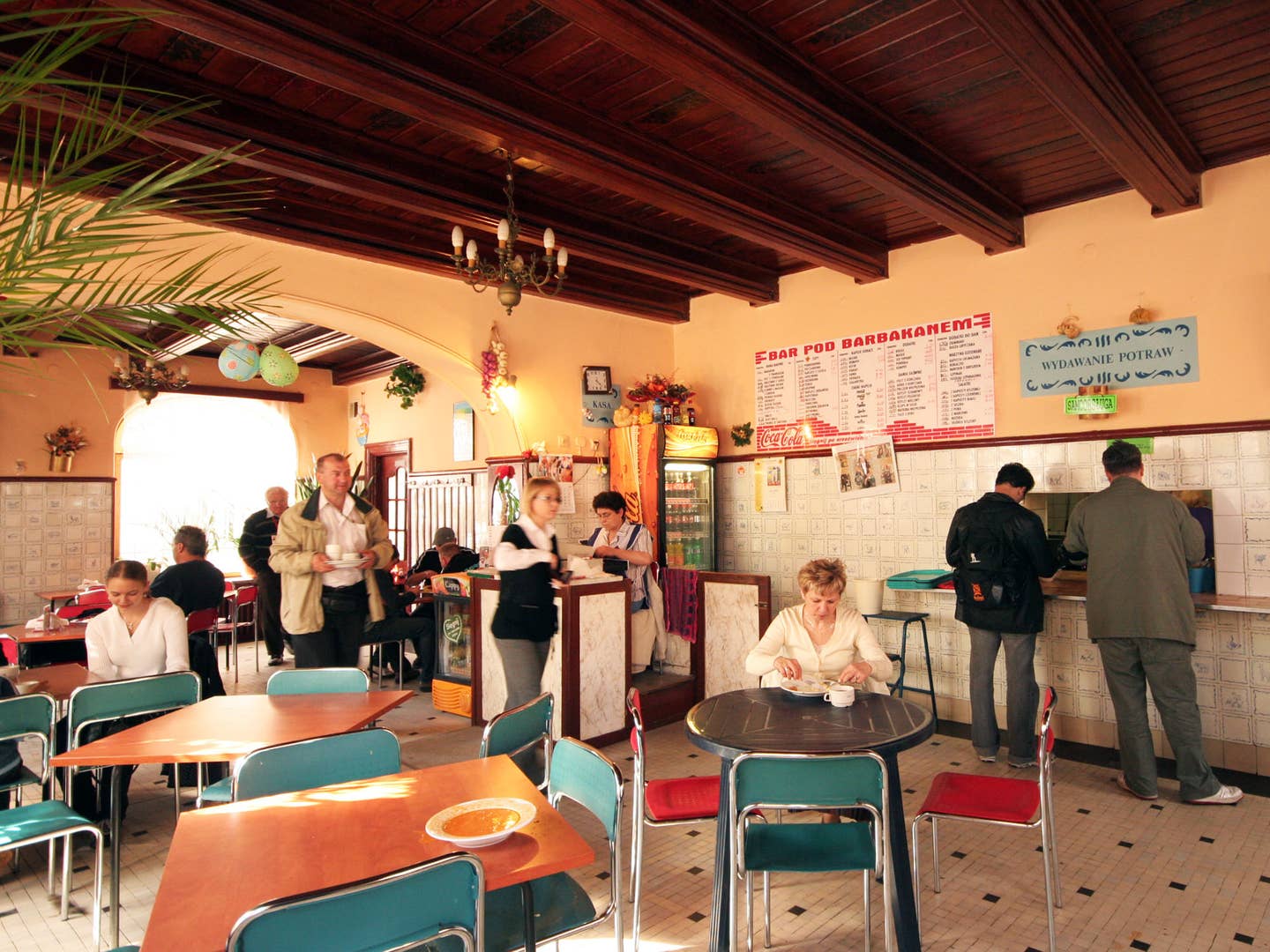 Travel
The Fight to Save Poland's Milk Bars
These greasy spoons—remnants of the country's old economic hardships—are disappearing, and with them a unique form of national solidarity
The scene at Warsaw's Bar Pod Barbakanem is distinctly not-of-this-era. A local's joint in the midst of a tourist hub, it occupies the city's storybook fifteenth-century New Town. Lace curtains keep the grey winter light from spilling in from the street, and from the ceiling hang dim electric chandeliers and a dusty disco ball. Middle-aged women with loose hair and bare arms stand over a stove that slumps to one side, dishing up pierogi and borscht, cabbage and eggs, and plenty of milk and meat. It's Polish soul food, comforting and cozy—the dishes your babcia (grandma) would make—confident in their simplicity and hearty enough to sustain a chilly day of sightseeing in the city. And at the equivalent of a dollar or two per dish, it's Polish fare that almost any Pole can afford.
Pod Barbakanem is a bar mleczny or "milk bar," one of a dying breed of state-subsidized cafeterias in Poland's urban centers. So named for the inexpensive dairy-based meals that were served in lieu of meat during times of rationing, milk bars first appeared in the late nineteenth century and have become emblematic of Poland's communist past. At incomparably lean prices, they offer quick, stick-to-your-rib staples like soups, stewed meats, and cabbage and root vegetable salads. But these institutions, relics of a political and economic landscape the country has outgrown in the years since communism fell in 1989, are now in danger of extinction.
Poland boasts the most robust economy of the former Soviet Bloc and was the sole EU member state to see economic growth in the heat of the financial crisis in 2009. Over the past quarter-century, an onslaught of new, independently owned restaurants and international fast food joints has tilted the scales for eateries offering inexpensive food to wide audiences. According to the Telegraph, more than 350 of the 500 milk bars across the country had closed by 2011. And at the end of 2015, Poland's newly appointed Law and Justice Party leveled another challenge for proprietors of the bars, slashing their public funding by 25%.
While Poland's Ministry of Finance asserts that demand for the bars has not been high enough that the cuts should warrant alarm, many Poles take the dramatic reduction as evidence that the milk bar is an endangered species. For patrons of the cafeterias and those who grew up eating there, the end of the milk bars would mean not only the loss of a treasured piece of Polish culture, but also of one of the few places pensioners, university students, and other low-income individuals can still turn for a hot meal.
Karolina Manka, a pianist who ate regularly at her local milk bar as a music conservatory student in Krakow, recalled that the bars were a "kind of life-saving" alternative to the fast-food joints that began to proliferate after the fall of communism. "In the center [of the city], you'd have quite expensive restaurants." Manka said. A milk bar, by contrast, "had this kind of home-cooked-meal atmosphere—and it was quick."
As the landscape for dining out has evolved in Poland and subsidies for the cafeterias have dwindled, many Polish citizens have responded with protest. Even before the most recent round of budget cuts, the battle to protect the milk bars reached a fever pitch when the Ministry of Finance announced last year that food prepared with spices other than salt, sugar, and vinegar would no longer receive ministerial grants—a back-door way to all but eliminate subsidized meals on milk bar menus, which rely on spices like marjoram, bay leaf, and paprika. Those new regulations sparked widespread controversy, and after four months, the government finally quelled public outrage by lifting the restrictions.
"Fighting for the milk bars was the first time I realized what fighting for the right of the city means," said Joanna Erbel, an urban activist and the Green Party candidate for Warsaw's 2014 mayoral elections. To Erbel and her contemporaries, the battle to keep milk bars up and running is part of a larger crusade to retain the country's democratic public spaces. "Milk bars are probably the most egalitarian places in Poland," Erbel said. A shared love of pierogi and kotlet schwabowy—Poland's answer to Wiener Schnitzel—brings Poles together from all walks of life, she explained. "At a milk bar in the city center, you can see the guys who have a lot of money and work at corporations...just next to the guy who is homeless, or really, really poor elderly people," Erbel said.
Erbel was a participant in the populist campaign to reopen Prasowy, a bar in Warsaw's Śródmieście district that closed in 2011. She and fellow demonstrators—predominantly squatters, academics, and members of the city's leftist middle class—occupied the shuttered cafeteria on a December afternoon with red-checkered tablecloths and vases of artificial flowers to serve milk-bar fare to over 200 people in just two hours. Polish newspaper Gazeta Wyborcza reported that as police surrounded the scene, the crowd of demonstrators chanted "Raz, dwa, trzy"—one, two, three—"pieee-ro-gi!" Prasowy's is a rare success story: less than two years later, the refurbished bar opened to the public with a renewed commitment to serving the individuals who fought for its future.
Prasowy's renovated interior betrays Poland's nostalgia for the diminishing cafeterias: a bright, Bauhaus-inspired space that gives a cheeky nod to the milk bar's better days. Like the popular chain Mleczarnia Jerozolimska (with whom it now shares an owner, Kamil Hagemajer), Prasowy gestures cheerfully toward the future of a democratic Poland, even in the unfavorable hands of the ultra-right-wing Law and Justice Party. But to find the milk bar that captures the transitive spirit of the bars' and Poland's history, go to Bar Pod Barbakanem—dimly lit, delightfully unmodern, and situated in the heart of the city's (not-so) New Town.
On a weekday at lunchtime at Pod Barbakanem, turnover is high, and the milk bars' contentious politics go largely unnoticed. Its menu is still brimming with Polish favorites: clear lima bean borscht has a vinegar bite, while the Ukrainian variety is bulked up with meat, and fuchsia chłodnik soup, also beet-based, is thickened with yogurt. Pierogi, straight out the boiling pot, are garnished with lard renderings that crackle and melt in the mouth like pop rocks. In the way of Polish staples, there's little left to be desired. And whether you're a native, an exchange student, or an American tourist, it's a slice of local life that just about anyone can take part in. "Many other social activities are more exclusive to different groups [or] interests or tastes," said Michał Kielan, an artist in Wrocław. "This is one of the most inclusive places you can imagine. Because everybody has to eat."
Bar Pod Barbakanem
Mostowa 27, Warsaw
Morgan Childs is an American writer based in Prague.