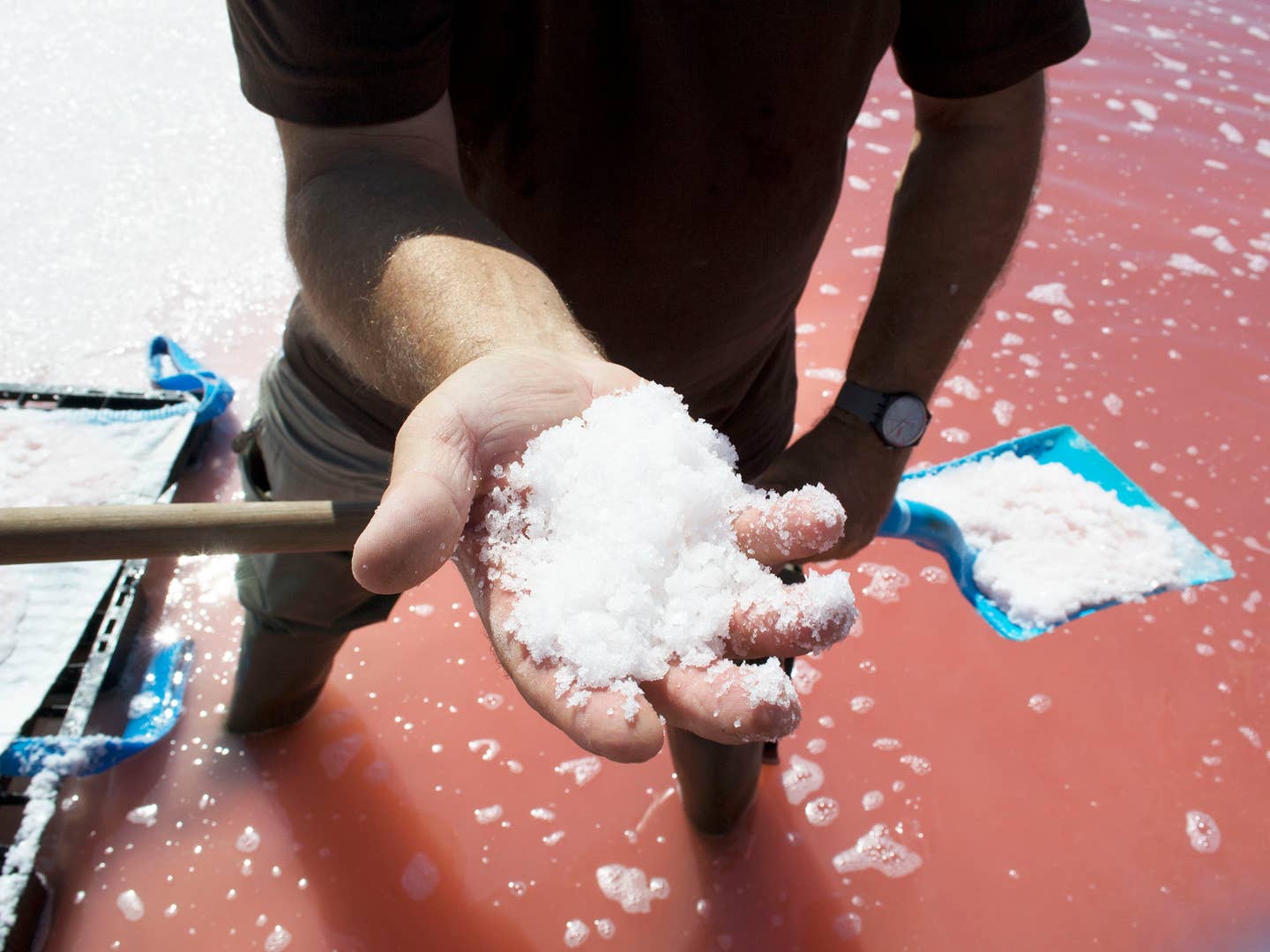 Travel
Shoveling for France's Crown Jewel of Cooking
In the South of France, salt shepherds harvest fleur de sel like it's gold. Jamie Feldmar grabs a pair of rubber boots and joins in on the fun.
It's 90 degrees and humid, and I'm covered in rubber, pitching a shovel around a pool of neon-pink water to scrape a powdery white substance off its surface. While most people come to the South of France to sunbathe in Saint Tropez or frolic through the lavender fields in Provence, I'm here to harvest sea salt, shovel and all.
You might think that learning about the production of an essential mineral is a strange way to spend your summer vacation, and you wouldn't be wrong. But every year, over 100,000 people travel to the salt ponds, or salins, in the Camargue, a vast and wild river delta that empties out into the Mediterranean Sea, to see where the Salins Group (best known for making La Baleine, the salt with the whale logo) pumps out 280,000 tons of salt a year.
Of course, these salins aren't the only place to see salt in its natural habitat. There are major production facilities in other parts of France, as well as Spain, Brazil and California, among others, for salt has been a necessary and sought-after substance for centuries. Empires have been built and destroyed over the stuff, and it's been used as currency (even today, the word "salary" comes from the Latin salarium, or "salt money.") And though kings and crusaders are no longer starting wars over the mineral, it has in modern times become increasingly fetishized in the kitchen, with bespoke salts symbolizing a certain luxurious terroir—just ask anyone who shops at The Meadow, a mini-chain of upscale salt boutiques owned by Mark Bitterman, who also wrote a self-described manifesto on the subject, Salted.
Here in the Camargue, you can see the salt long before you get to the pools themselves; four mountainous piles of grey-white powder rise up above the horizon, visible from the Medieval-era gated walls of the neighboring town, Aigues-Mortes (literally "dead water," which is unfortunate, given that the town itself is rather charming). At these particular salins, they make all kinds of salt: coarse sea salt for industrial purposes, fine and coarse sea salt for everyday eating, and the crown jewel of the sea salt world: fleur de sel, the crunchy finishing salt prized by chefs for its taste and texture.
While I'm no salt snob, it's this last one that I'm really here to see; fleur de sel is hand-harvested every August in a process overseen by a small team of sauniers, master salt shepherds who monitor the weather and the water with a Yoda-like intensity. Making salt, you see, is really about water, wind and sunlight, so it's good to keep a Zen attitude about the work. "My job is to observe nature," says Patrick Ferdier, a saunier who's been there for 30-plus years. It's a solitary job, and one that's less-publicized than, say, a sommelier, with just 10 men (and they're all men) responsible for monitoring 60 kilometers worth of interlocking salt canals. "I'm alone all the time," adds Ferdier. "It's fantastic."
Sea salt in the Camargue is born like this: In March, fresh water starts filtering into the canals from the Mediterranean. It spends the next six months circulating through the canals, slowly evaporating and becoming increasingly salty, as well as increasingly pink, thanks to the presence of salt-loving, microscopic shrimp swimming around in it (the wild flamingos that live in the wetlands get their hue from gorging on it). At the end of summer, when the water is at peak saltiness, it's directed into flat, shallow salt tables, where the salt crystallizes into visible chunks.
Early mornings in August, a team of wader-clad salt workers—many of whom are local students working seasonally—rakes the fleur de sel off the surface by hand and piled into miniature ivory mountains in the rose-tinted water. The rest of the salt forms into a thick cake that sinks down; it's harvested mechanically in September. It's demanding physical work—after just a few minutes, my arms grew tired from the constant shovel-and-twist motion, while I gaped in awe at the real workers, who had been out since sunrise. (Labor starts around dawn and ends around noon every day, when it starts to get hot.)
Despite the physical realities of the job, the otherworldly allure of the scenery is hard to deny. "You learn to read the signs of nature," says Ferdier, who shoveled plenty of salt in his day before graduating to the level of saunier. If, for example, he sees a certain kind of snake, "I know rain is coming," he claims.
After harvest, very little happens to the fleur de sel. It's sifted and cleaned to remove any stray debris, then packed into cute little containers (in France, it's sold as Le Saunier de Camargue Fleur de Sel, and hand-signed by the head saunier responsible for each batch.) Visitors nearly always pick up a few containers at the salin's gift store, and it's on virtually every restaurant table in the surrounding towns. It's a tidy little way to package a natural commodity, one that belies just how low-tech the manufacture methods truly are. The sauniers like that, though—they're not in this business for the glamour of it, they're just the salt of the, well, you know.
"Out here, it's a 24 hour job," says Ferdier, scanning the sun across the horizon. "And nature is your only boss."
Where to Eat:
In Aigues-Mortes, the charcuterie Sabdes Freres on Grand Rue Jean Jaures (just off the main town square) is the place to stock up on pates, rillettes, savory pies, and tarts, all made in-house. Just down the street, pick up an airy, sugar-encrusted fougasse (flatbread) at Olmeda bakery.
Head to the quaint seaside town of Saintes Maries de la Mer for pretty Mediterranean beaches and fresh seafood galore. At the little outdoor seafood market/restaurant with the blue awning next to La Chamade on beachfront Avenue Van Gogh, try local oysters, tiny grey shrimp fried and eaten whole, and little whelks plucked from their shells with metal skewers.
Where to Stay:
Hotel les Templiers in Aigues Mortes is a renovated merchant's house with charm to spare, including a funky contemporary art collection, lush courtyard, and small but refreshing outdoor pool. Breakfast is included; say hi to the owner's friendly terrier, Raoul.
Where to Play:
A horseback tour on the region's famed white steeds is one of the best ways to go deeper in the Camargue, offering the opportunity to traverse car-free roads across the wild delta. Stop in the local tourist office in Aigues-Mortes or Le Grau-du-Roi for information on hiring a local guide.