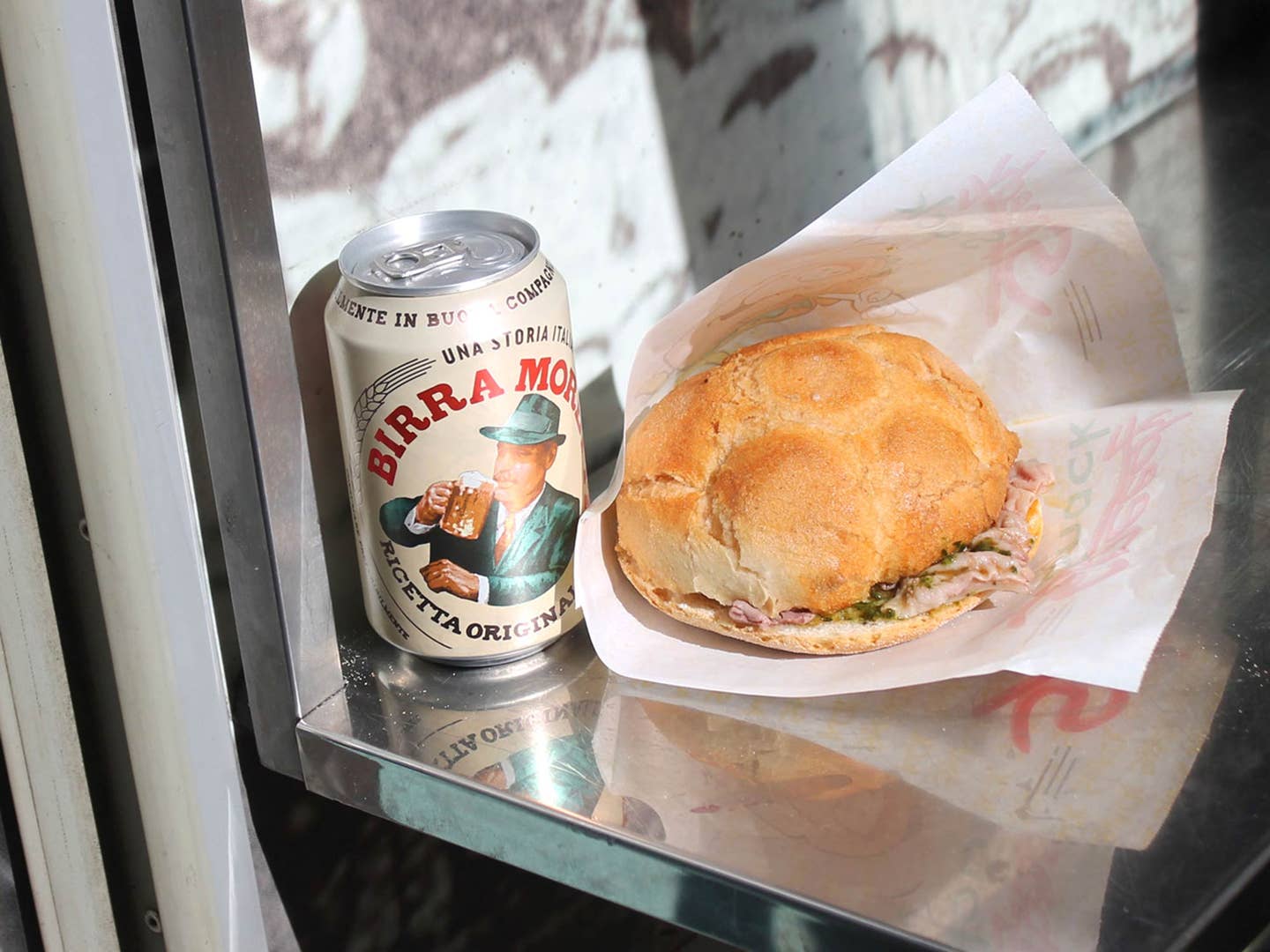 Travel
The World's Best Sandwiches Come From Florence
You can get a good sandwich almost anywhere, but Craig Cavallo makes the case for why the panini of this Tuscan city rule them all
Florence holds a secret. In the heart of Tuscany, amidst the narrow, cobbled streets busy with pedestrians, cyclists, and roaming gypsy bands, are the world's greatest sandwiches. Nowhere is the culture of cured meat and cheese making as spirited than it is in the hills in and around Florence, and nowhere are said cured meat and cheese put to better use between bread. The centuries-old culture and traditions of cheese- and meat-making here produce some of the finest foodstuffs in the world, and they happen to be quintessential sandwich ingredients.
Unlike their overstuffed and crudely flattened cousins on the other side of the Atlantic, Italian panini are made from a low quantity of high quality ingredients, each prepared in a way respectful to how they should actually taste. In this way, a panino is the embodiment of Italian cuisine. It is the singular product of the country's culinary ethos: less is more. And as you eat your way around the city, you find that every component—from the bread to the fillings to the wine panini are often accompanied by—will be exclusively Tuscan, if not Florentine.
But Florence doesn't just supply the ingredients for sandwich greatness; it's also uniquely supportive of a sandwich spirit that's been growing since the '70s and '80s, when iconic shops like All'antico Vinaio and I Due Fratellini opened and helped define a robust panini culture. But the seeds for this culture were planted as far back as the 1870s, just after Italy's unification. "It was a time when many laborers and peasants poured into Italian cities from the countryside," Jersey-born, now Rome-based food writer Katie Parla tells me in an email, "and the panino filled with offal and simmered poor cuts of meat presented the ideal form of urban dining for the poor—quick, hearty, affordable, and portable."
At around 5 euro a pop today, panini are the grab-and-go, stand-and-scarf version of Italian food at a fraction of the cost of other meals (a sandwich-friendly glass of wine will only set you back two more euro at the panini shop). And you can get panini at nearly every hour of the day—unique in a country that is otherwise strictly regimented when it comes to eating. During the hours of 3 and 7 p.m., when most of the city's restaurants are closed, panini shops are one of the few places still open. The same goes for late nights when you need a sobering post-club meal.
Like almost anywhere in the world, you find factory-made foodstuffs in Italy. But in a city where taste drives success, even the mass-produced products are of higher caliber, and this keeps prices down for, as Parla tells me, "a city/nation in which people simply don't want to pay much for a sandwich."
Watch closely as a panino maker at All'antico Vinaio quickly slices through a thin piece of schiacciata bread. He quarters a wheel of Pecorino next, shaves off the wrapper, cuts perfectly symmetrical triangles, and lays them evenly onto still-steaming bread. If you time this, the second hand on your watch won't finish half a rotation. With a flip of the wrist, crema di pecora or some other savory spread covers every millimeter of bread, working its way into schiacciata's tiny air pockets. The visual element of panini making is always there, and it's a vital part of the experience. So too is the fact that your panino will always be hand-delivered by the creator. It's a personal exchange.
Standing on smooth old stones outside any panino shop, with a sandwich in one hand and local wine in the other, is to be part of something timeless. It's a chance to hold a tangible part of Florence while the rest of the city passes you by.
The Elements of Florentine Sandwich Style
Florence, like a lot of Italian cities and regions, boasts its own unique ingredients. Here, though, more than anywhere else, these ingredients are ideal sandwich fodder. Take sbriciolona, for instance, a fennel-flavored salami that riffs on the finocchiona made in southern Tuscany. As in the south, it is made from ground pork and laden with fennel seeds and black pepper. But in Florence it's shaped into an eye-popping foot-wide tube ideal for slicing onto sandwiches, and you'll likely find it, hard to miss, sitting atop a deli case waiting for someone to order a sandwich with it. Not far away you'll find salsiccia cruda, raw sausage meant to be eaten just like that: cut from its casing and smeared onto bread, no cooking required.
Tuscany is Italy's land of Pecorino, cheese made from sheep's milk. And in the lush, rolling green hills around Florence, an abundance of sheep graze, and variations of pecorino, from fresh and creamy (Senese) to aged and sharp (Toscano DOP), abound. Whether sliced or smeared, Pecorino, with its sharp, salty tang, is the perfect sandwich cheese.
Each of these uniquely Florentine ingredients, more often than not, go onto bread that is also unique to Florence. Semelino are small, crusty rolls, firm on the outside and chewy on the inside, perfect standard loaves. Florence also takes claim to schiacciata, the focaccia-like bread most of the city's panini are served on. Schiacciata ferments and rises longer than focaccia, so the final product, once baked, is much more fragrant and slightly more dense, which helps keep the sandwich from tearing.
Then there is lampredotto. Order it on a roll and you've got the panino of Florence. The faint of heart and unadventurous may squirm to learn the filling for this sandwich is made from the fourth lining of a cow's stomach. But to squirm is to miss the point entirely: This is the soul of Florentine (and, really, Italian) food. Born in the 15th century when no part of an animal was laid to waste and named for lamprey eels that once swam in the Arno River, panino con lampredotto is an extension of the peasant foods that shaped and have come to define Italian cuisine. It's extremely tender, intensely seasoned meat, the stewy pulled pork of offal.
A short walk from Palazzo Vecchio is this tiny counter boasting one of longest panini menus in Florence. There's no bad option from a choice of 30, but a favorite is the simple butter and anchovy (acciuga e burro) Fratellini is a great place to have your first taste of salsiccia cruda too, and simply paired with roasted eggplant (salsiccia cruda e melanzane) is how you'll find it on Via dei Cimatori.
Via dei Cimatori, 38R, 50122 39 055 239 6096
The menu at this standalone cart near the Sant'Ambrogio market reads about a dozen items long. But panino al lampredotto, Florence's tripe sandwich, is the thing to get here. Before he lids each sandwich, Sergio Pollini, with expertise and enthusiasm, dips the underside of the top half of each bun into the simmering liquid. Just the top, because the bottom half will absorb the rest of the juices while you eat what is arguably the city's best panino al lampredotto.
Via dei Macci, 126, 50122
Marco Paparozzi hand-writes the menu everyday at his tiny shop near Sant'Ambrogio market, but any of the nine or ten panini is a home run. Go for the tripe and cheese panino for a riff on the city's lampredotto. Or, if you're looking to carb load, the raviolo and pheasant sauce hits all the classic Italian flavors, re: tomatoes, soffritto (carrots, onion, celery), and ragu.
Piazza Lorenzo Ghiberti, 44, 50122
The crowds and the panini are both big on Via dei Neri in front of All'antico Vinaio. The nearly 30-year-old store has grown to include a sit down osteria and wine bar, but the panini are not to be missed here, and La Favolosa may be the best use of sbriciolona in all of Florence. Sbriciolona is paired with artichoke and pecorino spreads (crema) and spicy eggplant.
Via dei Neri, 74/R, 50100 39 055 238 2723
Located inside the Mercato Centrale, Da Nerbone is one of Florence's oldest panini shops. Go here for lampredotto and bollito (boiled brisket) panini, as they have been making them since the 1870s.
Piazza del Mercato Centrale, 12 red, 50123
Alessandro Frassica's ten-year-old shop right near the Arno River is the perfect example of high quality. By sourcing the best ingredients throughout Italy and by using a bounty of regionally protected ingredients (Robiola cheese, prosciuttio di San Daniele, etc), Frassica has gained a reputation for making some of the best panini in Florence.
Via dei Georgofili, 3r/7r, 50122 39 055 219208