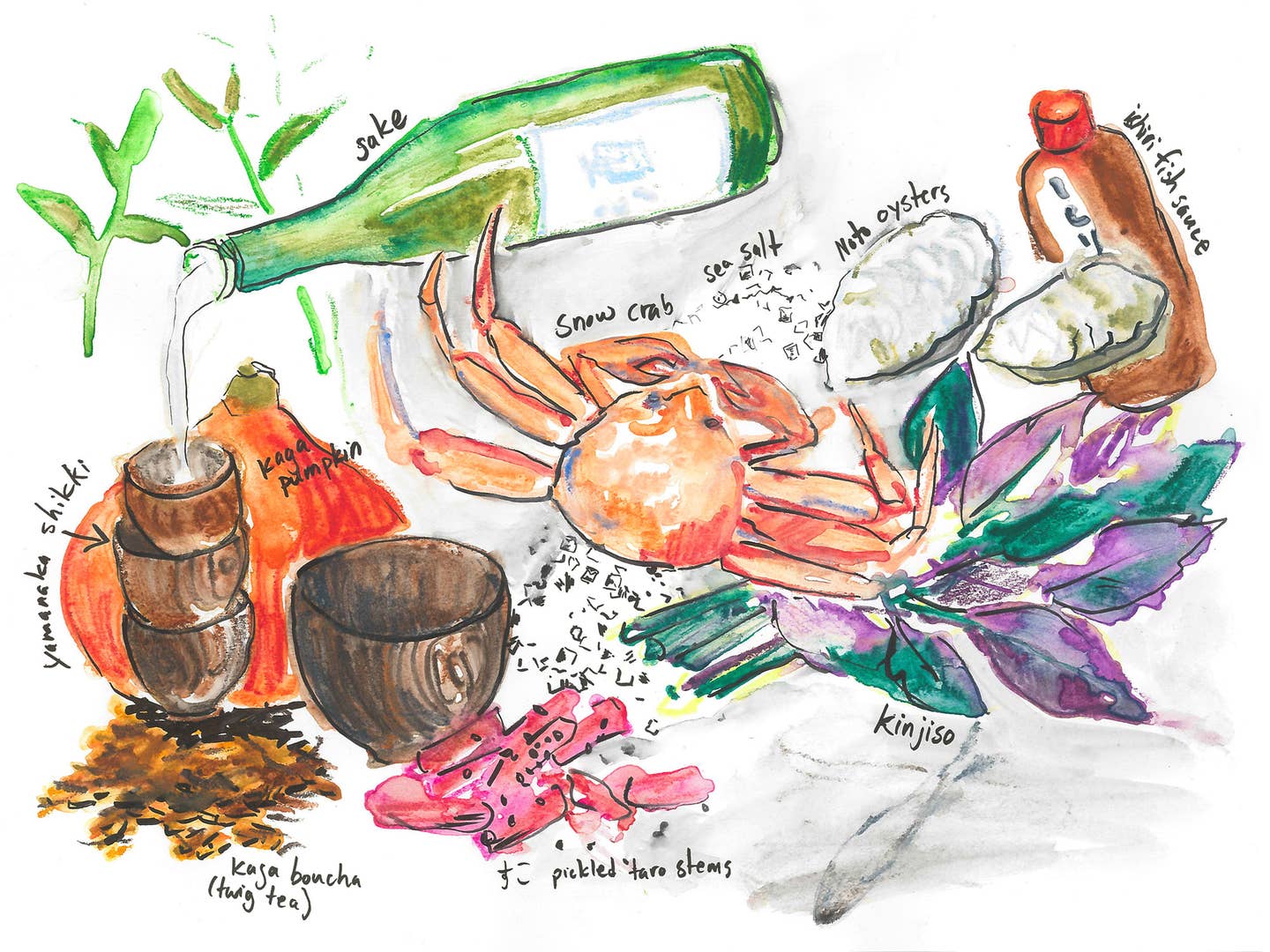 Travel
4 Great Edible Souvenirs to Bring Back From Japan's Top Culinary Region
How to eat and drink the best of Ishikawa—and where to buy it even if you can't make the trip
If you love Japanese food, you should know about Ishikawa. A few hours away from Tokyo by bullet train, it's a lush coastal prefecture where mountains, and farmland meet the Sea of Japan. Those microclimates produce a bounty of ingredients—sea urchin harvested by ama (a long tradition of female divers), rare herbs and mushrooms from the mountains, rice grown in terraced fields framed by snowy peaks. And shokunin (lifelong craftspeople) transform raw materials into sake, fish sauce, and sophisticated ingredients.
Kanazawa, Ishikawa's most cosmopolitan and best-known city where the train from Tokyo will deposit you, displays local cuisine and crafts at their most refined (it's one of the few cities in Japan where tea ceremony still holds a strong place in the culture). You can find most of the region's best things to eat without even leaving Kanazawa Station: the underground souvenir hall sells an embarrassment of riches, from delicate sweets to giant dried fish. Venture a little south to the mountainous hot spring villages of Kaga to pick up local sake and wooden cups (a craft called Yamanaka shikki) to drink it from. If you're really dedicated, you'll rent a car to explore the Noto Peninsula, where culinary traditions developed in isolation and remained nearly untouched, even as the rest of the country has sped towards modernization and convenience.
This is the tranquil tradition-rich Japan we idealize, but that's increasingly hard to find.
You shouldn't try to take home the winter snow crab that draws gastrotourists from all over Japan, or the 15 colorful designated regional vegetables harvested in Kaga (I did once, unsuccessfully, attempt to smuggle back a bunch of incredibly fragrant mountain mint), but there lots of edible souvenirs that will pack neatly in your suitcase (or ship to your door). Here are some culinary treasures to keep an eye out for.
Japan's finest fish sauce is made from cuttlefish innards (or sardines) and fermented in ancient wooden vats for one to three years until it mellows into a deeply savory seasoning. It's less sharp and bright than its Southeast Asian analog, more meaty and earthy, faintly smoky. After that long fermentation, the sauce is concentrated by simmering over a wood fire and clarified by filtering. A tiny bottle of this potent stuff will last you a year, dashed into soups and sauces—anything you'd add fish sauce or anchovy to—for depth and complexity. The most famous use is probably ishiri nabe, a soup made with dashi, squid, nappa cabbage, and other vegetables.
Eaters the world over have begged Flatt's, a small inn that brews cuttlefish ishiri according to an old family recipe, to ship the stuff abroad, but you'll still have to go to Noto to get it. In Wajima (the most popular/accessible destination in Noto) you'll see ishiri (also called ishiru)—in the fish market that's made with sardines and/or mackeral, or a combination of fish and cuttlefish innards. It has a slightly lighter flavor; the cuttlefish stuff has the highest amount of amino acids (aka umami) of any fish sauce in the world.
Outside Noto, where roadside souvenir stands and food markets sell an assortment, ishiri is hard to find even in Japan. Japanese grocers in the U.S. often sell shottsuru, a more common Japanese fish sauce. There's at least one ishiri seller on Amazon, and Mutual Trading Company in New York carries some.
Noto's salt is considered by many chefs to be the best in the world. A drive along the narrow coastal highway through Suzu, at the far tip of Noto peninsula, is a journey through the history of sea salt making. A tiny museum offers salt flavored ice cream (the reason your author pulled over) and concise exhibits about the industry's progression through the ages. As you drive past various producers you can see the methods in action from historic terraced sand fields, where seawater is raked across until syrupy and the strained and crystallized over a fire, to thoroughly modern factories, and all manner in between.
Shinkai (recommended by Ben Flatt, the chef at Flatt's) uses a mixture of traditional and modern methods to produce large flaky crystals favored by chefs, and well, anyone with eyes and tastebuds who has the luxury of enjoying good salt. A quick tour of their factory, where cauldrons of concentrated sea water boil over wood fires, is itself worth a trip to this remote peninsula (you can also buy their nigari, the liquid minerals drained from the salt, which is used as the coagulant in tofu making). But if you don't venture that far, you can find Noto salt all over Ishikawa (as well as salt soda, candy, etc), and via some badly translated links on Amazon, or at an exorbitant price (still cheaper than a flight to Japan) from The Meadow.
Imagine a tea that tickles your nose with grassy, toasty steam, then mellows into a faintly sweet roasted nutty flavor as you sip. That's the special tea of the region, a perfect example of how Kaga excels in making ordinary material into extraordinary products. Kukicha or boucha—twig tea—is sometimes thought of as a common (in the derogatory and/or proletariat sense) because it's made from the stems of the camellia sinensis shrub rather than its prized leaves. But in Kaga this tea is refined it into an brew fit for an emperor—to the point that producers now cultivate the plants specifically for quality stems.
The story goes that Emperor Showa (who reigned from 1926-1989) prefered hojicha (roasted green tea), and the first Kaga boucha was prepared for him by Maruhachi tea company during his 1983 visit to Kanazawa. Since then, it's become a specialty of the region.
Because it's roasted, kaga boucha is richly nutty and fragrant, yet it's mellow enough to drink with anything—sweet or savory—or all on its own (it's easy on the stomach and lower in caffeine than standard green tea). My favorite way is to make ochazuke at the end of a meal: pour it over a bowl of rice with an umeboshi (salty pickled plum) and mix it up into a savory porridge. I got used to drinking it daily while staying in Kaga, and brought back four large packages for gifts; I have to confess, feeling nostalgic I drank up three of them myself.
If you're passing through Kanazawa Station, stop by Maruhachi's counter in the Anto souvenir market for brewed or packaged tea. (You'll also see this tea in any Kanazawa or Kaga gift shop worth its salt.) Can't get to Japan? Try ordering from Lupicia. If you're a DIYer, you can toast green kukicha in a dry pan (as you would spices) just until it turns golden-to-reddish brown, making a tasty approximation, and filling your house with the perfume of toasted tea.
It seems all but the southernmost regions of Japan (where shochu is the thing) claim sake as a prized product. I'm biased towards Ishikawa, because that's where I developed my palate for Japanese drinks apprenticing in a small but respected sake bar. It turns out, lots of other people also think this sake is especially good. Ishikawa has the combination of cool winters, good water, and good rice (historically, though now it's brought in from all over Japan to supplement what each brewery grows in the off-season) that make for good sake.
My favorite brewery (again, I'm biased because of a personal connection, but sake expert John Gauntner lists it as a favorite too) is Shishi no Sato. In spite of pleas from exporters, they refuse to distribute outside Japan—in fact, you'll seldom see it outside Kaga, where they extract their water from the mountainside under Ioji buddhist temple. But, you're in luck! My other favorites, Tedorigawa (featured in the documentary The Birth of Sake) and Tengumai, are in sake shops, restaurants and Japanese supermarkets around the US (distribution varies by state).