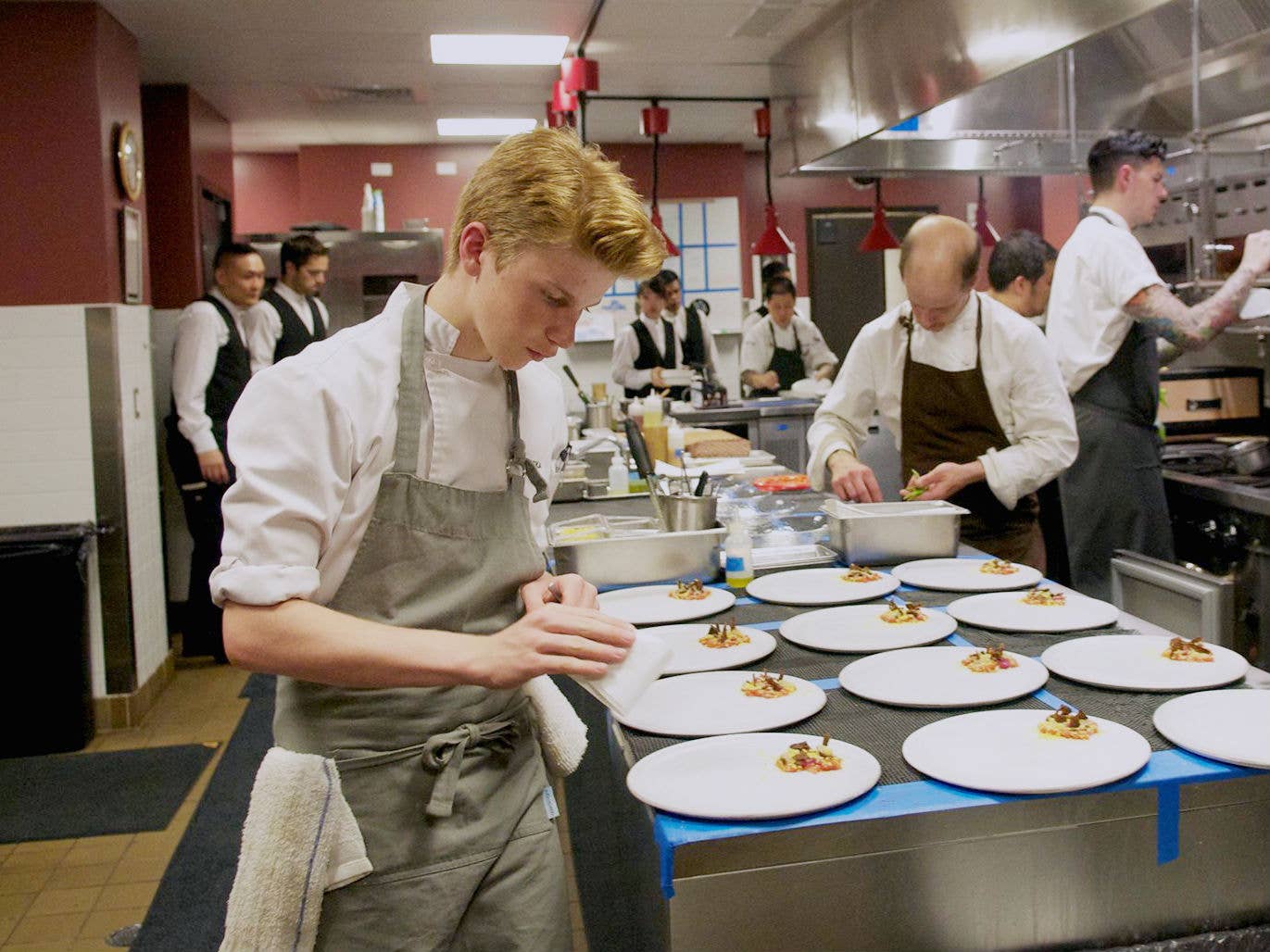 Culture
Meet the Teenage Chefs and Activists Who Changed American Eating in 2016
From a high school chef to a nut butter entrepreneur, here are the young up-and-coming Gen Z-ers already making waves in the food world
Now that millennials like me—those lazy, entitled internet junkies between the ages of 19 and 35—are old news, it's time to start looking at those who are coming up after us. Generation Z, the first-ever generation born into an interconnected mobile world, have leveraged those social tools to become entrepreneurs, problem-solvers, and game-changers at an earlier age than ever before. From Oregon to New York City, meet the young-gun leaders who are proving that the future of food is a bright one.
The now famous 18-year-old Flynn McGarry has had his eye on the kitchen for most of his life. Picking up a knife at the age of 10, the freckled, soft-spoken teen first taught himself how to cook using cookbooks and Youtube videos, a passion that would eventually evolve into formal lessons and stages, or apprenticeships, at some of the country's top restaurants (Eleven Madison Park in New York City, Alinea in Chicago). McGarry's natural talent, discipline, and prodigious young age—all converging with the rapid rise of media-driven celebrity food culture—helped land him a wave of early acclaim that included a feature on Late Night Starring Jimmy Fallon and a New York Times Magazine cover story, all by the age of 15.
Now, while continuing work on his NYC tasting-menu pop-up Eureka, McGarry tells SAVEUR he plans to open his permanent restaurant in 2017, as well a host a few more global pop-ups. When asked about his generation's obsession with food, McGarry concedes that social media has played a big role, saying, "I think my generation is more attracted to the superficial side of food. It's become popular for how it looks or how much hype is around it, but not the hard work or dedication that goes into it." While he clearly doesn't fall into that category, he's happy that his peers are "becoming informed about the food world."
Mikaila Ulmer, Entrepreneur, 11
Inspired by her "great granny Helen's recipe" for flaxseed lemonade, Austinite Mikaila Ulmer took the classic lemonade stand concept a step further and founded her own business called Me and the Bees Lemonade. Receiving a $60,000 investment from ABC's Shark Tank, Ulmer took her growing company into full gear mode, working with multiple regional distributors and becoming a bona fide expert on bee conservation, all while going to school full-time.
Made with local Texas honey, mint, and flaxseed, Mikaila's lemonade can now be found at 50 Whole Foods and Wegmans locations nationwide, with a portion of profits going towards bee rescue organizations like Heifer International and the Texas Beekepers Association. Today, Ulmer travels the country hosting workshops about honey and our dying friends, the bees.
Appetite for Change kids, Rappers, Various Ages
They're not the first to rap about food, but the Minneapolis teens behind viral single "Grow Food" may be some of the first to use hip-hop to promote healthy eating. It may sound cheesy (it's not, because it's all about fruits and veggies), but the song is a legitimately catchy number that confronts the dangers of eating processed foods, encourages listeners to eat their greens, and even name checks Mrs. Obama. Produced in collaboration with local nonprofit Appetite for Change, the feel-good video features the kids dabbin' and rappin' in their school cafeteria and local urban gardens. Watch it here.
Abby Kircher, Entrepreneur, 17
At 14, Charlotte, North Carolina-based Abby Kircher committed to living healthier, eating better, and exercising more. Struggling with her weight, Kircher was forced to give up one of her favorite snacks: peanut butter. Finding a temporary replacement in almond butter, Kircher realized the opportunity to create something totally new. After a summer in the kitchen experimenting with nuts, a food processor, and natural sweeteners, Kircher founded Abby's Better Nut Butter, offering quirky new-school butter blends like coconut-cashew, honey-almond, date-pecan, and coffee-almond.
Before long, the then 15-year-old businesswoman was hawking her wares at the local farmers' markets, where they were a huge hit. Today, the butters can be found in 35 stores across North Carolina and Tennessee, as well as through Kircher's online shop. Kircher tells SAVEUR that she now has a private kitchen from which to work from, and plans to expand to the rest of the East Coast by 2017. In light of her newfound success, Kircher thinks her mission can relate to everyone. "The very fact that my nut butters have taken off like they have proves that people are looking for healthy alternatives," said Kircher. "I love creating food that is healthy, but really good to eat—no matter your age or background."
Logan Guleff, Chef and Food Blogger, 14
You may remember this young Memphis-based chef from his 2014 win on the show Masterchef Junior. The cheeky teen says he started cooking at the age of 2, which would explain how he placed in his first cooking competition, Jif's creative sandwich contest, at the age of just 9.
In 2016, Guleff won the James Beard Foundation's Blended Burger Project, becoming the youngest chef to cook at the James Beard House in New York City. He was also recognized this year as one of Time magazine's most influential teens. Outside of the kitchen, Guleff keeps up with a food blog, Order Up with Logan, and is working on a cookbook.
Diagnosed with Crohn's Disease, Chester, Pennsylvania's Tavia Isaac had to have her colon removed at the age of 8. While in the hospital, Isaac grew to love watching the Food Network with her single mother, whom she calls an accomplished cook, and grandmother. By age 9, she was hooked on cooking, studying Youtube videos and whipping up breakfast for her entire family. Without even telling her mother, then 12-year-old Isaac decided to apply to the Food Network, getting denied the first time around.
But in September of 2016, Isaac received the call she had been hoping for, appearing on the new season of Chopped Junior and winning. Following her newfound fame—she's received a knife set from the mayor of Chester and made appearances on local television and radio—Tavia is working on a memoir about being diagnosed with Crohn's Disease. Her dream is to pursue a career in gastroenterology and become a culinary instructor.
Climate Change Kids, Activists, Various Ages
This year, we've covered overfishing, food waste, and sustainable agriculture—more than ever, we're acknowledging the intersection of food and environmentalism. That's why we're keeping an eye on the 21 kids and young adults ages 9 through 19 who are suing President Obama and the federal government for failing to protect the climate for future generations. Though many have been environmental activists in their own right, they've banded together under the banner of Oregon non-profit Our Children's Trust, whose executive director Julia Olson is serving as lead counsel.
The suit, Juliana vs. United States, was cleared for trial by an Oregon judge, who wrote that the right to "stable climate" is a fundamental one. At the head of the group is lead plaintiff Kelsey Juliana, an 18-year-old Oregon resident who is fighting the loss of salmon in her home state due to low water levels, as well as the loss of drinking water due to algae blooms. Other notable plaintiffs include 16-year-old Boulder resident Xiuhtezcatl Martinez, the career activist behind Earth Guardians who has appeared before the United Nations to speak on environmental policy. The case will go to trial in 2017.