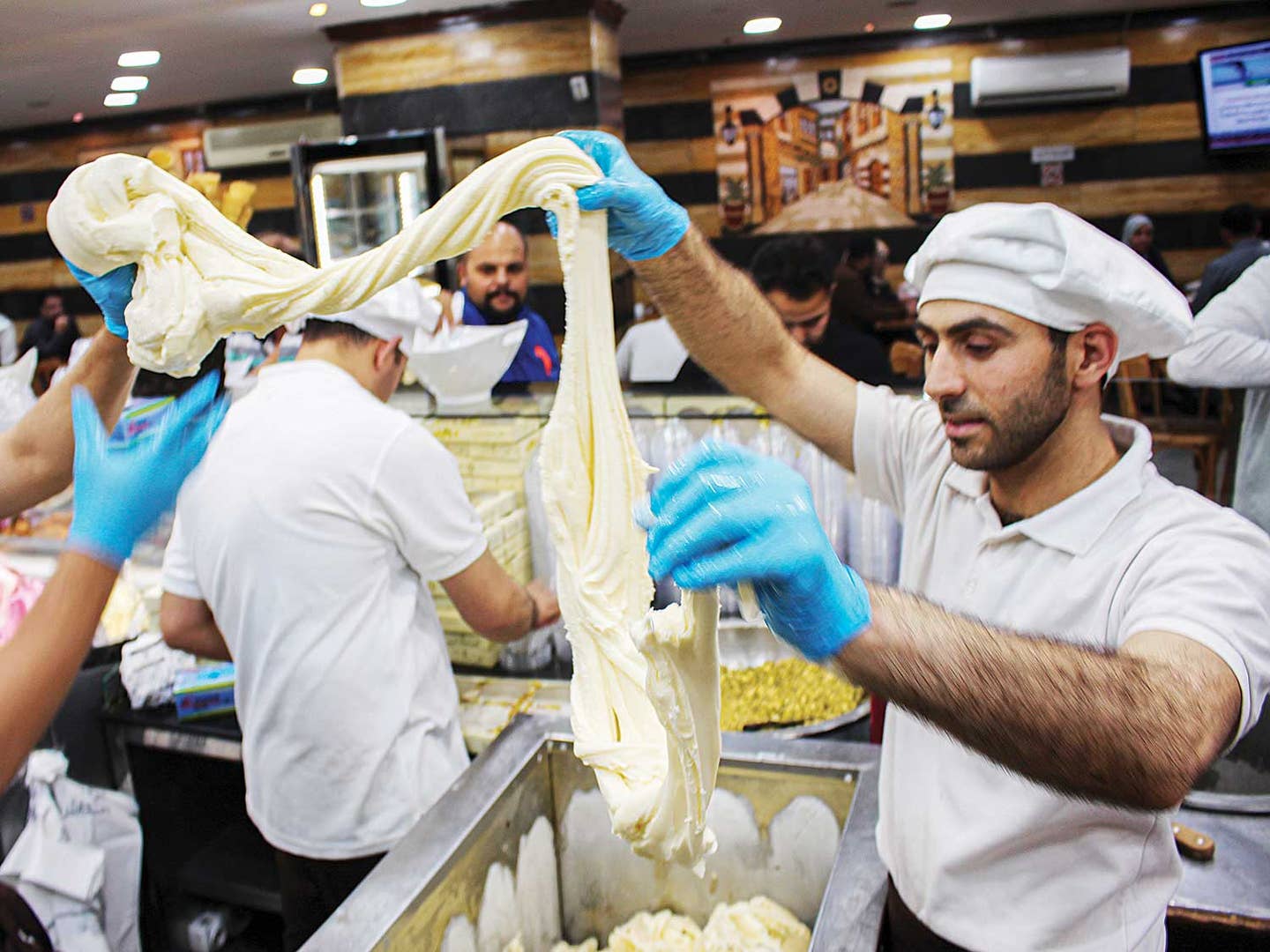 Travel
For Syrians in Jordan, Booza Is a Sweet Taste of Home
Syria's taffylike ice cream is traveling beyond the country's borders. But can it hold on to its roots?
The pounding of booza is a spectacle worth lining up for. Though the word means "ice cream" in Levantine Arabic, today it mostly refers to the Syrian version, a combination of milk with sahlab or salep (a starchy orchid-root flour) and mastic gum (a tacky, piney-tasting tree resin), which give it its characteristic stretchiness. The landmark Bakdash shop in Damascus, Syria, opened in 1886 and mesmerized customers with a rhythmic pounding of the sweet base: Servers hammered 3-foot-long wooden paddles against the cold metal counter until the booza looked like soft serve but stretched like taffy. It became a ritual to crowd in and watch the show.
After more than 100 years of production in Syria, booza has been on the move over the last six years, but for bittersweet reasons. The ice cream's journey mirrors the migration of millions of Syrians fleeing the ongoing war at home. At the first Bakdash offshoot, across the border in Jordan's capital, Amman, Jordanian co-owner Yarob Mustafa, 31, is grappling with the right recipe to expand the treat's range without losing its Syrian identity. This May marked the opening of a seventh branch in Jordan. By October, Mustafa is hoping to open the first store in Baghdad. After that, his sights are set on America; booza shops have already opened in Brooklyn and San Francisco.
When the Bakdash franchise in Jordan first came to Amman in 2013, it wasn't clear how long the Syrian war would go on. In the initial months, Mustafa shipped chunks of the frozen, pre-pounded ice cream from Syria into Jordan. As fighting and violence worsened, the border closed. Now the relationship between the Syrian and Jordanian branches is "friendly," he says, but his string of Bakdash locations aren't a direct franchise. The Syrian owners never registered an international trademark, Mustafa explains, so Bakdash branches grew across the Middle East, many without the Syrian owners' permission.
Mustafa says he's committed to keeping as much of the Syrian traits in his shops as possible, mimicking the styles of spoons, the uniforms, and the black-and-white-striped decor. But those who know the original can taste the difference. When Mustafa could no longer import from Syria, he says, "We turned to Jordanian sources for the raw ingredients instead." The milk in Jordan has a naturally fattier structure than that from the grass-fed cows of Syria, and the booza turns out significantly richer and creamier.
Still, when Syrians who've tasted the original booza visit Mustafa's shops, they tell him it conjures memories, some tinged with sadness. "When they come here, they remember their home."