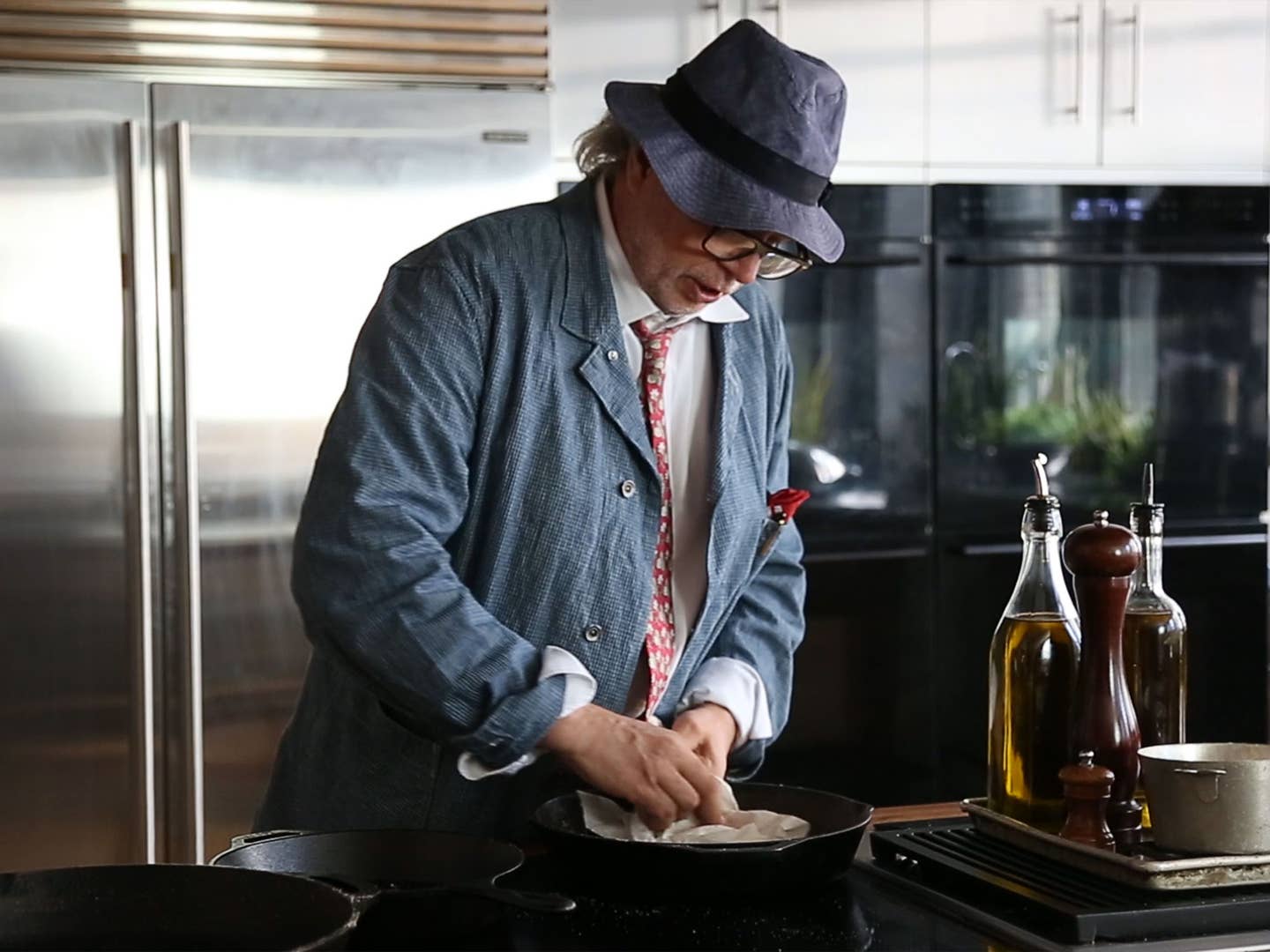 Culture
Chef Challenge: Francis Mallmann Without a Flame
The king of open-air cooking visits our air-conditioned offices for a cook in
Francis Mallmann extends his arm toward his daughter Allegria, his thumb and forefinger pinching the head of a small, raw squid known as calamaretti.
"You and your sister used to beg for these," Mallmann says. "I would send you to school with them—though you'd only eat the tentacles."
Allegria, 15, smiles and rolls her eyes, and Mallmann lays the calamaretti back on the cutting board to resume chopping.
It's 10 a.m. on a Monday morning in the SAVEUR test kitchen, and the famous Argentine chef is here in his signature style (linen shirt and floppy fedora), ready to show us how to make charred calamaretti with fingerling potatoes, heirloom tomatoes, avocado, and cilantro. It's a dish that he'll be serving at his upcoming restaurant Los Fuegos in Miami. But here, on 32nd street in Manhattan, in SAVEUR's air-conditioned test kitchen, we don't have a grill for him to cook this à la plancha, on a metal plate over a flame—we have cast iron skillets and induction.
Mallmann is widely considered the global authority on open-fire grilling. His restaurant, 1884 in Mendoza, Argentina, is rated the 37th best restaurant in the world by San Pellegrino's World's 50 Best. In the center of the restaurant lies a courtyard, which features multiple cast-iron grills and wood fired ovens, where Mallmann can throw multiple pound-cuts of meat over wild flames without worrying about setting off fire alarms. But you won't typically see him donning chef's whites, or cooking in the same place for more than a few days. He's a sensual vagabond, driven by a raw desire to seek out remote islands, tundras, and woods, make a fire, and then grill. While the other subjects in the Netflix documentary series Chef's Table are filmed mostly in their restaurants, Mallmann's episode shows him in a scene that could fit in on an episode of Survivor, like baking a whole fish in the clay from the same lake in which he caught it. Just like the basic needs to eat, to drink, and to reproduce, Mallmann has a carnal need to cook food over a flame.
But when he's in the test kitchen, where he has to use cast iron skillets in a kitchen indoors, he's brilliant but also out of his preferred element. So, we challenged Mallmann to mimic the heat and flavor of a grill, sans grill. When he turns the stove on with cast iron skillets, they smoke—a sign of dirtiness, Mallmann says. He then pours in a bit of salt and uses a paper towel to scour the skillet clean before dumping out the darkened salt in the trash.
"See this?" he asks, pointing at the crud in the skillet. "It is like an old lover. You don't want him in your bed anymore." He reminds that he'd rather be cooking the tomatoes over an open flame—he wants them to be charred on one side and raw throughout, which can only be achieved on an eyebrow-searingly hot flame; in cast-iron, the tomato will cook through a bit. But, as he's used to doing in the wild, the chef adapts, chopping and tearing, frying and charring.
When Mallmann first made this calamaretti dish 20 years ago, it was with red onion, avocado, tomato and cilantro, but the thought of making the dish the same over and over and over bores him. "We grow and we have to be more adventurous," he says, emphasizing that dishes should evolve and surprise. "Harmony in food is for children." And today, adventure comes in the addition of fiery pimentón oil, fingerling potatoes, and brioche to his original recipe.
"I like brioche for its texture, its elegance, its butteriness," he says, "and when you tear it with your hands, you get beautiful promontories." He likes how it contrasts with the cool pimentón oil, which he freezes to radically alter its texture to be a smooth spread, not unlike nut butter. As for the potatoes, he prefers fingerlings, which he refers to as "little ladies," for their structure.
When every component is ready, including confited lemon peel—which he tears roughly by hand, because hands, says Mallmann, are always preferable to knives—he piles everything on a plate and finishes it all with a generous glug of olive oil.
"Place the brioche in the oven with only the top energy on so they slightly toast, just like a siesta bride," he writes in his recipe. Not to speak for any siesta bride, but the torn brioche, slick with cool pimentón oil, is perfectly toasted, and next to charred tomatoes, rich avocado, chewy calamaretti, and smashed fingerling potatoes stacked like playing cards, its golden-brown promontories don't look unlike his home in Patagonia.
As staff members inch over to the finished dish and Mallmann walks back over to stovetop skillets, he motions for Allegria, who approaches him with a big, squished piece of brioche that she'd ripped off a spare loaf when dad wasn't looking. And between his fingers is something he saved for her: tentacles. Her favorite part.
To watch Mallmann talk about his upcoming restaurant and make the calamaretti, check out the video below.