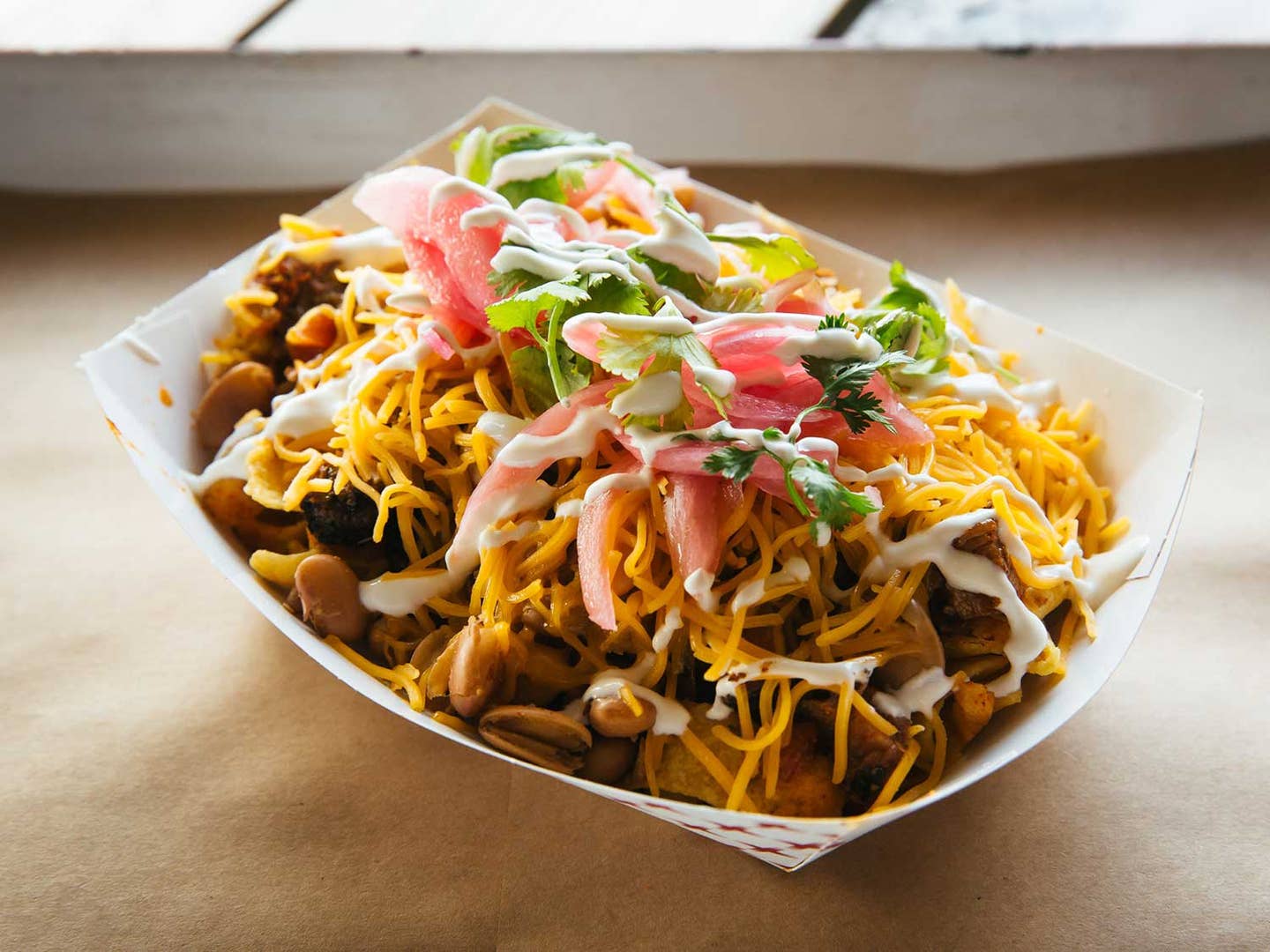 Recipes
Frito Pie Just Might be Austin's Best—And Most Customizable—Snack
Top your Fritos with tons of chili or balls of cheesy octopus
Unlike most pies, Frito pie isn't baked, it's assembled. Born in Texas, the Frito pie is served at fairs and ballgames, and it's traditionally made by ripping open a bag of Fritos, pouring in some sloppy chili, and topping it off with grated cheese. Tom Micklethwait of Micklethwait Craft Meats in Austin is a Frito pie aficionado; he says this Austin favorite came about because Frito Lay and a Texas canned chili company partnered up to make a portable snack at a Texas fair.
It ended up being so popular that restaurants started making their own versions. Around Austin you can find Frito pie anywhere and everywhere, from old-school greasy spoons to beer joints, and even at James Beard-nominated restaurants. Most places have ditched the foil bag—although if you really look, you can definitely still find it served the original way—but the basics remain: At its core, Frito pie is just a bed of the salty corn chips piled high with all kinds of fixins. And there are a lot of riffs on this popular pie.
Aside from the crunchy base, the Frito pie can be topped with just about anything. Pricy cuts of smoked barbecue are taking the place of cowboy canned chili at places like la Barbecue, Micklethwait, and at Styles Switch BBQ, and some places are making their own "Fritos" in-house. And some of them may not bear any resemblance to any Frito pie you've seen before. Bryce Gilmore of Odd Duck crafts his pie with goat chili and a blue corn tortilla chip, all topped with soft scrambled eggs. Kemuri-Tatsuya's take on Frito pie involves some fried octopus fritters and towering corn chip strips. No matter how fancy a Frito pie gets, it's still a great comfort food.