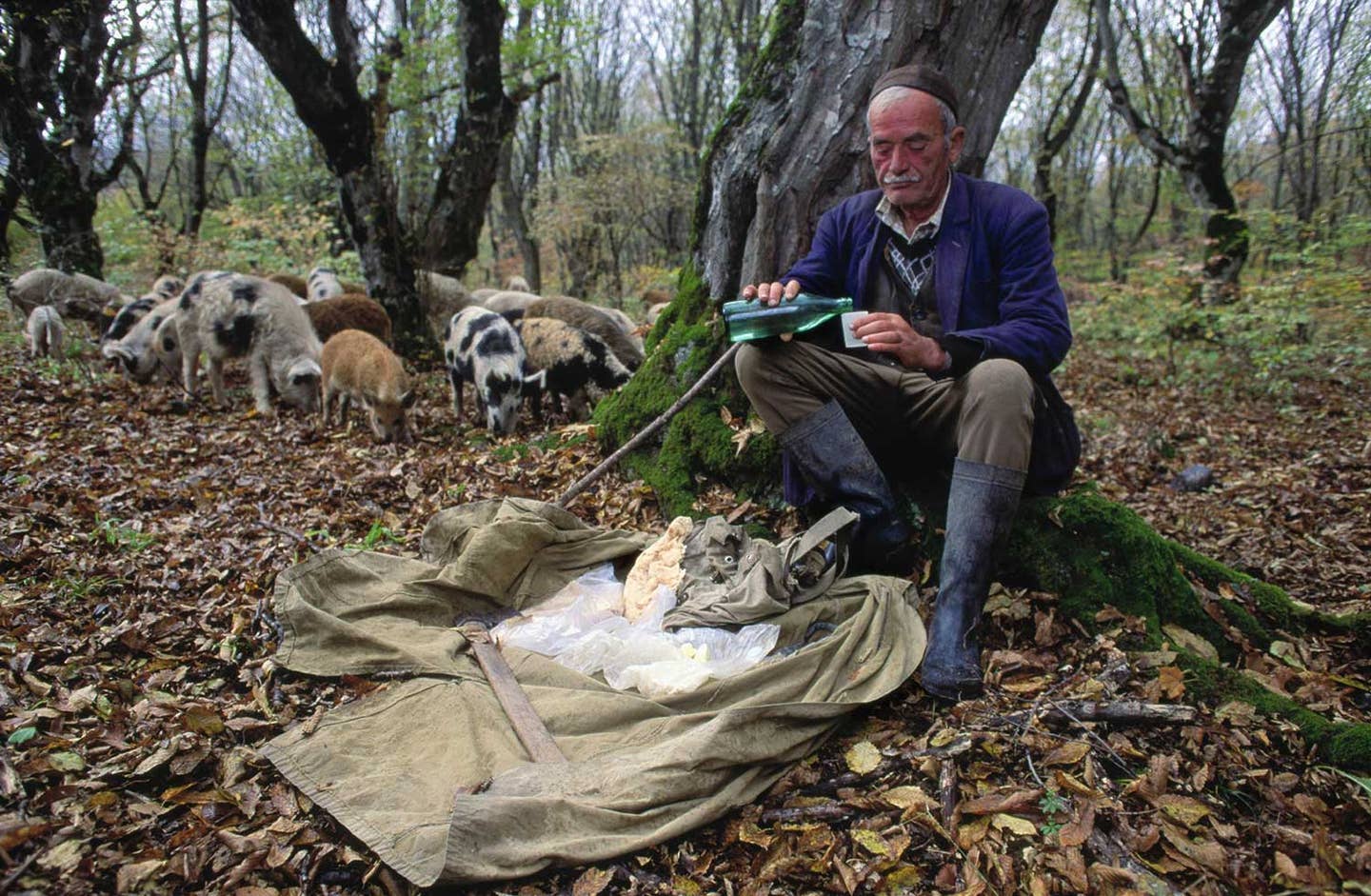 Culture
Lunch Around the World, As Seen Through The Eyes of an Award-Winning Photojournalist
Visual storyteller George Steinmetz travels the world in search of the most captivating images. Here's lunch through his eyes.
George Steinmetz is a photographer of the world. He has traveled to every continent and captures candid moments of places and people, including when they're eating lunch. Travelling around the world, lunch is often an opportunistic meal: "You're usually a guest, and you don't really have a choice of what to eat," Steinmetz said. "You end up getting invited in a lot, and if it's monkey brains, it's monkey brains." For Steinmetz, lunch is about the experience and the people you share it with. It's something outside of your control, but if you go along for the ride, it can bring people closer together. "When I was mountaineering in Antarctica, you stop and have some granola bars and some tea and basically that's your lunch," Steinmetz said. "But when you're doing it with someone, it's that commonality; it's the experience of being there."
Here, Steinmetz shares seven of his greatest lunch experiences from across the globe.
At Markaz Dar Balutan, on the Omani side of the border with Saudi Arabia, this unusual lunch was a rare meeting of Saudi and Omani military. Our two military escorts met to guarantee our safety as we traveled in this remote part of the Arabian Peninsula.
Ni Te Pou and her two children live in a teepee they recently erected in the Waimana Valley on the North Island of New Zealand. This photo was taken as part of a story on the Maori Independence Movement that is trying to regain rights given to the Maori under the treaty of Waitangi. These rights to land and fishery, among others, have since been usurped during hundreds of years of British and now New Zealand rule. Here, Ni Te Pou prepares lunch for her children over an indoor fire pit.
During lunchtime at a weekly market in Shibaozhai, China, baskets are filled with chicks, ducklings, and fresh eggs from nearby farms along the Yangtze river. This photo was taken on a month-long trip along the Yangtze from the industrial center of Wuhan through the Three Gorges and up a tributary to Leshan, home to the world's largest sitting Buddha.
For a team of glaciologists camping atop 6,542-meter tall Mt. Sajama in Bolivia, their lunch room and kitchen consists of a crude trench dug into the summit of the volcano's ice cap, with camp mattresses as a ceiling to keep out the wind and blowing snow. The team stayed at this altitude for 28 straight days, a feat of high-altitude endurance that has only been exceeded twice in mountaineering history.
Chinese oil workers take a lunch break from their work at an oil exploration drilling rig in South Sudan. The rig is under contract to White Nile Oil Production Company, which is partially owned by a company in Malaysia.
The Seara chicken slaughter facility near Sidrolândia in Brazil exports approximately 65% of its production to Russia, China, and Europe. They process 170,000 chickens per day, 3 million per month, and seem to run 24 hours a day. The plant employs 650 people per shift, and there are 350 people on then main sorting floor. Here, a group of employees takes a lunch break in their white factory suits.
Data Tsitsashvili, a 63-year-old pig herder, is having lunch in the forest while his pigs feed on acorns hidden under the leaves. He usually drinks a few shots of chacha, a Georgian brandy, as part of his lunch of bread, cheese, and garlic. He makes his chacha at home, and has a small vineyard behind his house in the Gambori Mountains of the Kakheti region.